Heating your RV in the winter can be expensive, but there are steps you can take to make it more affordable. Most RVs will utilize a propane furnace for heating. A typical 30 lb propane tank size will contain seven gallons of propane. Most RVs will have two tanks, providing you, on average, 14 gallons for your heating, cooking, and hot water needs. An average RV furnace will utilize about 1 gallon of liquid propane for every 3 hours of run time. That means if your furnace is running 12 hours a day in the winter, you will use about 4.5 gallons of propane per day. At best, this will provide you with roughly three days' worth of heating with the two tanks.
With propane prices costing upwards of $5.00/gallon, this can get expensive. However, don't worry. There are things you can do to lower your propane use. Here are some quick tips for lowering your propane use. Click on each topic for more details and tips:
RVs are not very energy efficient. RVs usually have minimal insulation, single-pane windows, and in some areas, a thin piece of plastic as the only barrier between you and the elements. Therefore, the first step in lowering your propane use is to make your RV more efficient. In other words, keep more heat generated by your furnace inside the RV. If you practice these steps, you can reduce your propane use by over 50% or more.
Before covering ways to reduce your propane use, we first need to talk about RV heating and frozen pipes. Many newer RVs will have an enclosed underbelly, the area between your floor and the open space underneath the RV. This area is where you'll find most of your water and wastewater pipes. In addition, RVs designed for colder temperatures will often have a heated underbelly. This setup allows propane-powered furnaces to blow heated air into this void, keeping a higher ambient temperature than outside and preventing your water lines from freezing.
This configuration is essential for winter camping if you plan to use water. If you don't run your furnace, there won't be any heat delivered to your underbelly, and your pipes will freeze when temperatures drop. If you are unsure if your RV has a heated underbelly, it's a good idea to consult your manual or reach out to the manufacturer.
Pro Tip: First, before we get into reducing propane use, one of the best ways to save money is to get propane at a cheaper price. If you typically go to your local gas station and replace your portable tanks with the ones in the racks, you're going to pay a premium, and the tanks will only be partially filled. The least expensive place to fill your empty tank is at a larger propane filling station that charges by the gallon (not the tank). Additionally, if you're stationary, consider calling a propane gas delivery service to fill your tanks and get under a contract for a fixed price. You can hook up a larger tank (100 lb or larger). Not only will this be more convenient, but it will also save you gas money driving to and from propane refill stations.
Propane Safety Tips:
While propane efficiency is important, even more so is ensuring your RV propane system is in good working order and functioning safely. While a propane leak can cause you to use more propane, it can also create a dangerous situation. When changing propane tanks, always test them for leaks. Use can easily do this be pouring soapy water over the propane valve and connection poin,ts. Also inspect the propane lines for cracks and damage. Open your tank valve slowly when adding a full tank to your RV. IF you open it too quickly, a safety feature in the pressure regulator can trigger and cause the propane to stop flowing. While you may smell a small bit of propane (the rotten eggs smell) when connecting a new tank, it should quickly dissipate and should be noticeable inside the RV. Several times per season, give your RV propane system a good inspection. Check all lines, your propane regulator, and propane-burning appliances.
How to reduce propane use in your RV
You likely have 1, 2, or 3 roof vents in your RV. The plastic tops of these vents are super thin and don't sit very tight against the roof. As a result, as heat rises, it exits right out of these vents in the winter. The simple and most straightforward fix for this is to add some insulation. You can create a custom piece of foam to place in there or even use a pillow. However, for the price, the easiest and most efficient thing to do is to install an RV vent pillow. You can pick these up for around $10 and fit all standard RV vent openings. They are super easy to install (it takes longer to open the packaging), and you can remove them in seconds. They are also great to use during warmer months to keep the RV cool.
RV windows usually are single pain, providing just one piece of glass to keep the elements out. Unfortunately, single-pane windows are not very energy efficient. If you place your hand on the window on a cold night, you'll feel just how poorly they insulate. You can improve the efficiency of your window in two ways. I recommend both if you're camping in cooler weather.
Duck Brand Rolled Shrink Film Window Kit
$16.99
$14.47 ($0.08 / Sq Ft)
Buy Now
Outdoor Miles is reader-supported. When you buy through links on our site, we may earn an affiliate commission at no additional cost to you.
12/06/2023 08:56 pm GMT
First, you can apply shrink plastic over your windows. While this may not seem like much, it creates a second barrier to the elements. You can purchase these kits at just about any hardware store or Amazon. They're relatively inexpensive, and one larger box will be more than enough for a typical RV. To install, you simply apply double-sided tape, included with the kit, around the edge of the window. Next, you cut a piece of plastic to the shape of the window, leaving extra on each side. Next, press the plastic to the tape and create a tight seal. The following step is the fun part. Using a hairdryer or heat gun on low, slowly apply heat to the plastic and watch it shrink and tighten up. If done correctly, you won't be able to notice the plastic.
The other way to improve your window efficiency is to install Reflectix bubble insulation over the windows. You can cut the material to the shape of the window and secure it with Velcro for easy removal during the day when you want some natural light. Combined with the plastic wrap, this will significantly reduce the amount of hair you lose through your windows.
This problem is another easy fix, similar to treating the windows. RV entry doors are not efficient, especially around the window. You can make or purchase a cover for the window. I suggest buying a custom-fit cover for about $10. It's made from insulating Reflexit material and attaches to the door with velcro strips for easy removal. It takes about 2 minutes to install.
4. Add RV skirting
Skirting your RV is probably the most involved one out of all the recommendations (and can be the most expensive). However, it provides excellent results and is a must-do if you're camping in very cold areas for more extended periods. Skirting is just a barrier that encloses the opening under your RV. While some skirting will provide some insulating benefits, the primary purpose is to block the wind. An unskirted RV allows cold wind to blow underneath our RV, keeping your floor and underbelly cold. It's like having an icebox underneath your floor.By skirting the RV, you will prevent the wind from cooling your floor and reduce the amount of time that your furnace needs to run. It's also essential to aid in keeping your underbelly above freezing temperatures. A properly skirted RV and keep its underside above freezing in temperatures as low as 10 degrees F.
By skirting the RV, you will prevent the wind from cooling your floor and reduce the amount of time that your furnace needs to run. It's also essential to aid in keeping your underbelly above freezing temperatures. A properly skirted RV and keep its underside above freezing in temperatures as low as 10 degrees F.
RV skirting options come in all different styles. You can purchase a custom skirt utilizing vinyl sheets attached to clips or buttons secured to the RV body. A newer, more expensive option is an inflatable skirt that creates a perfect seal using air-filled tubes. Some DIY options involve constructing a skirt out of anything ridged, including wood, foam board, hay bales, or even cardboard.
5. Use an electric heater
An excellent solution to cutting your propane use in your RV is to supplement it with electric heaters, assuming you are on shore power. The price per BTU can be a little lower, and you don't have to fill up electricity as you do with propane, a huge plus. However, as mentioned above, using electricity won't heat your underbelly without the additional steps discussed below. The key is to find a good balance between propane and electric heat to keep the underbelly warm, cabin comfortable, and propane fill-up trips to a minimum.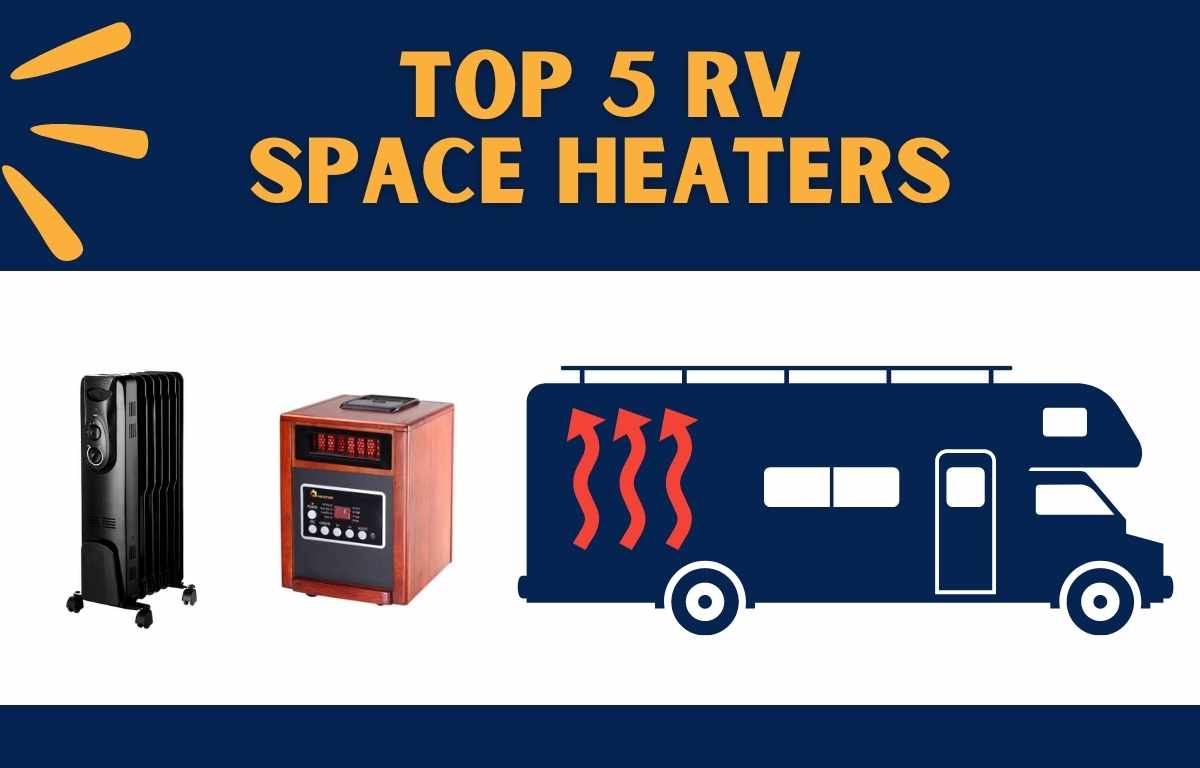 The great thing about space heaters is that they can provide spot heat. So you don't need to heat the entire RV as you do with a single-zone furnace heating system. A good tip is to keep the space heater in the area you're using—the living room in the evening and the bedroom at night. You can cut your propane use significantly by strategically using a space heater. Just be sure that you have enough power to run it. Space heaters pull a lot of electricity and can easily trip your breaker if you use them with other appliances.
My favorite cold-weather accessory is heated sheets. These sheets use very little electricity and create a warm and cozy sleeping environment. I like to preheat the bed with the sheets and turn them to medium/low at night. Combined with a blanket, I am very comfortable throughout the night. I usually turn down my heat to about 60 at night when using the sheets. So the furnace will run less, using less propane, and I won't notice the difference.
7. Forced air to the underbelly
If you want to eliminate propane use completely and are camping in an area that drops below freezing, you will need to develop a plan for hating your underbelly to prevent frozen pipes. While you may be comfortable inside if you heat exclusively with a space heater, your plumbing will not.
There is no plug-and-play solution to solving this issue. The only feasible way to keep your underbelly warm is to ensure that heated air gets in there. Some people have developed custom setups that involve running a space heater and blowing the air through an existing vent to the underbelly. This hack is where you get to play MacGyver.
One solution that I hope to implement later this winter is to run a small 4" inline vent, pulling warm air from the cabin and blowing into the underbelly t. However you choose to accomplish this, the main goal is to figure out how to get consistent warmth to the underbelly. If you run your propane furnace, you can likely avoid this step.
8. Turn down the heat when you leave.
This simple step may sound like common sense, but it's easy to forget. When I leave the RV for the day (usually during the daytime), I will lower the heat to about 50 degrees F. On most days that climb above freezing, the furnace won't need to run for upwards of 8 hours. Then, when I return, I simply crank up the heat to 65, and in about 20 minutes, everything is comfortable. Doing this can lower your propane use more than any of the tips above.
9. Cook less with propane
While this isn't always possible or desired, when cooking a meal that requires a long time in the oven or on the stovetop, you'll be using a lot more propane. If cooking something like soup or a stew, a great way to use less propane is to cook using a crock pot, which will insulate the food more and require fewer overall BTUs to cook it.
10. Switch RV appliances to Electric
The great thing about RVs is that many of the propane appliances that use propane will also use electricity. This includes RV refrigerators and your hot water heater. When staying at a campground that provides electricity, save some of your money by using the electricity for your heating needs. Don't run the RV refrigerator on propane, and make sure you have the electric switch turned on for the water heater.
To learn more about winter RV living and some of the tips mentioned above, you can check out this article: Modifying my RV for Winter Living: Follow my progress
Getting an RV ready for winter living is less of a science and more of an art. While some RVs are built for everyday living in the harshest environments, most are not. However, this doesn't mean that they can't be, or at least to some degree, outfitted to give you a full four-season camping experience.…

---

---