The following article contains affiliate links, meaning if you click on a link and obtain a loan, we may receive a small commission. While it won't cost you anything, this helps us support the website and bring you new RV and camping-related content. However, I only recommend products that I use and love, and LightStream is one of my favorites.
One of the most exciting parts of getting a recreational vehicle (RV) is shopping for it. However, one of the most stressful aspects can be getting financing. Luckily, you can ease some of that pain by checking out what I consider one of the best financing options for a used or new RV, LightStream.
LightStream is an online lender focused on making the loan process fast, easy, and straightforward. Gone are the days of visiting local banks or credit unions, meeting with a loan officer, and filling out piles of paperwork. Through LightStream, the lending process is handled online without needing to talk to anyone.
I'm not only sharing this information from an informational perspective but rather as a repeat LightStream customer. I purchased my first RV through LightStream and couldn't have been happier with the experience. This past summer, I also purchased a motorcycle with a LightStream loan.
A little bit about my personal experience:
Back in 2018, I decided to purchase my first RV. Since I was new to the RV lifestyle, I planned to search for a used travel trailer. My goal was to find something affordable, light enough to be towed by my F150, and in good condition. Maybe like many of you, I began this search by looking at RVs and not thinking too much about financing.
I was searching for an RV in early spring, the worst time to buy an RV. It seemed like a competitive buyer's market squashed every lead I got. The style of RV I was looking for, especially a competitively priced one, often sold before I could even contact the seller. I quickly knew that I needed to be ready to act and finalize the purchase when the right one came around.
So, next, I started to think about financing. I initially thought I needed to find the RV, go to a bank, and have them approve a loan based on my purchase. However, this wasn't easy when RVs were selling so quickly. So, after looking for alternative options, I stumbled upon LightStream.
LightStream claimed to be able to make a decision on a loan within one day and, in some situations, fund it within the same time. This turnaround seemed unbelievable to me, but everything I read confirmed this to be the case.
My next worry was needing to find the RV first and then apply for the loan. However, LightStream offers unsecured loans instead of those that use the RV (or purchase) as collateral. That meant I didn't need to have the RV details up front, and I could apply for a loan, get approved, and close on it once I was ready (within 30 days).
So, applying for a LightStream loan was exactly what I did. I first determined my budget for an RV based on the models and prices I found in the market. Next, I spent about 10 minutes applying for the loan on the LightStream website. A few hours later, I was approved for the loan and had 30 days to close. If I wanted to, I could have requested funds on the same day.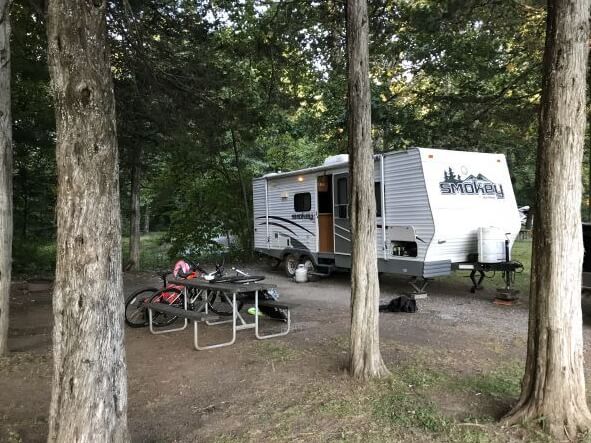 Now, I continued my search for an RV, and when I finally found the one I wanted, a 2005 Sunray Smokey bunkhouse, I was ready to make an offer to the seller. When my offer was accepted, I scheduled a time to inspect the RV and confirm it was what I wanted. That night, I logged into my LightStream account, requested the loan to be released, and had the funds deposited into my account the next morning.
I contacted the seller to make arrangements to pay for the RV and picked it up a few hours later. I even used some of the loan funds to cover additional costs like registration and taxes.
I couldn't have been more pleased with my RV financing experience with LightStream. They were lightning fast, offered very competitive rates, provided a transparent lending process from application to funding, and made the monthly payment process as simple as the application.
From that moment on, I became a loyal LightStream customer and have gone on to use them for other financing needs. They're truly a top-notch company and worthy of my full endorsement.
LightStream application process
Now that you have heard a little about my journey with LightStream let's look at the nuts and bolts of securing funding for an RV purchase.
What type, age, and condition of RV can you purchase with a LightStream Loan?
The great thing about a LightStream loan, compared to one you may find at your local bank, is that it's an unsecured loan. This type of loan means that the RV is not used as collateral for the loan. If you've purchased a used or new car in the past, you're likely familiar with the process of needing the vehicle information as part of the decision-making process for the loan. In that situation, the bank uses the vehicle as collateral for the loan and partially bases its decision on the vehicle you're planning to purchase.
With an unsecured loan, you are not bound by the RV's age, miles, or condition. However, it's smart to ensure that the value of the RV is well within the amount you're financing. If not, you can owe more of the loan than it's worth.
With an unsecured loan, another benefit you'll find is that when it's time to sell the RV, you can sell it quickly because you already have the title, not the bank. If you still owe money on your loan, you can pay it off after the sale or apply the money you receive from the sale to purchase your new RV.
While unsecured loans aren't new by any means, they aren't the typical product for purchases like a car or RV. With competitive rates, it's an attractive option provided by LightStream that can take some of the stress out of the buying process. This type of loan works extremely well for a used RV.
How much can I finance through LightStream?
LightStream offers loans ranging from $5,000 to a maximum loan of $100,000. If you're shopping for a used RV, you will have plenty of flexibility in the amount you can finance. However, remember to spend time planning your finances and make sure you're shopping for an RV within your budget. The great thing about LightStream is seeing the lowest rates, terms, and estimated loan payments before you even begin the application process.
What about loan rates and terms?
LightStream offers very competitive loan rates and repayment terms ranging from 24 months (2 years) to 144 months (12 years). The annual percentage rate (APR) for the loan is calculated based on the loan purpose, loan amount, loan terms, and customer credit profile. LightStream also doesn't charge a penalty for early payoff, meaning you won't be penalized with a fee if you pay off your loan before its scheduled end date.
LightStream also offers a lower rate if you opt for auto deductions for your RV loan payment. This is a no-brainer, as you'll save money just by doing what you are obligated to do.
To see the current rates and get a sense of the monthly payments, head over to LightStream, enter your anticipated loan amount, and get a breakdown of estimated payments within seconds. However, if you choose the non-auto-debit option, you see slightly higher interest rates in the offer.
What information is needed to apply for a loan
When applying for a loan, you'll need to have some information ready. You will need to provide your contact information, housing status, social security number, date of birth, and driver's license. You'll also need to provide additional information related to your income and expenses. Including all income sources, housing costs, checking and saving account balances, and retirement assets.
This basic information is required by most lenders. The great thing about LightStream is that they make the process super easy and straightforward.
What type of credit score do I need to qualify for a loan?
LightStream provides loans to individuals with good to excellent credit. As with most RV lenders, you'll be offered lower interest rates if you have better credit. LightStream doesn't only focus on the FICO score but examines an applicant's entire credit profile, such as credit history, assets, income vs. debt, and payment history.
How long does it take LightStream to make a decision on an application?
In many cases, the decision will be made the same day and, in some instances, within a few hours of submitting your application. Depending on the situation, it can take a little longer if LightStream needs to do some additional verifications. That said, I have never applied for a loan with any other company that provided approval faster than LightStream.
Does LightStream offer loan preapproval?
No, LightStream does not offer loan preapprovals; however, if you are offered a loan, you are not obligated to accept it. As mentioned above, an RV loan will be unsecured, so applying for one and receiving approval means you can accept the loan when you find the RV you want to purchase, assuming it's within the 30-day window from when the loan was offered. This allows you time to find the right RV and compare prices from different sellers.
Remember, a buyer with funding in hand is much more attractive to a seller than someone who needs to apply for a loan. An unsecured loan can help you find a better deal on a vehicle and hit the open road in your new or "new to you" RV much more quickly.
Do you need a down payment for your LightStream RV loan?
No, LightStream doesn't require a down payment for an RV loan. However, if you put money down on the purchase, you can apply for a loan to cover the remaining amount you need for the purchase.
Can a LightStream loan be used for a new RV?
Absolutely. LightStream loans are good for any vehicle purchase, including new and used options.
What type of RV can I finance with a LightStream loan?
You are not restricted on the types of RVs you can finance through LightStream. You can apply for loans for travel trailers, fifth wheels, Class A, B, and C motorhomes, smaller RVs, or even a custom RV that a traditional bank wouldn't finance.
One thing to keep in mind, LightStream categorizes towable RVs as trailers, which have different rates than motorized RVs. While the application process is the same with similar terms, you'll want to apply for a trailer loan for a travel trailer, fifth wheel, or any other towable RV.
Can I apply for auto loans through LightStream?
You sure can. If you need a car loan for a tow vehicle, or maybe you need one for your daily driver, LightStream is a good option. This type of LightStream loan will work the same way, providing an unsecured loan for you to use when buying a vehicle from a dealer or private party. 
How do I receive the funding, and how long does it take?
After you accept the loan terms, you can request funds to be deposited via ACH or wire transfer Monday through Friday (excluding banking holidays). To receive the funds on the same day, you must log into your account by 2:30 p.m. EST and schedule funds by 3:00 p.m. for a same-day wire transfer.
To receive funds via ACH transfer, you must request the transfer by 5:30 p.m. EST and schedule your funds by 6:00 p.m. the day before you want the funding.
To summarize, a wire transfer can allow you to receive the funds the same day, and an ACH transfer will allow you to get the funds the next day. That's super quick and makes the RV buying process as easy as possible.
Do I need to have the details on the RV when I apply?
No, you don't need to have any details of the RV you plan to purchase. You don't even need to know what RV you will purchase with the loan. The loan is unsecured, and you can use it for any RV you want, whether or not you identified it.
If my loan request is approved, how long do I have to accept it and request funding?
With an RV loan, you have 30 days to accept the loan terms and request funding. If the funds are not deposited within 30 days, the loan approval will expire, and you need to submit a new RV loan application.
Conclusion
Buying an RV can be a stressful process. Not only do you need to worry about finding the best option for your RV lifestyle needs, but you also need to figure out the best way to pay for it. While paying cash for any purchase is always a good idea, it's not always feasible with a big investment like an RV.
When shopping for a used RV, this process can get more complicated since many banks will only finance certain styles of RVs or may restrict your options based on model year, mileage, or condition. However, you can alleviate some of these concerns with an unsecured loan through LightStream. LightStream is one of the best online financial institutions, offering various loan products to fund your passions. While you need a good credit score, getting a loan through LightStream couldn't be easier. They offer competitive rates and an application process second to none.
Once you secure a LightStream loan, the service doesn't end there. Making an RV loan payment is super simple, especially if you choose the auto debit option. From a simple application process to lightning-fast loan approvals, LightStream is one of the best online lenders you'll find. If you're planning to make a new or used RV purchase, stopping by the LightStream website, comparing their low rates, and estimating a monthly payment is a great first step.
Also, once you purchase your RV, don't forget about an extended warranty. We have a great article that helps you decide if one is right for you.