Are you looking for the best RV electric space heater for cold winter months? We have the top lineup of the best space heater options in 2023 for RV use.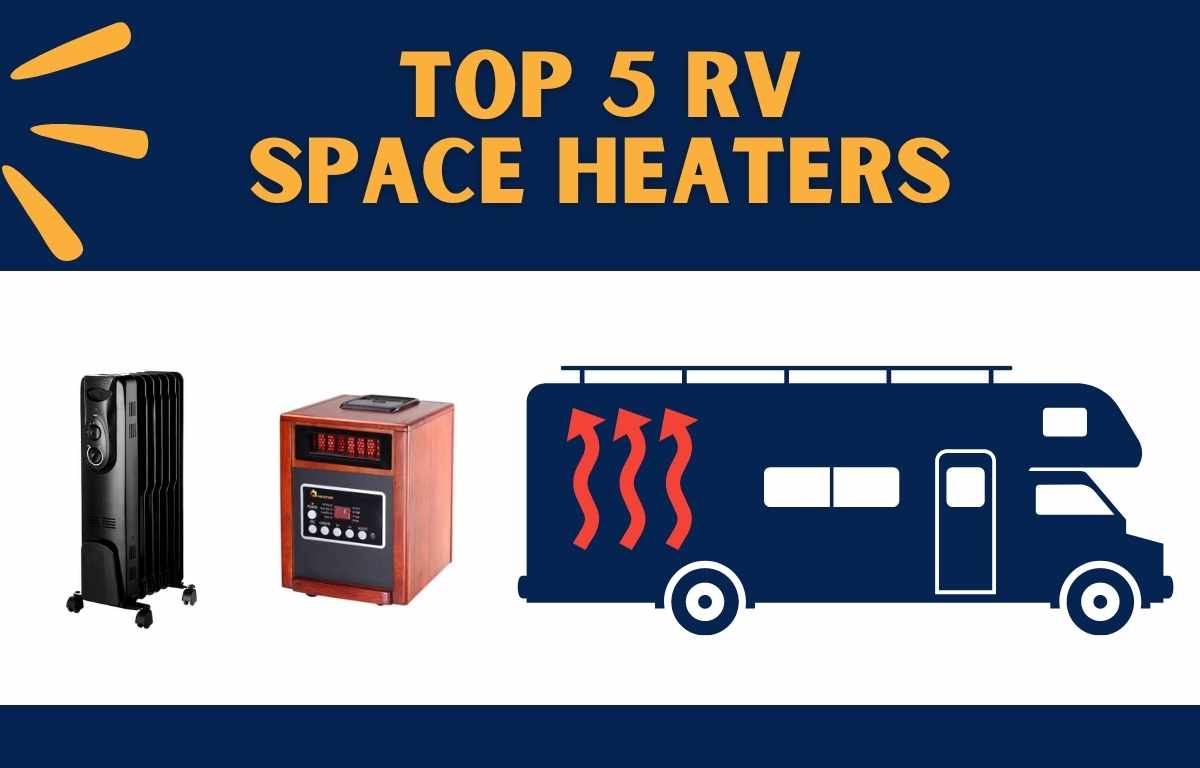 Nothing will heat up your RV as fast as your propane furnace, but they aren't very efficient. Propane prices are going up this winter, and filling your tanks often can seem like a full-time job. One of the best options to reduce your propane use is to supplement it with an electric RV space heater. Using an electric portable heater is a great way to offset propane use. They are very efficient in small spaces like RVs. Many will have both high heat and low heat settings. The heat output is often enough to heat both small areas and large rooms.
You can also check out some other tips for reducing propane use in your RV here.
Before we get started, it's important to remember that propane heaters do more than simply heat your living space. They're critical for supplying heat to your RVs underbelly, where all of your water piping runs if your RV has an enclosed one. While simply running an RV space heater all the time may make more economic sense, a good idea is to also periodically run your propane RV furnace to keep the underbelly warm. If not, your pipes will freeze.
When looking at special features of electric space heaters, a few common ones to keep an eye out for are:
ease of use
auto shut-off
compact design (*important for RVs)
quiet settings
power consumption
remote control ( a nice option)
adjustable thermostat
portable unit
square feet of heating (as advertised)
safety features: tip over auto-shutoff
Now, let's get into RV space heaters:
There are four primary types of space heaters that you'll commonly find used in an RV. Let's take a look at them:
Ceramic Heaters
A ceramic heater works by convection. They heat internal ceramic plates, which pass the heat onto the surrounding air, gradually heating the room. Many of the larger ceramic heaters will also have a fan to help distribute the heat throughout the room. A small heater that you may simply use for spot heat at a desk will likely be radiant, simply heating the air around it.
Radiant Heaters
Most electric radiant space heaters work by heating oil inside the unit. If you ever opened an oven on a cold weather day, you'll likely stand there for a minute or two soaking in the hot air coming out from it. You're experiencing radiant heat. Many radiant heaters, like oil-filled radiant heaters, are great for an RV since their usually silent and provide consistent heat after turning them off. The downside is that they can take longer to heat a room, but in an RV, this is not usually a problem when you're supplementing heat with a propane furnace. They're also one of the safest space heater options.
Infrared Heaters
These space heaters use infrared bulbs to produce concentrated heat. You've probably watched an infomercial or two on space heaters like this. Infrared space heaters can quickly bring your whole RV up to a comfortable temperature relatively quickly.
Like many electric heaters, most infrared units are 1500 watts — the maximum most standard outlets can handle. They are great for RVs as they typically come in a variety of wood-framed designs in various sizes and configurations.
Forced-Air Heaters
If you want to generate a lot of heat fast, forced-air space will do it. They use a heated internal element with a fan, which circulates warm air around the entire room efficiently. However, they can be a bit noisier than other options, and when they're off, the heat is gone.
When heating an RV, you can use any of these space heaters. However, I believe that some are a better option than others. My main criteria for choosing a space heater for an RV are its efficiency, noise, cost, and how well it works to supplement a propane furnace.
One thing to keep in mind is that there is no magic source of cheap heat. Electric RV space heaters will use a set amount of electricity, which will be the same no matter what type of heater you go with. The only thing that will change is how the heat is delivered.
The one exception to this rule is radiant heaters such as radiant oil-filled radiators. They will give off heat after they're turned off. However, it will need to run longer to get hot. In general, the energy use will be similar to other heaters because of this. However, in an RV when you will be running your propane furnace, oil-filled heaters may provide more steady heat and won't need to run as long if you do a little work to manage it.
Below are the top choices for RV space heaters
Dr. Infrared Heater Portable Space Heater
If you search for infrared space heaters, you'll likely come across the Dr. Infrared brand. This space heater has a long history of happy customers and provides a nice warming heat. One of the top claims that the company makes is that it is energy efficient, using 100 percent of the heat produced, which creates almost no loss in heat transfer. If you are looking for a simple set it and forget it solution, this may be for you. You can adjust the thermostat to your desired temperature and simply let it do its job. When temps are below freezing outside, don't forget to run your furnace to heat your underbelly.
Pros:
1500 Watts.

Large room heating.

Auto Energy Saving feature and High and Low settings.

Tip-over and overheat protection

12hr automatic shut-off timer

Remote ControlQuiet operation: noise level 39 dB (similar to a refrigerator humming)

Electronic Thermostat: range 50 to 85 degrees.

Site on wheels and easily moved: 24 lbs, 72-inch long cord
Buy Now
Outdoor Miles is reader-supported. When you buy through links on our site, we may earn an affiliate commission at no additional cost to you.
09/27/2023 07:40 pm GMT
---
2. Vornado AVH10 Vortex Heater
The Vornado space heaters are a marvel of modern engineering. I have one and absolutely love it. It is extremely quiet and provides instant heat to a large area. I primarily use it at night in the bedroom for a little extra heat when needed. I set it on low and it will cycle on and off a handful of times throughout the night. The unique thing about this heater, compared to others, is the airflow delivery of the heat. It uses a specially tuned airflow called 'Vortex Action'. If you've never experienced it before, it's hard to describe- it pushes out quickly, but it doesn't feel forceful like many fans. This is a great quiet option and an ideal choice if your goal is to heat up your RV quickly and maintain a comfortable temperature. It's also great to use without the heater turned on if you simply want to circulate your furnace heat throughout the RV. Its small size may be an important factor in your decision. This is truly a small space heater.
Pros:
Auto climate control: senses how much heat and circulation is needed to maintain a set temperature

2 quiet heat settings (Low/750W, High/1500W, and a fan only option

Cool-touch exterior, tip-over protection, and an automatic safety shut-off system

5-year warranty.

Vornado fans and heaters have an excellent reputation and loyal fan base (no pun intended)
Buy Now
Outdoor Miles is reader-supported. When you buy through links on our site, we may earn an affiliate commission at no additional cost to you.
09/27/2023 07:45 pm GMT
---
3. Dreo Portable Space Oil Filled Heater with Remote Control
If you haven't guessed already, I'm a big fan of the oil-filled radiators for RV heating. The Dreo oil-filled radiator heater works as all other ones do, but it has some added features that you don't find in traditional models. It has three heat settings: 600W/900W/1500W and comes with a remote control, something you don't see found in oil-filled heaters. This perfect RV space heater also features a smart ECO mode that adjusts the working mode based on the room temperature with a built-in precise temperature sensor. The thing that I really like about this is the built-in time. You can set the off time, but more importantly, you can program it to turn on when you need it. If you're for the day, simply set the timer to turn on the heater an hour before you get home. This heater is my top pick .
Pros:
Heats up to 300 sq. ft. 360° efficient circulation of hot air

Cool Touch Design: The heating element and fins are not directly exposed, preventing burn risks.

Built-in tip-over switch

Energy Efficient: Equipped with 600W/900W/1500W heating modes

Remote control

Easily movable on wheels
Buy Now
Outdoor Miles is reader-supported. When you buy through links on our site, we may earn an affiliate commission at no additional cost to you.
09/27/2023 07:50 pm GMT
---
Aikoper 1500W Oil Filled Radiator Heater with 3 Heat Settings
All oil-filled radiators pretty much operate similarly, so if you're not interested in additional features such as a time and remote, you can save a few dollars with a more economical model, such as this one. This economical RV space heater also offers three heat modes (600W, 900W, and 1500W). It also comes with wheels, so you can easily maneuver it around your RV.
Pros:
Smart thermostat: Built with three heating modes (600W, 900W, 1500W)

Adjustable temp(41℉-95F℉).

Tip-over and overheat protection

Simple two control knob, twist lightly to set the power and temperature

4 caster wheels and recessed carry handle
Buy Now
Outdoor Miles is reader-supported. When you buy through links on our site, we may earn an affiliate commission at no additional cost to you.
---
Heat Storm WIFI Infrared Heater- Wall Mounted
The final unit on this list is the Heat Storm Wall Mounted Heater. I'm offering this as a creative solution and a good option specifically for RV owners. As we all know, one of the greatest commodities to an RV owner is space. This infrared unit hangs on a wall, out of the way. It may not be a good fit for everyone, but if you have the wall or vertical space, maybe on the side of a cabinet, you may be able to fill up some unusable space. I like this model due to its slim design and added features. Specifically, the heater is equipped with Wi-Fi, so you can easily turn it on or off from anywhere with an internet connection. This is a great option if you want to preheat your RV before you get home. It's also helpful if you forget to turn it off when you leave- you can easily do it from the road.
Pros:
Safe to the touch grill.

1500 watts of power Space saving wall mount design (it doesn't get the wall hot)

You can hide the cord inside the heater

Easy to set/program temperature settings

Wi-Fi connectivity9 pounds

Voltage: 110 Volts
Buy Now
Outdoor Miles is reader-supported. When you buy through links on our site, we may earn an affiliate commission at no additional cost to you.
09/27/2023 08:05 pm GMT