One of the exciting things about TV shows and movies is when they portray something familiar to you. It could be a location you know well, a topic you enjoy, or a plot about one of our interests. Since I started camping, I have had an affinity for shows or movies depicting RVs. One of my all-time favorite TV shows is Breaking Bad. If you've seen it, you're sure to remember the Recreational Vehicle (RV) used in the show's first four seasons. The 1986 Fleetwood Bounder served as a mobile crystal meth cook lab for Walter White (played by Bryan Cranston) and Jesse Pinkman (played by Aaron Paul). It gave us some of the most memorable moments from the show's five seasons. The series, created by Vince Gilligan, characterizes a high school chemistry teacher's fall into a ruthless drug business kingpin.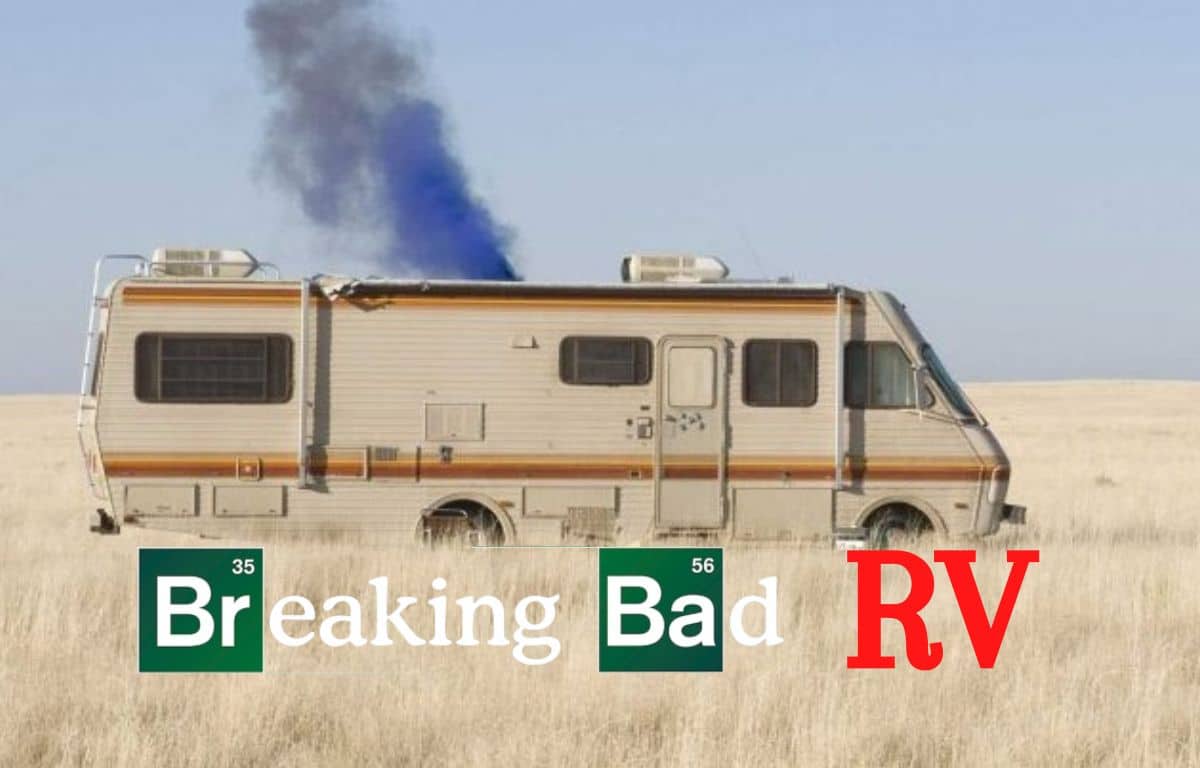 SPOILER ALERT!
Please skip ahead if you haven't watched the show yet and plan to do so. I won't give away the major plot twists of the show, but I'll mention a few things you may want to experience for yourself.
The show's very first scene opens with the RV speeding down a dirt road in the middle of the New Mexico desert, driven by Walter White, wearing only his underwear and a gas mask. Jesse Pinkman, his cook partner, lay slumped over in the passenger seat. Moments later, the RV abruptly stops as Walt drives down a steep embankment, crashing into a ditch while police sirens echo in the distance. This opening scene sets the stage for what very well might be one of the best TV shows of all time.
If the RV's drivability in this scene indicates the mobility of the Fleetwood Bounder, then wow, that was a damn good RV.
The RV is heavily featured in the show's first two seasons and meets its end in season three, episode six, in one of the most intense moments of the series. In this episode, Hank Schrader locates the old RV in a car and RV junkyard. However, Walt and Jesse are inside, trying to find a way to get him to leave before he learns the truth.
The RV, stolen from Jesse's friend Combo's mother (say that three times fast) and easily identified with five taped-over bullet holes, was one of the most iconic elements of the show. While Walt and Jesse never took it to their local campground for some R&R, they did have some epic moments on Walt's journey of "breaking bad."
About the RV
In an effort to not give too much away about the show (trust me, it's a binge-worthy series), I won't describe much more about the Breaking Bad adventures in the RV. However, I will provide you with off-screen facts about this epic RV.
The Fleetwood Bounder is one of the bestselling RVs of all time. The model used in the show was one of the first models produced. The Bounder was first introduced in the mid-1980s, and sales have been strong. The model year depicted in the show is believed to be 1986 Bounder.
I tried very hard to pinpoint the exact model, but since Walt and Jesse did some meth-cooking customizations, it's a little hard to say for sure. However, judging from the window layouts and interior views, I believe it's either a 31-foot (31KB) or 34-foot (34SB) Bounder.
Let's dig a little deeper into the features of the Breaking Bad Bounder.
Year: 1986
Make: Fleetwood
Model: Bounder S32
Style: Class A Motorhome
Length: 31-34 feet
Height: 78″
GVWR: 14,840
If you're super curious, you can Download the Manuel here: 1986 Fleetwood Bounder Manual
What was happening in 1986?
1986 was an exciting year. Aside from my 9th birthday, 1986 had some unfortunate events, including the Chornobyl nuclear disaster and the Challenger explosion. I still remember watching the Challenger launch live in 4th grade. On a more positive note, it was also the year that Oprah Winfrey first aired and when Hands Across America took place (I remember that from 4th grade too).
Things were much more affordable then. The internet is great for many things, but getting the MSRP of a 1986 Fleetwood Bounder is something that it's not good at. However, a similar 1989 model Bounder cost around $38,000. So even if you knock a few grand off that price, it was still relatively expensive in 1986 dollars, although slightly more affordable than today. A 2021 34-foot Bounder retails for over $160,000.
During its release year, a gallon of gas cost $0.89. A new car was under $10,000, the average rent was $385/month, and the average housing price was $89,000. However, the average income per year was just over 22,000. Nothing ages you like historical prices for a first-class stamp, which, by the way, was $0.22 in 1986.
It's interesting to think of this year in my life and now relate it to something completely arbitrary, such as the Fleetwood Bounder birth year. I can only imagine that the people who made this RV experienced the same things I had but with a much different perspective than a 9-year-old.
Back to the RV
The RV most likely had a 101-gallon freshwater tank, a 59-gallon black tank, and a single 56-gallon grey water tank. This extra capacity would have probably been plenty big for Walt and Jesse if it wasn't for the meth-cooking business. The Bounder also came with a stock Gas/electric water heater, which appears to be an Atwood. It's remarkable how this appliance has gone unchanged.
Although it was just the two of them, the Bounder can sleep 5, sporting a queen bed, fold-down dinette, and pullout sofa. Of course, removing the dinette and sofa is optional for folks looking to modify it into a mobile laboratory for cooking meth. The Fleetwood Bounder in the show was pretty minimal, containing only some shelving, countertops, and a mattress on the floor.
The Bounder was a bit more luxurious. It came stock with wall-to-wall carpeting; however, Jesse and Walt removed it for manufacturing reasons. I suppose meth cooking and combustibles don't mix too well. They also appear to discard the included appliances, including a Magic Chef 10 cubic foot refrigerator, chef microwave, and stove/oven combo. Some units also had a washer and dryer; however, domestic chores come second to drug running, so I assume.
The Bounder also boasted an Onan Emerald III GenSet gas-powered generator. It's not a quiet one, but I suppose you don't have a lot of neighbors in the middle of the desert. When I first laid eyes on that generator, I first thought, "ya, that can't be good for a sensitive electronic." Then I realized I wasn't looking through my 1986 glasses.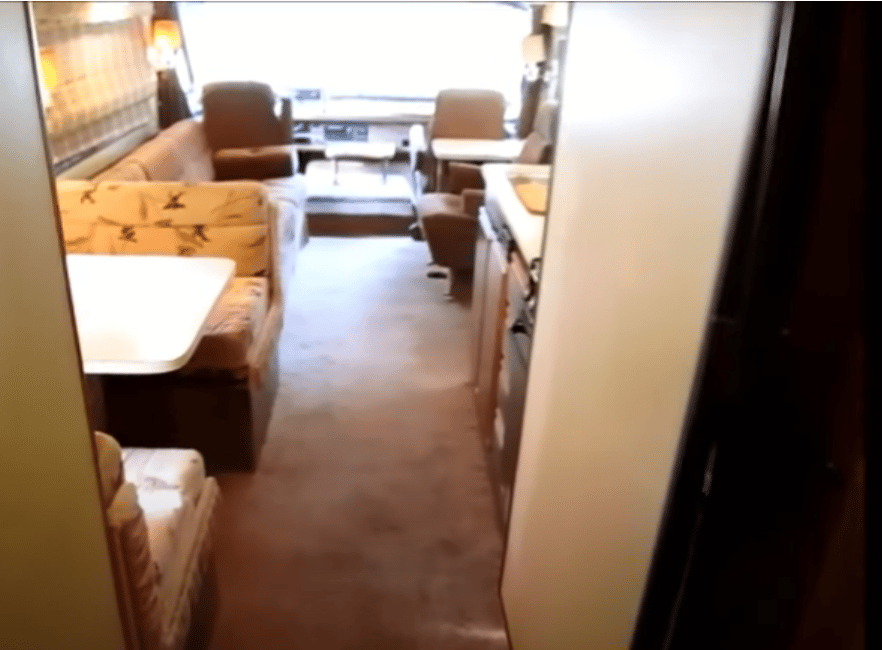 The Bounder featured a 7.4-liter big-block Chevrolet 454 V8 engine. This engine was a workhorse of the 1970s, but in the 1980s, it was reserved for RVs and industrial applications. The RV had a not-so-impressive 4.2 MPG fuel efficiency. Its 100-gallon tank would have cost about $86 to fill when first introduced. If filling today, you'd be spending over $330 at the gas pump. You would need to stop about 6.5 times to fill up if traveling across the country, which would have cost $550 in 1986 and $2,145 today.
The Bounder Icon
However, no matter how you look at it, the 1986 Fleetwood Bounder is an RV icon. Perhaps Breaking Bad put it in the spotlight for its moment of fame, but it deserves to be there. It's the best-selling motorhome of all time. 1986 was one of the first model years to travel the roads during the golden age of the cross-country road trip. The Beige exterior color with the Mojave side-panel stripes…" boy, oh boy, she's a beauty."
If you're a Breaking Bad fan, why not binge-watch the first few seasons and pay extra attention to the RV? On the other hand, if you're new to the show, well, then what are you waiting for? Either way, it will be fun to watch it with a little more knowledge of the iconic RV that serves as the Break Bad mobile meth lab, the "Krystal Ship." So kick back, grab a bucket of Chicken (pretend it's from Los Pollos Hermanos), and enjoy this icon series. Also, if you didn't watch El Camino yet, the Jesse Pinkman follow-up movie, it's worth a watch.
Breaking Bad Tour
If you're a true fan of the show and passing through Albuquerque, NM, you may want to schedule a 3 hour film location tour, seeing all the famous sites and filming locations from this iconic show. Best of all, you can ride in a replica of the RV. The breaking bad RV tour includes your favorite locations, such as Jesse's house, Chucky's, Dog house, Tucco's, Combo's corner, Rail yard, RV Junkyard, Los Pollos Hermanos, Owl Cafe, Jane's, Walt's house, the Car Wash, Superlab and more. It also includes sites and locations from related shows, including Better Caul Saul. If the RV is sold out, you can also take a shuttle bus tour of the same locations. To learn more and to schedule a trip, visit the company offering the interactive studio tours: https://www.breakingbadrvtours.com/