One of the least desirable realities of camping in an RV is dealing with wastewater. There's no way around it unless you're planning to simply use campground restrooms and showers. If you've been camping long enough, you will surely have a horror story about emptying your black tank. I don't even want to mention mine and relive that experience. However, with every mishap in your outdoor pursuits, you learn to avoid them in the future.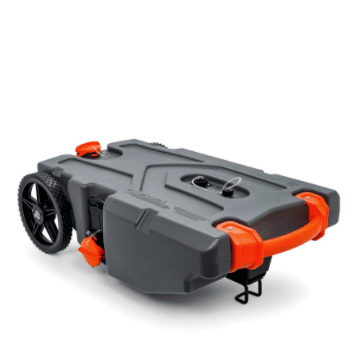 Finding a full hookup site is the preferred option when visiting an established campground. However, what do you do if a full hookup (water, electricity, and sewer) isn't available? Well, you have a few options. Easiest, you can simply fill up your black and grey tanks and visit the dump station when you leave the campground. But what do you do when you're all set up, and your tanks are full? Do you really want to hook up your rig and drive to the dump station? I know that I don't since my camping time is precious. You can also pay to have it pumped out by the honey wagon (a mobile tank pumping service) if the campground offers it. However, these aren't always viable options and can be expensive.
This is where a portable tote becomes invaluable. My recommendation for the all-in-one waste tote solution is the Camco Rhino Portable Holding Tank. Since purchasing it, I've been using this regularly (for years) now and have only positive experiences with it.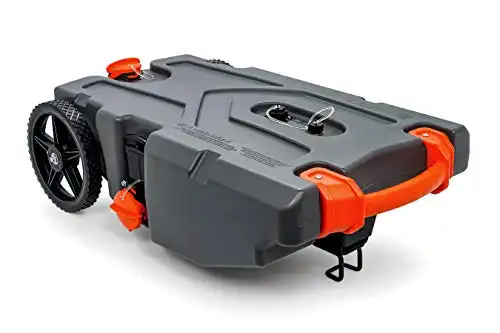 Camco Rhino Portable RV Waste Holding Tank- 28 Gallon
Size: 14 ½-inches (L) x 24-inches (W) x 44-inches (H) and has a 13-inch minimum waste height hook up. Weight: 43 lb.
Buy Now
Outdoor Miles is reader-supported. When you buy through links on our site, we may earn an affiliate commission at no additional cost to you.
12/07/2023 02:11 pm GMT
The tank comes in various sizes (15, 21, 28, and 36 gallons). In some instances, bigger isn't always better. One important thing to remember is that a larger capacity, while allowing you to carry more volume, will also increase and be heavier. Keep this in mind when selecting your size.
Sizes and Dimensions
| Product Image | Product Name / Size | Price / Primary Button |
| --- | --- | --- |
| | 14 ½-inches (L) x 24-inches (W) x 44-inches (H) and has a 13-inch minimum waste height hook up. Weight: 43 lb. | |
| | 20 ½-inches (L) x 13-inches (W) x 32 ¼-inches (H) and has a 13-inch minimum waste height hook up. Weight: 31 ½ lb. | |
| | 20 ½-inches (L) x 13-inches (W) x 40-inches (H) and has a 13-inch minimum waste height hook up. Weight: 34 ½ lb. | |
| | It measures 15 ½-inches (L) x 25-inches (W) x 46-inches (H) and has a 13-inch minimum waste height hook up. Weight: 46 lb. | |
12/07/2023 02:11 pm GMT
Accessories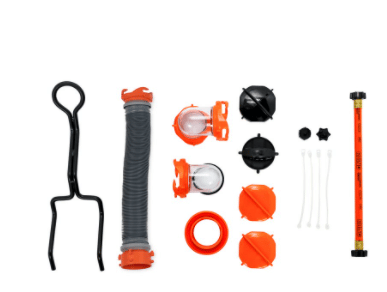 All tanks will come with the accessories you need. Some of the connections will look like regular RV waste hose fittings, but they're designed to connect to the tank.
3' Rhino extreme sewer hose with bayonet and lug fittings
15" water hose rinse adapter
clear elbow with 4 in 1 adapter
clear double bayonet elbow
3 storage caps
2 caps with lanyards for rinse connections
steel tow adapter
How to use
Using the tank is pretty straightforward. First, you simply connect the female end of the waste hose to the RV and then connect the other end to the elbow, which connects to the tank. You're now set up to start dumping. One thing that you'll surely forget once or twice is to remove the vent cap. This allows air (stinky air) to escape as the wastewater goes in.
Once connected and vented, simply open the tank valve on the RV and let it fill. Next, you'll need to monitor the level as a smaller tank may not be able to hold a full dump of your grey or backwater. Miscalculating this could leave you with a big mess- ask me how I know. Once full, simply close the RV valve, replace the vent cap, and get ready to transport it to the dump station.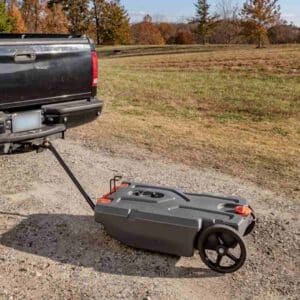 One of the best things about the tank is the tow hook. This hook simply slides onto the tank and connects to the hitch ball of your tow vehicle. As a result, this makes longer transports manageable, even for the largest of the totes. I've successfully towed a full tote several hundred yards with no issues. Just be sure to drive slowly and avoid super sharp turns.
What I Love
Easy to fill, transport, and keep clean.
It comes with all of the accessories that you need to get started.
well built and holds up well (going on 3 years of regular use).
While not the cheapest option, it's a good value for what you get.
Easy to tow.
Has a tank rinse connection.
What could use improvements
Guessing when the tank is full (or close to it) takes some practice. A level indicator would be nice.
Hard to find replacement accessories in stores if misplaced.
Smaller volumes are not large enough for full tanks (more trips to the dump station).
You must buy a ladder rack accessory (not included) if you want to easily transport it on your RV.
Overall Recommendation
If you're looking for a portable waste tote, you really can't go wrong with the Camco Rhino. I don't think there is a better tank out there that provides the value that this one does. In conclusion, having a tote may not seem like a necessity, but it really opens up your options for camping in sites without a full hookup or boondocking. Wastewater isn't a sexy part of camping, but it is a reality. This tote makes it a little less painful.
Where to buy
These tanks are large, and the boxes are even larger. I bought mine on Amazon with Prime Shipping. It came super fast, and ready for my weekend camping trip. Click below to see the latest prices on the various models.
| Product Image | Product Name / Size | Price / Primary Button |
| --- | --- | --- |
| | 14 ½-inches (L) x 24-inches (W) x 44-inches (H) and has a 13-inch minimum waste height hook up. Weight: 43 lb. | |
| | 20 ½-inches (L) x 13-inches (W) x 32 ¼-inches (H) and has a 13-inch minimum waste height hook up. Weight: 31 ½ lb. | |
| | 20 ½-inches (L) x 13-inches (W) x 40-inches (H) and has a 13-inch minimum waste height hook up. Weight: 34 ½ lb. | |
| | It measures 15 ½-inches (L) x 25-inches (W) x 46-inches (H) and has a 13-inch minimum waste height hook up. Weight: 46 lb. | |
12/07/2023 02:11 pm GMT