You may have heard of travel hacking, but have you heard of camping hacking? Well, probably not, since I very well may have just invented that term. However, taking advantage of credit card points and bonuses for camping is a great way to capture value from your camping excursions and save on your camping expenses.
If you're not familiar with credit card points or travel hacking, this may seem confusing at first, but it will make more sense as you learn about it. Many credit cards offer various ways to earn and spend reward points at their most fundamental levels. If you think of points as money, it is easier to understand. Every card is a little bit different, but most operate similarly.
Before my time as a camping enthusiast, most of my travel was more traditional: hotels, flights, car rentals. I still enjoy this type of travel, but I simply have less time for it than in the past. In addition, I'm a frugal person by nature, and I find it incredibly difficult to ignore a good deal because of convenience. So I was the perfect candidate for travel hacking and spent a lot of time maximizing discounts and reward programs to enhance my time on the road. While not apples to apples, many of the benefits I used also apply to camping.
Credit Card Rewards/Points
It may seem counterintuitive at first, but credit card companies like to give you rewards for using their card for your purchases over another one. It's not out of the goodness of their hearts. It's because there is BIG money to be made. Credit card companies get a percentage of your purchase amount from the store with every purchase you make. Additionally, they'll get all interest cardholders to pay each month. As a result, credit card companies are in fierce competition with each other for your business.
In vying for your business, card issuers have developed elaborate reward programs for their holders. By using their cards, you earn points. Depending on the program, you can use those points to purchase travel, gift cards, or even cash back. Many cards also offer sign-up bonuses when you apply for a new card. We'll discuss this later. As your points grow, so do your options to spend them. However, you should be aware that not every rewards program or point system is the same. It's best to start with one program, get to know it well, and find out how to get the most value out of it. Focusing on one specific rewards program may be the best scenario for 99% of people.
Different types of cards
You've probably been in this scenario dozens of times; you're about to purchase something, and the cashier asks you if you want to apply for the store credit card to save $25 off your purchase. Additionally, if you dig through your junk mail, you probably have a weekly offer from a credit card company offering their program to you. I'll describe a few types of cards below, but not every card will fall under these categories.
Store/Partner Cards: Many larger chain stores (Home Depot, Best Buy, Sam's Club, Cabela's, etc.) have their own credit card. You probably have a handful of them in your wallet. These cards usually offer a small signup bonus of $25-$50. Some may also include a store discount for future purchases. This benefit is what I describe as an impulse application pitch. Unfortunately, when compared to other programs, it's usually a terrible deal, especially if you plan to use that card in the future.
While these cards may be beneficial for many people, they may not be giving you the most value from your credit card spending. For instance, I had a coworker who would get super excited to earn $200 in Cabela's Point at the end of the year. That is attractive, but a more general program could have made him 3-4x as much and not restricted him to using the points at Cabela's.
Special Interest Cards: These types of cards may be related to something that interests you. A good example is cards offered by Alumni associations for your college, a nonprofit organization, or maybe even a particular recreational activity that you enjoy. You may earn some points or cashback by using these cards, but less than other cards.
Cash Back Cards: This is another type of card that boasts its rewards as being cashback. You earn cold hard cash as your reward. This money can often be applied to your balance or sent to you via check or direct deposit. These cards are usually better than a store card since you can choose how and where to spend your rewards. While the value may not be as high as other cards, you make up for that with the flexibility of receiving cash. You should also note that many other cards, such as the travel cards described below, will also offer cashback as an option.
Travel Cards:  Travel cards get their own category because they offer unique features, and for the traveler, they can provide a lot of value if used correctly. They're also the main focus of this article, so keep that in mind as your read along. I'm not saying that these are the best cards out there. They're simply, or usually, the best for travel. This option may not be the best if you don't frequently travel. 
Travel Cards are uniquely themed credit cards with reward programs designed to earn you the most points when using them for travel. Similarly, they often provide benefits when using the points for travel. Therefore, you can usually find value when earning and spending with this card type. Before I get into specifics on cards and programs, I'll cover some of the most common features that apply to many cards.
Overview of Travel Cards
Sign-up Bonuses
Earning Points
Travel Categories
Redeeming Points
Sign-up Bonuses
Most cashback and travel cards offer a signup bonus. If it doesn't, look for one that does. These bonuses change regularly, so it's always a good idea to do some research on your card. Generally speaking, the higher the bonus, the higher the spend requirement, and the greater the chance of an annual fee for owning the card. These two items are VERY important things to consider when deciding on a card. You can quickly get yourself into a situation where the card costs you money rather than providing you with value.
Let's dig deeper into these two items: minimum spend and annual fees.
Minimum spend:
The minimum spend is the amount of money you must spend on the card over a given period to receive the one-time bonus offer. Some programs with large bonuses will have a higher minimum spend requirements. For example, the Chase Sapphire Reserve card may offer you 100,000 points ($1,000), but you must spend $4,000 in 3 months to get it. You should never go out to spend money that you're weren't planning on spending just to get a signup bonus. I highly recommend that if you want one of these cards, apply for it before you have a major planned purchase.
Smaller sign-up bonuses typically have a much lower minimum spend. For example, a Chase Freedom card may offer you $250 in points for spending $500 in three months.
Credit Card companies are very strict with this policy. If you miss the minimum spend by a day or a dollar, they'll likely deny you the bonus. But, of course, they're probably hoping that happens as it benefits their bottom line.
Annual Fees:
Annual fees are crucial to look out for when selecting a card. Many available cards don't have an annual fee. However, many do; and the ones that do can range from $99/year to over $500/year. Therefore, when choosing a card, you must ensure that whatever benefit you get from the card will be significantly more than the annual fee. If it isn't, choose a card without one.
Cards that charge an annual fee typically have more benefits associated with them. These benefits can be significant, but only if used. Many travel cards with high annual fees often benefit the frequent or business traveler. Some of the benefits include free night stays at hotels, companion airline tickets, free access to airport lounges, flight upgrades, etc. In general, if your goal is RV travel, these may not be right for you.
Some of the lower annual fee cards in the $99 range will typically provide more than enough benefits for the RV traveler. These standard benefits can include trip insurance, no foreign currency fees, purchase/price protection, or other brand discounts. But, again, we'll cover a lot of this later.
Earning Points:
Earning points is often one of the most important aspects of any rewards card you plan to get for RV travel. Many cards will include specific categories with individualized point earning rates for particular categories. You will see this advertised for all cards that earn you points. Most cards will start with a 1 to one point value for all purchases. For example, you earn a point if you spend a dollar (1:1). Those points will have a specific value depending on what card you have. Most common, however, is that 100 points will be worth one dollar.
Let's say, for instance, that you only focus on 1:1 point earning. If you spend $1,000/month paying your bills, making regular purchases, etc., you will earn $10 worth of rewards. Over a year, you now have $120 of reward value to be used. That sounds good, but not fantastic, right?
This ratio should be your baseline with earning points. Almost every single rewards card will offer something like this. However, true hacking begins when you look more specifically at earning potential. Most cards will offer the 1:1 ratio but sweeten the deal by increasing this for specific categories. These categories vary widely, but many of the common ones that have higher earning potential include:
Restaurants
Groceries
Gas Station
Travel
Internet/Cell phone bills
These categories can earn you even more, depending on your regular spending patterns. Cards may offer a valuable ratio for these categories. For example, you may see an offering of 2:1, 3:1, or even 5:1. No single card will give you the best ratios for every category, but many people will use 2-3 different cards to maximize their earning potential.
Some cards also offer rotating categories for each quarter. One of the most popular cards is probably the Chase Freedom card, which has a quarterly rotation of categories that provide 5:1 earning for that category for the months that it's available. There's a limit on earnings of up to $1,500/quarter for this card. However, if you max out your spending, that's $75/quarter in earnings ($300/year). Both Discover and Citi offer a similar card. As a general example, in 2021, the Chase Freedom categories were:
Quarter 1: Wholesale Clubs, steaming services, internet, and phone bills
Quarter 2: Gas stations and Home Improvements
Quarter 3: Grocery stores, streaming services
Quarter 4: Walmart, PayPal
Redeeming Rewards
Earning points is the hard part; redeeming them is the fun part. Most programs will have a variety of ways to redeem your points. For example, some cards may provide you with a voucher or credit for shopping in their store. Other cards may allow you to purchase gift cards. Finally, many cards will enable you to shop online with points on Amazon. However, for most redemptions options, the value is typically 1:1. This example means that the dollar value of the reward is equivalent to the dollar value of the item or service you're purchasing.
Under this scenario, receiving a gift card has the same value as receiving cash or a statement credit. I recommend that you request cash back vs. purchase an item or a gift card in most instances. Cash is much more flexible and will allow you to shop around for the same product or service or wait for a sale. For campers, you can use cash-back to book reservations, gas, food, or anything else you need for your trip.
However, if you want the most value from your rewards, look for redemption offers that provide you with more than a cash-value equivalent. You may see options like featured gift cards (for example, a $60 Home Depot gift card for $50 in points). Amazon is also known to add promotions for a dollar amount off when using points for the first time.
Other cards have more elaborate ways to redeem points for a higher value. Chase, for example, has a travel portal for booking flights, hotels, and car rentals. You can book these at a discounted rate if you have a premium card. I describe this program below in more detail.
The key takeaway is always looking for ways to get the most value out of your rewards program (more than a 1:1 ratio) for something you ACTUALLY need. If you can't do that, cash is king. For example, requesting cashback is a good option for camping needs.
How can this work for camping?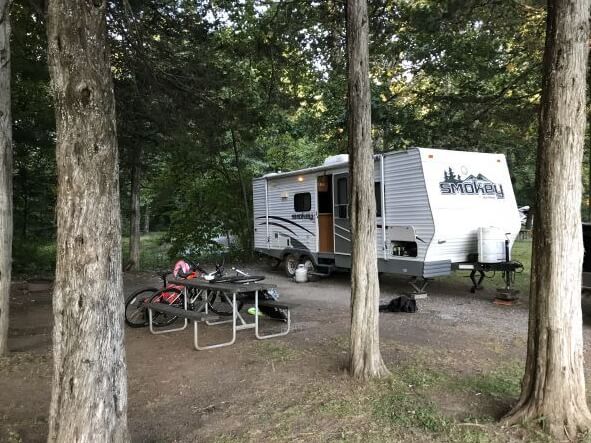 The first thing to mention about credit card reward programs is that there is nothing unique about it that pertains to camping. It's geared more towards everyday consumers, with travel targeted more for the traditional traveler. The only specific credit card that I have been able to find geared towards the camping community is the Good Sam Visa Card. 
The Good Sam Visa card isn't terrible, but not quite as advantageous as a general travel card. With this card, you will earn 5 points for every dollar you spend at a Good Sam family of brands (Outdoor World, Gander. You also get 3 points for every dollar spent at a private campground. This card isn't a bad deal, but it limits you to this one program. The sign-up bonus is also relatively small (2,000 points or $20 value). You can redeem your points for cash back, Good Sam memberships, or various gift cards. This card is probably best for someone who shops primarily at Outdoor World. It may simplify your earning, which is good, but you may find more value in other cards. The best benefit with this card is the 3 points for staying at private campgrounds. 
Benefiting from credit card rewards programs when camping falls under two categories:
Earning rewards when camping
Spending rewards for camping
Below are a few suggestions on maximizing your earnings and getting the most value when spending. 
Earning rewards when camping:
The best way to earn rewards is to make sure that you review all of your expenses and assign a rewards card to them. When camping, this usually includes campsite rentals, food and dining out, gas, activities, and camping gear and supplies. Let's look at each one individually.
Campsite rentals: Many cards, but not all, include campgrounds in their travel category. For example, the Chase line of cards explicitly lists campground fees as part of their travel category. Many other issuers offer this, but it's good to do some research before you choose a card. When booking a campground, use a card with the highest earnings for travel. The Chase scenario described below would be the Chase Sapphire, a 2:1 earning ratio. The Good Sam card is described above as a 3:1 earning ratio.
Also, a credit card issuer doesn't care about discounts you receive, so always look to maximize any discounts that you can receive from other programs before you book. Some of these include Good Sam, KOA Value Kard, AAA, etc. The fee charged to your card will be used for earning points.
Food and Dining Out: One of my favorite parts of camping is the food. Restaurants and groceries are great options to earn some rewards points. Many cards will offer higher earning ratios for items in this category. It's not hard to find a card that provides a 3:1 earning ratio for restaurants. If you eat out on your trip, use a card that offers this benefit. The Chase Freedom Unlimted below provides a 3:1 ratio for restaurants and takeout. 
Grocery store earnings are more challenging to take advantage of for points. Car issues with a rotating quarterly category of rewards typically offer a Grocery store category at some point during the year. An example is the Chase Freedom (Flex) and Discover and Citi rotating category cards. Some of the sores to watch in these categories include grocery stores, Target/Walmart, Sam's Club/Costco, or even Amazon.  When these categories roll around, they typically offer a 5:1 ratio on earnings. It's is a great time to stock up on essentials for the camping season and take advantage of the card. When these categories aren't available when you're camping, simply use your highest-earning everyday spend card. The Chase Freedom Unlimted offers a 1.5:1 ratio on every dollar you spend outside a category.
Fueling Up: Gas stations are another category on the rotating list for some cards. Of course, this will limit you to a single quarter out of the year. However, you can always purchase gift cards for a gas station chain and use them throughout the season when this promotion comes around. I did this one year, and it worked well. The only concern that I had was the fear of misplacing them.
If you do a lot of traveling, especially if you're full-time, you may want to consider a dedicated gas credit card. Many gas stations offer their card (Mobile, Exon, Pilot, etc.). However, a station-specific card would limit your options when traveling. The PenFed Platinum Rewards Visa card offers a 5:1 earning ratio for all gas purchases. This benefit is like receiving an automatic five cents off per dollar savings. With this price of gas increasing, this can add up.
Activities: While most credit cards won't have specific earning ratios for camping activities, there are a few ways to save on them. It's rare, but some activities may count as travel. An example may be booking an excursion into a city via train, renting a car, taking a bus, or paying for parking. Also, some card carriers will count purchases made through travel agencies as travel. For example, suppose you're booking any extensive activities or experiences, such as visiting Disney. In that case, it may be advantageous to book it through a travel agent if they can offer comparable prices to other sources.
Camping Gear and Supplies:  Purchasing the things you need for camping, or maybe a more significant purchase for upgrading your RV, is a great way to earn some points. Aside from putting it on a card that earns just regular everyday spending points, you can always wait to make the purchase when one of your quarterly categories offers you a better-earning ratio. In addition, many of the rotating category cards will eventually offer an Amazon option. So this is a great time to stock up on your RV gear needs to make that large purchase.
Additionally, you can always look at your specific cards for certain stores' offers. I didn't discuss this in this article, but many cards have started offering rotating offers at different stores or programs. These offers can sometimes be significant. American Express cards are known for these offers, but Chase recently started a competitive offer program. An offer may provide you with a dollar amount or percentage off a targeted store or restaurant purchase. They may also give you discounts on services. As a bonus, you'll earn your regular points on top of the offer. Check these offers out for your cards. They change regularly.
Earning rewards when camping:
The best way to earn rewards is to make sure that you review all of your expenses and assign a rewards card to them. When camping, this usually includes campsite rentals, food and dining out, gas, activities, and camping gear and supplies. Let's look at each one individually.
Campsite rentals: I am not aware of any cards that offer redemption options directly for campsites. With the changes in the camping lifestyle, I won't be surprised if card issues provide this as an option in the future. However, redeeming your earning for booking camping isn't impossible. You'll just need to focus on your cash-back earnings as a way to pay for campgrounds. This use might be your best option for those of you who camp as your only form of travel.
However, if you still periodically use traditional travel methods and book the occasional hotel, car rental, or flight, you can maximize your points for these expenses. Chase offers deep discounts on redeeming your points for traditional travel. The more you save here, the more money you can dedicate to your camping needs. 
Food, Dining Out, Gear, and Gas: Most cards reward programs will offer you the ability to purchase gift cards. This benefit is a great way to transform your rewards into camping benefits. While it's easy it find gift cards at a 1:1 ratio, you can often find special offers from the rewards program where they give you more in card value for what you're spending. For example, you may find a restaurant gift card offer at a reduced rate ($50 for 4,000 points). When you see these, and if you would typically use them, pick them up and save them for your trip.  
Activities: Chase recently launched an experience option for redeeming ultimate reward points. If you are in the Ultimate Rewards program, you can go to the "redeem rewards for the travel section" of the Chase website and see a list of activities or experiences offered for your destination. These may include access to parks, sightseeing tours, or excursions. Best of all, these are offered at a reduced rate from the premium cards. For example, for the Chase Sapphire Preferred card, 25% off and 50% off the Chase Sapphire Reserve card.
Cash and Statement Credits: Most cards will have an option to redeem your rewards as cash or a statement credit. This benefit is often the least valuable way to redeem your rewards, but it is without a doubt the most flexible. For example, you can offset anything you need for your camping trip by redeeming your points for cold hard cash.
Chase Ultimate Rewards recommendation
No question, travel hacking can become highly complicated, involved, and even dangerous to your finances if not done responsibly. There are entire online communities devoted to this topic. Many people will boast about their free $50,000 two-week vacation from travel hacking. While this may be possible, it's not the norm and is very difficult to achieve without devoting a large percentage of your life to it.
However, starting simple and with a manageable plan is what I recommend. One of these best programs out there for 90% of people wishing to do this is the Chase Ultimate Rewards Program. This program provides a clear point earning system, various cards with different categories, and ways to combine points, generous signup bonuses, and valuable ways to redeem your points. Below is my recommendation:
Chase Trifecta: Three-card system:
To take full advantage of this program, I recommend carrying just three specific cards in your wallet. Two of these will have no annual fee. One will have an annual fee. While there are several multi-card strategies, below is my recommendation if you're just getting started. Here they are:
| | | | | |
| --- | --- | --- | --- | --- |
| Card | Sign-up Bonus | Minimum spend | Annual Fee | Categories |
| Chase Freedom (Flex)  | $250 | $500/3 month | $0 | 5% on travel through Chase3% on dining, takeout, drugstores1.5% Everything else |
| Chase Freedom Unlimited  | $250 | $500/3 month | $0 | 5% on bonus categories (up to $1,500/quarter)5% on travel through Chase3% on dining, takeout, drugstores1.5% Everything else |
| Chase Sapphire Preferred | $600 (can go up to $1,000) | $4,000/3months | $95 | 5% on travel through Chase3% on dining and delivery services2% on other travel25% discount when using on travel through Chase |
The reason behind the 3-card system is to be able to fully take advantage of both your point earning and redemption potential. You want to make sure that every dollar you're putting on a card earns the most amount of points possible. If a purchase falls under a specific category for one of the cards, then that's the card you should use. If a purchase doesn't have a category, use the most advantageous card for the "everything else" category. In the example above, that card is the Chase Freedom Unlimited, offering a 1.5:1 earning ratio.
Several of these cards have overlapping categories. If you've been examining the chart, you may be asking yourself why you would even need the Chase Sapphire card with a $99/fee. There are a few reasons why you will likely want this. First, travel earnings for the campground. This Chase card is the only card out of the three that will allow you to earn extra points for purchasing travel that's isn't offered through the chase Ultimate Rewards travel portal. You can't book campground stays here. So, if you want all of your campground trips to receive the 2:1 point ratio, you will need this card.
The second reason you will want this card is to redeem your points. Chase allows you to redeem travel directly through their Ultimate Rewards portal. You can do this with any card, but a Sapphire Preferred card will give you a 25% bonus for your points. For example, if you book a $100/night hotel using their portal, it would only cost you $75/night worth of points. That savings alone will likely be worth the annual fee. Combining that with included benefits such as travel insurance, no foreign transaction fees, and the ability to transfer points to other partners (airline miles, hotel rewards, etc.), it seems like a steal. Of course, if you aren't planning to do any traditional traveling (flight, hotel, or car rentals), you can always skip this card, but most people will find out that it benefits them.  
Combing Ultimate Rewards Points
One of the best reasons to start earning points under the Ultimate Rewards program is to transfer points from one card to another. The main reason you will want this option is to move points earned under the Chase Freedom and Freedom Unlimited card to the Sapphire Preferred Card. The Sapphire Preferred offers a 25% bonus when booking travel directly through Chase. You can also transfer points to partner programs. There wouldn't be any reason you would want to do this in reverse. Another feature of moving points is that married couples can share points. For example, if the Chase Freedom card is under the husband's name, he can move his points to his wife's Sapphire Preferred card. Some couple will have their personal Freedom Cards, and only one person will have a Sapphire Preferred card, allowing even more points to be earned each quarter while not incurring an additional annual fee.
Ultimate Reward Redemption
Redeeming Ultimate Rewards is easy. The simplest way to redeem points is as a statement credit. You can apply your points to your credit card bill for the month. For example, if you have 10,000 points, that's $100 that you can use to pay your credit card bill. Similarly, you can also request cash and have it deposited into your checking account.
The following way to redeem points is by purchasing gift cards. The Ultimate Rewards program includes gift cards as a flexible redemption option. You may find gift card options ranging from restaurants to department stores to entertainment services. You can also link your card to Amazon and shop with points. While there are promotions at times that may make gift cards or amazon points more valuable, most redemptions are just a 1:1 value.
If you have a premium card like the Sapphire Preferred, the most valuable way to use points is to redeem your points for travel. The Sapphire Preferred card, which has a $95 annual feel, allows you to redeem travel directly with Chase at a 25% discount. I have found that the prices offered through change are reasonable or better than those offered by other travel services like Kayak, Priceline, etc. For example, a $100 hotel room on the travel portal would only cost you 7,500 points (or $75 in point value). You can also pay with both points and cash if you don't have enough points. Chase also offers a Sapphire Reserve Card. This card has a $550 annual feel (yikes) but gives fantastic benefits of a $300 travel voucher as well as a 50% discount value for chase travel. So that $100 hotel room would cost $50 with this card.
You should know that no camping options are available for Ultimate Rewards points redemption. Therefore, If you don't plan to take advantage of traditional travel, it would likely be best to redeem your points for a statement credit, cash, or gift card.
The final option for redeeming your points is to transfer them to a partner program, such as a frequent flyer miles program or hotel partner. This benefit is often the most valuable option for using points. However, it's the most complicated, and you should understand how transferred points can be used before choosing this option.
How it can work in real life:
If you made it this far, you might be intrigued. However, it may still seem pretty complicated. Another way to look at this is through an example of how it can work in real-life. Let's assume that Bill and Amy are thinking about giving this a try. In this scenario, neither Bill nor Amy has a Chase Credit card.
John and Amy are ready to get started. They decided to go with the three-card system. To start, they both sign up for a Chase Freedom card since they can easily meet the spending allowance for each category each quarter. In addition, when they sign up, they both receive a $250 point bonus.
Step 1 earnings: $500
After meeting their minimum spending to get the bonus, John signs up for the Chase Freedom Unlimted. This step earns them an additional $250 bonus after meeting the $500 minimum spend.
Step 2 earning: $250
The following month, Amy signed up for the Chase Sapphire Preferred Card. The minimum spend for this card is $4,000 in 3 months, so they need to put all of their credit card spendings on this one card to achieve the bonus. They complete this in 2 months, and Amy earns the $600 bonus.
Step 3 earnings: $600  
By getting the cards and meeting the minimum spending, they have earned $1,350 worth of Ultimate Reward Points.
CARD BONUS EARNINGS: $1,350
Now that they have the cards, they will begin to organize their spending for the year to maximize their point earnings. They will use the Chase Freedom Cards for all quarterly category earnings; The Chase Sapphire Preferred card for all travel and camping expenses, The Chase Sapphire for dining and food delivery, and the Freedom Unlimited for everything else.
 Here's how this breaks down for them for the year:
Bill and Amy spend, on average, $2,500 per month on items or services that are eligible to pay with a credit card. They use the cards and pay off their balances each month. Below is a breakdown of how their purchases can relate to the Chase Rewards program:
| | | | | |
| --- | --- | --- | --- | --- |
| Chase Rewards | Annual Spend | Point Ratio | Card Used | Points earned |
| Chase Freedom Quarterly categories (groceries, gas, category stores, etc.) | $10,000 | 5:1 | Chase Freedom | 50,000 |
| Dining Out | $1,500 | 3:1 | Sapphire Preferred | 4,500 |
| Travel (including camping) | $2,500 | 2:1 | Sapphire Preferred | 5,000 |
| Everything Else | $16,000 | 1.5:1 | Chase Freedom Unlimited | 24,000 |
| TOTAL | $30,000 |   |   | 83,500 |
Under the scenario above, using their credit cards strategically can earn 83,500 points worth $850 in cashback value. When used to purchase travel through Chase, this has a value of around $1,060.
When you combine this with the signup bonus (this is just a one-time bonus), the first year, Bill and Amy were able to earn $2,200 worth of points or, when used for travel, $2,750 toward hotel reservations, car rentals, or flights.
Scenario Conclusion:
Every person/family has a unique spending style, and the above benefits/rewards would be unique to them. This effort would not make sense for some or may not be worth the effort. Many people may just want to get a simple cashback card and just use that one card for everything. It's also worth noting that bank check cards offer some rewards, so if you want to avoid credit cards at all costs, you still have options.
For those interested in doing this, you can see that a bit of effort can produce great results. Also, while you will get the maximum benefit from using your points for travel, you may find it more advantageous to use your points for cash-valued items. In addition to straight-up cashback, Chase allows you to purchase things like gift cards, products from partner stores, activities, etc. Some of these will come with benefits or promotions that may add value to spending your points.
I like to use the points for travel. I do most of my traveling while camping; however, it's nice to take a long weekend trip and stay at a hotel. It's also great to keep the traveling bug alive in the winter when the camping season is over. Of course, this is all personal preference, but it's where I find the most value out of the program.
The one thing to be vigilant about if you decide to do this is to make sure you pay off your credit card charges each month. The interest alone will eat away any benefits that you may receive. Also, DO NOT spend on credit cards for the sole purpose of earning points- you'll get yourself in trouble very quickly.
Final Thoughts
Credit card point systems can be a great way to put your everyday spending to work and earn some extra money for your travel and camping lifestyle. However, this may not be for everyone. It's also very important to remember that although this can appear as free money, nothing in life is free. The credit card companies wouldn't offer these benefits if it wasn't profitable for them. It's very easy to get into a credit card trap and pay much more money in interest than you'll ever gain from rewards. If you choose to explore this, it's essential that you do so responsibly and have a plan to pay off your balances each month. If you don't, you'll be giving the credit card companies money instead of receiving rewards.
With that said, the best way to start earning points is to do so gradually. Develop a plan, learn about the card(s), and find out how it works best for your situation. Start slow and steady. I really like the Chase trifecta strategy since you have a single rewards program to work with and three fantastic cards to earn points. The program is flexible and the redemption options are plentiful. There is a lot of resources available to learn about these programs. I highly recommend that you do some reading and make smart decisions for earning and spending your rewards.
Good luck and be smart!