Sometimes in life, there are moments when a new venture, filled with excitement, anticipation, and downright terror blends together. This feeling was my reality on the first day with my RV and my first time towing it. Let me tell you a bit of my experience and share some wisdom that will hopefully make your first time a little less stressful. If you're a seasoned pro, maybe this post will be nostalgic.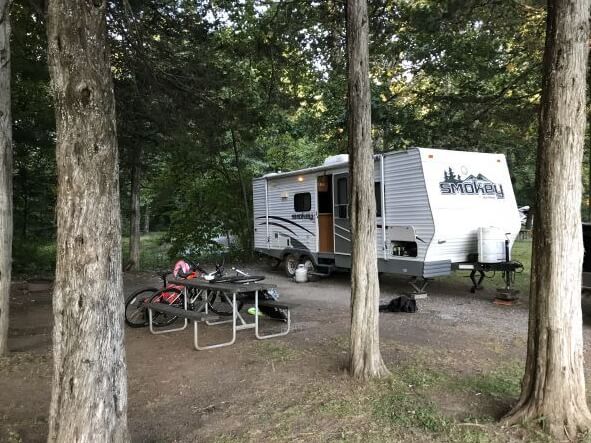 The idea
A side effect of testosterone can cause one to seek out activities like hauling an 8,000 lb. box connected to the back of a truck with virtually no prior experience. Confidence can take you a long way, but it can also get you into trouble. While a good plan is critical, all the reading, watching, and research won't eliminate that fear of the first tow.
My prior RV experience started pretty close to zero. Aside from using a camper plumbing setup at my cabin, I didn't know about RVs, let alone towing one around. This lack of knowledge changed as most things in life with boredom and aimless web surfing. I have always been a traveler and camper, but in a tent and on the trail. Everyone tells you that life changes when you have kids. For me, moving from a tent to a camper is just one of many examples.
The Research
Similar to many aspects of my life, a little searching led to extensive research. I was determined to find an RV and soon realized that there were people in my life who had a wealth of knowledge to share with me. I had ambassadors at work and in my personal life who were cheerleading me through this idea.  Before I knew it, I was in the market for a used RV.
They say that ignorance is bliss. We don't know what we don't know, which was very evident in my RV search. First, I researched the basics of finding a truck, learned about travel trailers, 5th wheels, GVRW, axle ratios, etc. Then, aimed with my limited knowledge, I started to scour craigslist ads, RV Share, and Facebook marketplace, looking for the perfect camper. It took about a month, but there she was, a not-so-shiny, new-to-me, 2003 Sunray Smokey. My daughter called her Little Smokey.
[amazon_auto_links id="205″]
Next, I was off to get a truck. I had a few leads on a used truck, which I didn't own when I made the camper purchase. I was determined to find one that could pull Little Smokey. She had a dry weight of around 7,000 lbs., which was essential for me as I looked for a half-ton truck. Not too long after looking, I managed to score a 2005 Ford F-15 long bed with a higher axle ratio for $5,000.Most importantly, it was able to tow her.  Within a few days, I was driving to pick up the camper. It was just me, my truck,
The Plan
Next, the plan was to take the camper to a nearby campsite to give her a dry run. The previous owner left the hitch and weight distribution bars in the underbelly storage for me. It was all locked up from the last day when I got the keys. Aimed with a can-do attitude, I reached for my keys and realized that the storage lock key was at home. Back on the road without the camper! About an hour later, I was back at it.
Before this, I did a lot of reading and watching about what comes next. However, when I pulled everything out, ready to hook up, I realized just how underprepared I was. As a result, my confidence plummeted in a matter of seconds. But, being a stubborn male, I was determined to figure this out. Next, aimed with my phone and YouTube, I went to work. The first thing I realized was that the hitch was much higher than it should be, and I didn't have the right socket and breaking bar to lower it. Since I was only driving about 20 miles to the campground, I would handle this later.
Next came the weight distribution bars. These were an older style, requiring chains and a tensioning hook. It took me a LONG time to realize that I needed to raise the back of the truck with the camper connected before I could even get these on. Surprisingly, I can't believe I didn't injure myself trying to muscle my way through the first dozen attempts.
When connected, I lowered the trailer down and put the weight back on the truck. I was constantly watching for my truck frame to level out. Well, that never happened. I was sagging way too much and questioning any bit of confidence that I had remaining. Lowering the hitch was the only solution. Since I'm a guy and that option was hours away from becoming a reality, I decided to go with what I had. I connected the electric safety chains and then the safety brake cable.
The Drive: First Time Towing my RV
When I got in the truck, I decided to drive around an open parking lot to check out the trailer brake, only to realize that I had no idea how it worked. I started to pull out, and the truck struggled. When I hit the gas harder, I heard a plop- I just drove over something. I forgot to remove the wheel chocks and drove right over them. I stepped out, regrouped, and watched some more videos to make sure that I wasn't missing anything else.
When confidence resumed, I drove around the parking lot, applying the brake and seeing how it responded. I tried adjusting the trailer break but had zero clue how to set it. TwentyFinally, minutes and several YouTube videos later, I realized that the brake that came with my truck was an auto brake, which sets the braking level automatically. By now, I didn't trust any of my knowledge. The fear of driving to the campground was becoming a growing problem. I sat and read some more.
Now, about 3 hours later, I was ready to leave when I thought that I would be on the road. I mapped out a route that included all back roads, and I was going to drive slow. So I headed out, white-knuckled, onto the public roadway. People today are still probably full of road rage if they were unlucky enough to get behind me. If the speed limit was 50, I was driving 30. I crawled up inclines and braked down every grade. I would have made a 90-year-old Sunday driver pissed- I probably did.
The Arrival
With each passing mile, I longed for relief from the experience. I just wanted to get there. I just wanted to get out of my truck and sit in a camp chair. They said this would be fun. When I finally arrived at the campground, my next adventure began. My previous inadequacies squashed any confidence that I had for this next step. I pulled up to the campground gate, not sure what to do next. I hit the little button on the call box and told them that I was here. They instructed me to pull in and drive through the registration loop. What, a registration loop? What about all of these cars, people, obstacles in my way? I did my best and circled the route as directed. Putting the truck in park, I grabbed my keys and hobbled towards the office.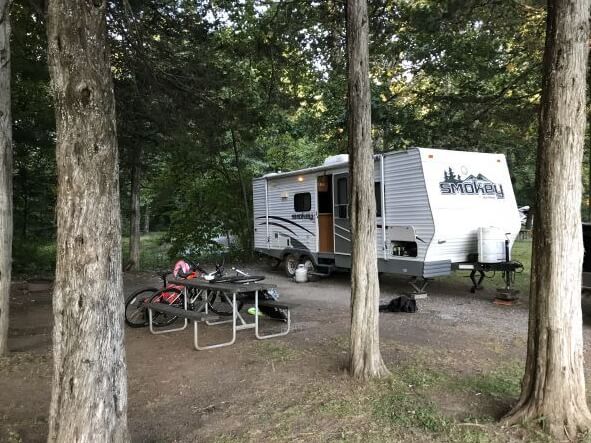 In the office, I was presented with a map of available spaces and randomly picked one. I informed the person at the front desk that this was my first time and asked for advice. They were gracious enough to direct a staff person to my site to help me back in. I followed them through the campground to my campsite only to realize how narrow it looked for this huge monstrosity connected to my truck. If it weren't for pride, I would have given into my strong desire to hop out of the pilot seat and ask the staff to back it in for me. Instead, I took a deep breath and followed the instructions that they were giving me. By this point, there was an audience watching from nearby campsites. I didn't care. I didn't want to back into a tree,  picnic table, or worse, a person.
Unfortunately, my research on how and when to steer the truck to guide the camper backward was useless. Listening to every word and watching every gesture from the staff, I slowly inched back. Thankfully, my learn-to-back-in-team was so patient and friendly. About 5 minutes later, I was finally parked. They asked me if I needed help leveling the camper, but I looked at it and thought to myself, "good enough." I wanted to hug them, cry a little, and tell them about how happy I was to be here, parked, and out of my truck. However, I said thank you a few times and stood in awe when they complimented my backup job. I am sure they were only being nice after seeing my face.
Once they left, there I was, staring at Little Smokey, realizing that I made it, and I NEVER WANT TO DO THAT AGAIN!!!! Soon after disconnecting the truck, I started to move on to the next adventure: getting the camper hooked up. More to come on that in a future post.
[amazon_auto_links id="205″]
The Lesson
One thing that I realized years later is that everyone has their own story. These experiences become memories and learning opportunities. The feeling of fear fades. The more we know, the more we build absolute confidence. I no longer worry about hauling my camper. Instead, I look forward to it. Little Smokey is now retired from the road, but she taught me more than anything that I could have read or watched online. Nothing can substitute for an experience like getting out there and doing it.
If I were to do this again, it would be a completely different experience. I would have asked someone knowledgeable to come with me and spent a day learning about all of my specific towing, braking, and related equipment. I would have talked with people more about this part of owning an RV or researched courses or classes from RV dealerships. That may not have removed the fear, but it may have reduced unnecessary anxiety and stress.
My advice for all new and soon-to-be RV owners is not to let confidence cloud your judgment. Instead, talk and learn from others. RV owners are super helpful and want to share what they know. Also, on the flip side, don't let the fear of trying something prevent you from actually doing it. Experience comes quickly, either through thoughtful preparation and execution or through failure. In this case, the juice is definitely worth the squeeze, and you'll be glad you took the plunge.