Disclosure: Please note this post may contain affiliate links. This means – at no additional cost to you – We earn a commission if you make a purchase using our links. Outdoor Miles will only link to products and services that we recommend and trust. All income goes toward supporting the free content provided on this site and to the RV community.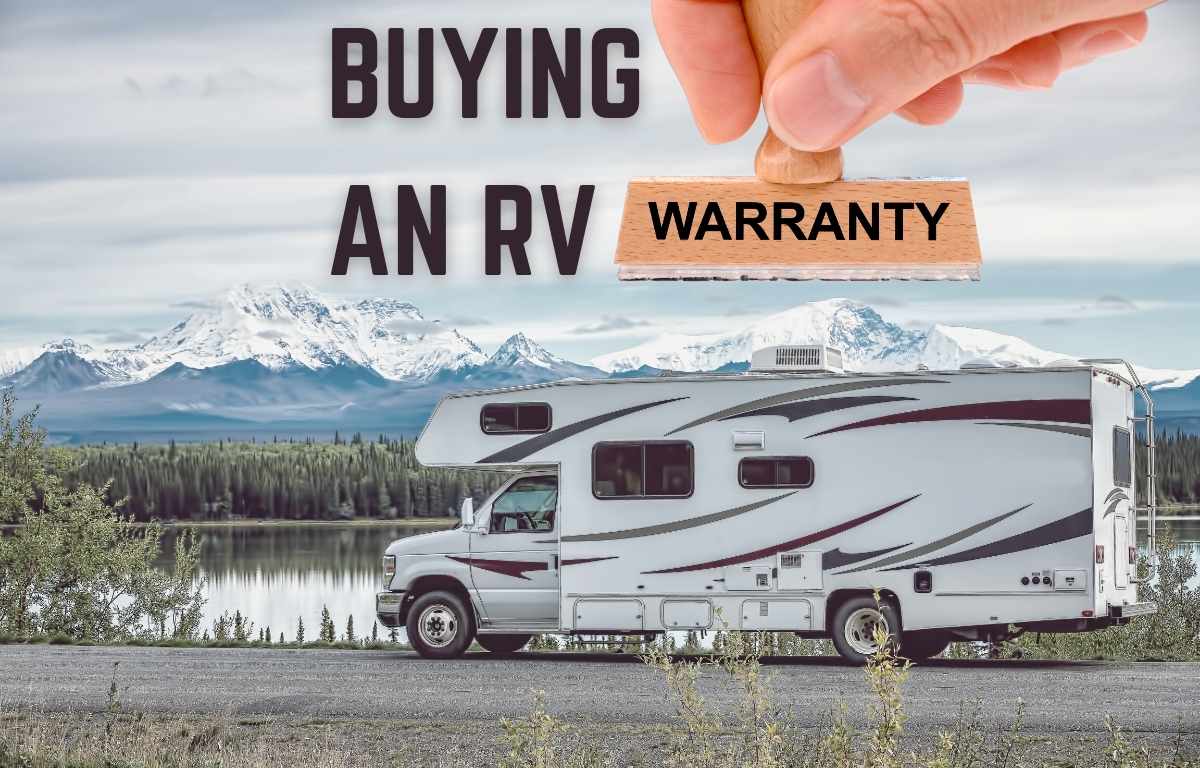 Purchasing an RV Extended Warranty
If you're buying an RV, one thing that you have probably thought about is an RV extended warranty. Most new RVs will come with a manufacturer warranty, usually good for one year. Although a few manufacturers offer RV warranties beyond the first year, if you're interested in coverage longer than this, your only option is to purchase an RV extended warranty.
Deciding to purchase an RV extended warranty is all about risk tolerance. You're taking a gamble that the amount you pay for the warranty will be less than the cost of repairs that the warranty covers. Say, for example, you purchased a seven-year RV extended warranty, and during that time frame, you don't have any significant issues or needs for warranty repair. Your decision to purchase an RV extended warranty may not look very wise. However, let's assume that you had several major repairs with your RV during that same period, totaling $10,000. Then, your decision to purchase an RV extended warranty may seem like the most intelligent decision you have ever made.
Nobody can predict the future, but you can use your tolerance for risk as a means to determine if you want an extended RV warranty. Some people simply like to have the assurance that if there is a major issue or multiple issues, they have a warranty in place to help them weather the storm. Instead, other people would take the money they would have spent on an extended warranty, place it in a savings account, and pay for the repair with cash.
Buying an RV could be one of the most expensive purchases you make in your life. They're expensive, and so are the components, appliances, and mechanical systems that make them work. If you do have a problem, repairs can be costly. Does that mean you should get an extended warranty? Not necessarily, but you should plan to address and pay for issues when they come up. If you own and use an RV for an extended period, you most likely will have repairs to make.
Chances are you googled "Is an RV extended warranty worth it." I bet most people shopping for one for the first time has. That includes me. However, there isn't any RV owner or authority that can answer that question for you. Only you can decide if it's worth it. Every bit of information you come across will simply be somebody's opinion. For every person that says no, it's not worth it, there will be another person saying the opposite.
Where is the best place to purchase an extended warranty?
I'm covering this question early on in this article because I think the answer is just as important as whether or not you should purchase one. You may be surprised that if you google "List of RV extended warranty companies," you find very few search results. If you do the same for car extended warranties, you have the complete opposite experience. The fact of the matter is that there aren't many direct-to-consumer RV extended warranty providers. Most RV extended warranty providers work directly with RV dealerships or an online broker.
The reality is that most individuals who purchase an RV extended Warranty will do so from the dealership when they finalize their RV purchase. While this may seem like a good idea, it's more of a convenience rather than something that makes financial sense to the buyer. RV dealerships will offer inflated RV extended warranty plans as a way to boost their profits. Dealers will typically make it seem more inviting by rolling the cost of the warranty into the financed price of the RV. However, if you look at the total cost you're paying for an RV extended warranty through the dealer, you will inevitably pay much more for the same warranty that you can purchase on your own.
The truth about dealer-purchased RV extended warranties is that the product they offer, typically from the same underwriter, is the same as third-party warranties. Another downside of purchasing the warranty from the dealer is that you're likely making a rushed decision without much time to research what it includes. By biding your time and buying it on your own, you will be able to learn much more about the details of the extended warranty and decide if it's the right fit for you. An RV extended warranty can cost you thousands of dollars more if purchased from a dealer.
So, if you don't purchase an RV extended warranty through an RV dealer, where can you get one? Luckily, you have several great options. While there aren't as many choices as you will find for a car extended warranty, there are dedicated warranty businesses that can help you find the right product for your needs. Below is a brief list of the more popular RV extended warranty providers.
Choosing the right RV extended warranty company
The best advice that I can give for choosing an RV extended warranty company is to read through reviews from actual RV owners. Reviews will provide you with some real-world examples of how well the company addressed problems or repairs experienced by RV owners. It would be best to avoid focusing on the lowest and highest review scores and instead focus on the reviews in the middle. You should also avoid companies with an overwhelmingly high number of low scores. This low score can signify a more significant problem with the company. Also, remember that most people will take the time to leave a review when they have a negative experience. Likewise, most people won't take the time to write a review if they are generally satisfied with a company or product.
Another important consideration when selecting an RV extended warranty provider is to simply take the time to talk with them about their products, support, and how they help you solve problems when they arise. While this overview will not review each company above, it will give you some basic information on what to look for when selecting an extended warranty.
Many of the companies above will offer similar products and, in some cases, competitive prices. It may be hard to select based only on reviews or information obtained on their website. My best advice is to look for a well-established company with a solid reputation and extensive experience in the RV extended warranty business. In my opinion, the best choice is Wholesale Warranties if you're looking for a recommendation.
Why Wholesale Warranties?

Wholesale Warranties is the premier provider of RV Extended Service Contracts. Wholesale Warranties is the industry-leading provider of RV extended warranties, specializing in selling established and fully-insured service contracts for the RV community. They've been in the game a long time and have a solid reputation as RV warranty experts in the industry. One of the critical factors that allow them to stand above the competition is their exceptional customer service, highlighted by their ability to demonstrate exponential growth over the past decade.
Wholesale Warranties is an agile company that covers the basics of what you want in an RV extended warranty provider. They offer fair pricing for industry-leading coverage. They can provide products that compete with dealership offerings at a lower purchase price because they have much lower overhead. They have a small but dedicated staff. They also don't need to worry about non-warranty things like RV inventory, finance, or an IT department, which would come standard with owning a dealership. Their savings in this department are passed along to the consumer. They built their business by focusing on competitive pricing and outstanding customer service. They have a solid backing of insurers, something you want in an RV extended warranty provider. Their well-established insurance backers hold over $200 Billion in assets, providing you the assurances that your warranty is fully insured.
One of the best reasons to choose Wholesale Warranties is their staff. As a customer, you will have the opportunity to work directly with their knowledgeable, friendly RV Warranty Specialists, highly trained in this industry. They also have an internal Customer Advocacy department that will facilitate questions on claims, coverage, or even speak directly with your repair facility and warranty company to solve any issues that may arise. Their staff will ensure you feel comfortable with the coverage you have purchased and enjoy the peace of mind an RV warranty promises. You'll see what I described above if you give them a phone call to inquire about warranty coverage. They won't pressure you into a contract. Instead, they'll help you make the best decision for purchasing coverage—even if it is with another provider or your local dealer. You can click here to get a free quote and chat with their RV warranty experts, no strings attached.
RV extended warranties can be confusing, which is why it's essential to work directly with people who understand them. Wholesale Warranties' staff knows the details of every service contract they offer. They will provide you with all of the information needed to file a claim with your extended warranty when you need it. If you lose this information six months down the line, simply contact them with questions. Their RV warranty specialist will offer you clear communication and assistance in filing a claim should you need them, including contact with the RV warranty company as well as your repair facility or RV service center. They work with new RVers entering the RV lifestyle and provide years of coverage for both a new and used RV (for various model years) built by most RV manufacturers.
Wholesale Warranties prides themselves in their customer service and offers quality products that they stand behind. So, when you have a problem in the future, you will be happy to have them on your side. This reason is why I recommend them as the best RV extended warranty option for RV owners, providing the best coverage for all types of RVs. Wholesale Warranties has an excellent online reputation, with a 4.9 rating from Google Reviews. Additionally, they have an A+ rating with the Better Business Bureau (BBB). Read customer reviews of Wholesale Warranties Here.
Curious about what it will cost? Get your no-pressure free quote below:
New in 2022: Coverage for older RVs and even rentals
Wholesale Warranties just launched a new program: AdventureShield.
AdventureShield provides coverage for RVs that are much older. For motorhomes, coverage is available for 20 model years or less under 100K miles. In addition, you can get coverage for models 15 years or newer for towable RVs. Both Listed Component and Exclusionary policies are available with add-ons for consequential damage and commercial use (including short-term rentals).
Get your Free Quote from Wholesale Warranties
What is an RV extended warranty?
An RV extended warranty is protection that extends beyond your manufacturer's warranty extended service contract and covers the cost of repair to many mechanical and electrical components of the RV during the lifetime of the policy. Most RV extended warranties offer coverage for one to seven years. However, there are policies out there for more extended periods.
An RV extended warranty is different from the warranty provided by the manufacturer, usually for the first year of ownership. While some manufacturers offer longer warranty periods, the RV owner is responsible for all repairs once it ends. The service provided through an RV extended warranty is not affiliated with the manufacturer but rather a third-party company. An extended warranty is similar to the manufacturer's warranty but is in effect after the manufacturer's warranty has expired. RV extended warranties provide the RV owner with a sense of assurance that if something significant happens to the RV, the repair cost will be covered fully or partially by the warranty provider. Unlike manufacturer warranties, extended warranties are an extra cost for RV owners.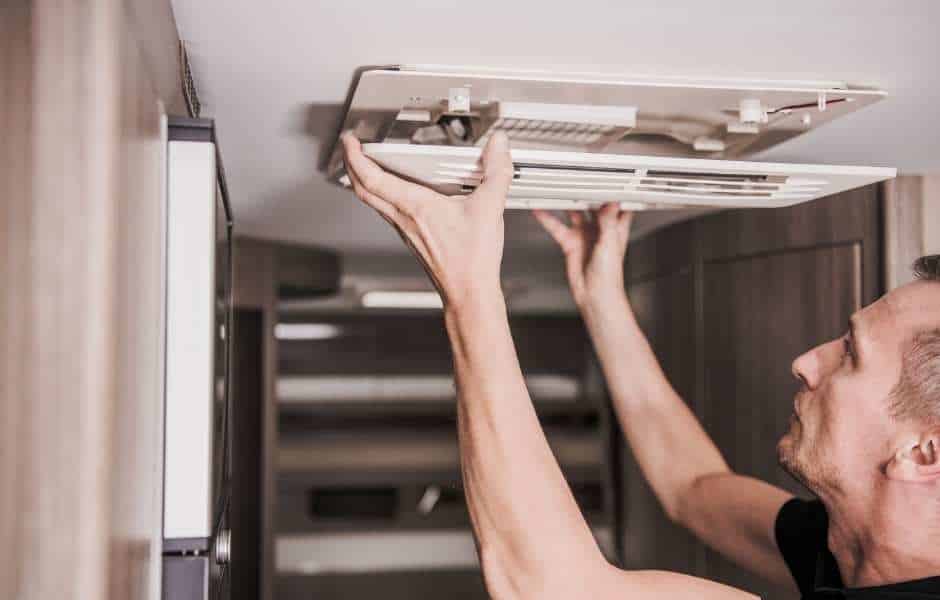 RV Extended Warranties vs. Insurance
RV extended warranties will cover the repair costs of mechanical failures that didn't result from physical damage. This coverage is different from an RV insurance policy, which typically covers the repair/costs caused by theft, collision, or physical damage. If you own a new RV, you may want both an insurance policy and an extended warranty. If you financed your RV, you would most likely be required to obtain insurance and keep it active over the life of the loan. RV extended warranties are often optional. There are countless options available for locating good insurance companies.
What's covered in an RV extended warranty?
RV extended service contracts cover mechanical breakdown meaning that if something breaks, it is usually covered. However, RV extended service contracts won't cover pre-existing conditions or problems before purchasing the warranty coverage.
RV extended warranties also won't cover routine maintenance or items considered "wear and tear." You must maintain the RV with roof seals, water damage, and tire maintenance. If you purchase the extended warranty after you own the RV, you may be required to get an inspection if it's no longer new. Most RV extended warranty companies will consider the RV new within the first year of ownership while under the original manufacturer's warranty. It's always important to read the fine print of all warranty policies (including making sure coverage is available outside of the United States).
Not every RV extended warranty is the same. When considering purchasing coverage, one of the first steps is to identify what options are available for your RV and determine what type of coverage you want to purchase. A few main types of RV extended warranties are available, with different options for towable RVs such as a travel trailer or 5th wheel (and toy haulers) and motorhomes with engines. The coverage you choose may depend on the type of RV you own. You may also find coverage for unique setups, such as tiny homes or horse trailers.
Types of RV extended warranty coverage
Exclusionary RV Extended Warranties
Exclusionary RV extended warranties are just that: exclusionary. Which is to say, the warranty company offers buyers a list of specific repair or maintenance problems that are not covered. Then, everything else, which isn't listed, is eligible for repairs. This can include things like fuel systems and fuel injectors, which may not be part of a Powertrain-only warranty.
Exclusionary plans provide the most extensive coverage, meaning that they are typically the most expensive. However, you have more coverage with an exclusionary policy, which offers greater peace of mind and includes more covered repairs. When considering an exclusionary warranty, it's essential to talk with the warranty specialist about what items are excluded from the coverage. This exclusion list typically includes all things considered wear and tear, damage from collisions, weather, or poor maintenance. In addition, several other items generally are excluded, such as paint and carpeting.
Listed Component RV Extended Warranties
Listed component RV extended warranties are essentially the reverse of the exclusionary policies. Rather than providing a list of what's not covered, you'll get a list of what is covered. Repairs or maintenance issues outside the allowable list typically aren't covered under warranty.
While less extensive than exclusionary policies, Listed component RV extended warranties are typically more affordable. However, the list of covered items is pretty comprehensive, usually including mechanical components like your engine and powertrain (for motorhomes) and appliances, electrical failures, heating and cooling components, slide-outs, leveling systems, etc. Having more affordable warranty coverage and having the major and more expensive components covered is a good option for some people. When selecting a listed component warranty, it's essential to go over all of the coverages with the warranty specialist so you are confident that the items that you're most concerned about are covered.
Powertrain-Only RV Extended Warranties
If you have a drivable RV, you may want to consider a powertrain-only RV extended warranty. As the name implies, this coverage will only protect your powertrain components, including your engine, transmission, and drive axle. Because the coverage is relatively limited, motorhome warranties are often more affordable. They are a valuable option for motorhomes as drivetrain components can be costly. If you had to replace a diesel engine in your RV, that repair alone could cost $20,000-$40,000. This warranty is also an excellent option for motorhome owners who like to fix the majority of failures themselves. You can protect yourself from the most expensive failures while continuing to repair smaller items yourself. If you have a class A, class B, or class C motor home, then a powertrain-only warranty may be the best option for your extended warranty plan.
Coach-only contract
The final type of coverage, if you have a motorhome, is to do the reverse of the powertrain-only warranty. You would simply cover the coach components (not the powertrain) in this instance. This option is typically chosen if the manufacturer's warranty still covers your motorhome's engine or your motorhome's mileage makes it ineligible for powertrain & engine coverage.
Other considerations to make when selecting an RV extended warranty provider:
Contract insurance
Price alone should not be your deciding factor. You may find a small start-up company offering you a slightly lower price for your warranty coverage. However, if that company goes out of business, you want to ensure that your warranty investment is still valid. It would be best to make sure that a reliable insurance company backs up the administrator of your RV extended warranty contract. For example, Wholesale Warranties policies are backed by "A" Rated Insurance Carriers, who have proven staying power and financial stability. You not only want to have a good experience with your carrier when purchasing the policy, but you also want to know that when you're out on the open road, they'll be available to help you avoid any costly repairs.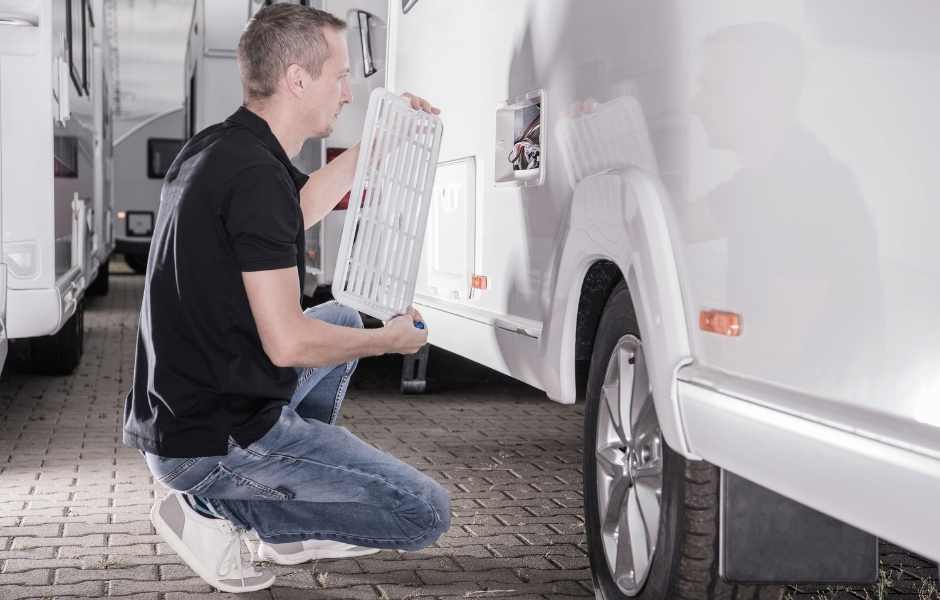 Obtaining warranty service
An RV extended warranty is only helpful if you can obtain service when needed or when you experience a mechanical failure. Therefore, when selecting a warranty company, you should always think of follow-up support when needed. Additionally, you should seek companies that provide post-purchase support rather than just a good deal.
You should research how the warranty company and the repair facility handle warranty claims. Ideally, the warranty provider should pay the repair facility directly, without you having to make any upfront payments and then trying to get a reimbursement. However, if this is not the case, you should look elsewhere for reliable coverage.
Wholesale Warranties prides themselves in this department, which is one of the main reasons I recommend them. Here's how they describe the warranty service process:
Bring Your Vehicle In: You may take your Recreational Vehicle to any licensed repair facility in the U.S. or Canada.
Get Pre-Authorization: The best way to handle a repair is to have your repair shop diagnose the problem and contact your RV Warranty company to get pre-authorization on any required RV repairs. Without a pre-authorization, your claim will not be covered!
Pick up your RV, but not the bill—that goes to your warranty company. All you'll need to take care of is your deductible! Wholesale Warranty plans are not a reimbursement plan, so you do not have to dip into your savings or max out your credit cards to get back on the road. Instead, you can drive off in your repaired RV and leave the bills to your RV Warranty company!
With Wholesale Warranties, you can take your vehicle to any licensed RV repair facility in the U.S. A certified repair facility simply refers to a facility in business to work on RVs and has a legitimate business tax ID number.
Transferability and cancellation
An extended warranty is an investment. If you choose to sell your RV or trade it in for a new one, you want to be sure that you don't lose the value of your RV extended warranty. Look for companies, like Wholesale Warranties, that allow you to transfer your service as part of the sale, transfer coverage to a new RV, or reimburse you for a prorated fee if you decide to cancel your coverage.
Deductibles
Deductibles for warranty coverage are similar to deductibles that you are probably familiar with through your insurance policies. Many warranty programs will have deductibles, and the amount of them, just as with insurance, can increase or lower your overall price. One piece of advice- look for coverage that has a deductible per visit, not per item. For example, if you need warranty service for four different components, you would ideally want to pay one deductible when you take it in for service, not a separate deductible for each item. Talk to the warranty provider about this when purchasing coverage.
RV Inspection
RV extended warranty providers will typically require an inspection on an RV unless it's new (usually less than one year old). An inspection will identify any pre-existing conditions which will be excluded from the coverage. An inspection is a helpful tool for you as well. It ensures that you know what will be covered and won't need to fight with a provider over a pre-existing condition (or determined of it a covered part). Inspections can cost you a few hundred dollars, so be sure to ask about this when inquiring about coverage. Inspections will look at many aspects of the RV, including the water heater, air conditioners, slides, refrigerator, etc.
Benefits
Many extended warranties will also offer extra benefits with the coverage. These benefits may include roadside assistance, road hazard coverage, lodging reimbursements, emergency repair provisions, reimbursement of travel expenses, and other optional coverages. Ask the warranty provider about additional benefits and what conditions pertain to them, such as caps and service providers, and if there's an additional cost for service.
Conclusion
While RV extended warranties may not suit everyone, they can be an excellent resource for individuals who value the ultimate peace of mind when owning an RV. All RV extended warranties are not the same. Likewise, every RV extended warranty provider is different. It would be best to research your provider, maybe even more so than the actual warranty coverage. A good warranty provider will explain everything about the coverage you're purchasing, assist you before the sale, and offer support if you need to obtain service.
Get your Free Quote from Wholesale Warranties