When browsing the latest news headlines, it's nearly impossible to avoid reading about a possible recession in 2023. As companies prepare for a temporary downturn in business, others look to historical data to predict how their industry will fair. While no industry can be completely recession-proof, some will make it through unscathed, while others will thrive. So the camping industry should get ready for a busy season.
Overall, the Recreational Vehicle (RV) and camping industry had historically fared well during periods of downturn in the U.S. economy. The numbers don't lie, and you don't need to look back too far to find them. For example, in March 2020, when the economic uncertainties triggered by the pandemic caused many businesses to tighten their belt, the camping industry was at the cusp of experiencing the fastest growth it has ever seen.
While several factors made camping during the pandemic popular, many of these conditions also apply to recessions. When uncertainty looms, Americans tend to navigate to the great outdoors.
Why is camping recession-proof?
While recessions are a natural element of the ebb and flow of the economy, they are stressful for businesses and rattle consumers' nerves. When a recession occurs, most businesses will experience a downturn in sales and revenue. However, others appear to flow against the current and grow. These "recession-proof" industries are often fueled by consumer demand for more affordable alternatives to traditional spending.
The camping and outdoor recreation industries have historically proven to fall into this category. Compared to traditional forms of entertainment or travel, camping and outdoor activities are lower-cost options and offer individuals a sense of normalcy during tough times.
A big reason is that camping is a flexible and adaptable type of vacation, providing people opportunities to camp in state and national parks, private campgrounds, or even in their own backyards. Camping provides a low-cost travel option for families and doesn't require a lot of experience or expensive gear to get started. It is easy for people to find a camping option that fits their budget and style.
Camping can also be highly affordable. While some higher-end RV resorts may charge nightly rates of $75-$100, many provide reservations for much less than that. For example, some state parks offer campsite reservations for as little as $10 per night. Even the most expensive campsite rates are more affordable than budget-style hotels and vacation rentals.
Another reason camping is recession-proof is that more than 11 million Americans already own an RV. Campers who own an RV will typically choose to use it during a recession. Since camping costs are low, a weeklong vacation is still possible when finances are tight. Additionally, traditional tent camping is inexpensive for individuals without an RV, and the upfront investment for equipment (tent, sleeping bags, etc.) makes it a viable option for new campers.
The National Park System collects annual data on park visits, visitors, and overnight stays, which provides a good insight into consumers' minds during past recessions. Historically, overnight stays in National Parks remained steady or saw an uptick in reservations during recessions. For example, camping reservations increased during the 1980s, 1990, and 2008 recessions while the rest of the economy deflated.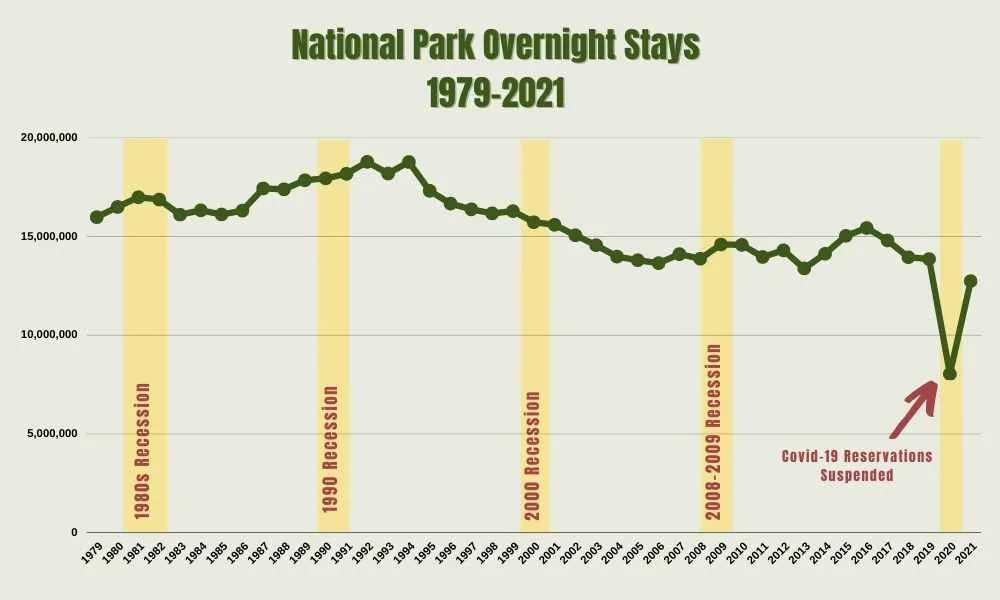 During the 2008 recession, private campgrounds mimicked public ones, seeing an uptick in reservations. In 2009, a study by PKF Consulting and sponsored by the Recreation Vehicle Industry Association found that the average camping vacation would run 21% to 67% cheaper than a traditional fly, drive, and hotel vacation. These are big numbers that can influence consumer spending during a recession.
The 2008 Great Recession
"History cannot give us a program for the future, but it can give us a fuller understanding of ourselves, and of our common humanity, so that we can better face the future.

Robert Penn Warren

In 2008 as the mortgage crisis unleashed shockwaves of panic throughout the economy, normalcy seemed like a foreign word. The American public was digging in for what would be a long cold economic winter. There were real concerns, and fear was spreading that we were possibly heading into another great depression.
However, the public pressed on, adapted, and explored new ways to replace their previous indulgences with less expensive ones. Limiting travel was an easy way for American families to tighten their pocketbooks. As a result, airlines and hotels struggled through this period, leading to declines in revenue and profitability.
However, camping was one segment of the travel industry that was posed to weather the storm just fine. Campground reservations were still rolling in and continued to do so throughout the recession. In 2009, the National Association of RV Parks and Campgrounds reported that campground and RV park occupancies and revenues kept pace with 2008 numbers, despite the recession. This was atypical of other travel styles.
Outdoor recreation had once again proven its resiliency during a recession. Even camping gear suppliers did better than expected. While retail businesses were one of the hardest-hit segments of the economy during the great recession, some outdoor retailers found opportunities to grow.
While the Great Recession radically altered consumer spending habits, The Outdoor Industry Association reported that "The outdoor recreation economy grew approximately 5 percent annually between 2005 and 2011 – this during an economic recession when many sectors contracted".
In its 2009 financial report, REI (Recreational Equipment, Inc.), a national outdoor gear and apparel retailer, announced their sales of $1.46 billion, up slightly from $1.43 billion the previous year. In addition, net income in 2009 was up 106 percent from the previous year.
Sally Jewell, REI's CEO and president stated, "In the most difficult economic conditions we've ever experienced, our teammates drove profitable growth, returning the co-op to greater health and stability."
Reports like this were the opposite of what other retailers were seeing. Outdoor recreation remained strong throughout the recession, and many businesses relying on it were able to keep their doors open or even experience growth.
The 2020 Pandemic Recession
The most recent recession, driven by the Covid-19 pandemic, differed from others. It seemingly appeared without warning right in the middle of a smoking-hot economy. The Pandemic recession was short-lived, but the uncertainty of economic concerns and fear created by the pandemic caused massive shifts in consumer activities and spending.
Just like in 2008, the tourism industry suffered. Not only was the public concerned about finances, but they were also afraid to travel and, in many instances, couldn't. However, once again, the camping industry flourished. These past few years have been one of the biggest booms the RV and camping industry has ever seen.
In 2020-2021, as lockdown mandates began to loosen, camping reservations soared, driving campground occupancy to an all-time high. As a result, RV manufacturers escaped cutbacks and reopened their doors to a long line of willing buyers. As a result, in 2021, RV manufacturers shipped a record-breaking 600,240 RVs, more than at any other time in history. Last year was just as busy despite record-high gas prices and lingering supply shortages.
In 2019, only 4% of camping households were first time campers. In 2020, that number surged to 21%. The trend continued in 2021, with 16% of camping trips taken by new camping households (2022 North American Camping Report).
If we experience a recession in 2023, the camping industry will have a lot of new customers to rely on. In 2019, the KOA North American Camping Report listed over 7 million North American households that owned an RV. In 2021, that number climbed to over 11.4 million. Interest in camping is currently at an all-time high. Equipped with RVs, camping gear, and recent camping experiences, it's expected that these new campers will be out in force should we experience a recession.
Not all Camping Industry Sectors Escape Recessions
While camping is popular during recessions, excess discretionary spending is not. Historically, RV manufacturers see a steep decline in RV shipments during recessions. The reason is that RVs are expensive, and most consumers avoid large purchases during challenging times.
However, the RV industry can take comfort in an expected rebound. Historical trends show a big boom in RV shipments immediately after a recession. For example, in 2008, RV sales dropped by over 30 percent and then repeated it again in 2009. As a result, annual shipments went from an industry high of nearly 400,000 in 2005 to below 166,000 in 2009.
In 2010, when the economy showed signs of recovery, sales rebounded with an impressive 46% growth which continued year over year for the next eight years. This trend is similar to previous recessions, and RV sales pick right back up as soon as economic growth commences. Good times are not far away for RV manufacturers when recessions end.
Final Thoughts
While a recession isn't guaranteed this coming year, businesses are beginning to prepare for a drop in business. However, campgrounds and the RV park industry should ready themselves for another busy season. The good news is that history has proven that camping is recession-proof, and national and local businesses catering to campers may come out on top.
There are several reasons why camping remains strong during a recession. First, it is a relatively inexpensive vacation or leisure activity, making it appealing to people looking to cut back on expenses during an economic downturn. Second, camping can be a way for people to enjoy nature and get away from the stresses of everyday life, which can be especially appealing during times of economic uncertainty or personal stress.
Camping-related items can also fall in the recession-proof products list. While we all know that toilet paper, milk, prescription drugs, and video games are recession proof products, so are items like camping gear, fishing gear, and outdoor recreation essentials. Consumer interest tends to shift to items that provide entertainment at a much lower cost. For this reason, outdoor vacations become a great way to escape the pressures of daily life during times of recession.
Overall, the combination of affordability, flexibility, and the opportunity to enjoy nature can make the camping industry relatively resilient during economic downturns. The long term outlook for the camping industry looks good.