If you're a Recreational Vehicle (RV) owner, you know how much fun traveling and staying at different campsites can be. However, we all have lives, and unless you're retired or full time, your RV stays parked at home most of the year. While this may be a bummer for a lot of people, some RV owners choose to take advantage of their extra space and rent out their RV at home to make a few extra dollars.
While renting out your RV may not be for the average RV owner, if you have the right property and live in a touristy area, finding people who want to stay in it may be pretty easy. With the rise of short-term rentals through sites like Airbnb and VRBO (Vacation Rentals by Owner), renting out an RV on private property is becoming increasingly popular.
However, before you download the app and place a listing, there are a few things you need to consider, including hookups, legalities, insurance, and maintenance.
Can you make money Renting out your RV?
In the past few years, RV rentals have seen a significant surge in popularity. While this includes people renting an RV and hitting the open road, it also involves people renting a stationary RV on private property. There are several reasons why somebody may want to rent out your RV at your home. Be it a Travel Trailer, 5th wheel, or motorhome, some potential renters may find your RV just what they're looking for.
First, if you have a large property with a secluded spot to park your RV, it may be just as inviting as a campground, with the benefit of privacy one finds on a residential property. Next, some people want to travel and have the comforts of home, such as a full kitchen, bathroom, and living area, which an RV can provide while allowing renters to have the novelty of a nontraditional place. With sites like Airbnb, many travelers seek accommodation where they have the whole place, such as a house, cabin, or other private place. They may not want to stay in a house share where privacy is limited. If priced correctly, RV rental sites can be very attractive financially to potential renters. You'll likely be competing with other RV rentals and people renting out tiny homes, which has grown in popularity.
If you're open to allowing pets, RV rentals can also attract travelers with furry friends. While you may not want pets in your RV, it may be a great way to attract more renters, especially if you're not in a touristy area. You can earn good money renting out your RV with the proper setup and amenities.
Is it legal to rent out your RV on your Own Property?
While renting out an RV on your property can be lucrative, it also comes with legal considerations that must be carefully researched to avoid potential issues for you and the renter. Let's look closer at the legalities of renting out an RV on your property.
Local Laws and Regulation: One of the first things you must do before renting out your RV is research and understand your area's local rules, laws, and zoning regulations. Zoning laws vary significantly depending on where you live, and they may dictate whether short-term rentals, like RV rentals, are allowed on your property. Some areas may have specific restrictions or permit requirements for short-term rentals, while others might not. Also, while a single RV may be OK, but multiple RVs may be considered an RV park, creating additional regulations and legalities not covered here.
Some towns and municipalities regulate rentals through sites like Airbnb, the largest platform for short-term rentals, while others don't care much about it. The best way to find out is to ask your local authorities, such as the zoning department or town hall. You can ask if there are special regulations for short-term rentals like Airbnb.
However, if you're planning long-term rentals for your RV, you'll need to inquire about any laws regarding living in an RV on your property. While more rural areas may allow it, some towns or more populated areas may have specific regulations against it.
Home Owner Associations: If your property is part of a homeowner's association (HOA), you should check the association's rules and bylaws regarding short-term rentals. This would include rentals for space inside your permanent home, just like for an RV. HOAs are usually much more restrictive on RV parking and connections, so just be prepared that they may not allow this type of use.
Building and Safety Permits: Depending on your location, you might need a building permit before renting out an RV on your property. This requirement could apply if you're setting up additional parking spaces, utility connections, or other facilities to accommodate the rental.
If renting out your RV, potential renters will likely be interested in having access to electricity, water, and bathrooms. If you market your RV as this type of rental, be prepared to offer these amenities. You may need to run a dedicated electrical line to the RV, connect to water, and have a plan for wastewater. While a full black or grey tank may be normal for RVers, it could be unpleasant for renters.
Liability and Insurance:
Renting out an RV exposes you to potential liabilities, such as accidents that might occur during the rental period. Standard homeowner's insurance policies may not cover such commercial activities, so securing the right insurance coverage is essential. Consider speaking to an insurance agent specializing in short-term rental insurance or explore specific RV rental insurance policies. Adequate liability insurance can protect you from legal claims in case of accidents or damages that might occur during the rental. Don't assume that all traditional insurance policies will cover you. Your agent can best advise you of the the specific type of insurance available to meet your needs.
While it may be tempting to skip this step, if something happened to a renter, the RV, or your property, an insurance company may deny an insurance claim if they find out you were renting it. Worst-case scenarios for skipping insurance can put your home in jeopardy. It's not worth risking your livelihood for the extra money you'll make renting out your RV. If you plan to do a lot of rentals, you may want to opt for an annual premium. You may also be able to find insurers that will provide coverage for the length of the stay. This type of insurance may be available directly from a rental service like Airbnb. Airbnb offers a program called Airbnb AircCover for hosts, which should provide the coverage you need for a rental. Learn more about Airbnb AircCover here.
You can also ask your homeowners insurance if they offer similar products. While not common, some insurers may offer coverage for the occasional rental. It's always best to check with them first.
Rental Agreement and Terms:
The easiest way to rent out your RV is to use a service, but if you decide to go it on your own, you'll need to draft a comprehensive rental agreement that outlines all the terms and conditions of the rental. This should include the rental period, price, security deposit, rules for use, and any other relevant provisions. A well-crafted rental agreement will protect you and the renter by clearly defining responsibilities and expectations. You can find sample rental agreements online to give you a place to start. Here's a good rental agreement template from eForms.
Rental Taxes:
Although you will bring in some extra income by renting out your RV, this will be taxable in most instances. In addition to what you must pay Uncle Sam, some jurisdictions may impose transient occupancy or rental taxes on short-term rentals. Check with your local tax authorities to determine if you need to collect and remit any taxes related to your RV rental business.
Health and Safety:
As a host, you must ensure that your RV is in good working condition and complies with health and safety regulations. Regular maintenance and inspections are essential to keep the RV safe for renters. Additionally, ensure you provide renters with safety information and emergency contacts for their peace of mind. What may be OK for your personal use may not be adequate for rentals. You should ensure your providing adequate services and that everything is safe. This includes drinking water, checking propane appliances, ensuring adequate electric service, etc.
It would be best if you also prepared a guide for renters so they know how to operate everything in the RV. While using an RV toilet may seem like second nature to you, someone unfamiliar with RVs may not know how it works. In addition to a written guide, doing a walkthrough of the RV with new renters may be helpful so they're comfortable and safe.
Water, Electricity, and Septic
If you plan to rent out your RV regularly, you will want to develop a plan for permanent services. The best thing to do is create a full hookup site. This will include a dedicated electrical line run to the RV. Long extension chords can be dangerous and not up to code.
Secondly, you'll need to secure water. While a water-safe drinking hose run from your house may be sufficient for the first time or two, a permanent line will be much better and less prone to damage or leaks. Finally, wastewater will be something you need to deal with. While a portable waste tank may be OK for a short time, connecting the RV directly to your public sewer or septic system would be best. You may want to check out our article on How to Dump Your Black Tank at Home.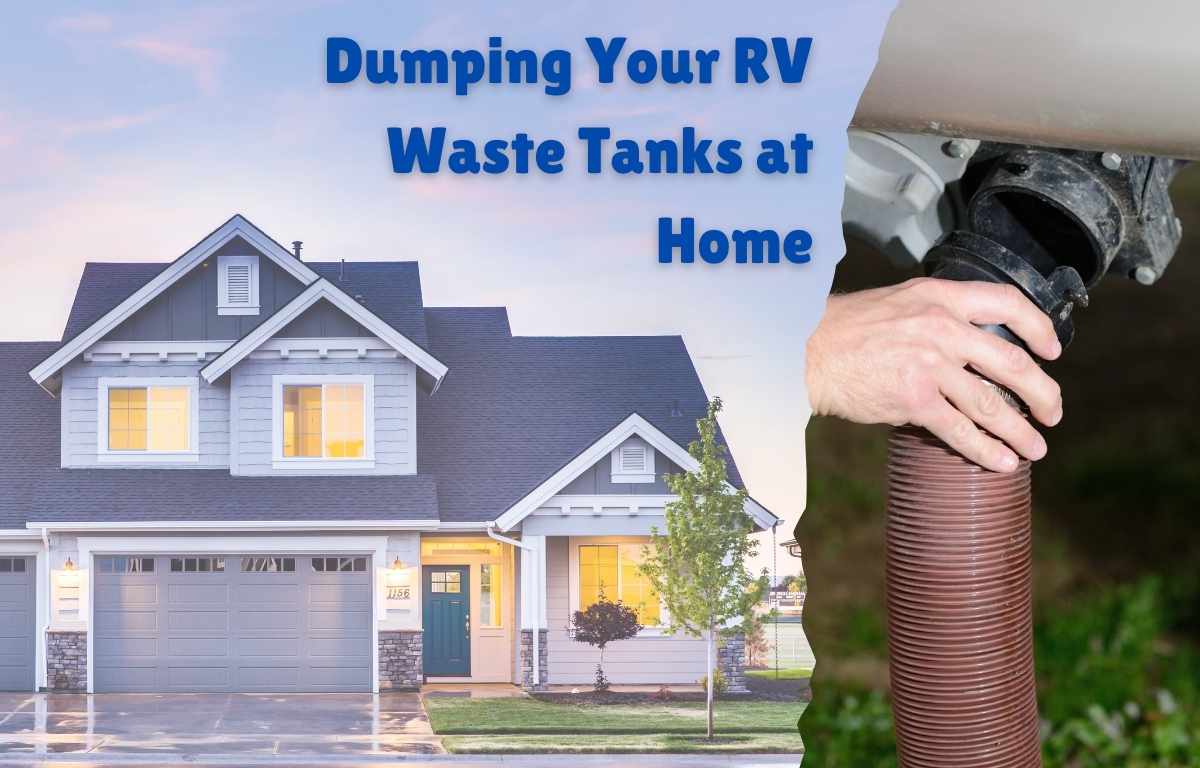 Screening Potential Renters:
An RV is an investment, and you don't want to end up in a situation where your renters damage your RV. Consider implementing a screening process for potential renters. This could include verifying their identity, checking their rental history (if available), and setting specific criteria for renters to ensure they are responsible and trustworthy.
Using a service like Airbnb helps with this process, as you can check the renter's ratings and quickly screen out potential problems. Don't skip this step, as the small amount you make from a rental can easily be lost to repairs from inconsiderate renters.
Listing Your Rental: Choosing the Best Platform
You'll need to list your rental on popular rental platforms or websites to attract potential renters. As mentioned several times, Airbnb is a great option. However, it's not the only one. Below are some great companies to list your RV rental:
Research the options available to you, and choose the one that suits your needs. Some of the largest platforms for RV rentals offer a broad reach and potential renters looking for both short-term and long term rentals.
Preparing Your RV for Renters: A Good Experience for All
First, ensure your RV is in good condition and well-maintained. A clean, well-equipped rental unit will attract more potential renters and provide a better experience for them. Create a digital guidebook to help your renters understand how to operate the RV and what amenities are available during their stay.
You may also want to create some video tutorials on how to operate the RV. You should also clearly label everything. For example, if you have a slide-out on your RV, you want to ensure renters don't hit that button and potentially create a situation where they can unintentionally cause damage to your RV.
How much should you charge for your RV rental?
Setting the right rental price is crucial to attracting potential renters while ensuring you make a profit. Consider factors such as the type of RV, its size and amenities, rental period, and peak season demand. Look at comparable rentals in your specific area to gauge the average nightly rates.
RV rental prices can vary significantly from place to place. If you live in a touristy area with a robust rental marketplace, you'll likely be able to charge more for a rental. However, if it's in a remote area, you'll likely need to cut the price to compete with hotels and more traditional accommodations. Don't expect to make serious money right away.
An excellent place to start is by looking at your area's average RV nightly rate. You can check out some platforms discussed above and see what others charge. It's also helpful to make the price competitive to have a better chance of booking more stays. You may also want to add discounts for more extended stays or charge a premium for holiday weekends.
Also, don't expect to have it rented out every day. While it may be easier to rent it on the weekend, fewer renters may be looking for a place mid-week. However, this all depends on your location.
How Much Money Can I Make Renting Out My RV?
The passive income you can make by renting out your RV on your own land will depend on various factors, including average rental rates, expenses, listing fees, and upgrades. You should also factor in repairs and maintenance for your RV. Assuming you charge $75/night and have $25/night expenses, you can expect to make around $100 per rental weekend. Assuming you can rent your RV out for ten weekends/year, that's an extra $1,000 in your pocket from rental income. This will significantly change with the more days you book RV renters. However, remember that each weekend you rent your RV is another weekend you can't use to camp yourself. With a little back-of-the-napkin math, you can get a good idea of how much extra cash you can and are willing to make renting your RV.
A Win-Win Opportunity
Can you rent out an RV on your property? The short answer is maybe. It all depends on where you live and the risks you are willing to take. The use of RVs as rental spaces is not new. However, renting out an RV on your property has gained traction in the past year or two and has been looked at as an easy way for RVers to earn some extra money. For many, their RV is not just a vehicle for road trips but a form of income. It offers a great alternative to tourists renting traditional homes or spaces. RVs, ranging from class A RVs to small pull-behind trailers, can all be successfully rented on private property. Having an RV ready for use on your private land can cater to the specific needs of family members, friends, or even tourists wanting a slice of the great outdoors.
The first thing to note is the importance of state laws and local zoning. Not every region is amenable to having a rental RV as a permanent fixture, even if it's parked on personal property. Additionally, traditional RV insurance companies might not cover everything, mainly when the RV is used as a static and rented unit. The same is true for homeowner insurance.
In short, while the opportunity can be lucrative, ensuring you meet all requirements and address the specific needs of renting out your RV on your property is crucial. With careful planning, this venture can offer more than just a parking space; it can transform your personal property into a profitable and desirable destination.
You may also want to check out these good articles to help you with getting your home ready for an RV rental: