There's no question that Electric Vehicles are transforming the industry, not only for gas-free driving but for the ways we use our cars every day. One area of use that is evolving is camping, and the car manufacturer Rivian is leading the charge. Designed with the spirit of outdoor adventure in mind, the Rivian R1S all-electric SUV could perhaps be the most capable car for camping, regardless of its electric motor.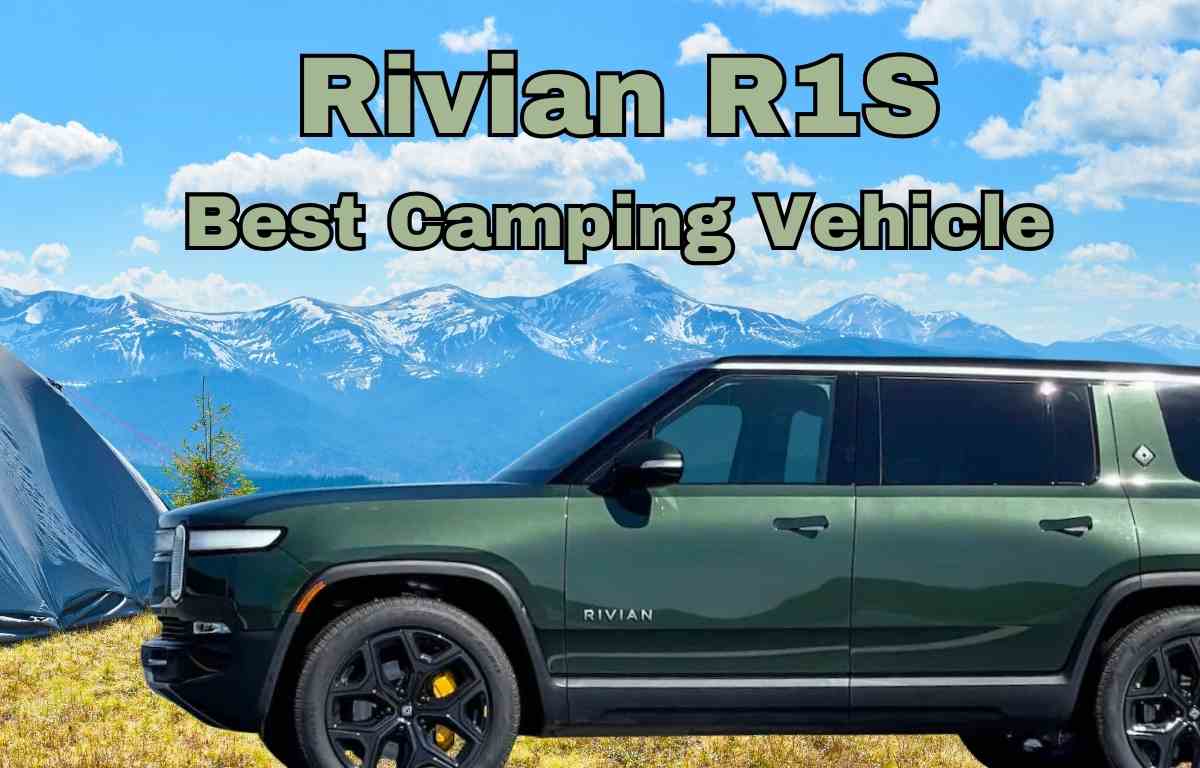 Rivian makes two different vehicles. The original electric pickup truck, which is the R1T, and an electric SUV, the R1S, which is the focus of this article. If you haven't picked up on it yet, the T stands for truck and S for SUV: R1 T (Truck) and R1 S (SUV).
What Makes the Rivian R1S the Best Camping Vehicle?
To understand what makes Rivian such a great camping car or even a car to sleep in, you must look at how they deployed technology and took advantage of its electric power supply. Rivian has been able to harness the power of the batteries to cutting-edge camp-friendly features into the vehicle.
Camp Mode:
The most notable element of the R1S for camping is Rivian's Camp Mode. While this has been seen in other electric vehicles, like Tesla, Rivian takes it to a new level. Camp mode has a few main features: electronics control, climate control, and auto leveling. (August 2022), software updates
Electronic Controls
When you enter Camp Mode, you will have the option to adjust electronics such as lightning, energy settings, interior displays, and outlet power. This helps you dial in the power you need while conserving power by not using unnecessary features.
Leveling
One of the most remarkable camp mode features in the R1S is the auto-leveling option. This is especially true if you plan to sleep in your R1S. If you pull into a campsite and park on uneven terrain, this feature will use the Rivian's air suspension and sensors to make the vehicle perfectly level. Depending on the terrain, this can take anywhere from 20 sec for a relatively flat surface to a few minutes on very uneven ground. This camp leveling feature is just one of the ways Rivian harnesses the technology of its vehicles to meet the needs of owners.
Climate Control
When camp mode is enabled, users can turn off all electronics and screens but maintain climate control settings, like air conditioning and heat. If you're camping in the summer, you can stay cool all night. Likewise, you can take your R1S on a ski trip and sleep in it with the heat enabled.
Rivian also has an advanced climate control system that maintains an even temperature throughout the vehicle. You can also dial in the airflow in the vehicle, and rather than messing with flimsy vent flaps, you can select the areas of the car where you want the heat or cool air to flow using the control panel touchscreen.
Camp Courtesy Mode
This cool feature is great when camping near others. It's a convenient setting that makes a noise level adjustment to the entire vehicle. It mutes vehicle sounds, turns off exterior lights, and lowers climate control operation to a quieter level. 
Flood Lights
Another neat Camp Mode feature is the floodlights that emit from the side mirrors. The lights can be used with the mirrors extended out or folded in and emit a serious amount of light,
How to put the Rivian in camp mode: After tapping the more icon on the control panel, select the tent icon. From here, you can select the features you want to keep active.
Security
Whether you're camping or away from the vehicle adventuring, the Rivian will monitor all activity around your vehicle.
Gear Guard
Rivian steps up its game when it comes to security. Using a series of cameras, the R1S provides a 360 view around the entire vehicle. It will start recording whenever it detects nearby movement (around 1 foot) or suspicious behavior. The smart sensors in the R1S will decide when it needs to record and turn off when no threats are detected. It's like having your own personal CCTV running at all times. This is similar to Tesla's Sentry mode
Gear Guard also incorporates a cool little character (yes, you read that right) into the console center display. If it detects a threat, this orange, outdoorsy-looking creature will pop up on the display and indicate that it is watching you. This is a deterrent, which is often the best protection against potential thieves.
Check out the following Gear Guard Video from Rivian:
Rivian Mobile App
Another great feature of the Rivian R1S is the keyless feature when using the mobile App. The Rivian is a connected car, so it's designed to take advantage of your smartphone. With the App, you can use your phone as a key or share keys with someone else (remotely). You can also manage your charging sessions, check your energy usage stats, monitor your battery level, use it for trip planning, or get instant support or service when needed.
In 2023, Rivian released its latest software update: Rivian App 2.0, which brings many new features and simplifies the menus. The App will also allow you to control vehicle elements, like climate controls. The App also allows you to open things like the frunk, rear hatch, and doors. You can also control Gear Guard from the App. According to Rivian, the latest update simplifies the user interface and made it more visually appealing and easier to use.
Vehicle Updates
One of the coolest features of Rivian vehicles is the constant improvements they're making, which are available for all Rivian owners. Unlike regular vehicles, you don't need to purchase a new model to get access to new features. Rivian will routinely send out an over-the-air update to its vehicles, instantly installing new features. Since so much of the car is electronic-based, Rivian can harness the power of the vehicle's components to add new and exciting features for everyone with a new software update. They listen a lot to feedback from users on platforms like social media, forums, and customer comments. If they can incorporate the requests and they hear enough people asking for them, they tend to be good at implementing them. If you want a new feature, it is a good idea to ask for one- you never know if you'll get it.
Gear Guard Cable: If you've seen videos of the Gear Guard System in the R1T (Tuck), you likely saw the included bike cable (or gear able). This feature allows you to lock a bike or other gear to your R1T, which a gear guard protects.
However, this feature is not included with the R1S since there is no truck bed. It would be a cool feature to add for owners who store their bikes or other outdoor gear on the roof.
External Power Supplies
One (2) 120-volt outlet
Six (6) USB C Ports
Three (3) 12-volt outlets
A must-have for any vehicle, Rivian included two 120V outlets (traditional household plug) in the rear of the vehicle. Surprisingly, some electric vehicles don't offer this. The R1S offers one on the rear of the center console and another near the driver's side interior wall by the tailgate. This allows you to plug in a host of electronics that USB does not power.
However, if USB is your primary need for power, then Rivian has you covered in the RS1. There are 6 USB C ports throughout the vehicle, including on the front console, rear headrests, and back of the vehicle.  
In testing by an owner, they found that the center console port outputs 15 watts of power, as did the ports on the back of the headrests. The ports below the rear climate screen put out 8 watts. If you're just charging your phone, then it's not a big deal. However, users who power a laptop or MacBook would have probably liked to 30 a 30-watt output.
This expansive array of options to charge or power devices makes this highly versatile for car campers or people who sleep in their SUVs. It's nice to be able to charge a phone in the headrests while sleeping or plug in a coffee maker in the morning.
The Rivian also offers three 12-volt outlets for devices or applications that still use these connections. There is one each in the center console, rear interior wall by the 12V plug, and inside the frunk.
Rear Hatch and Tailgate
The rear hatch is an often-overlooked feature when selecting a good camping vehicle. Since most of the time we spend camping with a vehicle behind it, the wide opening of the hatch is usually a place to store gear, gather, or sit.
The R1S factored this into their design and incorporated a short tailgate into the hatch. This means that when you open the hatch, a small foldable section remains. You can open this just like a truck tailgate.
This feature accomplished a few things that may be interesting for campers. First, it keeps things in place. If you have a lot of items stored in the rear cargo area, they won't roll out when you open the back.
Secondly, when the tailgate is folded down, you have a more comfortable place to sit or sort gear. There's a reason why people love tailgating, and not you can do it in an SUV with a little more comfort.
The other remarkable feature of the Rivian is its Kneel Mode. When engaged, it lowers the suspension of the entire vehicle to its lowest setting, providing easier access to the cargo area. This is also great if you plan to sit on the tailgate and hang out.
Storage
The R1s has tons of storage and outcompetes other SUVs on the market. When it comes to camping, storage is critical. This is especially true if you plan to sleep in your car. You don't want to remove everything, throw it into the front seats, and set up your sleeping area each night. By taking advantage of the unique storage options of the R1S, you can bring all your gear along without feeling packed like a sardine.
Below are some of the storage spaces (both big and small)
R1S Frunk
Like many EVs, the R1S offers a spacious Frunk (or trunk in the front of the vehicle. This is something that's not possible on gas vehicles. This Rivian Frunk offers 11 cu ft of storage. The frunk can easily fit items 30″ long, so things like traditional camping gear should easily fit inside.
The Frunk has a maximum depth of 22.7 inches and measures 54 inches across when measured at its widest spot.
Rear Storage under the Cargo Area
The R1S offers an additional rear storage compartment In the cargo area. To access it, you pull up the floor panel. The area is smaller than the frunk but still offers 5.1 cu ft of storage, which Is pretty generous for this often-unused storage space in other SUVs.
Cargo Area Capacity
The interior of the R1S is very spacious, which includes the cargo area. When using the cargo storage space in the SUV, you have two options. First, you will have 17.6 cu ft of storage when all seats are upright. Lowering the third-row seat increases that space to 46.7 cu ft. When all the seats are folded down, you're left with a whopping 104.7 cu ft of storage, which is quite impressive.
The rear cargo height is also important to note. This is especially true if you sleep in your vehicle and want to sit upright, which is not always possible for taller people in smaller vehicles. The R1S has a cargo area height of 33.6 inches, which is tall enough for most people.
All seats upright: 17.6 cu ft
Third-row seats folded: 46.7 cu ft
Second-row seats folded 104.7 cu ft
Cargo Area Height: 33.6 inches
Other Storage
Center Console
The Center console is very roomy and deep enough (according to Rivian) for a 32-ounce water bottle. It's plenty big for storing your valuables and has two-fold-out cup holders. A wireless charging pad is also built to keep your phone topped off.
Side Door Panels
All four doors have hinged pockets, which offer a unique design. If you picture your current vehicle, it probably has a space on the door panel to stash things. However, not much fits in there because of its thin, rigid design. The R1S's hinged pockets expand, allowing you to store more items.
When camping, this is a great place to stash a rain jacket, water bottle, or other things you need to access quickly.
Under-seat storage
Both the driver and passenger seats have small tip-out trays underneath. This discrete storage location is an excellent place to put a tablet, wallet, or other valuables you want to keep hidden when away from the vehicle. It's also an excellent place to store a book you pack for a long road trip.
No Gear Tunnel
If you've seen the advertisements for the R1T, you likely noticed the gear tunnel. This is a long cargo area that extends the width of the vehicle. Unfortunately, the R1S does not have a Cargo Tunnel. I just thought you should know! Also, for R1 T Pickup owners, you should also be aware that Rivian paused production of the camp kitchen. They said they're working on a new design, but there is no roadmap to when or if that will happen.
Miscellaneous Storage
Both front seats have a rear seat-back pocket. Third-row passengers also get their own fold-down armrest with a cup holder and a small cubby storage area.
Additional Features and Accessories:
Rivian is known for providing practical, and not just gimmicky, features in their vehicles. They continued this practice with the R1S. Below are a few we like:
Built-in air pump
A built-in air compressor is located in the rear cargo area of the vehicle, below the 120V plug. This is perfect for topping off tires, blowing up an air mattress, or filling a tube for a river float. It's a nice touch to an already rugged, adventure-inspired vehicle.
Flashlight
A simple yet functional addition to the R1S is the built-in removable flashlight inside the driver's side door. When you open the front door, a push-out flashlight will be ready whenever you need it- fully charged.
Removable Bluetooth speaker: 
When setting up your campsite, Rivian thought you might like to have access to some tunes. They included a detachable speaker that is stashed under the center console. You have a camp speaker when you want it, and always charged.
Pet Comfort Mode
This is a great feature for campers who travel with pets. If you frequently take long road trips and need to run in for groceries or a quick bite, your dog will be happy to know they can relax in a cool vehicle. The Pet comfort mode maintains a user-selected temperature inside the car when you're away from the vehicle.
Deep Sleep Mode
If you're away from the vehicle for an extended period of time, the Rivian will enter Deep Sleep mode, which turns off all but the vital energy components, conserving your battery power for when you need it.
Glass Roof
The Rivian R1S has a large (non-opening) panoramic sunroof over the first two rows and an additional one over the third row. Some owners have complained about excessive heat in hot and sunny areas, but there is good news with a recently released sunshade accessory.
Roof Tent
Like other SUVs with a roof rack, you can install a tent on your Rivian's roof and have even more space for sleeping. The tent, designed in collaboration with Yakima, a leading rood rack gear hauling company, is designed explicitly for the R1S. According to Rivian, it's easy to set up with two people. It has two skylights to give you the same feel as sleeping in your truck and includes a 2.5-inch-thick wall-to-wall mattress.
The tent, mounted on the R1S roof, can hold 600lbs. It has an aluminum frame and weighs a hefty 115 lbs. It's pretty cool, but also very expensive. Costing $2,800, it's probably the most expensive roof tent on the market. However, if you plan to take a cross-country road trip for a few months, perhaps it's worth the cost. You should also know that aftermarket rooftop tents are available that will also fit a Rivian R1S.
Sleeping in your Rivian R1S
The Rivian R1S is one of the best vehicles to sleep in for many reasons described above. It's spacious for even the tallest campers, comfortable, and provides unparalleled options for customizing your sleeping space.
When enabling camp mode, you can dial in your climate control to the perfect temperature, direct airflow to the areas you want, and access the power outlets you need. Also, if parked on uneven surfaces, you can sleep in a level car with just the push of a button.
Thanks to the large battery, the R1S is also very efficient when sleeping in it, even with the heat or AC running. For example, if sleeping in the vehicle in the winter at near-freezing temperatures, you can expect to use about 20% of your battery's capacity.
Heat is one of the biggest energy consumers, so this will be even less with air conditioning. I expect it to be between 10% to 15% energy drain.
This is good news if you're planning a road trip and must stop each night for some shut-eye. If your battery has sufficient charge, you can stay in your vehicle for the night without worry.
If you plan to camp for multiple days and don't have access to charge your vehicle, you can limit your use of the heat and air conditioning to prolong your battery.
Performance, Safety, and Charging
What good would a great camping vehicle be without the ability to get you to your destination efficiently, comfortably, and fun(ly)? The R1S doesn't disappoint in any of these categories.

Rivian continues to push the boundaries of electric vehicle technology with its SUV in its 2023 models.  Rivian now offers a new dual-motor configuration in addition to the existing quad-motor setup. Regardless of the choice, all-wheel drive remains a standard feature on the R1S.
For those eyeing the entry-level dual-motor R1S, you don't need to worry about performance with its 600 hp and above 600 lb-ft of torque. Furthermore, customers have the choice between a standard battery pack and a larger-capacity option.
However, for those with an appetite for unparalleled power, the quad-motor R1S offers a staggering output of 835 hp and 908 lb-ft of torque. Achieving 0-60 mph in a mere 3.1 seconds. Notably, the quad-motor R1S exclusively pairs with the larger battery pack.
Beyond sheer power and performance, the Rivian R1S ensures safety and convenience with its advanced suite of driver assistance features, branded as Driver+. This comprehensive package comes standard and boasts features like adaptive cruise control, lane keep assist, and highway assist. Additionally, every Rivian R1S is outfitted with blind-spot monitoring, automatic high beams, rear cross-traffic alert, parking sensors, forward collision warning, and automatic emergency braking, ensuring peace of mind for every journey.
The R1S's driving range varies based on the chosen configuration, with figures ranging between 260 miles to 321 miles.
Rivian also shines in the charging department. Using the brand's proprietary 190-kW fast charger, the R1S can regain 140 miles of range in just 20 minutes. Moreover, for those in a hurry, charging the battery from a 10% to 80% state takes only half an hour.
The bad news- the Price
​The Rivian is one of the more expensive electric vehicles on the market. It's not to say that it isn't warranted, but if you're financing, expect a hefty car payment. I expect prices to remain high as the EV market is just really beginning to take hold. It may be a few years until we see more cost-friendly models available.
For 2023, the Rivian R1S Adventure has a starting price of $78,000 when equipped with the dual-motor and Standard battery pack. If you choose the Large battery pack, it costs an additional $6,000. Selecting the quad-motor drivetrain increases the cost by $8,000. However, the quad-motor AWD is unavailable with the smaller battery. An additional destination charge of $1,500 applies. 
Initially, Rivian intended to reduce the base price of the R1S to $72,500 for the Explore trim, but this change was nixed even before launch, attributed to most customers preferring the Adventure model.  For 2024, only a three-row seven-passenger will be sold. Though it may not be the best vehicle for the average car buyer, it could be the perfect one for outdoor enthusiasts seeking an adventure vehicle. There is some good news for Rivian pricing, however. The R1S is eligible for a $7,500 EV tax credit from the Feds.
Summary
If you are willing to pay the high price, the Rivian R1S all-electric SUV may be the best and most capable car camping vehicle on the market. From its feature-rich camp mode, impressive battery life when camping, 300-mile range, and expansive storage options, this is a vehicle worth looking at. I hope that other EV makers will copy some of their features and make them standard in less expensive options.

Rivian was an EV startup that promised a lot and delivered even more. It's more than a great way to get to the great outdoors. It is a new way to experience it when you get there.