If you're reading this article, you likely already know how fun camping can be. It's a wonderful family activity and a great alternative to traditional travel. However, budgeting for leisure activities and vacations is getting more difficult in today's economic climate.
Camping can be a much more affordable alternative to traditional travel, but it doesn't mean it's always affordable. If you travel in an RV or camp in a tent, you incur many different expenses when camping. The first, often the most visible expense, is purchasing your camping gear, RV, or accessories. However, once you have this, you'll still need to budget around the costs associated with each camping trip.
Luckily, there are many different ways to save money when camping. While it's impossible to eliminate all costs, such as fuel and fuel, there are ways to save money on some of the big expenses associated with camping.
This article will provide a brief introduction to some of these savings. However, to get a detailed guide to saving money when camping, I invite you to download our FREE E-book: How to Save Money Camping: Tips for Camping on the Cheap. Accessing this free guide is easy. Just subscribe to the Outdoor Miles newsletter below:
FREE HOW TO SAVE MONEY CAMPING E-BOOK
To get started, let's take a look at some of the major camping expenses:
Campground Accommodations
One of the biggest expenses when camping is paying for your accommodations. Like traditional travel when booking a hotel room, a campsite reservation will cost you money for each night of your stay. Campground prices vary widely; some charge as little as $20/night. Others may cost well over $100/night.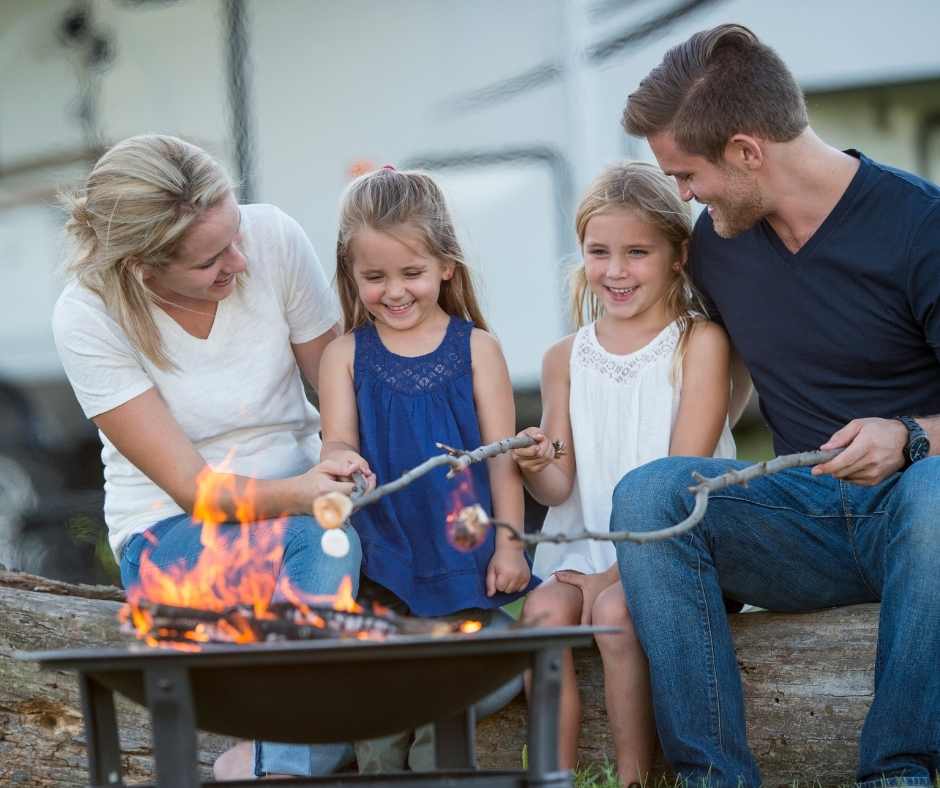 Campground accommodation generally increases in price as amenities are added. For example, a no-hookup tent camping site will generally be the lease expense, while a paved, pull-through full-hookup site will be the most expensive. Additionally, the quality of the campground, recreational offerings, services, etc., typically has a big impact on campsite costs.
It's important to remember that a more expensive campground isn't always better or more enjoyable. Campgrounds in State Parks and National Parks, with limited amenities, often offer some of the best camping experiences and natural settings. However, campsite fees can add up over time, costing a lot of money.
Saving money on accommodations can be done by several easy approaches:
Free Camping
Yes, you read that right. In many parts of the country, finding free sites to camp is possible. It doesn't mean you'll be camping in a Walmart parking lot. There are numerous beautiful and scenic places to camp for free- typically called boondocking. Many full-time RVers swear by incorporating free camping in their travel plans. While generally more accessible out west, you may have access to free locations to set up camp on public lands such as national forests and other Bureau of Land Management lands.
Many of these properties offer primitive camping. Unless specifically prohibited, you can boondock in almost any National Forest. You may need to travel along long, unimproved forest roads to access these sites. In some instances, this may be difficult for larger RVs or trailers. However, there are many accessible sites for even the largest Class A motorhome or travel trailer.
Downloading the United States Public Lands App is great for finding public land boondocking sites. Also, read some reviews and check out pictures of the sites from past campers before you haul off down the 5-mile unpaved road.
Mostly Free Camping
Another great option for low-cost camping is two new camping programs: Harvest Hosts and Boondockers Welcome. These two programs offer unique opportunities to camp for free, or almost free, in just about any part of the country. In addition, these programs partner with private landowners and businesses to offer free places to dry camp.
To take advantage of this program, you must pay for an annual membership (Harvest Host $59, and Boondockers Welcome $79). The camping locations are provided by businesses (Harvest Hosts) and individuals (Boondockers Welcome) for short stays, ranging from a single night to a maximum of five nights if the host allows. Most sites will not have hookups, but some locations will allow you to fill your fresh water tank(s) or even plug into their electricity for a small donation. It may seem odd camping on private property, but you'll be amazed by the options available through these memberships. In addition, you can save a ton of money by incorporating these programs into your RV travels and road trip plans.
Camping Membership Programs
One of the best ways to save money, and camp like a king, is to take advantage of a camping membership program. Not all programs are created equally, so do your research before signing up to ensure that you have campsites in the areas where you want to travel and that the cost is more affordable than paying for individual nights. Below are a few of the more popular camping membership programs.
Thousand Trails: The Thousand Trails Program annual fee costs about $600/year but offers access to over 80 free campgrounds throughout the country. With the camping pass, you can stay for up to two weeks, for free, before you need to take a week off. Thousand Trails can be a great deal for frequent campers. This is a great program for you if you like camping at private RV parks with full hookups and no campground fees. The annual membership price is less than some weekly rates at campgrounds. In a given year, you can rack up well over 75 overnight stays for the price of the annual membership.
Escapee RV Club: The Escapees RV Club owns eight campsites and eleven co-op parks, but more importantly, they partner with over 1,000 commercial parks to offer discounted stays. The club is one of the world's largest and oldest membership programs. Your RV Escapee membership will get you a 10-50% discount off the nightly rate at over 800 campgrounds nationwide.
Passport America: It's typically known as "the original" 50% off discount camping club", offering 50% savings at over 1400 campgrounds around the US. Who doesn't love cheaper rates?
Good Sam Campground Discounts: This program offers a 10% campground discount at over 2,400 Good Sam Parks and Campgrounds in North America that accept the discount. The lower rates you get may offset the higher fuel costs you're paying at gas stations this summer.
Gas and Travel
These days, it seems like the price of fuel is the most expensive part of our camping trips. While it is definitely up there at the top of the camping budget, there are steps that you can take to knock it down a bit. A few simple steps you can take, without even heading to the pump, is to take a closer look at your trip plans. For example, selecting a closer campground to your home will surely reduce the number of miles your need to drive, meaning there will be fewer stops to fill your gas tank. Also, consider taking a longer trip rather than two shorter ones. This step will cut your summer RV fuel expense in half.
Outside of trip planning, however, some good strategies exist to knock off a few cents at the pump. First, start your fuel-saving quest by finding the right gas station. Gas prices can vary widely from region to region or even from station to station. Therefore, it's essential to think about where you're going to fuel up when traveling. In addition, by planning your gas stops ahead of time, you will have more control over what you're paying at the pump.
A few tools for finding cheaper gas include:
· GasBuddy
· Gas Guru
· Waze
· MapQuest
· Google Maps
When you find cheaper gas, plan to pick one along your route. If you have to drive 20 miles out of your way to save 3 cents per gallon, it may not be much of a cost-saving. Plan out your travel route before you leave and search prices for stations along the way- stopping at the one with the best price.
General Purchases
You may have heard of travel hacking, but have you heard of camping hacking? Well, probably not, since I may have just invented that term. However, taking advantage of credit card points and bonuses for camping is a great way to capture value from your camping excursions and save on your camping expenses.
If you're unfamiliar with credit card points or travel hacking, this may seem confusing at first, but it will make more sense as you learn about it. Many credit cards offer various ways to earn and spend reward points. If you think of points as money, it is easier to understand. Every card is a little bit different, but most operate similarly.
It may seem counterintuitive initially, but credit card companies like to give you rewards for using their card for your purchases over another. It's not out of the goodness of their hearts. It's because there is BIG money to be made. Credit card companies get a percentage of your purchase amount from the store every time you swipe (or insert your chip). Additionally, they'll get all the interest that cardholders pay each month. As a result, credit card companies are in fierce competition for your business.
In vying for your business, card issuers have developed elaborate reward programs for their holders. By using their cards, you earn points. Depending on the program, you can use those points to purchase travel, gift cards, or even cash back. Many cards also offer signup bonuses when you apply for a new card. We'll discuss this later. As your points grow, so do your options to spend them. However, you should know that not every rewards program or point system is the same. It's best to start with one program, get to know it well, and find out how to get the most value out of it. Focusing on one specific rewards program may be the best scenario for 99% of people.
Credit card point systems can be a great way to put your everyday spending to work and earn extra money for your travel and camping lifestyle. However, this may not be for everyone. It's also important to remember that although this can appear as free money, nothing in life is free. The credit card companies wouldn't offer these benefits if they weren't profitable. It's very easy to get into a credit card trap and pay much more money in interest than you'll ever gain from rewards. If you choose to explore this, you must do so responsibly and have a plan to pay off your balances each month. If you don't, you'll be giving the credit card companies money instead of receiving rewards.
That said, the best way to start earning points is to do so gradually. Develop a plan, learn about the card(s), and determine how it works best for your situation. Start slow and steady. I really like the Chase trifecta strategy since you have a single rewards program to work with and three fantastic cards to earn points. The program is flexible, and the redemption options are plentiful. There are a lot of resources available to learn about these programs. I highly recommend you do some reading and make smart decisions for earning and spending your rewards.
Activities and Entertainment
The best advice for saving money on camping activities is to travel to places where the activities are free or less expensive. For example, while camping near Orlando may seem fun, you'll likely need a larger budget if you plan to take advantage of the entertainment, parks, and activities outside the campsite.
However, if you want to engage in activities outside of the campsite during your trip, consider the location of where you're going. Some areas in the country have many free or low-cost events and activities. For example, St. Louis, Missouri, has the same wonderful attractions as any city, such as a Zoo, Science Center, Museum, Botanical Gardens, etc. However, most of these resources are free to the public. For a family of four, this can be savings of hundreds of dollars for what it may cost in other areas.
While St. Louis may not be on your bucket list, look at smaller cities or towns that may offer entertainment and activities for free or inexpensive. I love small-town museums. Most regions in the country will have countless options, and many are free. Also, as the father of a little one, I frequent playgrounds and parks. Whenever I travel, I look up the "Best local Playground" on google and have found some outstanding ones that make my daughter feel like she's at an amusement park.
Nearly every part of the county will have events, fairs, festivals, and other popular attractions worth checking out. Before planning your trip, consider some of the offerings in the areas where you're considering vacationing. You may even find an event happening there that you want to plan your trip around.
Food Expenses
One of the best parts of camping is cooking out on the grill (or Griddle) or over the fire and sitting down outside for a tasty meal. Additionally, camping often means vacationing in new areas, so eating out is always a fun treat. However, blowing your travel budget on food can be easy if you opt for steaks every night or dine out frequently.
Make a Food Budget
The best plan for saving money on food is to develop a budget and stick to it. If you know how much you can spend on food, that will dictate what you get. Personally, I like to use a budget as a game, whereas the more I can save at the grocery store for cooking at the campsite, the more money available for dining out. Bringing your own food and cooking your own meals (after making a meal plan) is one of the best ways to save money.
Stock up on sale items
When shopping at home and planning for a camping trip, take advantage of sales and deals all year long. Most stores will have rotating sales throughout the year on the same products. For example, Nathan's Hot Dogs may go on a deep sale every four months. If you typically buy them for camping, stock up when they're on sale and freeze them.
Save at restaurants
It's hard to take a vacation and not go out to eat at least once. If that's something you enjoy, definitely plan it into your budget. While it can get expensive, there are some ways to save a little. I like to do some online research before leaving for the trip. I look for local restaurants that have good reviews and affordable prices.
Camping Styles
Longer Stays:
If the cost of travel has you worried, you can limit this expense by taking a longer camping vacation than several short ones. For example, if you typically take 2-3 weeklong vacations annually, why not plan for one longer vacation. Towing or driving an RV can be expensive, but you'll incur this expense once if you take a longer trip instead of several shorter ones. In addition, most campgrounds offer discounted rates for longer stays or even monthly rates- they're typically much cheaper than the regular daily rates. As a result, you can save a significant amount of money.
Longer vacations are also great for helping you disconnect from daily stresses more easily. We're all familiar with the first couple days of a vacation- thinking about work, responsibilities, finances, etc. By the time we let a lot of this go, it's time to pack up and head back to the grind. A longer vacation will give you more time to experience the stress-free bliss of vacation and enjoy the days when you're only thinking about the present day.
Choose your Travel Times:
Avoid camping on busy holiday weekends. The camping costs are usually higher, and reservations are harder to book. However, you may be able to get a discounted rate if you camp in the fall or shoulder season. Fall Camping is one of my favorite times of the year. RV campsites are typically less crowded, and the weather is perfect for relaxing outside. In addition, the most popular RV resorts usually have lower rates when it's not busy.
Camp locally:
Rather than let the high costs of RV travel keep you parked at home, consider taking a shorter trip to a nearby campground instead of a long trip. One of the most exciting parts of camping is getting to explore new places and experience the feeling of getting away, leaving all of the stress and responsibilities behind for a bit. However, there's no reason you can't create that same experience a little closer to home.
When planning your nearby camping trip, consider visiting a campground you've never been to. The new location will provide a unique experience that may scratch that travel itch. Additionally, seek out new activities in the area that you haven't done before. Finally, look for the off-the-beaten-path type places and give them a try. Almost every town will have small museums, local businesses, or unique little hole-in-the-wall restaurants that are new to you. Again, looking at tourism websites for your local area is a great place to start.