You can seemingly buy any accessory for your RV with a few clicks online or at your local camping store. However, it can seem nearly impossible to find sheets designed to fit RV bunk beds for some odd reason. If you have bunks in your RV, you know what I mean. I have a five-year-old daughter who seems to come up with new creative ways of dirtying her RV bunk bed sheets regularly- the latest being chocolate pudding.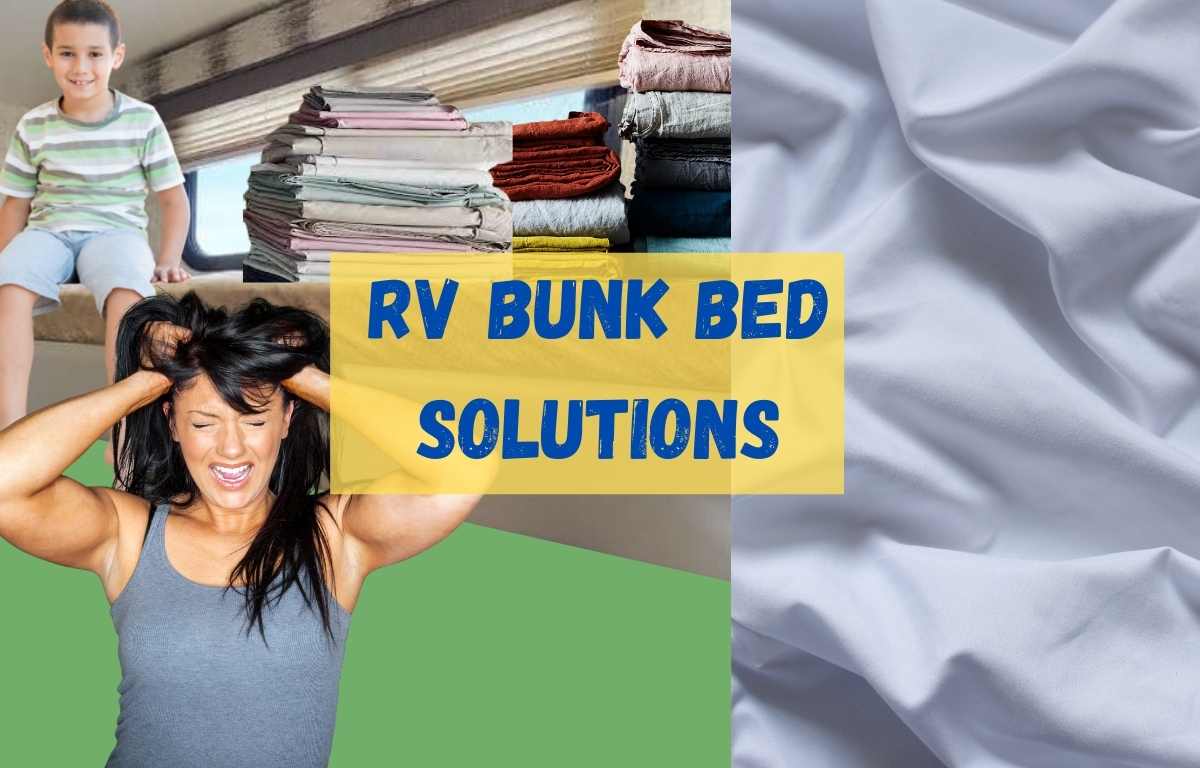 RV bunk beds shipped with your camper are commonly made by Lippert with the signature Teddy Bear logo and come in nonstandard sizes. To boot, they're much thinner than a regular mattress. Fitted twin sheets just don't fit an RV bunk bed and leave a lot of extra fabric that you need to tuck and secure under the mattress. Because of their lightweight design, regular sheets for bunk beds are always coming loose and creating headaches for parents in campgrounds around the world.
They're also not very comfortable. This element is easy to overlook since adults don't sleep on them too often. While you may not hear many complaints from smaller kids, I can only imagine that this starts to become more of a concern as they get older.
However, have no fear, parents. There are some great options for both finding RV bunk bed sheets that fit and improving the comfort of the mattress for your kiddos.
RV Bunk Bed Sheets
Depending on the size of your RV, your RV bunk beds will have a nonstandard size. Many will be 34″ long with varying widths of 28″, 32″, or even 50″ for a full(er) size bunk. If you have the Teddy Bear style RV bunk bed mattress by Lippert, it will come with a furry cover, which may or may not be removable. You can take this off and wash it, although it's not very convenient to do this.
However, if you have corner RV bunk beds, you may also have the added challenge of an odd-shaped mattress instead of your traditional rectangular shape. The corner opening is a longer edge of the bed, making it even more challenging to use a fitted sheet. Also, for many of these mattresses, the covers aren't removable.
Bunk beds also will come in various thicknesses. Typically, the Lippert Teddy Bear RV bunk bed brand will come in a 3″ thickness. You may also have a 4″ or 5″ rv bunk mattress. Using a traditional twin sheet, a thicker mattress help with the extra fabric.
So, how do you solve this RV bunk bed sheet problem? Luckily you have options. Here are a few of them:
If you want to save money and use traditional twin sheets for your RV bunk bed, a great option is to invest in an inexpensive set of bed sheet clips. These clips, which you can find on Amazon for under $10, are adjustable and secure to the edges of the sheets. You can fold over the excess fabric and pull the sheet taut with the adjustable elastic bands. It's not perfect, but it works to keep the sheet in place and prevent bunching after use.
I didn't even know these were a thing until dealing with an RV bunk mattress. Adjustable RV bunk bed sheets are just like fitted sheets, but instead of the elastic corners, they have a drawstring that allows you to tighten up the sheet to fit your mattress size. They're available on Amazon and at some RV and camping stores. You can also purchase them directly from Lippert for various mattress sizes, not just RV bunk beds.
Custom RV bunk bed sheets
One of the great things about the internet is the ability for almost anyone to come up with creative solutions to common problems. Etsy is a great place to find these solutions. For example, several stores on Etsy will make you custom RV bunk bed sheets. The great thing about this is that you can choose from many kid-friendly designs and colors, which is lacking with the adjustable sheet market. Another site that I like is Bunkbedsbunker.com. This small business caters to campers looking for RV bunk bed sheet solutions.
The custom RV bunk bed sheets are surprisingly affordable too. When comparing prices to other options, you may be able to get the exact look you're going for at a reasonable price. Also, if you make some alterations to the mattress thickness, as described below, you can get RV bunk bed sheets that will fit your exact need.
Improving the comfort of an RV mattress
If you sleep for one night on a traditional RV bunk bed mattress, the following morning you'll be looking for a new one. Depending on your mattress size, you can purchase thicker RV bunk bed mattresses made from a variety of materials. One of the most common is foam mattresses. Amazon has a few good options up to 6″ thick.
However, if you're looking for a more affordable option, you have a few DYI modifications that you can make. I like, which is easy and inexpensive, to take a few pieces of the foam interlocking flooring that you use in playrooms and install it under the RV bunk bed mattress. This small addition will help add some comfort to the sleeping area and will also help to keep the bed warmer in colder months.
Another great option is to install a foam mattress topper on the RV bunk bed. You can get these in different thicknesses ranging from 1″ to up to 4″. If you do this, be sure to find one that is just the foam, not sealed in a sheet or covering, as you will likely need to cut it to size. If it comes with a zippered case and it's for a twin mattress, you should be able to reuse the case. However, if you're adding this to both RV bunk mattresses, simply order a queen size since you can get two 30″ RV bunk toppers from the one.
Finally, instead of using comforters for the RV bunk beds, as you would do with a twin, I find that a nice comfy throw blanket works great. You can easily fold and store them on the bed. I like to have a thicker one for the colder months and a light one for the summer. They're also easy to wash.
Conclusion
RV bunk beds are a great option for families camping with kids. Unfortunately, they can be challenging to fit with sheets and aren't always the most comfortable. However, you can solve these problems easily and affordably with a little creativity. The best approach for my daughter is to use an adjustable RV bunk bed sheet, add some foam flooring under the RV bunk mattress, and use a couple of comfy throw blankets for nighttime. Of course, if I were using it, I'd probably opt for the foam mattress topper as well.