An RV dinette bed is a versatile feature commonly found in recreational vehicles (RVs) and campers. If your RV has a dinette seating area, there's a good chance that it converts to a bed. RVs are often built like Swiss army knives, with different elements serving several purposes. A dinette bed typically refers to a dining area that can be converted into a sleeping space. When it's not folded into a bed, it serves as your dining room table. The dinette bed usually consists of a table and bench seats, but some popular wrap-around dinettes offer this option. It's a very popular feature in most Travel Trailers.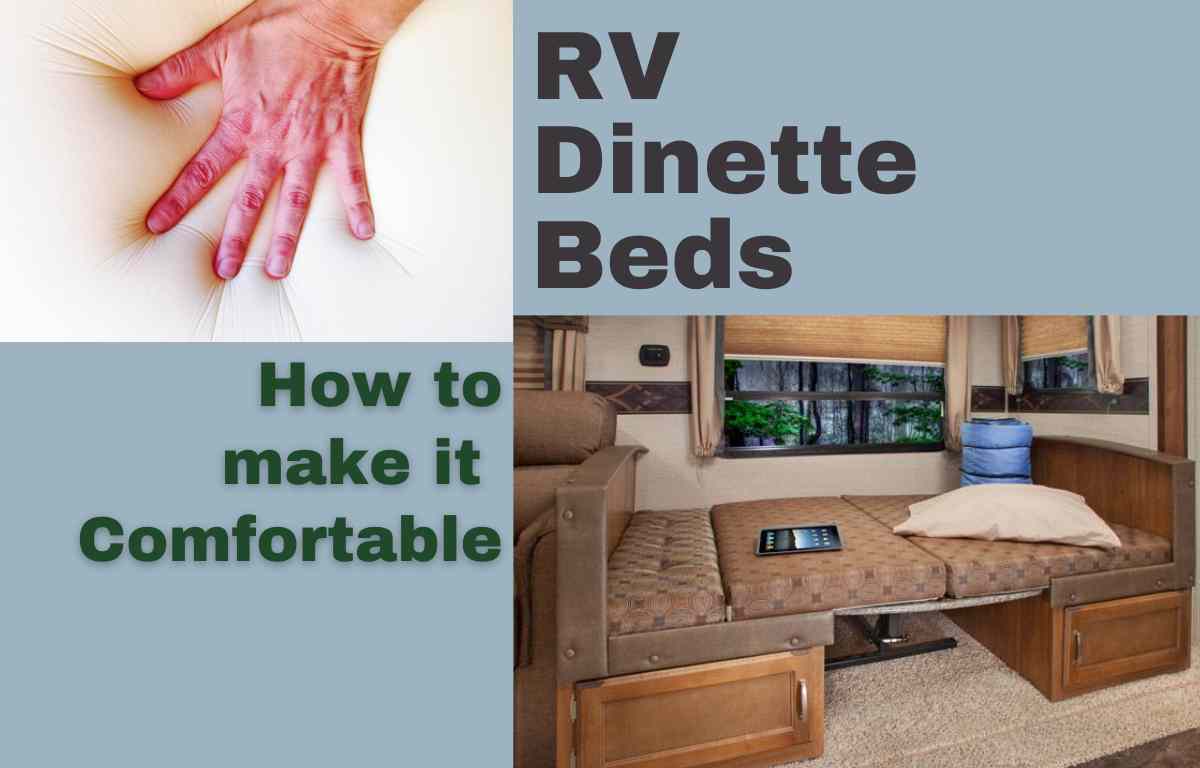 However, the number one downside of a dinette bed is that it's not always the most comfortable, and getting good sleep on one can be challenging, at least for me. Luckily, there are several hacks to make the bed a little more comfortable when you need it. We'll cover some of these options below, but first, let's take a closer look at dinette beds.
How Do You Convert an RV Dinette Bed?
While there are some differences in doing this, depending on the style, the process is usually similar, as most RV manufacturers use many of the same components. The table is lowered and positioned horizontally to convert the dinette into a bed, while the bench seats are used as a base or support for the bed. The cushions from the bench seats are rearranged and used as a mattress for sleeping. This allows for a multi-functional space where you can dine and socialize during the day and convert it into a sleeping area at night. If you have trouble figuring it out, don't worry. I had to check out some Youtube videos the first time I lowered my table. 
The size and design of the dinette bed can vary depending on the specific RV model, but they usually come in two styles: Dinette Booths and U-shaped dinettes. A bench-style seat will create a sleeping area similar to a short twin bed. A U-shaped option will add more space to the bed and be closer to a full-sized bed, with plenty of space for two people. If you need a few extra beds, maybe consider this style. The bench seating style is usually best for one person and is typically the right size for small children (poor kids). It's a good idea to plan your sleeping arrangements before purchasing an RV.
Converting an RV dinette into a bed typically involves a few simple steps. The exact process may vary slightly from RV to RV, but it's not too difficult. Clearing the table and seats and adding a sheet is the most time-consuming thing. Here's a general guide to converting an RV dinette bed:
Clear the Area: Remove any items from the dinette, including tabletop decor, cushions, and other objects that may get in the way. Don't forget the food or you'll have a mess.
Lower the Table: Most RV dinette tables are designed to be adjustable and can be lowered to create the foundation for the bed. Locate the table release mechanism, which is often a lever or button underneath the tabletop, and lower the table to its lowest position. Hold the table as you lower it so it doesn't drop too quickly. Some RV dinettes may require the tabletop to be removed entirely before proceeding. While less common, if you don't have a lowering mechanism  If necessary, detach the tabletop from its support and set it aside in a safe place.
Rearrange the Cushions: The dinette bench seats typically have removable cushions that can be rearranged to form the bed's sleeping surface. First, take off any backrest cushions and set them aside. Then, rearrange the remaining seat cushions to cover the area where the table was located. The cushions should form a flat and even sleeping surface. A wrap-around dinette will be a little less straightforward, but the dinette cushions from the backrests will cover the bed frame when positioned correctly.
Fill in Gaps: Depending on the design of your dinette, there may be gaps between the seat cushions when arranged into a bed. Fill these gaps with additional cushions or mattress toppers to create a more seamless sleeping surface.
Add Bedding: Once the cushions are in place, add your bedding, including sheets, blankets, and pillows, to make the bed cozy and comfortable. You can purchase fitted sheets designed to fit the RV dinette bed's dimensions, but a twin or full sheet can work too.
Make sure it's Stable: Before using the bed, test to ensure it's down entirely and secured. I usually sit or gently press on different areas to check if it's in the correct position. 
Converting it Back to a Table: When you're ready to convert it back to a table, reverse the steps.
Pros and Cons of an RV Dinette Bed
While an RV dinette bed can be a great option when choosing your RV, there are some pros and cons you should be aware of:
Pros:
Versatility: The primary benefit of an RV dinette bed is its versatility. It serves a dual purpose as a dining area and a sleeping space. During the day, it provides a comfortable seating and dining area; at night, it can be easily converted into a bed, maximizing the use of limited space in the RV. This is especially helpful in smaller RVs when you need a sleeping area. It's one of the main reasons RVers opt for them.
Space-saving: In smaller RVs where space is limited, a dinette bed can be a more efficient use of space. It eliminates the need for a separate dining table and a dedicated sleeping area, making the most of the available square footage. Also, most RV bench seats offer under-bed storage. This is a big plus for maximizing a small space.
Cost-effective: A dinette bed is often more affordable than other types of sleeping arrangements in an RV, such as dedicated bedrooms or pull-out sofas. As a result, it can be a budget-friendly option for RVers looking to maximize their space without investing in additional furnishings.
Extra Guests: If you travel with kids, I highly recommend finding a floor plan with a bunk house. However, a dinette bed is excellent if you need more beds than the bunks or occasionally have guests stay with you. While it's always nice to have a bigger bed available, a dinette bed will work in a pinch.
Cons:
Not very comfortable: The comfort of an RV dinette bed may not be on par with a dedicated mattress or sleeping area. For example, it can be hard to sleep in if you're not used to a firm mattress. In addition, the cushions used for seating may not provide the same level of support and comfort as a traditional mattress, potentially affecting sleep quality. 
Set-up and tear-down: Converting the dinette into a bed and vice versa usually requires a little bit of effort and time. It involves removing or folding down the table, rearranging cushions, and possibly reconfiguring the seating arrangement. This process may be cumbersome and can be a pain if you need to do it every night.
Limited seating capacity: When the dinette is transformed into a bed, the seating area becomes unavailable in the common areas. This can be a disadvantage if you frequently sit at the dinette in the evening or have a smaller RV. Many RVers prefer a dedicated dining space separate from the sleeping area. 
Why are RV Dinette Beds So Uncomfortable?
It's not very hard to figure out, but an RV dinette bed can be pretty uncomfortable. Firstly, the mattress is the seat cushion, and they're not very thick or supportive. Also, they won't provide much padding from the wood base if you're a bigger person. They're generally less comfortable than other convertible beds like an RV sofa bed. Since the cushions are designed to be lightweight and space-saving, this compromises their comfort.
Additionally, the support system underneath the dinette bed is often not as robust as a traditional bed frame, leading to sagging and unevenness. Additionally, when you convert the dinette into a bed, it's common for the area to be a little uneven, with gaps between cushions. Combined, this creates a sleeping area that's not the best for a good night's sleep.
Different Ways to Make a Dinette Bed More Comfortable
If you want to make your RV dinette bed more comfortable, here are some of the best ways to do it:
Add a mattress: 
If the existing back cushions are uncomfortable, consider adding a mattress to the top. If a kid sleeps on the bed, you can repurpose an old crib mattress as a makeshift sleeping area. The crib mattress will fit into the space of a regular bench dinette, creating a much more comfortable mattress to sleep on. The downside of a mattress is the space it takes up when you're not using it. Try to plan a find a place to store the mattress when you're not using it, or it can become a headache in the RV. Another option is to use an air mattress, which is a good option if you use it doesn't get a lot of use but want a more comfortable option for guests.
Upgrade the Cushions:
The cushions provided with the dinette may not always provide the most comfort. Consider upgrading them to higher-quality foam or memory foam cushions. This can significantly improve the comfort of the bed and make it feel more like a traditional mattress. This is a great way to add comfort while not taking up storage space with extra mattresses. You can also bring your existing cushions to an upholsterer and ask to upgrade them with thicker material. This will allow you to maintain your decor while having a better sleeping option. 
Use Mattress Pads
This is probably my favorite option. Adding a mattress pad or a mattress topper can enhance the softness and comfort of the bed. Look for extra cushioning and support options, such as memory foam or plush mattress pads. You can also use egg crate foam if you want an inexpensive solution. While you likely won't find a mattress pad designed for an RV dinette, you can purchase a twin mattress memory foam topper (or even a queen-sized bed pad) and cut it for the perfect fit. I suggest getting, at minimum, a 3-inch memory foam mattress topper for the most comfortable bed. The additional padding can make a huge difference.
Add supports
Dinette beds often feel bouncy, and if you move in your sleep, it can make it uncomfortable. A simple solution is to add some stabilizing legs underneath the t ble. This is very easy, and they can fold out of the way when they're not in use. Additionally, if you need a temporary solution, placing a solid item under the table with some padding on top can help to keep the frame more secure. Finally, adding a solid piece of plywood can help prevent sagging and provide better support for the RV bed. 
Use Good Quality Bedding: 
Invest n high-quality sheets, blankets, and pillows. The thicker the bedding, the better. A thick comforter can do wonders for improving the bed's comfort level. Look for materials that are soft, breathable, and moisture-wicking. A weighted blanket is a great option to provide an extra cushion when sleeping. Also, while a sleeping bag is fun for camping, it's a much better option to use comfortable bedding for the small dinette sleeper.
Bedsure Twin XL Comforter Set
Buy Now
Outdoor Miles is reader-supported. When you buy through links on our site, we may earn an affiliate commission at no additional cost to you.
09/27/2023 07:55 pm GMT
Conclusion
RV owners love the versatility of dinette b ds, which maintains living space while allowing for an extra bed when needed. This convertible piece of furniture is suitable for RV life when you need n extra bed from time to time or have to maximize space because of a large family. These smaller beds are usually best for kids, but n adults can fit if needed. The downside to the dinette bed is the lack of comfort. However, The good news is that by taking some DIY tips into your own hands, you can solve this problem. Full-time RVers may choose to find a more permanent solution, like a custom mattress. However, most folks will be fine with adding a layer of foam for a little extra padding.  So, regardless of how you improve your dinette sleeping area, enjoy the journey, and good luck!