As the weather gets warmer, you may want to start up your RV—and consider purchasing a new and improved mattress to ensure you get a good night's sleep while on the road. Maybe you're stuck with the thin, freebie stock mattress RV vendors throw in; maybe your previous mattress is simply getting too old or no longer gives you the support you need. No matter the reason, of you're looking for a new mattress, you came to the right place.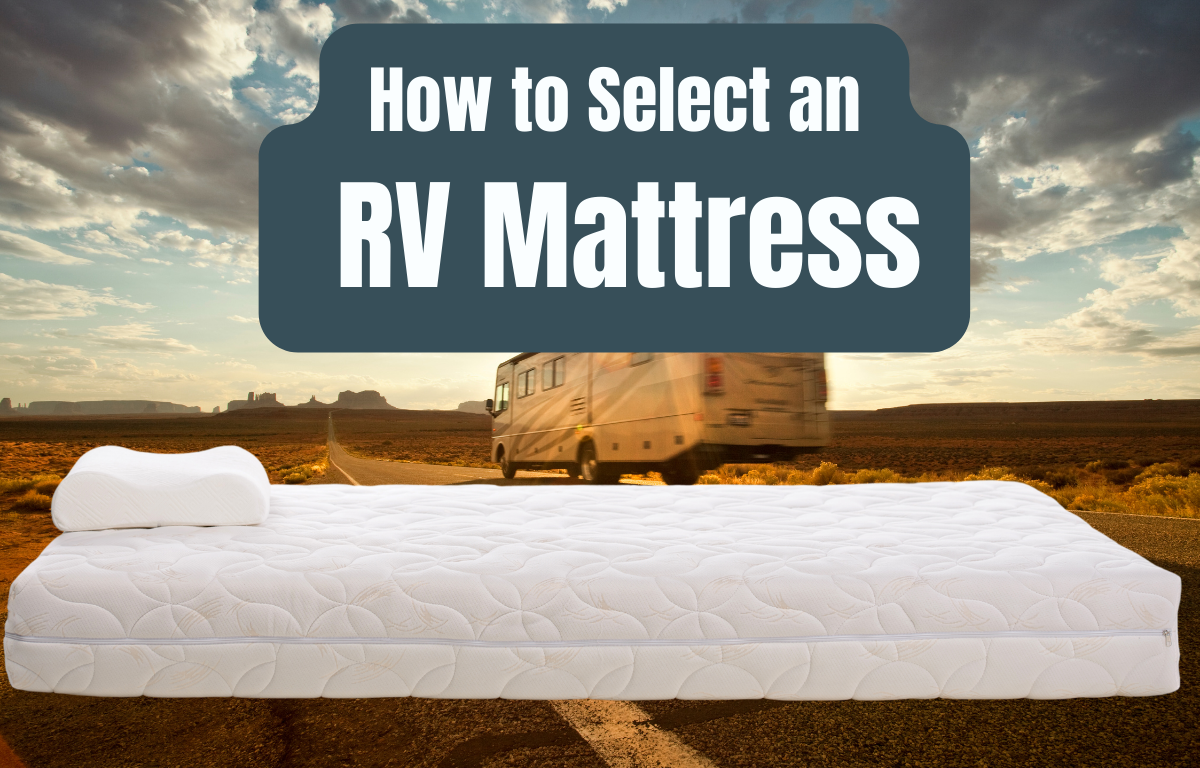 When I first purchased my RV, I stuck with the stock mattress for way too long. It wasn't until I upgraded that I realized that my poor sleep wasn't related to traveling or long days at the campground. It was primarily from the poor-quality mattress supplied by the manufacturer. Upgrading my mattress was one of the best decisions I made.
A good way to determine if you may benefit from a new mattress is the sleep test. If you sleep comfortably at home but find that you wake up groggy or even a little sore when sleeping in your RV, it could be the mattress. If you have a smartwatch with a sleep tracker, you can compare your sleep rhythm when at home to when you camping. A good RV mattress will enable you to have a more enjoyable camping trip since you'll be better rested and ready for the fun activities on the road.
Whatever the case may be, you might be wondering how to choose the best RV mattress for your needs. There are seven important aspects to consider: size, firmness, thickness, material, airflow, protection, and cost. The following information will help you make the right choice and choose the best mattress for your needs.
RV Mattress Sizes
Can you replace an RV mattress with a regular mattress?
Not all RVs have the space to fit standard mattress sizes, and the most common RV mattress size is the RV short queen mattress, also known simply as short queen. However, there is a wide range of sizes available, although it is advised to take measurements of the dimensions of your current mattress and mattress frame before choosing a size. You can also measure any doors or spaces you need to go through in order to install the mattress (or you can skip this part if you decide to go with a boxed or bagged mattress).
Below is a more exhaustive list of the different sizes available for RV mattresses. While some RVs are equipped to fit a regular-sized mattress, such as where some of the mattresses for Thor RVs are regular-sized, most will require the "short" or "RV" version instead. This is because RV beds are generally shorter than a regular frame, and, as a result, regular mattresses may hang over the edge of the frame. Additionally, some RV beds have under-the-bed storage, and if your mattress doesn't fold easily, it can make accessing it more difficult. Below is a list of the mattress standard sizes and some of the unique ones you may have in your RV. If you're unsure of your mattress size, simply measure it and compare it to the following list to ensure you select the right size.
RV Mattress Size Options
Twin: 38"x74"
Twin XL: 38"x80"
Full: 53"x74"
Short Full: 48"x74"
Full XL: 53"x80"
Queen: 60"x80"
RV Short Queen: 60"x75"
Olympic Queen: 66"x80"
King: 76"x80"
RV Short King: 72"x75"
RV King: 70"x74" or 70"x80"
California King: 72"x84"
RV Bunk Beds: range of sizes from 28"x75" to 42" x 80"
Crib: 28"x52"
Mattress Firmness
How can the right mattress ensure a better night's sleep?
Finding the perfect mattress can seem overwhelming, but if you know a little about your sleep preferences, you'll be closer to selecting the best one for getting a good night's sleep. For side sleepers, the mattress must be on the softer side in order to properly support your shoulders and hips. Back sleepers can be comfortable with any mattress firmness because your body weight is evenly distributed. On the other hand, stomach sleepers require a firmer mattress to prevent your hips from sinking into the mattress and resulting in lower back pain.
If you sleep in a combination of these positions, then a medium-firm mattress is best suited for your needs. Most RV mattresses come with a medium firmness option because it is the most popular and works well for most people and body types.
You can find mattress firmness scales online to help you choose the right firmness for your sleep needs. They have 10 levels, from ultra-plush to extra-firm, and they are based on your preferred sleeping position and pressure relief.
Mattress Thickness
Why are RV mattresses that come standard with RVs not always comfortable?
The standard mattress that comes with an RV is usually thin and uncomfortable, which is no surprise because it is usually thrown in for free. When you are looking for a thicker mattress, you should take into account your personal preferences and the amount of space above the mattress bed frame in the RV.
Thicker mattresses may be too tall for your RV, as the low height of most RV roofs can cause you to wake up to an unpleasant bump on the head. However, some RVs come with an elevated space above the bed and can therefore fit a thicker mattress. Other times, there is a storage area above the bed that could also allow for a thicker mattress but may then limit how much you can store in the RV.
On the other hand, you don't want to go too thin and end up feeling just as uncomfortable as you did on your previous mattress. Again, RV queen mattresses, especially the short queen, are the most popular choice and generally come with a standard thickness to fit most RVs.
You may not expect your RV bed space to be so short, so it's important to measure the height of your current mattress and the height between the mattress frame and the roof so that you ensure you don't purchase a mattress and realize it's too thick until later.
Mattress Material
What are the most popular RV mattress materials and why?
The material of the mattress in an RV is an important aspect to consider because some materials can cause future problems. Memory foam mattresses usually get the best reviews, but an equally supportive material is also a safe bet. Other popular materials and types of mattresses include:
Mattress Materials
Gel swirl memory foam
Gel-infused memory foam
Latex foam
High-density support foam
Hybrid mattress (mix of materials)
Innerspring mattresses
Lightweight RV mattress
There are also certain materials for hot sleepers, such as cooling gel memory foam. In addition, these types of cooling RV mattresses tend to help during the hot summer months. Body heat, combined with warmer seasonal temperatures, can make for an uncomfortable night's sleep with the wrong mattress.
In addition to your comfort, your health is equally important. Some lesser quality mattresses won't be made with environmentally friendly materials. Above all, avoid mattresses that have certain chemicals that release volatile organic compounds (VOCs) into the air in a process called off-gassing. VOCs can cause allergies or unpleasant smells. To ensure that you don't run into these problems, look for mattresses with no VOCs and made with organic cotton. You can also check that the manufacturer has CertiPUR-US certifications, meaning that their mattresses meet certain safety criteria. According to the CertiPUR-US website, these criteria include:
CertiPUR-US certifications
Made without ozone depleters
Made without PBDEs or the following Tris flame retardants: TCEP, TDBPP, TDCPP or TEPA
Made without mercury, lead, and other heavy metals
Made without formaldehyde
Made without phthalates regulated by the Consumer Product Safety Commission
Low VOC emissions for indoor air quality (less than 0.5 parts per million)
Airflow under the Mattress
How can you keep your sleep space healthy?
Many RVers don't consider the factor of the airflow underneath the mattress because it's not something that normally comes to mind. In fact, it's important to leave some space between the floor and the bed base. Otherwise, air and moisture may get trapped, leading to issues like mold and mildew, which can negatively impact your health. To avoid these problems, use solutions like HyperVent, RV dehumidifiers, or air holes drilled through the wooden bed base.
We have a great article on reducing moisture under your RV mattress. Regardless of whether you're upgrading your mattress or sticking with your current one, keeping moisture away is an important step to take. This is even more important when camping in the winter, which is a time when indoor humidity can become a problem from the reduced airflow into the RV. Check it out below:
Protection
Should you buy a cover for your mattress?
Some mattresses come with an organic cotton cover that is removable and washable. While a cover is not absolutely necessary, it does provide a convenient way to help mattresses last longer and ensure their integrity. In addition, covers make it easy to wash the mattress in case of spills or stains. While not all RV mattresses come with a cover, it's a solid investment to make in order to better protect the mattress and keep it clean and comfortable. This is especially true if you're making an investment in a new mattress. Just as with most things in life, if you take care of it, it will last you for many, many years to come.
Cost
Does the price tag make or break a mattress?
The cost can certainly impact how effective and supportive your RV mattress is. If you look at the free mattress that comes with many RVs, it's clear that price often correlates with quality.
RV mattresses come at a range of prices depending on the size and material. Using the short queen RV mattress as a baseline, the average cost is between $800 and $1,000. However, this may not seem worth the price tag if you don't use your RV too often. Instead of purchasing a brand-new RV mattress, you may consider purchasing a memory foam mattress topper. Mattress toppers are easy to find in home stores and are much cheaper than mattresses in general.
3" CoolRest | SleepDogMattress
3" CoolRest® Gel memory foam topper designed to soften your sleep
Buy Now
Outdoor Miles is reader-supported. When you buy through links on our site, we may earn an affiliate commission at no additional cost to you.
Finding the Best RV Mattresses
Knowing you need to upgrade your RV mattress is half the battle, but finding the best option can seem overwhelming. However, one of the best ways to begin your search is to look at ones with a proven track record and loved by fellow RVers. One mattress that deserves its ranking in the list of best mattresses is from SleepDog. The Original RV Mattress is their most popular option and a great affordable choice for most RVers. They also offer several other great mattress type options at different price points and various features. Sleepdog also makes bed toppers and trucker mattresses, which lends to their expertise in the mattress field.
Top Pick
Original RV Mattress | SleepDogMattress
11" of perfect, affordable comfort & support with CoolRest® Gel memory foam perfectly crafted for your RV, camper, or travel trailer.
Buy Now
Outdoor Miles is reader-supported. When you buy through links on our site, we may earn an affiliate commission at no additional cost to you.
What Makes the SleepDog® Original RV Mattress a Good Fit for RV Owners
The SleepDog® Original RV Mattress provides affordable comfort and a supportive layer of memory foam to ensure you get the best night's sleep. Made specifically for RVers, the Original RV mattress includes features such as:
CoolRest® Gel memory foam
11" multilayer construction
Comfort layer
Breathable cover
OEKO-TEX certified and tested for harmful substances
20-year limited warranty
The Original RV mattress comes with memory foam layers in order to support all sleeping positions, as well as your spine and neck. In addition, the complimentary mattress cover is lightweight and comfortable while protecting your mattress from spills and stains. SleepDog® offers mattress sizes in RV queen, RV king, and standard queen.
Some Final Tips
When you find a quality RV mattress that's right for you, a final tip is to read the instructions! This may seem like an obvious piece of advice, but things can quickly go wrong if you don't read the instructions. For example, a boxed or latex mattress may require 1-2 days to sit untouched in order to fully "fluff up" and be ready for a good night's sleep. In addition, some mattresses may have specific cleaning instructions or recommend a certain kind of mattress cover in order to protect it.
In the case that you don't like your recently purchased mattress or it doesn't meet your needs, most RV mattresses come with a 90- to 120-night sleep trial that allows you to return your mattress for a full refund. This is an important consideration when making an investment in a new mattress. If you choose to purchase one with this guarantee, you can rest assured that you won't be stuck with your mattress if it's not to your satisfaction.
Conclusion
If your current RV mattress isn't doing its job, it's time to consider buying a new mattress. RV owners should look for a mattress that is supportive and comfortable, ensuring a good night's sleep. By looking at factors like material, size, and firmness level, you can find the best RV mattress that's right for you. When I first bought my travel trailer, I found myself waking up groggy. I wasn't sure why and attributed it to traveling. It wasn't until I changed my mattress that I was finally able to sleep as I do at home. It was one of the best investments that I made for camping, even though it wasn't even on my radar as a necessary RV upgrade.
So, if you're looking for the best RV mattress upgrade, check out reviews from RV users and select a brand that offers a no-risk trial. When you find the right mattress, you'll be happy with your upgrade, just as I was.