When it comes to deciding on an RV, size does matter. It's important to ensure you have enough living space, something you can drive or tow, and it's sometimes an indicator of quality, where more space allows for higher-quality components. I've had my fair share of experience with RVs, and while I now value the simplicity of a smaller one, the is something exhilarating when you walk into a very large and spacious RV. Regarding motorhomes, nothing is more spacious than a Class A RV. Drivable RVs are in a class of their own (no pun intended). They can get costly but offer features harder to find on towables. So now, if you're looking for a drivable RV with the largest space, you should start your journey with a Class A.
If you want to tow an RV, your best option for the largest RV will be a fifth wheel. Fifth-wheel RVs are actually a little bigger than a Class A when comparably sized, which is because you don't have a cockpit or engine in them. As a result, they provide the biggest bang for the buck when it comes to RV square footage, especially when compared to the high cost of Class A. However, you will need a truck to tow it, creating an added expense you need to add to your budget. However, a similarly designed Fifth Wheel and a new truck will likely cost less than a new Class A motorhome.
Let's take a look at some of the following reasons that make a Class A motorhome more spacious than its smaller counterparts (Class C and Class B)
What type of camper has the most room? I can confidently say that Class A motorhomes are the kings of the road when it comes to space and comfort. Here's why:
Spacious interiors: These bus-sized RVs offer the most room for living, lounging, and storage, making them perfect for extended trips or full-time living.
Customizable layouts: Tailor your Class A motorhome to fit your needs, whether it's bunk beds for the kids, a king-sized master suite, or a dedicated office space.
Luxury amenities: Class A motorhomes are known for their high-end features, such as gourmet kitchens, plush seating, and even a cozy fireplace.
Smooth driving experience: Despite their size, these vehicles are surprisingly easy to maneuver, making your road trip a breeze. It will take practice, but they're smooth on the road and have the power and driving controls that make it easier for anyone to learn to drive.
Versatility: Ideal for retirees, families, couples, and solo adventurers alike, Class A motorhomes cater to a wide range of travelers.
From my personal perspective, there's nothing quite like hitting the open road in a Class A motorhome. Your vehicle and living space is right there with you, ensuring you have all the space and amenities needed for an unforgettable journey. So, if you're hunting for the most spacious drivable RV out there, look no further than the impressive Class A motorhome—one thing to remember, though. With a Class A and its spacious size, it also comes with a high price tag. So, if you're looking for a large RV at an affordable price, this likely isn't for you, and you may want to check out travel trailers and fifth wheels.
Class A Motorhomes: Spacious Living Areas
Class A motorhomes provide some of the most spacious living areas in the RVing world. They are large, luxurious and offer plenty of room for customizing the interior to suit your specific needs. Like a luxury car, you will have countless upgrade options for almost everything inside.
Like most other RVs, they come with all the comforts of home, like a refrigerator, microwave, ovens, and stovetops. In Class A, these features will likely be bigger and better quality. For example, you may have a residential-sized refrigerator, a separate washer and dryer, and even tiled backsplash countertops. With Class A motorhomes, you also get great features such as plenty of storage space for all your RV supplies and equipment. Because of the quality of furniture and build quality, the living quarters will be more comfortable, and the full bathrooms with be much more spacious, with some models offering walk-in showers.
As far as maintenance goes, just like a car, you will require regular service and repair from time to time. But with Class A motorhomes, these services tend to be less frequent than other types due to their size and the construction materials used. A large diesel pusher can drive hundreds of thousands of miles if well-maintained.
With the bigger vehicle, there will be higher costs. One of the most obvious ones will be fuel. These heavy RVs will get low gas mileage, and driving across the county can get expensive. Additionally, because they're larger vehicles, they require more insurance coverage.
All in all, Class A Motorhomes are a great choice for drivable and spacious RVs. They provide plenty of room for customization while offering convenient access to all the essential RV features you need.
Class C Motorhomes: Cozy But Comfortable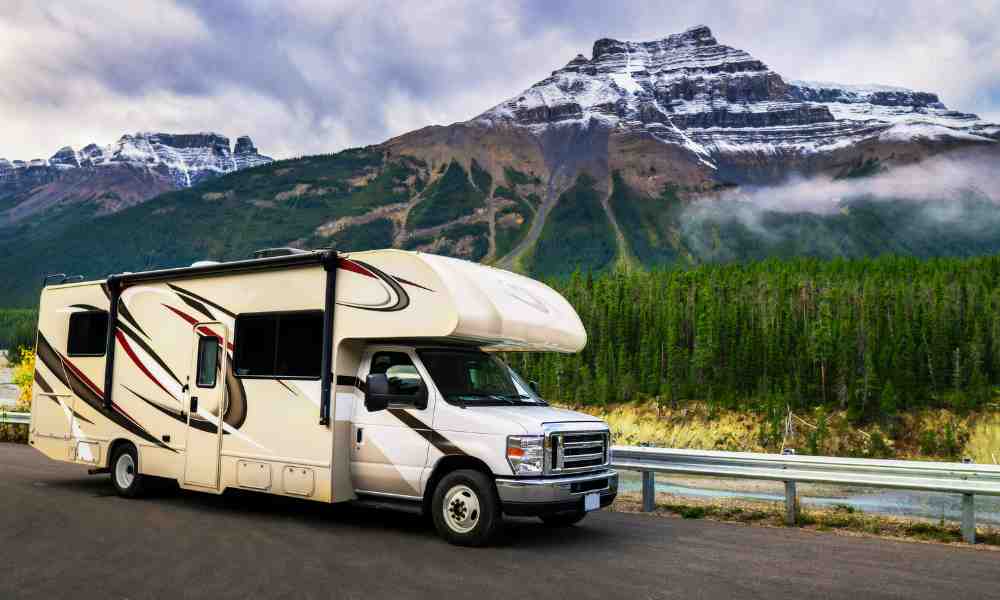 Class A motorhomes offer a lot of room for RV life, with more accessible storage solutions and the possibility to add on camping amenities. However, if you're looking for something cozy but comfortable that won't take up too much space, a Class C motorhome may be a better choice. These RVs come in many sizes, from smaller models that can comfortably fit two people to larger ones that can accommodate large families and sleep up to eight or nine people.
While a little less than Class As they also provide plenty of storage, so you don't have to compromise on bringing all your gear along for the ride! With their relatively compact size yet ample interior space, Class C motorhomes allow you to enjoy the best of both worlds for camping – comfort and convenience!
What Type Of Camper Offers The Most Storage Space?
When it comes to storage space in campers, the amount of room depends mainly on the floor plan and roof height. Suppose you're looking for a camper with plenty of storage room. In that case, you should look into one with a higher roofline and more expansive floorplan, as these tend to offer more interior living space, more cabinets, and better storage options than those with lower roof heights and narrow plans. To learn more, check out our complete overview of Class A vs. Class C RVs. However, Class A motorhomes will have the most useable space. Toy haulers are another excellent option for taking bikes, ATVs, or other accessories.
5th Wheels: Roomy And Luxurious
Fifth Wheels offer campers the most room, comfort, and easy towing.
Fifth wheels are luxurious in design and amenities. They have separate bedrooms for parents or guests, full-size bathrooms with plenty of storage space for clothes and toiletries, a spacious kitchen area with all the necessary appliances, and a large living room where you can entertain family or friends.
In addition to their generous interior layout, fifth wheels have many luxury features such as residential refrigerators, built-in stereo systems, satellite television hookups, washers and dryers, larger kitchens, ample outdoor seating areas, and more.
So if you're looking for maximum comfort while on your camping adventures and are okay towing, a fifth wheel is worth considering. Fifth wheels are also one of the best options for full-time RVing since they have a ton of room, and you have a vehicle to drive around town when you're not towing.
Travel Trailers: Flexible And Versatile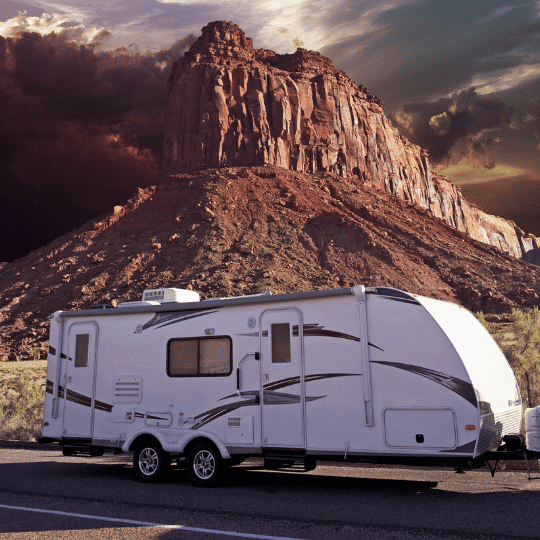 Just as Class C is a more affordable and accessible motorhome compared to Class A, a travel trailer can be considered the same as a fifth wheel. Travel trailers are the most popular types of RVs on the road today and their one of the most affordable. In addition, they offer a flexible and versatile option for Rvers and come in more layouts than any other style.
With storage solutions like cabinets, drawers, and closets, travelers can store a lot of their camping items. However, the smaller the trailer, the less the storage.
Additionally, weight considerations are taken care of since most travel trailers have an axle system that helps evenly distribute the load across each wheel. While it's typically recommended to tow most mid-sized trailers with a 1/2-ton truck, some smaller ones can sometimes be towed with a larger SUV.
Travel trailers provide campers with plenty of options for amenities ranging from kitchens and bathrooms to sleeping arrangements – allowing them to customize their setup depending on how comfortable they want to be while out in nature.
Ultimately, by offering flexibility, convenience, and comfort combined with modern amenities, travel trailers make camping trips enjoyable experiences. This is especially true if options like a fifth wheel or motorhome aren't in the budget.
Pop-Ups: Compact But Efficient
Pop-up campers are an efficient and cost-effective option for those looking to maximize their camping experience. Not only do they provide modern amenities, but they also require minimal setup time compared to traditional travel trailers or motorhomes. This makes them ideal for weekend getaways or extended road trips.
In addition, pop-ups typically offer more room than tent camping due to the expandable canvas walls. Therefore, when considering a pop-up camper, it is important to compare costs with other types of recreational vehicles. While initial prices can be higher than tents or smaller trailers, long-term savings may be realized in terms of fuel economy and insurance premiums since pop-ups tend to weigh less and have fewer features that need coverage.
All in all, pop-up campers are a great way for campers to enjoy the outdoors without sacrificing comfort or convenience.
Is There A Type Of Camper That Can Be Towed By A Car Or Suv?
The main thing you need to consider when towing, either with a truck, SUV, or car, is the vehicle's towing limits. Each vehicle will have a limit on how heavy of a load it can pull. A car may be acceptable for a small U-Haul trailer, but it won't be anywhere near big enough for even the smallest travel trailers. Even larger trucks have limits, so just because you have a Ford F150 doesn't mean you can tow any RV. You need to determine the limits of the vehicle you have or plan to purchase and then compare them against potential RVs. Don't make the mistake of buying an RV before checking your tow limits, or you may need to return an RV or buy a new truck. Check out this article on buying a used RV. It gets into a little more detail on towing.
Truck Campers: Compact And Basic
Truck campers are an excellent option for those looking for compact, basic accommodation. They have an interior space that can be used as sleeping and living quarters with the added benefit of driving it around like a truck. However, they tend to be pretty small.
While many models will offer storage solutions like cabinets, drawers, closets, and under-bed compartments, they won't be anywhere near what you would find in a larger RV like a travel trailer, fifth wheel, or motorhome. What they lack in size, though, they make up for in versatility. If you like off-the-grid camping, a truck camper will allow you to get there efficiently and maneuver into tight spaces. Although small, most will offer regular RV options like a kitchen, bathroom, and bedrooms. Everything will just be smaller, which is not necessarily a bad thing.
Frequently Asked Questions
What Is The Average Cost Of A Camper?
When I started looking into RVs, my first question was about size. My next question quickly became my first, and that was cost. The costs for RVs vary so widely from $10,000 up to a million dollars. RVs with engines will be the most expensive, and pop-up campers will be the least expensive. Everything else will fall in between.
If you have a budget of $50,000 or less, you likely want to look into travel trailers. If you have a budget from $50,000 to $100,000, you can look at fifth wheels and maybe a handful of Class B motorhomes. Most Class A and C will be well above $100,000 and can climb as high as the cost of a new home in an affluent neighborhood.
What Type Of Camper Requires The Least Amount Of Maintenance?
All RVs will require maintenance. Some will require more than others. However, if you're looking for an RV that is the easiest to own, I would say it's a Class B motorhome. That's mainly because it's built more like a car than a home. These RVs are best suited for two to three people, but I love the versatility they provide for traveling.
How Much Fuel Does Each Type Of Camper Typically Consume?
There is a wide range of variance when it comes to fuel economy, weight capacity, and size comparison of different types of campers. However, the heavier the vehicle (either driving or towing), the more it will cost to tow it. Below is a handy little chart that will give you an idea of what it costs to tow or drive an RV:
Conclusion
So, to wrap things up, the size of an RV varies widely. If you're looking for the roomiest options, you will want to check out a Class A in the motorhome lineup and a fifth wheel for towables. However, remember that room and space is subjective, so what may seem small to you may seem roomy to the next person. I suggest you begin your RV search by focusing less on the length of the RV and more on the floor plans. A well-designed RV floorplan can seem bigger than an RV that's 10 feet long. Best of luck in your search, and leave a comment if you have any questions.