In 2022, Thousand Trails introduced a new camping membership program unlike anything they had in the past. The Thousands Trail Cabin Pass borrows some elements from the very popular Camping Pass, the entry-level thousand trails membership. However, this program allows year-round access to cabin rentals in both Thousand Trails campgrounds and Trails Collection reciprocal program campgrounds.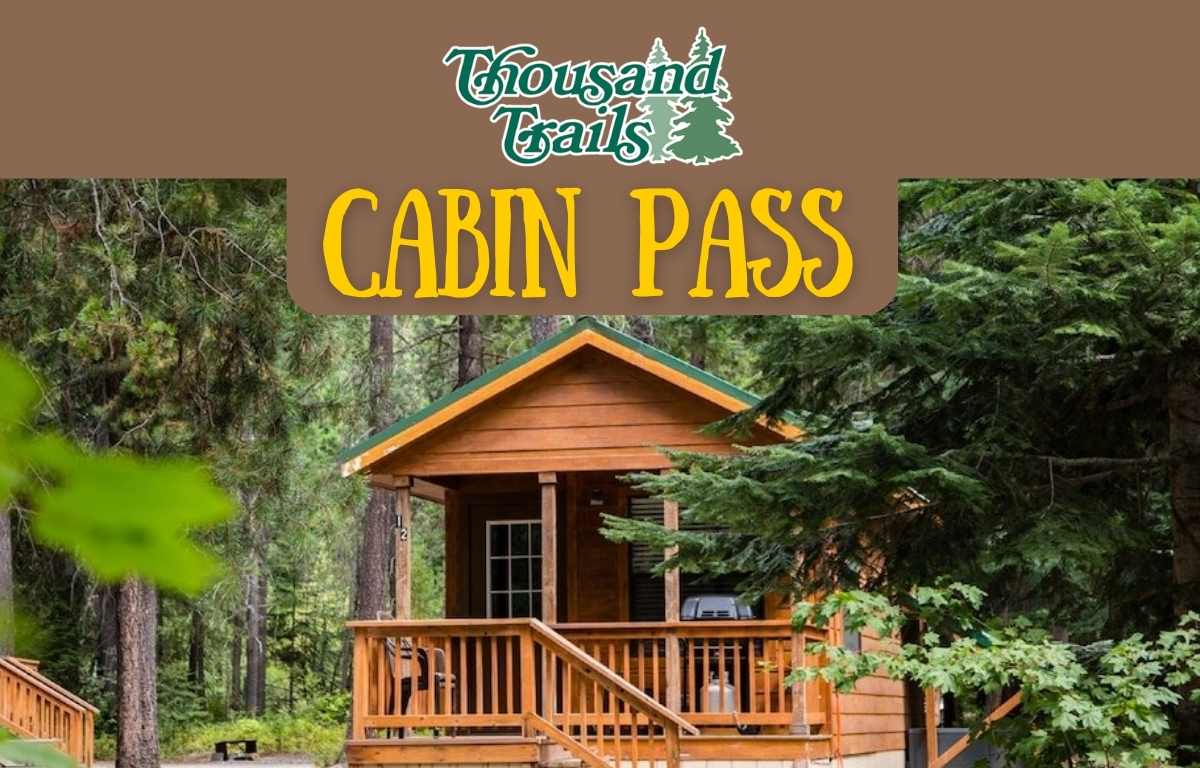 In this article, we'll review the program's basics and answer some of the questions you may have. We'll attempt to provide you with everything you need to know about the program so you can decide if the Cabin Pass is a good fit for you and your travel style.
The Cabin Pass opens up camping to a whole new group of campers. A Cabin Pass may be the perfect option if you don't own an RV or need more conveniences than afforded through tent camping. For the cost of a weeklong cabin rental in some areas, you can camp for free all year long.
The Cabin Pass also sounds like an interesting compliment to the traditional Camping Pass, allowing you to book a mix of cabin and RV site reservations. Unfortunately, if you have both memberships, you can't use them back to back without taking time out of the system (more on that below). However, one of my favorite perks about the Cabin Pass is the ability to camp during the off-season when you may store your RV for the winter. You can rent a cabin at a year-round campground or take a road trip to a warmer destination for a week of camping.
What is the Cabin Pass?
Nearly every campground in the Thousands Trail network offers vacation rentals in the form of cabins, cottages, yurts, etc. We'll cover more on the accommodations below. With the Cabin Pass, you can stay in any of these rentals without a nightly fee all year long (when the campground is open). If you have a Camping Pass, which allows you to reserve an RV or tent site for camping, you're already familiar with the program's rules. However, there are some differences, which we cover below.
Reservation limits and out weeks
The way that Thousand Trails membership programs work involves "in weeks" and "out weeks." It can sound a little confusing, but it really isn't. The key thing to remember is that every program has a stay limit and required time that you must be out of the system (not using your pass) before you can stay again. People refer to these as "in weeks" and "out weeks." For example, the Cabin Pass has a maximum stay limit of 7 days (a week). The "out weeks" is the time between your reservations. You need to be out of the system for 14 consecutive nights. So basically, you must take a two-week break between camping trips when using the Cabin Pass.
As part of the Cabin Pass, you can reserve lodging for two to seven days. So, if you want to rent a cabin for a weekend (arriving on Friday and leaving on Sunday), you can do that under Cabin Pass. However, the maximum length of time you can stay for a single trip is seven nights.
Through this program, you can reserve facilities all year long. However, as mentioned above, you must be out of the system for 14 days before you can stay again. If you're familiar with the Camping Pass, you will know this process well, although the out time is longer with the Cabin Pass. The other caveat is that you can only have two cabin reservations on the books simultaneously. You can't book your third reservation until you check in for your first one.
If you were to use the program to its maximum limit, meaning that you were staying for a week, taking two weeks off, and repeating that process throughout the entire year, you would be able to camp in a cabin for 17 weeks (or 121 days). While this may not be the norm for most people, a likely scenario may involve a weeklong trip each month during the camping season.
A key thing to remember is that you can have multiple trips booked simultaneously. I highly suggest you do this, so you don't miss out on a last-minute trip because there aren't cabins available. You do not need to wait 14 days until you can book another trip, but you can't have more than two reservations made simultaneously.
How long is the Booking Window?
All members of the Cabin Pass have a 60-day booking window. This rule means you can make a reservation between the present day and 60 days out. Unlike the Thousand Trails membership levels, which have varying reservation windows, everyone with a Cabin Pass will have the same reservation window. Therefore, it's always a good idea to take advantage of the booking window early for the opportunity to get the site you want.
It's important to note that your last reservation only needs to start within that 60-day window. So, for example, if you're making a reservation that begins on day 60 but ends on day 67, you are still permitted to make that reservation. However, you can't make a third reservation until you check in for your first one. It may seem like a nuance, but it's helpful to know that one of your two booking allotments drops off as soon as you check-in.
What types of accommodations are available?
The accommodations offered through the Cabin Pass include different types of rental units, which are specific to each campground. The most common types of rental facilities include cabins and cottages. You've likely seen these cabins if you've recently stayed at a Thousand Trails campground. It seems like, in recent years, many campgrounds have been adding them to their parks. While they have different layouts, most will have standard features.
The great thing about the cabin pass is that you'll have access to other types of facilities, including tents (glamping) and yurt rentals. I have also noticed a big trend in the addition of tiny house rentals. For a little inspiration, check out the colorful cottages of the new Mt. Hood Tiny House Village, which offers a one-of-a-kind camping adventure. These rental units resemble the size of some of the cabins but are furnished more like a house with many common conveniences of home.
Another thing to realize is that some locations may describe their offerings differently. For example, a rustic cabin at one campground may be a bed and living area (no bathroom, kitchen, etc.). However, other campgrounds may have cabins with full amenities. For this reason, inquire about the rental facilities if you're unsure when booking.
Finally, it's important to note that before you purchase the pass, each campground will set aside cabins for the Cabin Pass program. In this instance, you may see that there is no availability when reserving a cabin, but the campground still has other cabins available at the regular nightly rate.
If you want a little inspiration about purchasing the pass, check out some of these unique accommodations at some of the top vacation destinations in North America, all included in the Cabin Pass.
What amenities are available in the rentals?
The amenities will vary from campground to campground. Many cabins and cottages will have full bathrooms, kitchens, multiple bedrooms, heat and air conditions, etc. Other rentals may have a bedroom or sleeping area. While some facilities may be similar from campground to campground, some may have unique offerings.
The website will list the various descriptions of the rental units and let you know what's included. The unit will also likely have multiple pictures or a virtual tour available. You may see names like a cabin, deluxe cabin, premier cottage, rustic cabin, etc. While this may be a little confusing initially, read the description, view the photos on the website, and call if you have questions.
Most rentals will have similar amenities, such as a grill, picnic tables, and a fire pit. Others may include kitchen cookware, plates, utensils, and a coffee pot. Some may even have unique amenities like a screened-in porch. The other great thing about staying at a campground is that you'll have access to the resort amenities, such as a swimming pool, hot tub, mini golf, pickleball courts, playgrounds, fitness center, laundry facilities, dog park, etc. Of course, every campground is different, so check out the offerings before you book. Most are designed to have something fun for the whole family.
If you have personal requirements for the types of accommodations you want, it's best to research the campgrounds you hope to visit and explore their facilities before purchasing the pass. However, all the rentals I have stayed at within the Thousand Trails network have been extremely nice and comfortable.
Do the cabins have heat and air conditioning?
Many facilities will offer full services, including heat, AC, and bathrooms. However, some facilities may not offer these amenities, depending on the facility type. For example, if staying in a yurt or a rustic cabin, you may not have a bathroom. However, all guests staying at the campground will have access to campground facilities, including bathhouses, picnic areas, etc. Therefore, it's important to check the details about the facility before you rent to ensure you know what is/isn't offered.
How much does the Cabin Pass cost?
The Cabin Pass is an annual membership program, good for one year from the day you sign up. The annual cost for new members is $1,495. As of September 2022, it's unclear if the price will increase upon renewal. For comparison, the Camping Pass is usually available for new subscribers at a discount of $50-$100.
While this price may seem high, consider that many rentals available through the Cabin Pass have a nightly rate of $200. Therefore, for the cost of a one-week stay, you can purchase the Cabin Pass and camp all year. However, the pass is only a value if you use it.
You can also choose to pay for the pass monthly. If you do this, you'll pay around $300 more. When signing up for the pass, you will need to pay the initial fee of $429.58 for a pass and $124.58 each month (A total of $1,800). If you pay for the entire pass upfront, it will cost $1,495. (plus taxes)
How many campgrounds offer rental facilities?
As of September 2022, there are 71 campgrounds offering accommodations through the Cabin Pass as part of the basic Thousand Trails network. However, if you purchase the Trails Collection add-on, you can add 58 campgrounds (we'll cover more on this below). For first-time Cabin Pass members, the trails collection add-on is included for free in the price. However, I was told that you must purchase this separately when renewing your pass.
Like the regular camping pass, most rentals are available on the east and west coasts. Adding the Trails Collection package significantly increases your offerings but will cost a little more. However, it is included complimentary for the first year.
Click on the following link to see a list of the available campgrounds offering rentals as part of the Cabin Pass: Check out the included campgrounds out here!
How Do you Purchase a Cabin Pass?
While you can purchase a Cabin Pass online, I highly recommend reaching out to a sales associate to ask questions and get the best pricing. Luckily, you can give my friends Warren and Sharon Lewis a call, and they'll take great care of you. Warren and Sharron are Thousand Trails membership specialists and know more about the Thousand Trails programs than anyone I know. Even better- they are some of the nicest people you'll meet! So if you're looking for the best deal, they'll have all the latest information and can get you the BEST price.
While you can always purchase a Cabin Pass online, I think you'll appreciate going through Warren and Sharon instead. You'll not only get access to any sales or deals, but you'll have someone to reach out to if you have any questions, need help, or want to learn more about upgrades. If you find the following information helpful, then trust me in saying that this first piece of advice may be the best takeaway from the entire article. They're only a phone call or email away, and they'll make sure you can book your first cabin and hit the road right away. When you talk to them, tell them that Tom from Outdoor Miles referred you!
CONTACT INFO:
Warren and Sharron Lewis
(772) 217-1851 (call and text) or
(804) 366-0798
Membership Specialist at Thousand Trails
email: warren_lewis@equitylifestyle.com
Do you need a Camping Pass to purchase a Cabin Pass?
No, the Cabin Pass is a standalone membership program and does not require any other memberships in the thousand trails program. If you have both, you will have two different membership numbers. However, you can use both passes independently and take advantage of combining stays between the two. For example, with a normal Camping Pass, you can camp in your RV for two weeks and then, seven days later, stay in a cabin for seven days. When bouncing between the Cabin and Camping passes, you must be out of the system for a week before you can stay again. If you're going from cabin to cabin, you must be out of the system for 14 days.
Learn More About the Camping Pass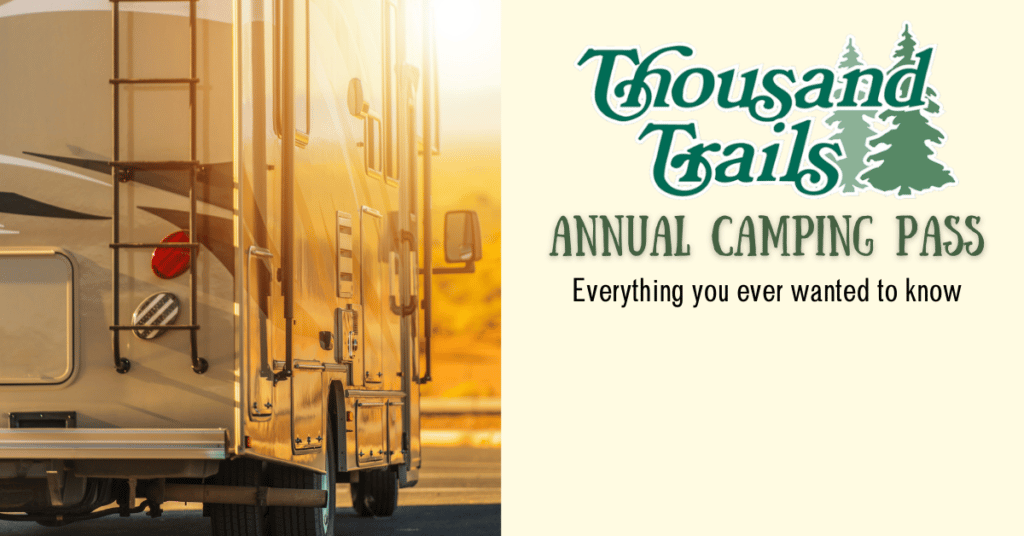 Do you need to purchase a zone pass to access all of the campgrounds?
No, you don't need to purchase a zone pass to have access to all of the cabin rentals. Unlike the Camping Pass, which is based on regions and requires adding zone passes to book rentals at all campgrounds, the Cabin Pass includes all Thousand Trail campgrounds. In addition, for the first year as a pass holder, you have a special opportunity to get the Trails Collection included without an additional fee. More on this below.
Can you have pets in the rentals?
Some locations will allow pets, others may charge an additional fee, and some prohibit pets. It's best to look at the policies for the campgrounds you plan to visit if this is important to you.
Trails Collection Add-On
As mentioned above, the Trails Collection add-on opens up additional campgrounds for you to use your Cabin Pass. It's a very valuable resource if you plan to do a lot of traveling or want to try different campgrounds. While it traditionally costs $330 (as of September 2022), it is included complimentary for the first year of your cabin pass membership.
While it's not clear if you will need to purchase the trails collection add-on twice for both the Camping Pass and Cabin Pass, you don't need to worry about it for the first year since it's included complimentary with your Cabin Pass. I asked Thousand Trails about the plans moving forward, and they didn't have an answer yet. I hope they allow you to purchase it once and make it available to both plans, but only time will tell what they do.
However, this may not be the case because the Trails Collection Pass can't be used to make Trails Collections reservations under the Camping Pass at this point. My suggestion is for Thousand Trails to continue including the Trails Collections add-on as part of the Cabin Pass (at no additional cost). It would be difficult for me to justify purchasing it twice for each program.
Are there any additional fees when using the Cabin Pass?
While there are no nightly or cleaning fees for staying in a cabin under the Cabin Pass, some campgrounds may charge additional fees for pets or linen rentals. These are optional if you need these services.
Is it difficult to get a reservation?
This question is one of the main ones I had when researching the Cabin Pass program. From what I was told, reservation availability hasn't been much of a concern for most areas. However, I heard that availability was a little tighter in the Northeast (specifically Pennsylvania and New Jersey) and the Southwest (California). However, since everyone has a 60-day booking window, you have the same chance of making your reservation as everyone else. Therefore, I Highly recommend booking as early as possible to get the location you want, especially in high-demand areas during peak season.
Since the program is relatively new, it's hard to predict how this will change in subsequent years. However, my guess is that as more passes are sold, and if it remains a popular program, additional rental facilities will be added to the program. I'd be interested to hear from other members of the Cabin Pass about your experiences with booking rentals.
Holiday Reservations
One of the big restrictions for the Cabin Pass is the limitation of only being able to book one holiday per year. So, for example, if you book a cabin reservation for July 4th, you won't be able to book another holiday reservation for the calendar year. This limitation differs from the Camping Pass, where you can have multiple stays on Holidays, but they can't be booked at the same time.
Making Reservations with the Cabin Pass
There are two ways to make a reservation. First, you can call the 800 number, and a representative will make it for you. During busy periods, you can be on hold for a long time. However, they have a feature to hold your place in line and call you back- it works well. The other, simpler option is to use the online reservation system to book your trip. The online reservation system is easy to use. It will show you what campgrounds are available under your membership level. To make a reservation, select the campground you want, click book, and complete the remainder of the form by selecting the rental unit.
The online reservation portal allows you to see your past and future reservations, called trips. In addition, you can edit existing reservations if needed: change dates, change equipment, etc. Once you signup for a membership, you will receive a welcome email with all the information you need to create an account and log in. You will soon be able to start making reservations.
Cabin Pass example scenario:
As with all of the Thousand Trails programs, the rules can make it a little confusing, but once you understand them, it all starts to make sense. However, I find that the easiest way to understand the rules is to look at different scenarios. Here are a couple of examples of how the pass can be used:
Cabin Pass Only Scenario
The Marshal Family enjoys camping and has recently started to do it more in recent years. They don't own an RV and usually tent camp. However, they recently purchased the Cabin Pass to try out. They purchased the Cabin Pass in May 2022. Upon purchasing it, they went online to the Thousand Trails reservation system immediately to book their summer vacations. They made their first reservation for Timothy Lake South Campground in Pennsylvania from June 11th through June 18th (one week). They also booked their second trip for the 4th of July Weekend at The Narrows Too Campground near Acadia National Park in Maine from July 2nd through July 9th. Unfortunately, since they used up their holiday reservation allotment for the 4th of July, they can't make another holiday reservation this year.
The next time they can stay again will be July 23rd, two weeks after their trip to The Narrows Too Campground. They can't book this reservation until they check in for their trip to Timothy Lake South because they currently have two reservations on the books. However, as soon as they check in to that first reservation, they can book the one for July 23rd.
For the remainder of the year, the Marshall Family continues to use the Cabin Pass, trying to maximize their stays by booking reservations for at least one week a month during peak camping season. During the winter, they plan to take several weeklong vacations to southern states where it's warmer (and campgrounds are still open) using the Cabin Pass. They also have a February ski vacation planned in the Poconos, staying at Timothy Lake South. Unfortunately, while they were hoping to do this over President's Day weekend, they had to push it out a week because they had already used up their one holiday reservation for the 4th of July.
In their first year of owning the Cabin Pass, the Marshall Family was able to camp for 12 weeks (84 nights) using the Cabin Pass. If they were to have paid for each night independently, this would have cost them over $15,000. Instead, they did it all for just the cost of the pass- $1,495.
Camping Pass and Cabin Pass together?
The Stevens Family has been camping for years with the Camping Pass but recently learned about the Cabin Pass and wanted to give it a try. The Stevens spend most of their summer camping at Thousand Trails Campgrounds, so they're very familiar with staying for 14 nights and then taking a week off between trips. Since they live near a Thousand Trails campground, they use their Camping Pass almost nonstop between April and October.
However, they have been thinking about taking some longer trips but didn't want to have to tow their RV to do so, especially since gas prices have gone up. So, living in Pennsylvania, The Stevens decided to try the Cabin Pass and see how it works alongside their Camping Pass.
With the Camping Pass, the Stevens would normally camp for two weeks at a time, take a week off, and repeat the process throughout the camping season. Several times/year, they would travel to NY and NJ for a longer vacation. This year, they plan to camp locally in their RV and use the Cabin Pass for some trips a little further away.
Starting in April, the Stevens booked their RV trips at their local campground through May. They booked a cabin for a week in Lake George, NY, during the first week of June. After that trip, they took their week off out of the Thousand Trails system and then booked a few more RV camping trips in PA, opting to camp in their RV for the 4th of July weekend. They took another Cabin Trip in July to the Chesapeake Bay in Virginia. They continued to camp in their RV in August and on Labor Day.
In October, the Stevens booked another Cabin trip to see the fall foliage in Massachusetts. When they returned, they wrapped up the season by camping in their RV in Pennsylvania. Historically, this was their last camping trip of the season as most of the campgrounds near them closed, and they winterized their RV. However, this year, they planned to take advantage of the Cabin Pass and continue camping throughout the winter.
In November, the Stevens booked a cabin in South Carolina for the week. In December, they booked a cabin for a ski trip in the Poconos. They booked it after Christmas, deciding to stay in the Cabin for the New Year, using their annual Holiday stay. In February, they took another tip to Florida to escape the cold of the Northeast. When they returned, they stayed for a long weekend in the Poconos for another Ski Trip. As soon as the Pennsylvania Campgrounds started to open up again, they booked another weeklong cabin trip at the beginning of the season before they unwinterized the RV for another summer camping season.
In total, the Stevens camped in a cabin for 52 nights. If they were to purchase the nights individually, it would have cost them nearly $10,000. Instead, they did all this camping for the annual cost of $1,495. While they did use the pass in the summer when they typically camped in their RV, the Cabin Pass allowed them to travel further than they normally do. It also opened up the entire winter season, when they typically didn't camp.
Conclusion
For the ultimate camping experience without an RV, the Thousand Trails Cabin Pass may be the perfect option for you. You'll have access to cabin rental accommodations at fantastic locations throughout the United States (and British Columbia) for one low price. Thousand Trails is a premier camping network that has built its reputation by offering camping vacation plans to RVers for decades. They've now extended this to a whole new group of campers. This revolutionary new membership program allows campers to experience the charm of a tiny house, try yurt camping in a wooded setting, or enjoy their own private retreat in the mountains. From the quiet beaches of the Florida Keys to the heart of the six-million-acre Adirondack Park in upstate New York, there's a camping destination for everyone. While it has some caveats that are a little different than what you're used to with the Thousand Trails Camping Pass, the benefits noteworthy. Maybe your next destination will be somewhere new and exciting, in a cabin.