If you are thinking about buying a used RV, you came to the right place. The following information will provide you with everything that you need to know about purchasing a used RV. The idea of buying an RV (new or used) is exciting. You not only think about the RV, but you also mentally plan the trips, vacations, and memories that it will bring. Before you run off with your checkbook, now is a great time to slow down and review some of the steps that you can take to buy the right RV.
I have broken the used RV process into three categories, planning, searching, and purchasing. Depending on where you are in the process, feel free to bookmark this page and revisit it as you make your way through each step. 
Purchasing an RV, used or new, can be a significant investment. Buying a used one will save you money, but it also can carry some extra risks. If you do your homework, you can minimize some of this and have a happy camping experience for years to come. 
Before we get into the details, one piece of advice that is easy to but, but more now so easy to follow, is to be patient. An RV purchase should not be an impulse buy. Be sure that you do all of your due-diligence research and get the right one for your camping needs. If you do not find it right away, trust me, it will eventually show up. People buy and sell RVs frequently. If you get started early and plan for what you want, you will be ready to jump on the perfect listing and be camping in no time. 
Now, let's get started!
Planning
The first step of buying a used RV is to get planning. If you ended up here, you are on your way. To some, planning can be fun; to others, this step is stressful. Whatever your take on it is, planning is an important step in the RV buying process. It will give you confidence in your ultimate decision when it is time to complete the purchase
What type of camping do will I (or your family) be doing?
How much time will I spend camping? Will I be living out of the RV for extended periods?
Will we be frequent travelers or weekend warriors at a nearby campground?
How many people will be camping in the RV? Are there kids, and if so, how old?
Do I have a tow vehicle, and if so, what can I safely tow?
Do you even want to tow an RV, or do you want a motorhome or coach? If so, how will you travel locally once camping?
Will you be spending a lot of time in your camper? Is your RV primarily a home base for other travel?
The above questions are just some thoughts that should be going through your mind when developing your plan. Sitting down and thinking about how you will use your RV will give you a better idea of what you should purchase. To begin this process, you will need to think about your needs, not just your wants. A few questions to ask yourself are:
Camping style
We all have extravagant dreams of traveling throughout the country, stopping at national parks, and reliving the intentions of Clark Griswold in National Lampoons Vacation. While this may be the goal, it should not be the limiting factor in your used RV search. It is important to think about how you will realistically use your RV 90% of the time. Focus your research on that need and then ask, can it still achieve my 10% needs. If so, then you are off to a good start. If you do it the other way around, you may run into limitations or make concessions to meet the infrequent needs, leaving you longing for what you need most often.
There are a few types of camping styles that may align with you. Read below and identify the type of camping that most closely matches your intentions.
 Local camper at nearby campgrounds: Camping locally may not seem glamorous, but you will likely get more nights under your belt in the RV, making more memories with your family. There are a lot of perks to local camping. First, you will spend more time out of the car and relaxing. You will also get to know your local park and be able to plan your trips to take full advantage of the events, activities, and amenities offered by your campground. You will make friends and meet families who do the same thing, building a little community for your camping lifestyle. Many RV parks also offer storage options, so you may be able to park your RV at the campground and pull it into your reserved site when needed. You will also be closer to home, which allows you to work during the day and camp at night. This aspect is my favorite benefit of local camping.
Some things to keep in mind when camping locally. You will likely be spending more time in your RV. Camping locally means that you will have less desire to explore the areas outside of the campground. While a smaller RV may make more sense for that cross-country trip, the additional space of a larger RV with a spacious floorplan may create a more enjoyable experience at your local campground.
Vacation Camper: Maybe you want an RV to take on an annual vacation once or twice per year. When you start researching RVs, it is easy to fall in love with the large and roomy floorplans, bunk rooms, outdoor entertainment centers, etc. However, make sure you consider your needs to tow it around if you plan to use it primarily for trips. Also, if traveling to that exciting destination is part of the lure of RV camping, consider that you will be visiting the sites and places around the campground and may spend less time at the campground. A smaller, nimbler RV may be the right fit for you.
Another thing to remember about size is that some state and national parks have limits on RV length. You may have found that perfect 32-foot travel trailer, but when you go to book your stay at Acadia National Park, they may not be able to accommodate it. It is a good idea to review some of the campgrounds in the places where you plan to visit before deciding on an RV. That may help you make an informed decision.
Full-Timing it: Okay, so you made a big decision to abandon the masses and head out on the road to travel for an extended period. Finding the right RV for this situation may require you to make several compromises. You will want the space of a large RV, but you also will want to remain agile.
Will you be taking kids? Do you want to convert a dinette into a bed day in and day out? Will you be homeschooling or working remotely, and do you need a dedicated space for that? You will need to think about storage, cooking, sleeping, on-and-off the grid camping. This article will not guide you through all your decisions, but hopefully, it will give you some things to think about, especially when weighing your options on what you can and cannot live without.
Once you have a general idea of your camping style, you can now start to think about the needs (not only wants) that you have for your RV. Also remember, that most RVs can do just about anything you want in the camping world. By choosing the best RV for the 90% of the time you will be using it, you will more than likely be able to use it for the 10%. 
A plan of action to lead you into the next section, searching for the RV, starts by focusing on a few key things: style, size, weight, tow vehicle, and floorplan. If you work through the planning process following this order, you will be gain a better sense of what to look for in an RV. We will not go through each of these steps individually.
RV Style:
If you are new to RVs, you may be envisioning the 1980s Winnebago cruising down Route 66 to far-off places. However, when you start to research your options, your head may begin to spin. There are a few styles of RV (with lots of variations in between) that should be enough to get you started.
Motorized RVs:
If having an engine in your RV is a priority, then this is the category for you. Motorized RVs come in all different shapes and sizes, best described as Class. They are also your most expensive options, and if looking in the used market, you will have the added responsibility of inspecting the engine components. I do not want to discourage anyone from going this route, but be aware that you should do a lot of shopping around to find the right RV because your upfront investment, and consequently, risk, is more substantial.
I am not going to get into all the aspects of motorized RV in this article. The internet is full of great information on motorized RVs. I encourage you to do a lot of research on them. However, I will note some of the different available styles.
Class A Motorhomes
Class A motorhomes are the big boys. They are the type of traveling home that you will see Willie Nelson of Snoop Dog touring with (that's my attempt to make this relevant to different generations). Class A motorhomes come in two different flavors: gas and diesel pushers. While this may seem like a minor difference, they are two very different beasts. On the surface, they look similar and offer comparable living options. However, they are very different under the hood, and consequently, provide two unique driving experiences. Diesel pushers are constructed on a specially designed motor vehicle chassis and have the motor mounted in the rear of the RV, pushing it along the road. Hence, they have earned the title Diesel Pusher.
The diesel engine, situated in the rear of the RV, helps create a quieter driving experience and a smoother ride. They have significantly more power and are also more fuel-efficient. They can go forever, which is why busses utilize this design. Sounds like a no-brainer, if considering a used Class A, right? Almost! They also come with a hefty price tag. This option is often best suited for the full-time RVer or folks spending lots of time on the road racking up many, many miles.
Alternatively, its gas counterpart, while still expensive, is more affordable. You get many of the same livable features of the diesel, but you will compromise on performance. You will also be fueling up much more frequently when traveling. Also, one important thing to note when shopping for a used Class A. You should not compare the mileage of the units as apples to apples. A diesel RV with 100,000 miles is still a baby. A similar gas version with 100,000 miles is getting up there in life expectancy. 
Class C Motorhomes
The next step down in the motorized RV market is the Class C motorhome. Think of this as the type of motorhome that you would rent from RV America. This smaller RV is built on a truck chassis. If you have ever driven a big U-Haul Truck, you can compare it to that. Class C motorhomes come in both gas and diesel options. They are also the most popular type of motorized RVs on the road.
While still pricey, they are in a different league from Class A. You will have all of the livable amenities found in a Class A, but everything will just be a little smaller, less luxurious, and more cramped. However, if you opt for a Class C, what you lose in luxury will be gained in flexibility. Class C motorhomes are a perfect option for exploring the county and not feeling like a greyhound driver. They are the most popular type of motorized RV and adopted by Cruise America, the country's largest RV rental company.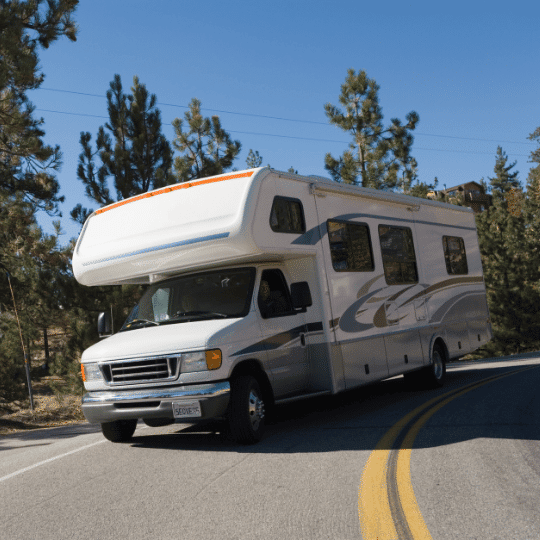 Class B Motorhomes
Do you want to be nimble, pack up and go quickly, and easily travel from site to site, then the Class B motorhome may be just for you? What you gain in flexibility, you will significantly lose in size. Class B motorhomes are built on a van chassis and are well-loved by the van camper community. They drive like a car and can be maneuvered into that remote boondocking site or driven through New York City. They are typically between 20-25 feet long and loaded with creative solutions for appliances and storage.
Class Bs are great options for couples or singles who do not require a lot of space and value the destination more than the campground experience. They are small, so while some people may do it, you may want to look at other options if you have kids. The compact size has many benefits, but it can also make livability for more than two people challenging. Class C motorhomes also come in gas and diesel versions. The same example listed above in the benefits and shortcomings of the motors applies here as well.
Towable RVs
The most common entry point into the RV lifestyle is through the towable RV door. It is true in the new RV market and as well as the used market. Do not think of a towable RV as a lesser alternative to motorized RVs. They offer many benefits over motorized RV at a much lower price point. With a towable RV, you can significantly increase your living space for only a fraction of the cost of what it would take to do so for a motorized RV. 
You also have the added benefit of a vehicle to explore with when you get to the campground. You will not need to tow a third vehicle or resort to calling an Uber. The towable market, because of its popularity, has countless options. Because of this, you will be able to find the perfect RV for your camping style. On one end of the spectrum, you have the option for a huge two-floor park model; on the other end, you can get a small teardrop camper that is towable by your Subaru. There is a good reason why so many people camp with a towable. In many instances, it is the best fit for the end-user, the camper.
Below are some of the top categories of towable RVs:
Fifth Wheel Campers
If you like the luxury feel of the big Class A RVs, then the fifth wheel is its towable equivalent. Fifth wheels offer the camper the greatest number of options for living space, high-end appliances, comfort, and storage. The primary difference between a fifth wheel and a tow behind is the hitch point. In a fifth wheel, the hitch sits in the bed of the truck. A travel trailer connects to the rear hitch ball of a vehicle. Many people say that the fifth wheel hitching setup provides for a much smoother and easier towing experience. The one downside to this option is bed storage. If using your truck for non-camping excursions, know that you will have to contend with the hitch in the bed, taking up valuable space.
Fifth wheels also are known for having multiple slideouts, even up to six. Think of a slideout as a hidden room in the RV. When expanded, it adds extra living space to the footprint of the vehicle. I have been in RVs that rival some NYC apartments in terms of living space. Fifth wheels also have a unique layout that makes them feel homier. You have stairs leading up to the elevated portion of the RV that sits over the truck. Some footprints use this space for the bedroom, living room, or even kitchen. If you go to an RV dealership and walk through some fifth wheels, you will know what I mean.
Fifth wheels, while providing premium room and comforts, also come with a much heavier weight and price tag. It will also impact your choice of a tow vehicle, described later, and will likely require a ¾ ton (250/2500) truck or full ton (350/2500) truck. I have seen some fifth wheels towed by the equivalent of a semi-truck. If buying used (or new), this should be one of your considerations, especially if you need to purchase a tow vehicle.
Travel Trailers
Moving down the list, we reached the Travel Trailer, the most popular type of RV. Travel trailers have earned this title for good reason. They are affordable and offer countless options in terms of layouts and features. You can purchase a lightweight travel trailer that you can tow with your SUV or opt for a 36ft luxury unity that rivals the space of the largest fifth wheel. There is not any better bang for your buck in the RV market than a travel trailer. Since they are so popular, your options for finding a used one that meets your needs will be significantly higher.
Travel Trailers are best explored by looking at both size, weight, and floorplan. I suggest looking at your needs in terms of space. Get a good sense of how much room you want for your camping style. Then look at how you plan to tow it. If you already have a truck and do not plan to upgrade, you will need to find one that matches your towing capabilities. Once you have that sorted out, look at the available floor plans. Travel Trailers have so many floorplan options that your head will spin. I will cover this later.
Travel Trailers are family-friendly and have enough options to sleep even the largest of families. I have seen some advertising the ability to sleep 12. Who in their right mind would camp in a small space with 12 people is beyond me, but some people do it. Travel Trailers are also affordable. You do not need to mortgage your future to go camping. In the used market, you can spend under $10,000 and have a reliable option for your camping needs. However, you will pay more as you tack on the features that you want. My first RV was a small 24 ft. travel trailer that I purchased for $3,500. It is not my primary RV, but it is still in service today.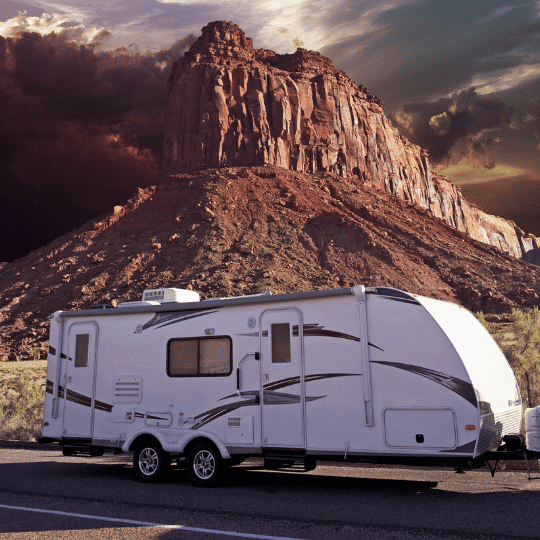 Toy Haulers
If you are all about the toys, look no further than the toy hauler. Think of the toy hauler as an RV with a garage. The rear of the unit usually has a flip-down door that allows for loading and unloading various equipment such as Motorcycles, golf carts, four-wheelers, kayaks/canoes, bikes, etc.
They are typically offered in travel trailers and fifth-wheel categories. Some toy haulers even have a flip-down door that doubles as a side deck/balcony. The garage area does take up valuable living space, but if you need it, then you need it.
Teardrop Campers
Do you travel alone or with a significant other? Do you like to be mobile and do not want to drive a huge truck? If the answer to that is yes, you may find yourself looking at smaller campers, categorized as teardrop campers. The tiny house craze has morphed into the tiny RV craze. Every year, more and more designs and startups are emerging in this market. These RVs are perfect if your towing option is an SUV. Teardrop campers can fit in almost any camping spot at a campground or in a remote national forest site. I like to think of these as luxury, tow-behind tents. While they do not have all of the space and amenities of a travel trailer or fifth wheel, they make their presence known in the ease of towing and flexibility category. I would not want to be full-timing it in a teardrop camper, but people do. They are also not a good option for families, even the closest of families. While new options are readily available, the used market may be less so. They are not as popular as travel trailers and are more of a niche market in the RV world. Saying that, if you want a used one, you can find one. Just realize that you will not have the luxury of being picky if you have a short timeframe for getting one.
Pop-Up Campers
Finally, I will cover the last one on my list, the pop-up camper. Pop-ups have their place in the RV world. They offer low weight, a small towable footprint, and larger living space once expanded. They fold down into a form the size of an enclosed utility trailer but open up like a transformer to create a roomy camping experience at the campground. The most important thing to remember about pop-ups is that you are essentially camping in a tent. The RVs have a hard-structured base and canvas walls/sides.
They are a popular RV for families looking to enter the camping lifestyle at a lower cost and without upgrading their family vehicle. Many are even towable with a minivan. While not for everyone, they are the perfect option for some. They are best used in the warmer seasons, as the canvas walls will not hold in the hear too well. When purchasing a used pop-up, you will want to closely inspect the condition of the canvas as this can be the primary wear point of this style of RV.
Tow Vehicle
Unless you opt for a motorized RV, you will need to read this section. It is impossible to discuss buying a used RV, or any RV for that matter, without discussing towing. It is not an inconsequential decision that you can punt down the road (no run intended), It is the cornerstone of deciding what RV you can get. If you do not make this decision first, the RV will decide for you (your RV does not care about your budget). It is not a glamorous topic, but it is something we need to cover. Okay. So, here we go.
When I talk about choosing a tow vehicle, I am not referring to deciding between Ford and Dodge. I am suggesting that you will need to look at a Ford F150 5.8L 5.55:1 Axle ratio vs. a Ford F150 5.8L 3.73:1 axle ratio. Well, not really, but yes, really. The point that I am making is that every truck, or vehicle, for that matter, is different. The same truck with the same engine can have very different maximum tow ratings. The difficulty is there is not just one component that makes a vehicle capable of towing heavy loads. It is an orchestra of parts, the engine, transmission, axle ratio, drive system, 4X4 vs. 2×4, and upgraded accessories like a tow package. 
So great, you are informing me that I need to become an auto mechanic to buy the right truck? No, and the fact is that most auto mechanics would not be able to give you a clear answer either. The only way to find the maximum tow capacity for your vehicle is to look at some numbers on the truck and know some information about the camper. Below are some of the key figures that you will need to obtain.
Gross vehicle weight rating: The GVWR is the maximum amount a vehicle can safely weigh when fully loaded.
Gross axle weight rating: The GAWR is the maximum weight that can be safely placed on a single axle of a vehicle.
Gross combined weight rating: The GCWR is the maximum allowable weight for the tow vehicle, the passengers and cargo in the tow vehicle, and the trailer and cargo in the trailer.
Luckily, The GVWR and GAWR are readily available. In just about every truck/car, you can find them printed on the tag on the driverside doorjamb. Knowing these numbers can tell you how much a vehicle can weigh when filled with people, luggage, dogs, and other items. They will also help you determine how much weight you can place on the vehicle's tongue (hitch mount). You can often find the GCWR printed in the owner's manual. If it's a newer truck, you should also be able to locate it on the manufacture's website.
The next part of the equitation is knowing what the weight of the RV is. There is usually a tag right outside the entry door or on the rear backside above the storage bins. It should list the GAWR of the trailer. If you can not find it, keep looking. You will often hear people refer to a trailer's dry weight (how much it weights empty) and wet weight (the GAWR plus the maximum about of cargo you can carry in the trailer). You can usually find this information easily online. This information will be important when selecting your tow vehicle. 
When I was looking for my first tow vehicle, I almost quit at this point. I felt overwhelmed and was afraid to make any decisions. Anyone who tells you that this is easy is lying or showing off. It is confusing, but that is because there are so many variables. I am sure the truck manufacturers like it this way because people come in and buy the biggest truck they sell. 
The good news is that there is a lot of resources available online to walk you through this. Annual RV towing guides are published each year and break all of this down for just about every truck on the road. There are also online calculators that you can use. I know enough about this to know that I cannot cover all the details you need in this one article. I also will not be able to do it more effectively than others have. I will share some links to the best sites for getting this information and determining the tow rating for your vehicle.
I will reiterate the importance of not skipping this step. If you already have your tow vehicle, figure out what you can safely tow. If you do not have one yet, get an idea of what you are willing to spend to purchase a tow vehicle. Shop around and look at your options. When you find a vehicle that looks promising, find out its towing capacity.
Also, do not skip this step if you plan to buy a smaller RV and tow it with an SUV. You will be surprised at how much even the smallest RVs weigh. If you are looking at a travel trailer, most will require a ½ ton truck or higher. Do not, for the safety of yourself and your investment, tow with a vehicle that is underrated for the weight of your RV. At best, you will harm your vehicle. At worst, you can get into a serious accident.
Size and Floorplan
Congratulations! If you made it this far, you are getting ready for the fun part of the planning. That is looking at Floorplans. By now, you should have an idea of your camping style, the type of RV you need, and if you plan to tow, a general sense of your towing capacity. Keeping all of these things in mind, you can now start to look at different-sized RVs and their layouts.  
I know you have already started looking at different RVs. Nobody starts their RV buying process without starting there. You may already have an idea of what you want, or you may be overwhelmed by all of the options. While RVs have countless configurations to choose from, there are only so many ways to reorganize the living areas of a small space like an RV.
You will soon see that most manufacturers offer very similar layouts. Some are a little different here and there, but you will typically find more similarities than differences. A place to start with your decision is to think about where you want people to sleep in the RV.
If it is just you and your partner, you can look for single bedroom units. If you have kids, you may want a bunk room or bunk beds. You will need to decide on slideouts (described below). How many bathrooms do you want? Are you okay with having the bathroom located next to the bedroom? Do you want multiple entrances? The list goes on and on.
I suggest you go to a manufacturer's website and look at the type of RV you want. Even though you are looking for a used RV, the availability of floorplans will closely match that of the new market. You can browse the floorplans and even do virtual tours through them to see how it looks and feels.
Below is a list of some manufactures that have good visuals on their website:
Most of the floorplans come in a few different flavors. The following three examples are typical for travel trailers and fifth wheels. Motorhomes and smaller towable RVs have other unique floorplans. You will find many different variations of the ones below, but these are the cornerstone layouts.
Bunkhouse: Has a room or section for bunk beds. Great for kids as they have their own space. A newer trend has been to have a mid-bunk room, but this is not as common in older models.
Front Living: The bedroom is in the back.
Rear Living: The entertainment center and sitting area is in the back of the RV.
Slideouts
An important decision you will need to make when searching for a used RV is whether or not to go with a slideout. If you have looked at the floorplans online, you will likely have fallen in love with a model with one, two, three, or more slideouts. If they are so appealing, why doesn't every RV have them? What you gain in space, you also gain in weight. The more slideouts, the heavier the RV. If you are at the limit of your tow capacity, slideouts will likely bump you over. While generally reliable, check that they are in good working order when you inspect the RV.
RV size and layout considerations:
I mentioned this a few times, but the RV you settle on should be guided by who will use it. If you have kids, a bunkhouse and extra space make a lot of sense. If you are going solo or with a partner, you have many more options to get the custom style and size that you want. Do not be afraid to look at RVs that you are on the fence about. Once you get inside an RV, you will get a different perspective, and it may end up being the right fit.
Planning Summary:
Whew! You made it to the end of this section. Planning is a lot of work, but it can be fun and is rewarding. It also helps ensure that you are making the right decision on your investment. By considering your camping style, RV style, tow vehicle capability, and floorplan ideas, you are now ready to start shopping. 
Searching for a used RV
The searching part of finding a used RV can be both fun and stressful. In recent years, competition has been fierce, and prices are historically higher than in the past. Finding that amazing deal is possible, but you should plan to do a lot of searching. Do not procrastinate. Start your planning and search well before you plan to buy. The key to being competitive is knowing what you want and being the first to respond to the ad when listed for sale. 
Budget
A budget is not the sexiest part of the process but can be the smartest. Having a clear budget in mind when starting the shopping process allows you to weed out RVs outside of your price range. I suggest that you use search filters when looking online. Set the maximum price a few thousand above your budget. It will give you RV options in your price range as well as some motivation to negotiate. Be careful of budget creep. What seems like a nominal amount early on can become your new starting point a few weeks later. Also, be patient. Start early, so you are not scrambling to find a last-minute RV for your Memorial Day vacation. Used RV prices are usually cheapest at the end of the season and over the winter- a great time to do some couch-based research.
Other budget considerations
When budgeting, do not forget to include your tow vehicle. You do not want to blow your budget on an RV and then be stuck with no way to tow it. It is probably a good idea to find the tow vehicle first. It will make sure that you are looking at RVs that are the right size/weight.
Finally, do not forget all of the gear and gadgets that you will need. Leave a few hundred dollars in your budget to outfit your camping accessories. Here is a review of some of the essentials that you will need.
Where to search
There are a few key places to start. Luckily, most of these can be done at home or right on your phone. For others, you will need to hit the road. 
Below are my go-to places when looking for a used RV
Craigslist: Despite the advent of other social shopping sites, Craigslist is still a good option for finding a used RV. You can search locally or in nearby areas. They even have a specific category for RVs. However, be aware that Craigslist is full of scams. If it seems too good to be true, it probably is. If someone mentions that the RV is in another state and they're selling it for a friend in the Military, run away. 
Facebook Marketplace: Facebook has grown in popularity over the past several years, especially with its Marketplace. It is an excellent source for finding used RVs. Be sure to expand your search area, and do not be afraid to look in other markets further away.
Offerup: This is a phone app and is popular in many areas. There are always RVs on there, but the selection may be lower than Craigslist or Facebook. The good news about this is that not many people think to look here. If you keep an eye out on Offerup, you might just find that perfect deal before someone else snags it.
RV Trader: RV trader is a national used RV listing platform. Here you will be able to find just about any used RV on the market. It is also a great place to compare prices. The site lists both dealer and private sales, so keep that in mind when searching. You can customize your search filter however you want. If you find your perfect make and model, RV Trader is a great place to find it. You may find a great deal in another state that may be worth the drive. You can even make your first camping trip part of the drive home. 
Newspaper Ads: Newspapers, really? Yes, there are still people who are not online yet and use the good old-fashioned newspaper classifieds. Posting will be far and few between, but you may find a well-maintained RV with little competition.
RV Campgrounds: If you have an RV campground nearby, go visit and ask the office if there is a place where people post for sale ads. In many cases, there are message boards with scraps of paper advertising an RV for sale. Also, if you are allowed, you can walk around the campground and look for some for-sale signs on RVs.
Dealers: Almost every RV dealer will have a used inventory. The great thing about shopping at a dealership is the ease of searching. You can often walk through many of the units for sale and inspect them right then and there. Dealers are ready to move inventory, so you may find a nice RV at an attractive price. If buying from a dealer, ask about inspections and warranties. Some dealers will sell as-is, but others may provide a warranty for the RV or allow you to purchase one. 
Word of Mouth: This is the tried and true method of shopping locally. Talk with people in the RV community. They often know of a friend of a friend who may be selling their RV next month. You will be surprised by the number of leads you can get by just asking.
RV forums: Many RV forums have a for-sale page. There are many of them, so do some searching. IRV2.com is one of the largest and a good place to start.
Purchasing your Used RV
Hooray! You made it and are now ready to make an offer on an RV. Hold up! Not so fast. Before you run out the door with your checkbook, get ready for two important steps. You will want to inspect the RV thoroughly. If it meets your standards, you will want to negotiate.
Inspection
Inspecting a used RV can be a stressful process. It may even be your first time in an RV. How are you supposed to know what to look for during an inspection? Well, the true answer is, you probably won't. However, that does not mean you can't. Coming prepared to inspect the RV is the best thing that you can do. Here are some tips for getting ready.
Do not go it alone:
One of the best things you can do, especially if this will be your first RV purchase, is to take somebody with you. Find a friend, family member co-worker, or heck, even post an ad to hire someone. Whoever it is, make sure they know about RVs and have years of experience camping in one.
Hire a Pro:
Most RV dealerships and service centers will have RV inspections as part of their services. You may pay a few hundred dollars, but that is a small investment for your large investment. The more expensive your used RV, the more important it is to go this route. If you are spending $80,000 on a used Class A, by all means, run, not walk, to the inspection center. If the person selling the RV refuses to allow this, do not buy it.
Come prepared for the inspection.
Here are some items that are handy to have on hand.
A screwdriver with multiple head bits (flat and Phillips)
Stepstool or ladder
Needle nose pliers
Camera (your phone)
Tire pressure gauge
Flashlight
Electric outlet tester
Calculator
The checklist
Notepad and pen
Come prepared with a checklist. Below are two great ones to use.
printable inspection checklist for Towable Trailers.
printable inspection checklist for Motorhome RV.
Inspection Process
If you will be inspecting the RV yourself, or preferably with a friend, be methodical. Follow a step-by-step list and go over the entire RV. Do not let cosmetics be the deciding factor. You want to know about the structure, systems, and appliances.
RV inspections are a routine thing that people should do when buying both new and used. It is a standard on all new purchases, and dealers expect it. They even walk you through it when you pick it up. However, when inspecting a used RV, you will be on your own. Take a checklist with you and work your way through it. If you do not know where something is, or what it is, as the seller.
Where to start:
When you begin inspecting an RV, one of the first things you will want to do is look inside. It is natural to want to see the inside. What a great place to put your senses to work. Start with the most noticeable tool, your nose. If it smells off, take note of it. You will want to look for water damage or mold later. However, this is your first time in the RV. Get a feel for the layout. Was it well-loved and taken care of, or maybe, was it loved too much? It is your time to see if it is a good fit for you and something you are interested in purchasing. If the answer to both of those questions is yes, then you can begin the official inspection.
If you do not have time to do the inspection, schedule a time to come back where you can have at least an hour or more to go over everything. Ask the seller if they could plug it in so you can try the electrical components. Remember, do not rush this step. You spent weeks or months planning for this. Also, remember that it is a used RV, and depending on price, realize that not everything will be perfect. Cosmetic issues, if minor, are less important than structure or mechanical problems.
Start by working your way from the outside to the interior. With RVs, think of it as a waterproof bag protecting all of the valuables inside. If that bag gets punctured, then the inside items can be damaged. Water is the enemy of an RV and keeping it out keeps everything and everyone inside happy.
Roof inspection
RV roofs are generally coated with a rubber membrane. Some are fiberglass or metal, but most are not. Roof maintenance is important and if left unchecked, cracks or splits in the rubber can occur, allowing water in. When inspecting the roof, get up on a ladder and look around. Inspect for the following:
If you see wrinkles in the roof, it may not have been installed correctly or had a poor repair made to it. The RV roof should be smooth, and if there are any repairs, all of the seams should be smooth and crack-free. 
Check all of the seals and seams. They should also be smooth, even if repairs were made to them. Clean seams are a good sign.
If you see a bunch of old leaves or sticks on the roof that has been there since last season, that could be a sign of poor maintenance.
Ask the owner about roof maintenance. Did they follow the manufacturer's recommendations for maintaining it? Ask them what they did.
If the roof is a walkable one (some are and some are not), walk around and check for weak or soft spots. If the RV has a built-in ladder, it is probably walkable. However, ask the owner before you start walking on it. If you can not walk on it, check with your hand, especially around vents, antennas, or anywhere else that water can get in. These areas, and where the roof meets the wall, are prone to water damage.
Repairing the roof is one of the costliest repairs of an RV. If the RV roof looks bad, chances are you will find other damage. 
Exterior inspection
Once you finish on the roof, it is time to come down and check out the rest of the exterior. Here are some steps to complete this part of the inspection
A good place to start is by looking under the RV. Look for any leaking fluids or tears in the underbelly if insulated. Check the frame from signs of rust and take note of anything that seems more than superficial. Also, look for things hanging down, like wires or other accessories.
Next, move on to the tires, wheels, and suspension. Just as you would in a car, check to see how much life is left in the tires. RVs sit a long time, so keep an eye out for dry rot or cracking. If there is, the tires may need replacing. If the tires are older than five years, you should probably replace them regardless.
Check the weather stripping along all edges and the slideouts. It should be crack-free and not have any gaps where water can get in.
You can also check the brakes. Most RVs will have built-in brakes. Look at the pad thickness and make sure that they look in good shape. You can usually see the pads by looking through the wheels.
Continue to walk around the exterior and look for any signs of damage from an accident, fallen tree, etc. The exterior paint, siding, or fiberglass should be in good shape and not separate from the body of the RV.
Check all exterior lights for proper operation. If you need to, connect your truck to the camper plug and try your signals.
If there are exterior outlets, test them with an outlet tester.
Check all exterior storage compartments for proper operation of doors and signs of leakage.
Check all exterior windows, windshield, etc. for cracks or damage. Look for anything that's attached to the RV (ladders, mounts, awning components, etc.) Make sure that they are secure and that the walls around them are in good shape
Test the awning. If it is manual, ask the seller to open it. If powered, check it when you move to the interior. Look at the awning material. Are there are tears or punctures?
Check the tongue, jacks, leveling legs and make sure that they are free from damage and rust and are operational.
Check all external appliance vents for blockage or leakage. 
Interior Inspection
The interior of the RV is where you will spend most of your time. If there are problems on the exterior, there is a good chance that they created issues inside. AS mentioned above, water is the enemy to the RV. The first step in inspecting the interior is to look for water damage. If you identified any problems outside or on the roof, look around the corresponding interior area (walls, ceiling, vents).
You can spot some indicators of water damage by inspecting the following:
Use your nose. Does it have a mold/mildew smell?
Soft spots on the floor. The floor should be solid and not spongy. 
Look for mold or mildew stains on the ceiling, inside the cabinets, around bathroom fixtures, on the walls, etc.
Is any of the wallpaper separating from the walls? Are there any soft spots in the ceiling or on the walls? All can be a sign of water damage.
Look for signs of plumbing leaks. Rain is not the only thing that causes water damage.
Bathroom
Next, move to the bathroom. In here, you will find a sink, shower/tub, and some cabinets. 
If it is the start of the season, you may see pink RV antifreeze stains on the sink and in the shower. It is a good sign, letting you know if it was winterized. Ask the seller.
Preferably the RV is connected to water. If so, test the water pressure. Look and listen for leaks when water is running (both inside and out). Low water pressure may not signal an issue, but it is vastly different from faucet to facet, which could mean that there is a blockage.
Check the toilet area. Are there stains around the base of the toilet? Does it flush? Does it smell terrible?
Other interior items:
Check all windows, doors, and exterior walls for any leaks and cracks. Lock and unlock the doors. Open and close the windows.
Check for any water or mold signs around the windows and make sure that they are not leaking. T
Check all vents. They should easily open and close.
Test all outlets with your outlet tester. Try light switches on the walls and ones located on the fixtures.
Check the bedroom: mattress and cabinets. Make sure all cabinet doors open and close completely (and latch).
Inspect all furniture. If a sofa or dinette converts to a bed, test it out.
Make sure that the seller has all of the manuals and documentation available. You will want this later.
Slides
Open the slides and watch how it moves across the floor. Look for scratches on the floor, bent vents, and other indications of a problem.
Check the seals around the slide and make sure they are intact.
Close the slide and have someone shine a light around the edges of the slide. Make sure you do not see the light from the outside.
Appliances
Check the water heater to make sure it properly heats the water. If there is no water connected, ask for a guarantee that it works if you buy it.
Make sure that the refrigerator turns on and gets cold. It takes a long time to cool down, so it is always beneficial to ask the seller to turn it on before you get there.
Test the oven, stove, and microwave if equipped. It is also an indication that the propane is working.
Test the furnace for heat and AC for cold air. Make sure that both are operating as they should.
Check the entertainment center: The TV, radio, DVD player. All should function without issue. Also, make sure that the remote controls are there.
Inspection conclusion
The above should give you an idea of the main items to inspect on a used RV. However, each RV is unique, and you should adjust your inspection plan as needed. Ask the seller a lot of questions. Ask them to show you how everything works. Ask about the maintenance history, problems, repairs, finicky components. An honest seller will be upfront with you, and you should take that as a positive sign. No RV will be perfect, but you do not want to purchase one with major issues. If there are problems, take note of them. You can use this as part of the next step, negotiation.
Negotiation                        
You made it through the planning phase, found the perfect RV, did the inspection, and now you are ready to buy it. You may be excited, but now is not the time to let up. You want to make sure that you are paying a fair price for the RV. 
The best information to have at the ready is comparing prices of the same year and model RV. You should have this prepared before you even look at it. RV Trader is a great place to get some of this info. Print out comparable prices and make sure that you fall into that range. If you do, then you can start negotiating.
Based on your inspection, you likely found some issues. If you need to replace items, fix things, or add missing components, subtract those costs from your offer. The seller already knows that you are motivated to buy it, and they are equally motivated to sell. Avoid lowballing the seller with a ridiculous purchase offer. They may be insulted and not be willing to negotiate. The best tip that I can give you is to present a fair offer. If you could not test everything, ask the seller for a guarantee as part of the offer. They may or may not be willing to provide this, but it can not hurt to ask. Do not forget to ask about other items included with the RV, such as hoses, hitches, weight distribution components, etc. Many sellers will choose to include these items as part of the sale.
Hopefully, you can both agree on a sales price. If you do, offer a down- payment and make arrangements to pick it up. Ask the seller if they are comfortable with you reaching out to them with questions after the sale. A good relationship is a great thing to have down the road when you have a question.
Conclusion
 You made it to the end and hopefully found the RV of your dreams. Congratulations! Buying a used RV can be a lot of work. If you do your homework and follow a plan, it can be very rewarding. You will be happy that you did when you are relaxing at the campground. 
You are well on your way to enjoying the RV lifestyle. Now that you have an RV, your education is just beginning. Make sure that you take the time to learn how to use your RV, properly set it up, deal with any problems when they arise, and make the most of your time. Consider subscribing to the website and coming back to visit us for all of your other RV questions and needs.