New York City is one of the most visited destinations in the world for both business and tourism. For folks traveling to the northeast United States, NYC is a top destination. The NYC Metro area is the largest metropolitan area in the United States, where more than 19.7 million people call home. 
Camping near NYC may not seem like a popular option. However, for people who live in NYC, looking for a place to escape the hustle and bustle of city life, or tourists looking to camp outside the City, but visit it during their vacation, there are a surprising number of great options.
From camping within city limits, finding a natural campsite on the island, or leaving the City for an easy drive, train, or bus ride, there are great camping options for everyone. In this article, we'll take a look at some of the best camping opportunities in and around NYC.
(Sidenote) Driving an RV through NYC
Before we get into camping near NYC, it's important to answer a question that probably ran through the mind of every RVer at one point. Can you drive an RV in NYC? Well, the simple answer is yes. You can drive an RV in the City, but I would avoid it unless you're a seasoned RV driver in congested areas. If you must enter NYC in an RV, limit yourself to the essential roads and don't go sightseeing through Times Square.
If you visit NYC on any given day, you'll see hundreds of busses and large delivery trucks cruising the street. However, these drivers do this every day. You, as an RV driver, may be doing it for the first time. Secondly, parking in NYC is very difficult for even the smallest of cars. While it's legal to park an RV in NYC for up to 24 hours, it will be nearly impossible to find a spot to do it.
Another thing to keep in mind: if you're carrying more than ten pounds of propane, you will not be able to go through any tunnels without prior clearance from the Department of Transportation. Also, RVs are not allowed on any New York State Parkways if your rig meets the following criteria: 1) Over 5,500 pounds, 2) Uses combined plates, 3) Carrying rooftop cargo, and 4) Is classified as a trailer or moving van. However, you can travel on any New York State Expressways in any type of RV. So, your best option is to stay on expressways when navigating through the City.
Best campground accessible via public transportation
If you live in NYC, you don't need to leave the island for some great camping, In fact, there are a number of really nice and secluded campgrounds on Long Island. One of the best is Heckscher State Park. To get there, you'll take the Long Island Railroad to the Great River station, where you can then catch an uber or taxi to the state park, a 7-mile drive. So while you may find some bus linkages between the two locations, you pay in time for what it will cost for a short drive.
There are several dozen sites to choose from at the campground, and rates are as low as $18/night. So, for the cost of a couple of Papaya dogs and drinks, you can be cooking your own meal over an open fire. Outside of major holidays, with a little bit of planning, you shouldn't have any issues reserving a site. The campsites are nice and surrounded by trees and nature. You'll likely be pitching your tent on the soft grass. Most campground sites will have a fire ring and picnic tables, which is great if traveling by public transit.
You'll be close to the water here, offering many opportunities for water sports and relaxing in the sun. While there isn't a swimming pool, you're just a short walk or bike-ride away from a sandy beach. For this reason, consider taking your bike or renting one for traveling throughout the park or East Islip region. Being close to the City but far enough away to leave the noise behind makes Heckscher Start Park a great place for New Yorkers to camp.
Best RV Campground for Tourists wanting to Visit the City
Looking for a beautiful and relaxing place to camp with easy access to NYC, look no further than the Croton Point Campground. The park is situated on a peninsula extending into the Hudson River and is a quick train ride away from downtown. It offers RV and tent sites (as well as cabins). Some RV sites are even available all year long.
While you're just a stone's throw away from public transportation to the largest city in the US, you'll feel like you're a million miles away from the bustling streets of Manhattan. Campground fees are very affordable, costing just $60/night for a full hookup (water, electric, sewer). Tent sites are a little less expensive. If you're local to Westchester County, you may consider getting the park pass, which lowers the nightly RV rate to $45.
The 508-acre park has many outdoor recreation options, including hiking, boating, and swimming. Boat rentals are also available from nearby vendors. The RV sites are spacious and surrounded by greenery and will have a fire pit and picnic table. It's one of the best campgrounds close to NYC.
You'll also appreciate the property's rich history if you're a history buff. It's thought to have one of the oldest wine cellars in New York State. Nature lovers will appreciate the multiple scenic picnic areas along the Hudson or numerous hiking trails in the park and surrounding area. It's one of the most beautiful parks with easy access to the City.
To get to the City (or to the park from the City), you can walk to the Croton-Harmon line and catch a train, which will take about an hour. It's a rare experience to be soaking in nature one minute and then be in the heart of Grand Central Terminal the next. This campground, by far, is probably the easiest campground to get to and from NYC without needing to drive to a train station. It's the perfect place for RVers looking to visit the City via mass transit while having a natural setting to camp. Since you are close to the City, you will want to plan ahead for camping spots during peak season.
Best Free Camping Close to NYC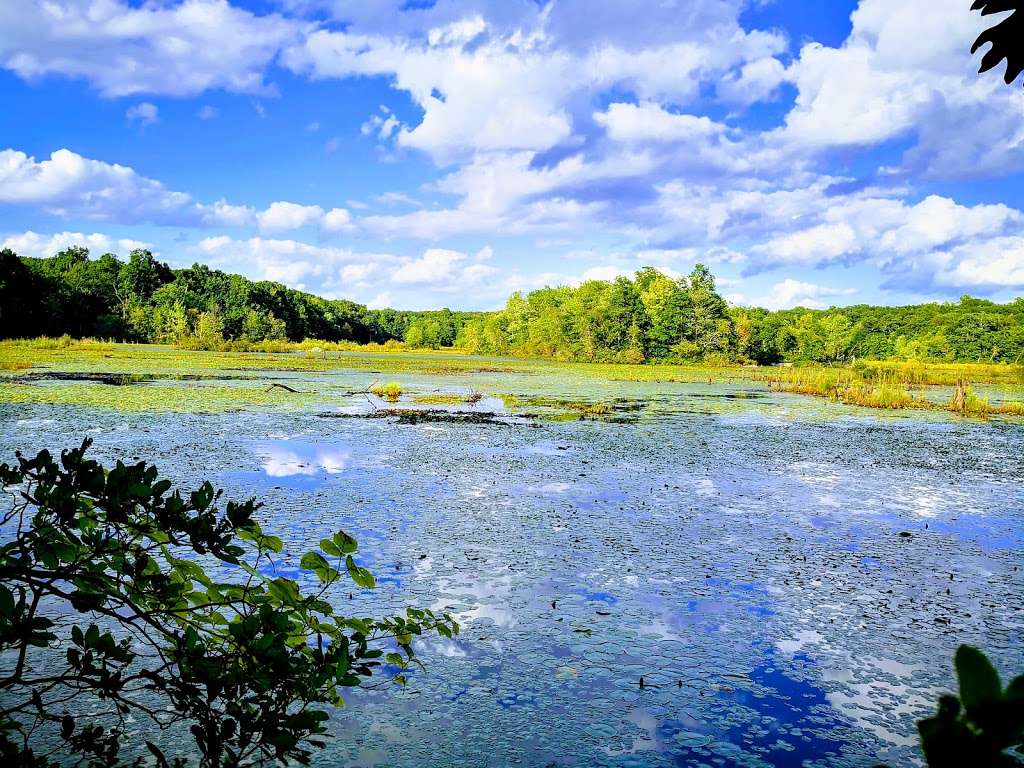 When living in NYC, finding something that free is a rarity. However, you may not have realized that there are countless places to camp for free in NY State. While many public and private campgrounds are available near NYC, if you're looking for a more remote wilderness experience, why not try camping in a state forest.
The California Hills State Forest is the closest state forest to NYC that allows camping. However, the further away you get from NYC, the more options you'll find. State Forests are a great place to camp and escape the hustle and bustle of city life. While it is possible to get here via public transportation and an Uber, you may find it easier to rent a car.
If you're unfamiliar with backcountry camping, I suggest starting with a local or state park campground, which will be less intimidating. State Forest camping is also great to link up with a backpacking trip for a long weekend excursion away from the City. 
Most state Forests in NY allow free camping on the property, so long as you follow several rules. There are no designated campsites. However, at-large primitive camping is allowed. Campsites must be at least 150 feet away from the nearest road, trail, or body of water. Camping for more than three nights or in groups of ten or more requires a permit from a Forest Ranger.
If you camp in a State Forest, you'll likely want to do some research at home first. There won't be any signs or established trails leading to suitable sites. Instead, you'll be roughing it, creating your own campsite for the night, which is part of the fun. Always carry out what you bring with you (trash included) and return the site to how it was before you arrived.
Closest RV Camping To NYC
When you think of camping, you may envision waking up to a scenic view of the mountains or a babbling brook. However, one of the most unique RV experiences you can have might be one with an up-close view of the NYC skyline and statue of liberty. You are located just across the Hudson River in New Jersey. You can't get any closer to RV camping in downtown Manhattan. 
If you're traveling the country in your RV and NYC is on your list of places to see, this may be a fun and exciting option. The campground is close to public transportation, so once you park you're RV, you can head out on foot for the remainder of your stay.
The campground also offers water, electricity, and a dump station. In addition, there are full restrooms, hot showers, and available wi-fi if needed. There is also a restaurant and bar on-site if you would rather relax at the campground enjoying the views of the City.
Also, considering the cost of a hotel in NYC, the $135/night rate doesn't seem too bad. You can stay for $75/night if you're tent camping. Don't expect park-like settings, though. This campground is a true urban camping experience. It will feel more like a large parking lot than a mountain resort.
If you're an RV camper and visiting NYC is on your bucket list, this campground may be worth trying. When staying here, NYC is the experience (not the campground). However, the campground has over 600 4-star reviews, so it's well-received by the RV community.
Best Camping on Long Island

While a 2.5-hour drive from NYC will get you to Upstate New York in the Catskills, heading east will take you to the edge of Long Island in the Hamptons. The Hither Hills Campground is located right along the beautiful beaches of the Atlantic Ocean in one of the most spectacular natural settings on the island. There are ample RV sites, which are all spacious, offering a short walk to the sandy beaches of the Atlantic ocean.
If you want a beach and camping vacation, this is the perfect spot for the whole family. New York State Parks are known for their amazing camping destinations, and this one may be at the top of the list. With fantastic swimming beaches and relaxed East Hampton vibes, this is the perfect destination for RVers seeking out a new experience on Long Island.
Getting to the park is straightforward, especially once you get through the traffic of Manhattan. If you're taking public transportation, simply take the LIR to the end of the line in Montauk and then a short 5-mile uber ride to the park. While it's best to visit in the summer to take advantage of the beach, late-season camping provides cooler nights and fewer crowds.
Camping in upstate NY- an easy drive from NYC
If you are willing to drive a bit, your camping options open wide up. Specifically, heading to the Catskill Mountains will give you access to some of the best camping in the State. While you can take a short drive to Harriman State Park and Beaver Pond Campground, I suggest you travel a little further for the best experience.
One of my favorite options is North-South Lake Campground, located in Haines Falls, NY. North-South Lake is the biggest and most popular state campground in the Catskill Forest Preserve, offering extraordinary scenic beauty and historical sites, such as Alligator Rock, Kaaterskill Falls, and the former site of the Catskill Mountain House.
The campground has more than 200 sites and can accommodate tent campers or large RVs. In addition, this destination is one of the best places for families, offering boating, swimming, hiking, and fishing, all within the campground property. While it's a little farther drive from NYC than some other locations, this campground will definitely scratch that itch if you have a camping trip in the mountains on your to-do list.
The campground area is full of outdoor recreational activities and is close to one of the Catskill's most popular destinations, Kaaterskill Falls. If you plan to hike to the falls, starting early or visiting on a weekday is a good idea since weekends during peak season can get very busy.
A campsite is very affordable at just $22/night. While you don't have an option for a full hookup for RVs, there is a dump station and well-kept bathhouses with showers.