Setting out on the open road, being in touch with nature, and having the freedom to explore whenever you want – these are just a few of the joys that come with owning an RV. But the journey begins way before you hit the asphalt; it starts with making the right choices about which RV to buy. Welcome to our comprehensive RV Buying Guide, a dedicated hub that offers insights, tips, and expert advice to help you navigate the vast world of RV purchasing. Whether you're a seasoned traveler or a novice looking to invest in your first mobile abode, we've got you covered.
---
General RV Buying Tips
Embarking on the RV journey isn't just about purchasing a vehicle; it's about embracing a lifestyle full of adventure, freedom, and unforgettable memories. But as thrilling as it might be, it's also laden with crucial decisions. From the intricacies of buying a used RV, to mastering the art of snagging great deals at RV shows, making sense of financing options, or deciphering the vast range of sizes to find your perfect fit, the world of RVing can be vast and complex.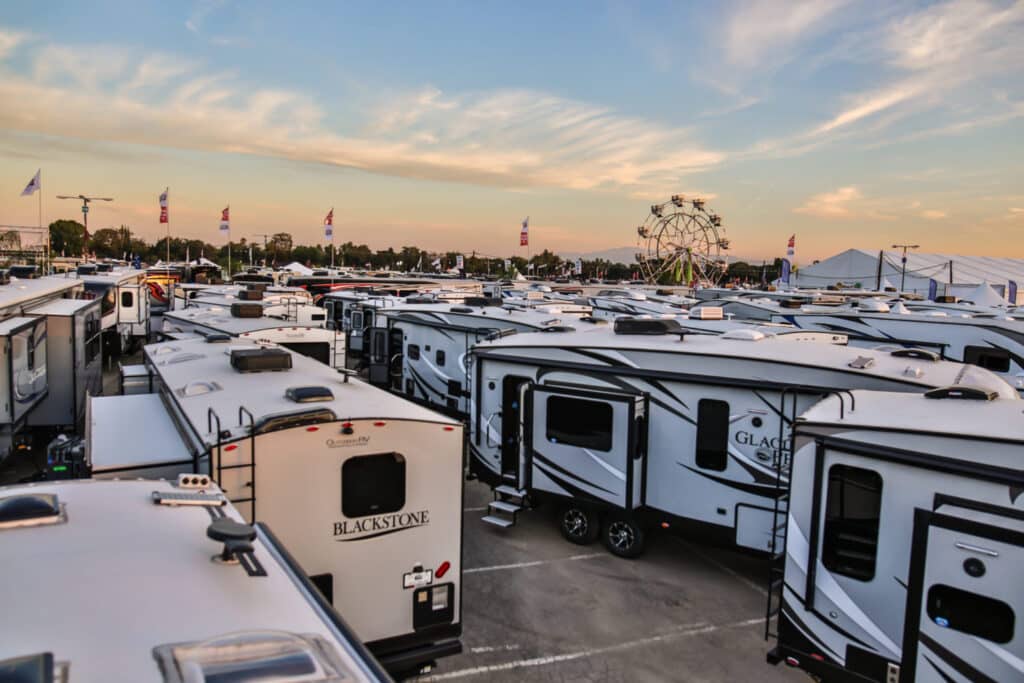 Our expert-curated articles will help you along your journey, covering the intricacies of each step in your RV purchasing process. With a blend of practical advice, seasoned tips, and the latest trends, we ensure you're not just buying an RV but making a well-informed investment in your future adventures. Delve into our resources, arm yourself with knowledge, and let your RV journey begin with confidence and clarity. Welcome to the community and the limitless horizons that await!
Below are some of our most popular articles to help you along the way.
---
---
Travel trailers are the embodiment of mobile convenience, catering to diverse travel aspirations, from solo wanderers to entire families. Their versatility spans lightweight teardrop designs to expansive multi-room layouts. Navigating this broad spectrum can be intricate. In this guide, we'll delve into the features, benefits, and considerations intrinsic to travel trailers, assisting you in finding the perfect companion for your camping adventures. From lightweight options to family-centric designs, we delve into an array of travel trailers that cater to varied needs and preferences.
If you're beginning your search for a Recreational Vehicle (RV) and are trying to sort out the differences between the various options, you're not alone. One common point of confusion that…

So you've decided to enter the RV lifestyle, but as you start to research, you're a little overwhelmed by the various sizes, types, and floorplans available. Since you clicked on this…

One of the most exciting parts of buying a new RV is looking at the variety of floorplans and determining the best option for your camping style and needs. However, it…
Distinctive in design and lavish in amenities, fifth wheels present a luxurious RV experience combined with ample living space. Their bi-level structure and hitching mechanism offer both stability and style. As you contemplate embracing the fifth wheel lifestyle, our guide will shed light on its many facets, ensuring you're well-equipped to select a model that resonates with your travel dreams.
Are you looking for an RV for your family of four? Trust me; I know how challenging it can be to find the perfect RV. There are countless models, floorplans, and…
---
Motorhomes are more than just RVs; they're self-contained traveling homes, ranging from compact Class B campervans to expansive Class A coaches and versatile Class C models. Each class has its own allure and set of advantages. With so many options and nuances across motorhome types, making a choice can feel overwhelming. Fear not! This section will walk you through the world of motorhomes, breaking down the distinctions and helping you identify the perfect fit for your adventures.
When it comes to deciding on an RV, size does matter. It's important to ensure you have enough living space, something you can drive or tow, and it's sometimes an indicator…

When I was looking for my first RV, one of my first questions was: What is the easiest one to own? RVs were more of a mystery to me, and while…

As someone who loves to travel and explore, I know it can be hard to decide on the right RV. If you click on this link, you're probably trying to learn…
---
Popup campers, or tent trailers, offer a delightful blend of traditional camping vibes with the comforts of an RV. Lightweight, economical, and expandable, they're an excellent choice for those transitioning from tent camping or those looking for simplicity on the road. Embarking on the popup camper journey brings its own set of considerations. Our guide is designed to navigate these waters, ensuring you're well-informed and ready to choose the popup that aligns with your camping desires.
If you're starting your journey of entering the RV (recreational vehicles) world, there's a good chance you started looking at popup campers (or tent campers), which are one of the most…
---
Get insights into the world of RV rentals, from renting one for a trip to turning your property into a lucrative rental space.
---
RV Warranty
The allure of RV ownership in 2023 is accompanied by the intricate maze of extended warranties, often presented enticingly by dealers. While these warranties can offer a safety net, they come with nuances, both in the fine print and in potential hidden costs. This comprehensive guide seeks to demystify the world of RV extended warranties, from dealer pitches to what truly benefits your investment. Dive in to discern the worthwhile from the redundant and make choices that truly resonate with your RV ownership aspirations.
---
Camping and cars go hand in hand for many outdoor enthusiasts. Whether you're considering car camping for a budget-friendly adventure, sleeping in your car, thinking about towing a car behind your motorhome for added convenience, or in the market for a reliable truck to haul your RV, there's a lot to consider. This section breaks down the basics, helping you make informed decisions about how to best combine your love of camping with the right vehicle setup.
---