Camping can take many forms, including sleeping in a tent, in an RV, under the open sky, or even in your vehicle. While some are more common than others, camping is camping. People have been sleeping in cars for as long as they have been driving them. Either because of convenience or necessity, camping out of a car is a viable way to spend the night.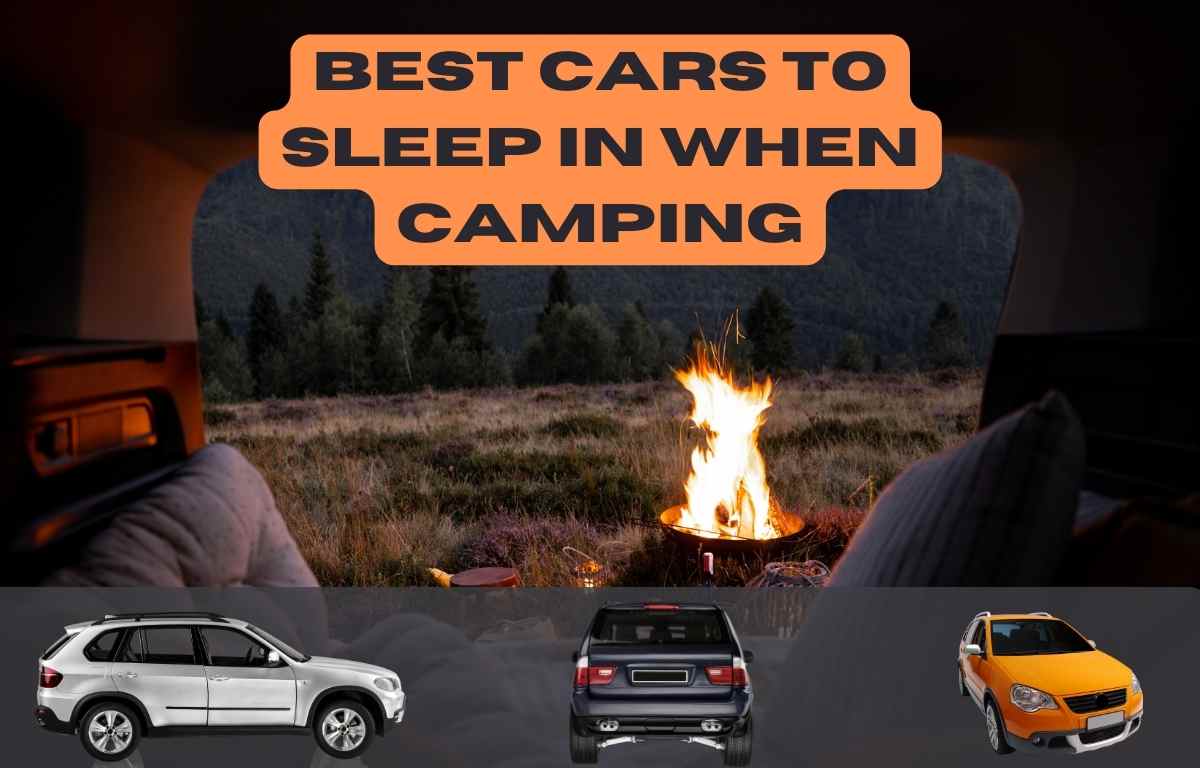 When I was younger, I slept in my car regularly during outdoor adventure trips. For example, after work on Friday, I would leave my home in Philadelphia and head north to upstate NY. Usually, my first night away was spent sprawling out in the back of my vehicle. This was done mainly for convenience, as it was a quick, easy, and free way to camp for the night.
Camping in a car has many advantages, such as simplicity. It doesn't take a lot of extra time to set up, it's relatively easy to find a place to park for the night, and it's super quick to pack up and leave in the morning. However, there are some challenges, but with a little bit of ingenuity and by following some easy tips, they can easily be overcome. Even if you plan to sleep in a tent during a long road trip, having the option to sleep in your car can be convenient, especially if you need a quick solution when you can't find a campsite.
Click Here to Jump Right To The List of the Best Cars for Camping
Before jumping into the best vehicles for sleeping, we'll go through some of the critical things to remember when prepping to sleep in your car. We'll also answer some frequently asked questions to help you decide if it's right for you.
Best Cars for Sleeping In When Camping (see details at the end of the article)
Subaru Outback
Honda CR-V
Toyota Rav4
Mazda CX-50
Jeep Cherokee
Subaru Forester
Volvo XC
Kia Telluride
Honda Odyssey
Chevrolet Equinox
Toyota Prius
+ Ford Transit and Econoline Vans
Car type and layout that is best for Camping and Sleeping:
While you can sleep in any car, some will be more comfortable, provide extra space, and be easier to adapt for privacy. Over the years, I have slept in many different cars, including a Toyota Prius, Subaru Outback, large SUVs like a ford explorer, a pickup truck, and even a minivan. While they all had their plusses and minuses, by large, the most comfortable were the ones with the most space. However, the best car for camping will ultimately come down to personal preference.
An SUV will typically be the best option for a car camper when given a choice. However, what you gain in space, you lose in fuel efficiency, which may be a factor in your decision on what type of car to purchase. The least comfortable and inconvenient are typical sedans with a trunk. While a trunk makes an excellent place to store items out of the way, sleeping on the front seats is less than ideal and a choice I would avoid if I planned to do a lot of camping in my car.
Below are some of the different car style options to choose from:
Camper Van
A camper van is ideal if you're looking for the most luxurious vehicle to sleep in outside a full RV. It will offer the most space, a separate sleeping area, and even some luxury camping features like water, heat, air conditioning, and storage. Unfortunately, these can get very expensive if you opt for a van with full amenities. However, many design their own, starting with a cargo van as a base.
Minivan
A minivan is an excellent option if you're looking for a regular vehicle to sleep in but value space. While it may not be everyone's choice for a daily driver, the extra space will make it a perfect vehicle to sleep in. In addition, many people remove the rear seats, creating an open floor plan, perfect for a mattress and sleeping bag.
SUV
A full-size SUV is a staple for daily driving and car camping. When the rear seats are folded down in the rear, you have a large space, often as big as a pickup truck's bed. For most people, this will provide more than enough space for sleeping. While fuel efficiency is not great with an SUV, the added space makes up for it if you regularly plan to sleep in it. Also, some SUVs will accept a tent, which can be installed over the vehicle's hatchback, significantly increasing the living space.
Crossover SUV
A compact SUV is probably the sweet spot regarding fuel efficiency and space. Vehicles like a Subaru Outback or Honda CRV make excellent camping options. There's a good reason they top the list for some of the best cars for camping. I spent many nights sleeping inside my Subaru Outback and was always comfortable. Length is preferred over height when looking for a compact SUV, as longer vehicles provide more sleeping space, especially for taller people. When you fold down the back seats, you will have plenty of space for sleeping.
Compact car (hatchback)
While a compact car may seem like a poor choice for sleeping at face value, many compact cars make excellent cars you can sleep in. However, the one caveat is that it should be a hatchback rather than a trunk. While a compact car will be shorter than a typical sedan, a hatchback allows you to maximize the total length for sleeping with the rear seats folded down and is a great choice. One of my favorite vehicles for sleeping was a Toyota Prius. The salesperson rolled their eyes when I crawled into the back and laid down, but it helped me pull the trigger on a very fuel-efficient and sleeping-capable car. While the Prius was great on gas, most compact cars are also.
Sedan
My least favorite vehicle for sleeping is a typical sedan. You'll likely need to sleep on a reclined seat unless you're short. While some vehicles will have a seat that reclines back to a nearly horizontal position, most will be slightly elevated in the backmost position. Some people like to sleep like this, but I prefer to have a different sleeping area than a seat. The one benefit of this style is a trunk, which allows you to keep all your gear and supplies out of the way. It is usually the quickest vehicle to set up for camping and the easiest to break down. However, the lack of sleeping space puts it at the bottom of my list if given a choice.
Pickup Truck
A pickup truck can make an excellent vehicle to sleep in, or if not set up properly, it can make a very uncomfortable one. The main determining factor is whether you have a cap on the truck's bed. If you do, a pickup can be the perfect camping vehicle. If not, it isn't easy to get comfortable and sleep in the truck's cab. With an enclosed bed, however, you can fit a large mattress, customize the layout for your specific needs, and have plenty of room to store your gear and supplies. 
Can you live in your car?
While it's not an ideal situation, many people experiencing economic hardships from living in high real-estate priced cities are making the decision to save on rent and live in their car. This is mostly a short-term solution for housing, but it's something many people are doing. Additionally, many people choosing to travel the country choose this option as a way to save money and do more exploring.
Living in your car is legal, but depending on where you park, that could be a different story. Some cities or businesses strictly prohibit overnight parking. While it doesn't mean that you can't sleep in your car, you just can't do it in these places. I suggest researching laws and rules before staying overnight in your vehicle.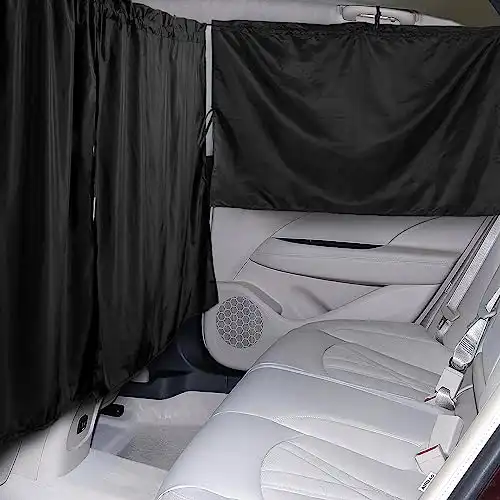 Set of 3 Car Privacy Curtains
Buy Now
Outdoor Miles is reader-supported. When you buy through links on our site, we may earn an affiliate commission at no additional cost to you.
09/25/2023 05:10 pm GMT
Where can you sleep in your car to camp?
Finding a place to sleep in your car is not difficult, but it's important to carefully plan where you want to stay for the night. The best place to stay is usually somewhere that allows camping, either at a form campground or a boondocking location. These sites typically provide a convenient place with the least possibility of getting disturbed.
The more challenging location is usually on a public street or parking lot. We'll cover the legalities of overnight parking in public and private locations later but be aware that it may not be as simple as pulling over anywhere and sleeping.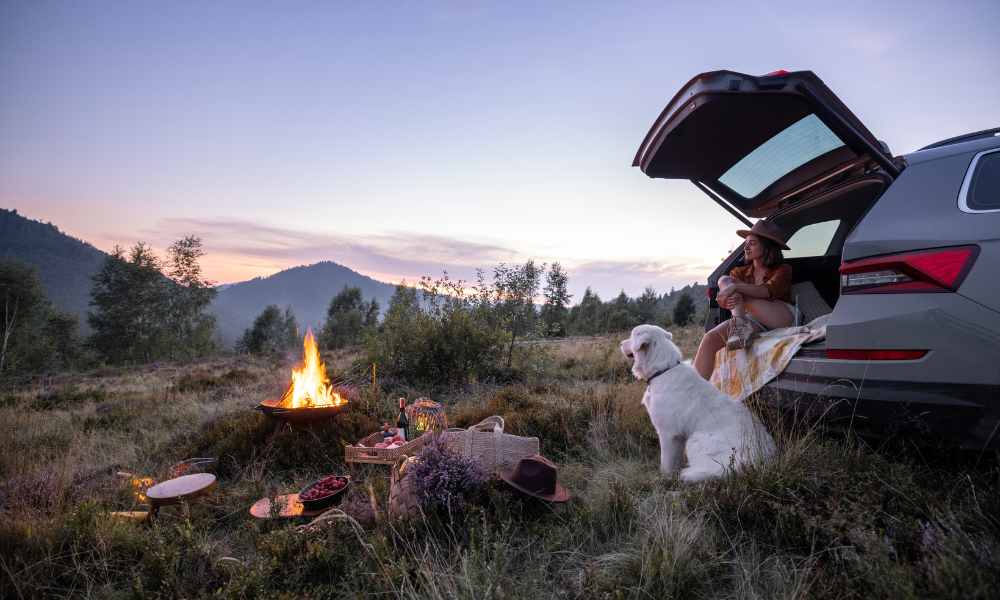 Some of the best places to camp are certified boondocking locations. This means it's legal to stay in these locations, usually in scenic areas, free and traditionally quiet. Best yet, locations are available throughout the country, even in areas close to populated areas. Most boondocking spots are located on public lands. Most are on federal lands, but many state and local governments have land available for boondocking. You should be aware that there typically aren't camping amenities like fire pits, bathrooms, or trash facilities. You will need to plan accordingly for the place you plan to stay.
When you're looking for a place to sleep, I like to use the power of the internet to find a good location. Some fantastic apps and websites list places to camp for free. Two of my favorites are iOverlander, Campedium, and The Dyrt App. However, there are a bunch of other resources that have their own unique benefits. I like to have a couple of options installed on my phone for the best chance of finding the perfect spot. My favorite resources are the ones that provide reviews from real users.
·        AllStays
·        FreeRoam
Is it Legal to Sleep in Your Car?
Yes, in many instances, it is entirely legal to sleep in your car. There are no federal or state laws prohibiting it, but some localities may have regulations or ordinances prohibiting it. In some places, it is legal to sleep in a car as long as it is not done in a way that disturbs the peace or poses a safety hazard. In other places, sleeping in a car may be illegal or restricted to certain areas.
It is important to check the laws and regulations in the area where you plan to sleep in your car. Some places may have specific laws regulating sleeping in a car, while in other places, the laws may be more general and apply to overnight parking.
Unless expressly prohibited by local laws, sleeping in your car when parked on a public street is legal. However, more and more municipalities are cracking down on this, so it's best to check with local authorities before your stay. While sleeping in your car when parked on a public street may be possible, it's typically loud, won't offer privacy, and creates an opportunity that someone will disturb you and ask you to leave. Therefore, I recommend this option as a last resort since better options are available. You should also be aware of potential safety risks and take appropriate precautions.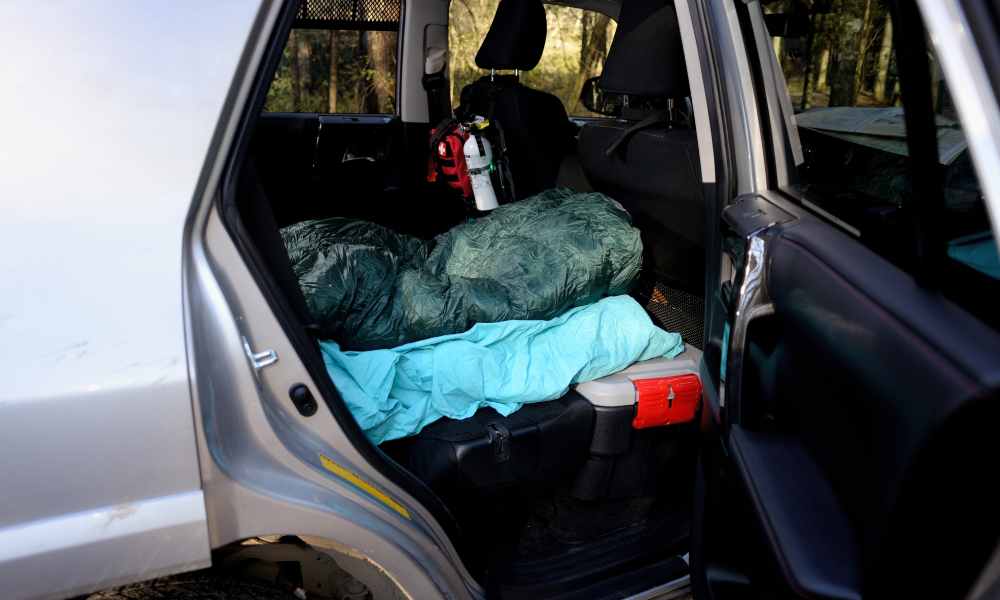 In general, sleeping in a car at a designated campsite or rest area is usually legal if you follow any rules or guidelines that apply to those areas. It may also be legal to sleep in a car in a parking lot if it is not a private property or restricted area. However, checking with the property owner or manager is important to ensure it is allowed.
Some businesses may allow you to stay in their parking lot overnight. Many Walmart locations will allow this as well as Cracker Barrel restaurants. However, their policies regularly change, so ask the store manager before you park for the night. If you are unsure about the legality of sleeping in a car in a particular
area, it is a good idea to contact local law enforcement or a local tourism office for more information.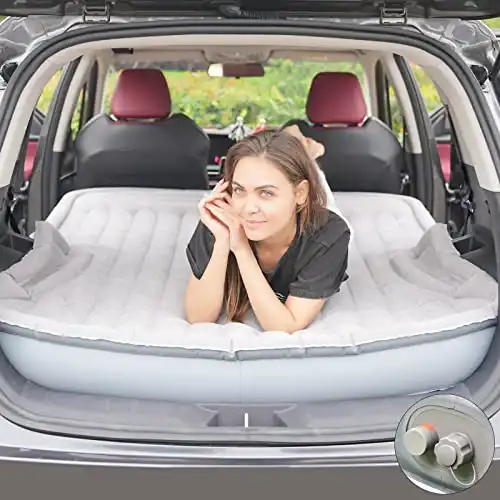 KMZ SUV Air Mattress
Buy Now
Outdoor Miles is reader-supported. When you buy through links on our site, we may earn an affiliate commission at no additional cost to you.
09/25/2023 05:10 pm GMT
Do campgrounds let you sleep in a car?
Yes, many campgrounds allow guests to sleep in their cars. Some campgrounds have designated areas for car camping, while others allow visitors to park their car at any campsite and sleep in it.
If you plan to sleep in your car at a campground, it is a good idea to check with the campground beforehand to ensure it is allowed. Unfortunately, some private campgrounds won't allow this and restrict the types of vehicles you can sleep in. In addition, some campgrounds may have specific rules or guidelines for car camping, such as requiring that the car be parked in a designated area or prohibiting the use of propane heaters.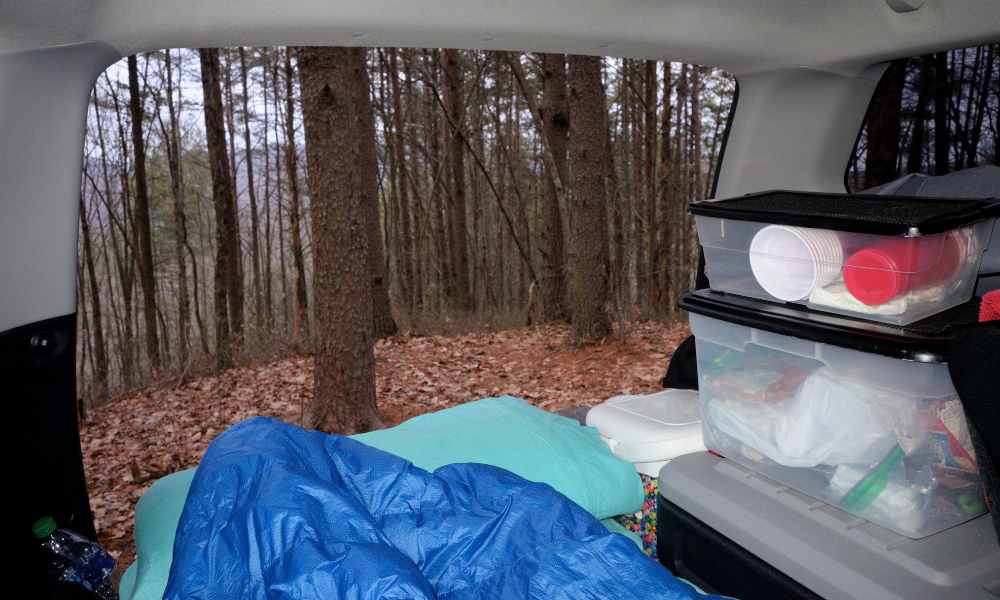 However, most public campgrounds won't restrict this, but it's a good idea to check with the host or when you make a reservation. In general, you will need to be able to park at your campsite. For example, if a campground offers rustic tent camping but offers a parking lot for tent campers, you typically won't be able to sleep in your car in this situation. Public campsites are usually less expensive than public ones, so keep this in mind when deciding where to camp.
When sleeping in your car at a campground, it is important to follow any rules and guidelines that apply. This may include paying the appropriate fees, respecting the rights of other campers, and being mindful of any noise or other potential nuisances. Overall, sleeping in a car at a campground can be a convenient and cost-effective way to enjoy the outdoors and experience the beauty of nature.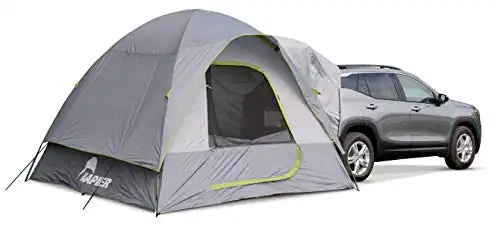 Tips for Sleeping in a Car:
Stay organized
If you plan to sleep in your car for a long trip, developing a system for staying organized is a good option. Many SUVs will have a roof rack option, a great way to keep your camping gear, luggage, and other supplies out of the sleeping area. This will be even more important if you have a small car.
Another option is to take advantage of your vehicle's hitch. If you have a hitch receiver, consider purchasing a hitch carrier. While these aren't ideal for clothing and soft items that may get wet, they work perfectly for coolers and generators.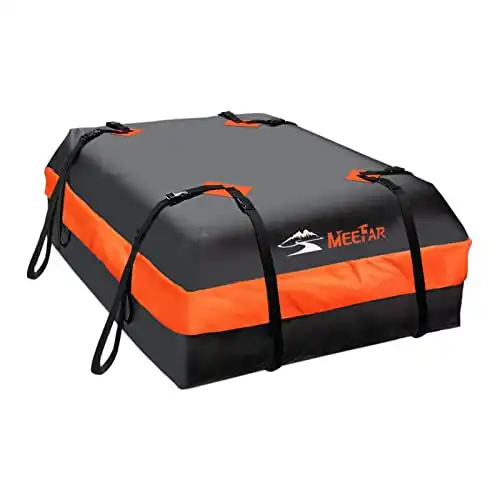 Rooftop top Cargo Carrier Bag
Buy Now
Outdoor Miles is reader-supported. When you buy through links on our site, we may earn an affiliate commission at no additional cost to you.
09/24/2023 07:30 am GMT
When getting ready for a camping trip, start by storing your supplies in bins, totes, or bags. If you keep them in the rear of the vehicle, you can quickly move them when it's time to sleep. On the other hand, if everything is scattered around, you'll spend a lot of time moving items rather than getting a good night's sleep.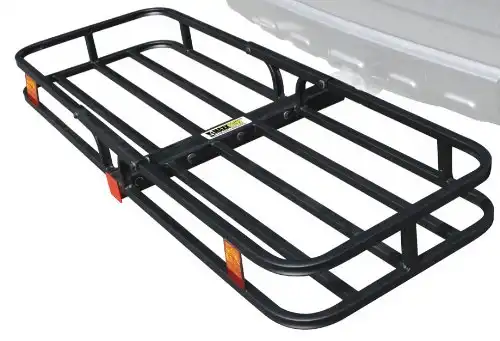 MaxxHaul Hitch Cargo Carrier
Buy Now
Outdoor Miles is reader-supported. When you buy through links on our site, we may earn an affiliate commission at no additional cost to you.
09/24/2023 07:35 am GMT
Don't run the engine.
Running the engine while sleeping in a car is generally not recommended. There are several reasons why this can be dangerous:
Carbon monoxide poisoning: Running the engine generates exhaust fumes containing a poisonous gas called carbon monoxide. If the fumes enter the passenger compartment, they can cause dizziness, nausea, and even death. Therefore, ensuring the exhaust pipe is clear and not blocked by debris is important to prevent carbon monoxide poisoning.
Fire risk: Running the engine generates heat, which can increase the fire risk if it comes into contact with flammable materials. It is important to ensure the engine is in good working order and not leaking any fluids.
Noise and disturbance: Running the engine can disturb other people sleeping or camping nearby. It is important to be considerate of others and try to minimize noise and disturbance.
Control humidity
One challenge with sleeping in a car can be humidity. Because of the small space, it's easy for the inside of the car to get from breathing. This is especially noticeable on cool nights when you have the windows closed. However, there are some easy steps to reduce humidity when sleeping in your car:
Park in a shady spot: Choose a parking spot shaded from the sun to reduce the heat and humidity inside the car.
Crack a window or sunroof: Opening a window a few inches can help to ventilate the car and allow excess moisture to escape.
Use a dehumidifier: Consider using a small, portable dehumidifier to absorb excess moisture from the air. These devices can be powered by your car's cigarette lighter or a small battery.
Use a fan: A portable fan can help circulate the car's air and reduce humidity.
Avoid drying clothes inside the car: Avoid hanging wet clothes or towels inside the car to dry, as this can increase humidity levels.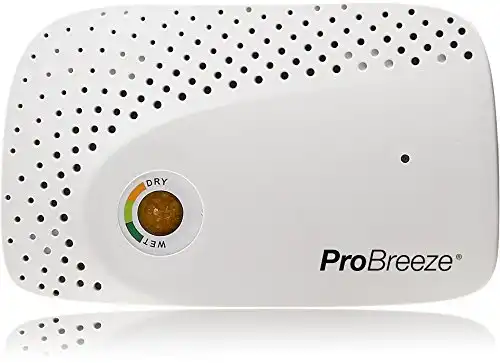 Best Car Features for Sleeping
Sunroof
Ventilation is a must when sleeping in a car. While you can always roll down the windows, a better options is to open a sunroof if you have one. This allows for better ventilation while improving privacy and safety. While not all cars have sunroofs, you can get one installed if you want. I remember doing this in my 1989 Chevy Beretta (did I just age myself).
Tinted Windows
Privacy is an important part of any car camping or sleeping trip. Tinted windows will greatly help in this department. While some cars come with tinted windows to keep the interior cooler, you can easily add darker tint to windows with a tinting kit or by taking it to a shop that specialized in it.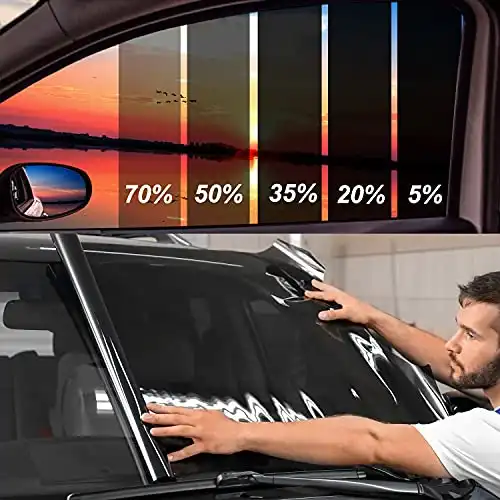 TOYOCO Window Tint Film for Cars
Buy Now
Outdoor Miles is reader-supported. When you buy through links on our site, we may earn an affiliate commission at no additional cost to you.
09/25/2023 02:55 am GMT
4-doors and hatchback
Most of the cars that I suggest below are hatchbacks, which maximized sleeping room. However, at a minimum, you should plan to sleep in a 4-door vehicle. While some small sports cars will have two doors, most options out there will meet this spec. However, you will likely be much more comfortable in a hatchback or a car without a trunk.
Rear Outlets
Many vehicles will have 12V outlets up front, but some will have them in the rear of the cargo area too. While you don't want to plug in a refrigerator to these outlets when stationary, they are great for a quick charge of your cell phone. However, be aware that some 12V outlets turn off when the key is off. You can manually rewire these, but it takes some know-how, which you can usually get from Youtube. Remember that too much charging will drain your battery, so use this option sparingly.
Best Vehicles to Sleep in when Camping
2024 Subaru Outback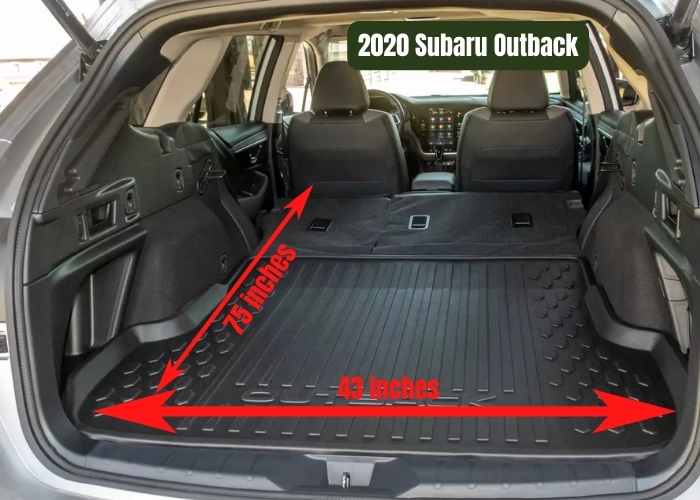 The Subaru Outback is at the top of the list of best cars for car camping. It's a mid-size crossover SUV that Subaru has manufactured since 1994. It is a rugged, practical vehicle well-suited for off-road adventures and long road trips. A Subaru Outback is one of the most popular vehicles for camping, either in a tent or when sleeping in it. Its go-anywhere and outdoorsy style make it very popular amongst outdoor enthusiasts. The other great thing about the Outback is its decent fuel economy, providing much better gas mileage than larger SUVs.
A range of four-cylinder powers the Outback; however, 6-cylinder engines were available in 2019 and earlier. The best thing about the Outback is that all models come standard with standard all-wheel drive. Newer models also have several advanced safety features, including adaptive cruise control, lane keeps assist, and automatic emergency braking.
Inside, the Outback has a spacious, comfortable interior with many convenient features. It has a large cargo area and several storage compartments throughout the cabin. The wagon-style Outback provides plenty of space for sleeping, even for taller individuals. While the seats fold in the back, I would love an upgrade that creates a fully flat surface. However, it makes for a comfortable sleeping surface.
I owned a 2012 Outback and owned it for about eight years. It was reliable, dependable, and extremely capable on and off-road. So it's not surprising that the Outback has received regular praise for its practicality, versatility, and all-weather capability. It has won several awards, including the Motor Trend SUV of the Year award in 2020. While you can purchase a new Subaru Outback, they're easy to find on the used market and are known for their long-lasting drive trains. Therefore, a low mileage preowned Outback will last you for many years of camping.
I probably slept in my Outback more than any other vehicle and became fond of the space inside. I don't know if Subaru intentionally planned this, but the cutouts and form of the interior when the seats were folded made perfect storage areas for items I needed when camping in it.
The Outback provided decent fuel economy for an all-wheel drive vehicle. I racked on close to 200,000 miles before I sold it, but I'm convinced it could have easily pushed out another 100. The 2024 model is very similar to the previous year. Expect a big update in 2025.
 What I Love:
Standard all-wheel drive
Great layout for storage when sleeping in it
Standard roof rack
What I don't love:
No longer offers 6-cylinder engines
Seats don't fold down completely flat
Cargo Area: 75.6 ft³ with seat area
Starting Price: $28,895
MPG: 26/32
---
2024 Honda CR-V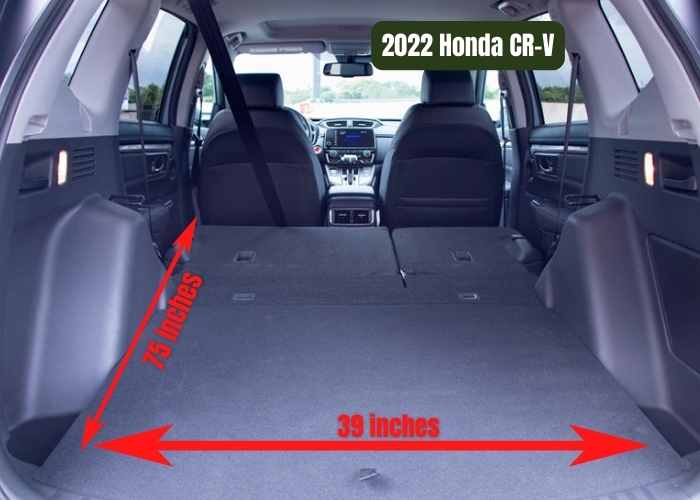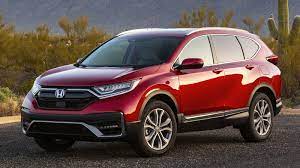 The Honda CR-V is a compact crossover SUV that Honda has manufactured since 1995. It is a popular choice for families and individuals who need a practical, fuel-efficient vehicle with a spacious interior and several advanced features. And, if you're in search of the best car to sleep in, it's worth a look.
The CR-V is powered by a range of four-cylinder engines and can be purchased with an all-wheel drive configuration. It's also available in a Hybrid version. The CR-V is surprisingly spacious inside and makes for a great vehicle to sleep in. It also gets excellent gas mileage and has a reputation for lasting longer than comparable vehicles, making it a perfect camping vehicle when planning long trips.
The direct competitor to the CR-V is the Toyota Rav4. Both are excellent vehicles, but I give the edge to the Honda (just slightly). This is because you get a few more options without upgrading to the higher trim level. However, the overall price for the CR-V may be a little higher.
It's relatively easy to find a used CR-V with low mileage, which is helpful if you are on a budget but don't want to sacrifice quality. The CR-V is a top choice for a good camping vehicle. Some 2023 models have a cool feature that allows the rear cargo area to drop down for additional storage. It can then be raised back up for a near-flat sleeping area.
If shopping new, I suggest upgrading to the sport hybrid, which has improved fuel efficiency and roof rails as standard.
 What I Love:
Great fuel economy
Premium feel
Exceptional storage
What I don't love:
Roof racks aren't standard
More expensive than other similar options
AWD is not standard
Cargo Area: 76.5 ft³ with seat area
Starting Price: $29,500 LX., Sport Hybrid (with roof rails) $33,350
MPG: 28/34 (43/36 Hybrid)
---
2023 Toyota Rav4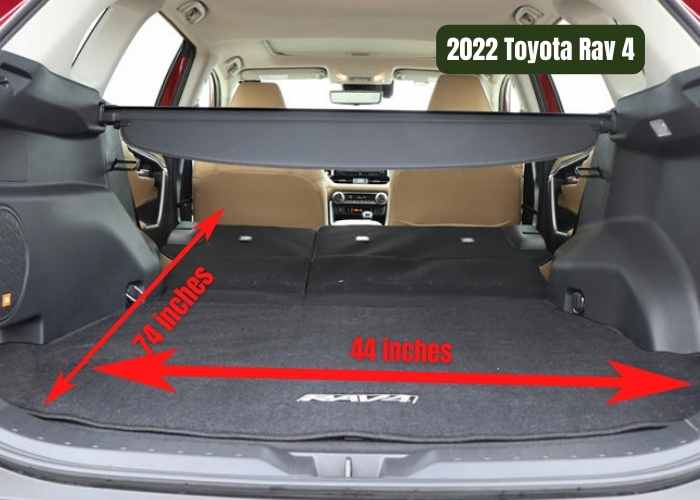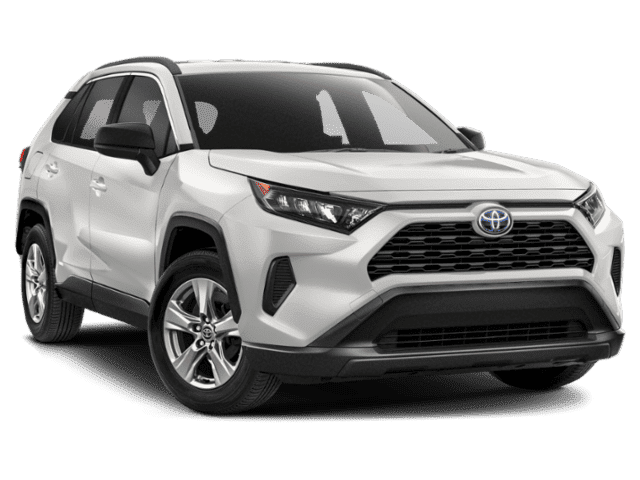 If the Toyota Rav 4 had a direct competitor, it would be the Honda CR-V. The Rav 4 shares a reputation for being a reliable and capable crosser SUV. It first debuted in 1994 and has been one of Toyota's best-selling vehicles since. With a spacious interior, it seats five comfortably.
The RAV4 is available in both front-wheel drive and all-wheel drive models. Powered by a 4-cylinder engine, it delivers excellent fuel economy. A Hybrid model is also available as well. With such a long history of reliability, the newer models have been fine-tuned to offer excellent ride quality.
The Adventure model, which may attract campers, is the most expensive trim level for the Rav 4. However, it comes standard with all-wheel drive and extra upgrades that make it outdoor-ready and a top contender for the best car for car camping. With an included roof rack, 120V plugs, and TRD-tuned suspension, it's ready for off-road adventures.
The Rav4 also makes a capable vehicle to sleep in when camping. With the seats folded, you have a generous length of 74 inches with a minimum width of 44 inches. The open feel of the interior makes it great for adding a mattress. The added 120V outlet in the rear on the new Adventure model also makes it very convenient for charging devices or plugging in a needed appliance.
Overall, it's a great vehicle for travel and camping. It's right up there at the top of the pack for reliable vehicles for travel and sleeping. In addition, it's very capable off-road abilities make it a great vehicle for boondocking on the remote USFS lands out west.  We don't expect to see any many major changes for the 2024 Rav4 over the previous year's model. However, it's a solid camping crossover that has proven itself year after year.
What I Love:
Reliable
Plenty of room for a mattress
What I don't love:
Features like roof rack, improved suspension, and AWD only standard on the highest trim package
No Larger Engine is Available
It can be a little noisier than the competition
Cargo Area: 69.7 ft³ with seat area
Starting Price: $27,975
MPG: 25/32
---
2024 Mazda CX-50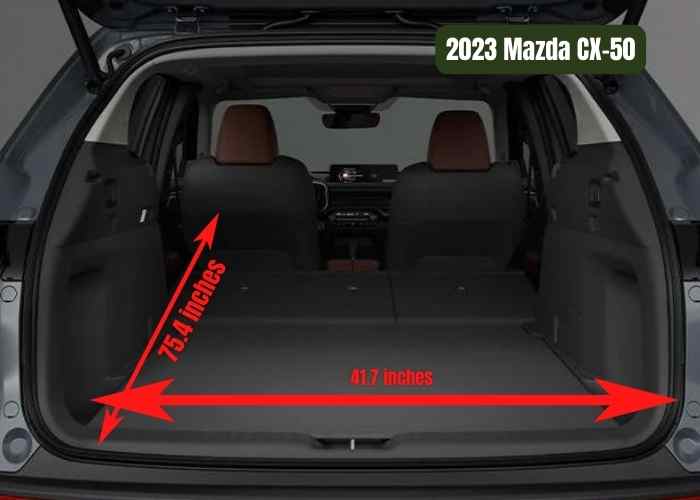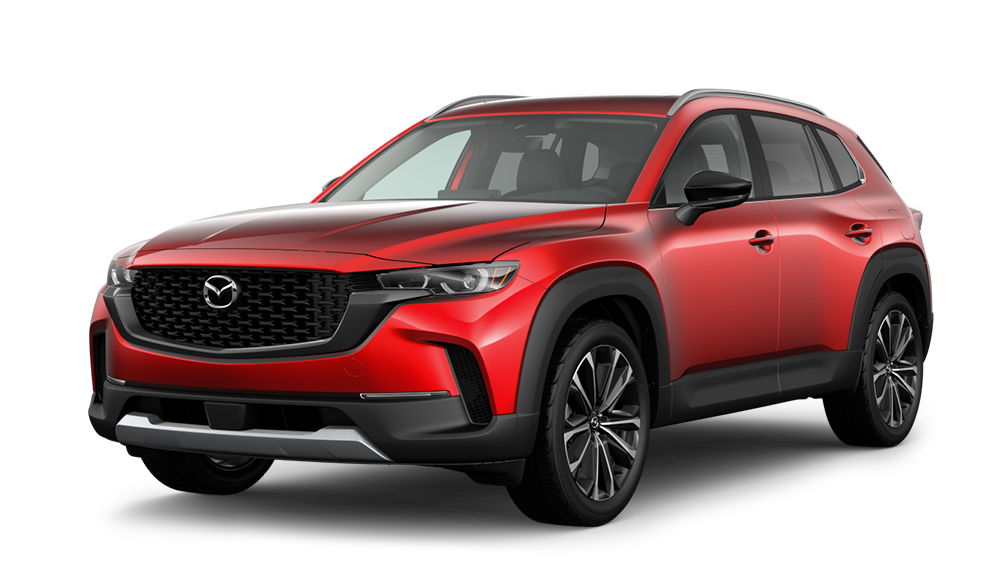 Mazda's 2024 CX-50 is a newer addition to the brand's vehicle lineup and combines Mazda's trademark driving experience with rugged capabilities suited for camping and outdoor adventure. With interior comfort being a key focus, CX-50 features Mazda's latest seats with favorable rear leg room making it easy to sleep in when needed.
The model also offers high-strength roof rails and a lowered roofline, making it easy to haul and access equipment such as pop-up tents and a deeper cargo capacity designed for your camping gear and sleeping items. Mazda also offers a wide variety of accessories like cargo blocks and nets, rooftop carriers, and all-weather floor mats that can improve the functionality of the vehicle based on the driver's lifestyle and activities of interest.
The roominess of this SUV, combined with the available accessories, makes it a great contender for the perfect sleeping vehicle and one of the best camping vehicles. Mazda is known for its reliability, which should help buyers feel confident in knowing that they're making an investment that will last a long time.
What I Love:
Reliability
Available OEM accessories
What I don't love:
The power tailgate is only available on higher trim options
Cargo Area: 56.3 ft³ with seat area
Starting Price: $30,300
MPG: 24/30
---
2023 Jeep Grand Cherokee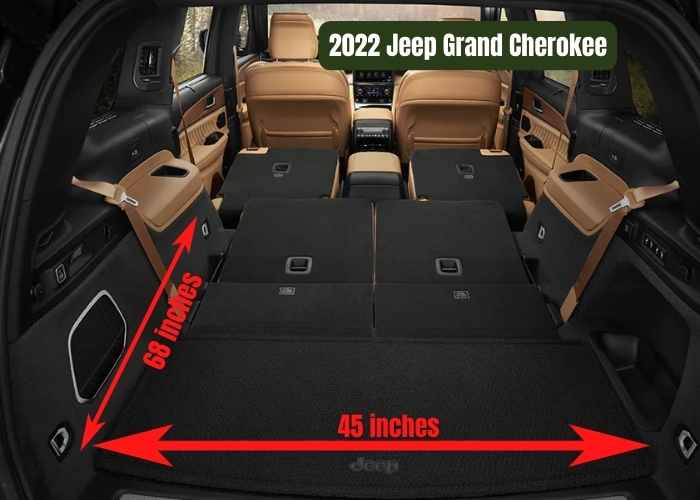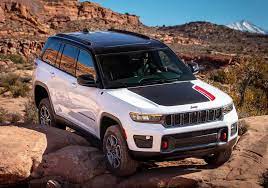 When you hear the word Jeep, many will associate it with ruggedness. The Jeep Cherokee has been around for decades, first being introduced in 1974. It is a popular choice for off-road enthusiasts and those who need a practical, rugged vehicle with a spacious interior and a number of advanced features. It inherits many of its off-road capabilities from the Jeep Wrangler, one of the most rugged vehicles known for its capability to travel for long journeys on dirt roads. It's also the best SUV to sleep in on the list.
The Cherokee is powered by a range of turbocharged four-cylinder and six-cylinder engines, and it is available in front-wheel drive or four-wheel drive configurations. Its higher clearance makes it a great option if you drive off-road to remote areas, giving it an edge over other SUVs.
The Cherokee has a spacious, comfortable interior with several convenient camping and off-road features. There is even an off-road display screen, providing you with critical information about its offroad performance (suspension, pitch/roll/ gauges, etc.). In addition, it has a large cargo area and several storage compartments throughout the cabin. Since the Cherokee is a little larger than other mid-size SUVs, you benefit from extra sleeping space when the seats are folded down. However, it will still fall short of the space in full-sized SUVs.
One of the great things about a Cherokee vs. some of the crossover SUVs is its towing ability. You can easily pull a small RV or teardrop camper with this, adding to its versatility. Also, if you opt for a sunroof, you get a full panorama view, making it a delight for sleeping in.
Aside from an increase in price and powertrain design, the style of the Grand Cherokee is on par with 2023. You will find a smart key system as an option, but the extreme off-road abilities of the vehicle will remain intact.
 What I Love:
Off-road ready
Powerful engine options
What I don't love:
Less fuel efficient than other options
More expensive
Cargo Area: 70.8 ft³ with seat area
Starting Price: $40,130
MPG: 19/26 (V6)
---
2023 Subaru Forester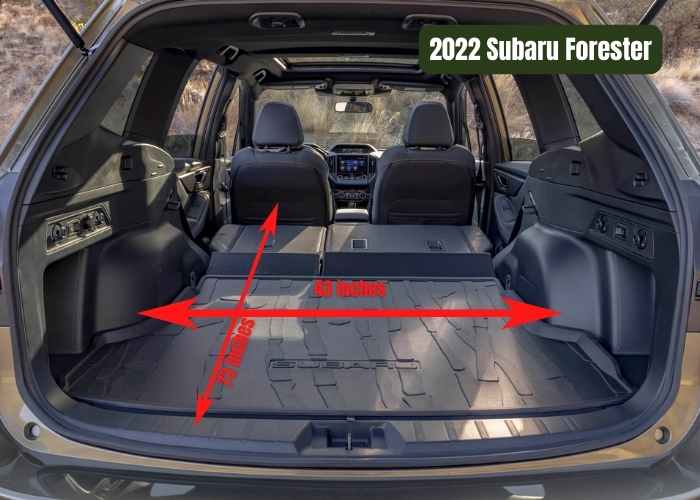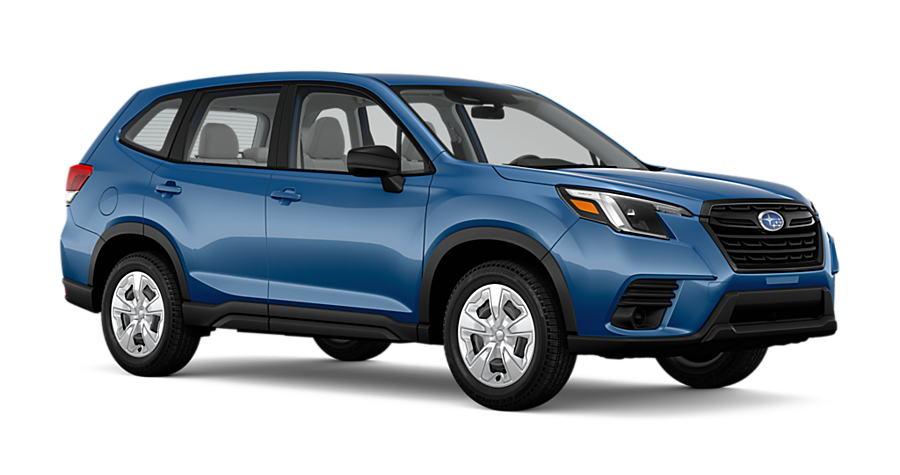 Subaru makes this list twice, with the Outback and the popular Forester. The Forester is one of the best cars for road trips and camping because of its affordability, ample room, and excellent gas mileage compared to similar-sized SUVs.
The Forester is available in several trim levels, and it comes with a choice of a naturally aspirated or a turbocharged four-cylinder engine. The Forester's key features include a spacious interior, raised ride height, roomy cargo area, and good fuel efficiency. In addition, the Forester has consistently received high ratings from automotive reviewers for its all-around capabilities and value.
When the rear seats are folded flat, a mattress fits perfectly, creating a spacious sleeping area comfortable for taller people up to 6 feet 3 inches. Overall, the Forester feels a little less luxurious than a trimmed-out Outback. However, it's less expensive and is very similar in performance.
The Forester is loved by many campers who appreciate its roomy design and off-road capabilities. This vehicle is common to see traveling the dirt roads leading to the many remote boondocking campsites out west. However, it also makes a great city driver and is easy on the pocketbook.
It's hard to say anything negative about the Forester because it packs many more positive aspects for the outdoorsy person than negatives. So I expect we'll see this vehicle around for a long time.
 What I Love:
Standard AWD
affordable price when compared to the competition
What I don't love:
It can be a little noisy
It doesn't feel quite as luxurious as other options
Sluggish acceleration
Cargo Area: 67.3 ft³ with seat area
Starting Price: $29,400
MPG: 26/33
---
2024 Volvo XC90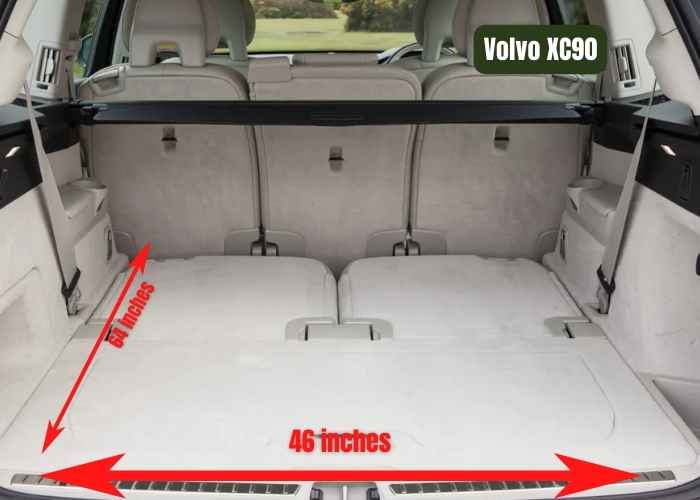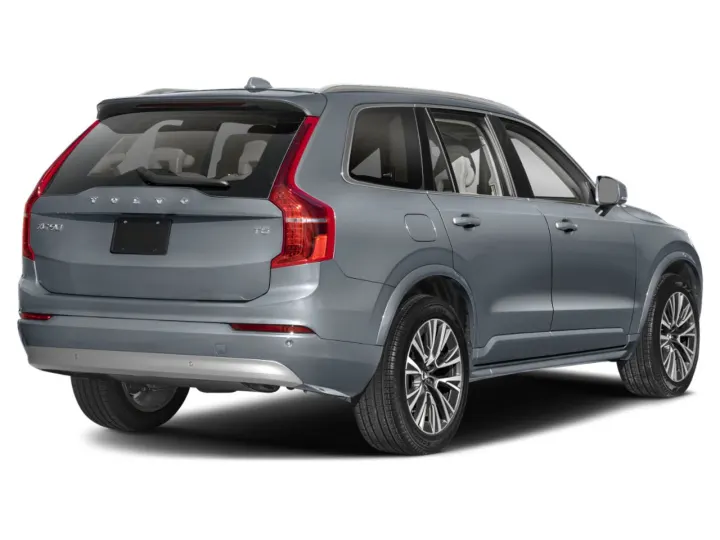 The Volvo XC90 is a mid-size luxury crossover SUV manufactured by Volvo Cars since 2002. It is the first SUV model from Volvo and is available in seven or eight-seat configurations. The XC90 was designed to be a more practical alternative to traditional luxury SUVs, and it has a spacious interior with a number of features designed for comfort and convenience.
The XC90 is powered by a range of engines, including a supercharged and turbocharged four-cylinder engine, a plug-in hybrid powertrain, and a twin-engine plug-in hybrid powertrain. In addition, it has advanced safety features, including automatic emergency braking, lane keep, assist, and a 360-degree camera system.
The XC90 is known for its comfortable ride, spacious interior, and advanced safety features. It has the most luxurious feel out of all the vehicles on this list. Likewise, it's also one of the most expensive. While it's capable of off-road driving, it's not necessarily targeted to that customer. However, it does make a great camping vehicle and is very roomy for sleeping.
Its base model comes well-equipped with features found in only the highest trim levels of its competition. However, the base price is also higher than some of the fully equipped models of other vehicles. With that said, the ride is exceptionally smooth, quiet, and safe.
This may be a good option if you want a vehicle built with quality at the forefront and don't mind spending the extra cash. While a new model may be too expensive for someone looking for a good sleeper vehicle, a preowned Volvo XC90 may fit the bill. In addition, they are known to be very reliable, so you might be able to score a fantastic deal if you search around.
The 2024 is largely a carryover model, so i shopping soon, look for a good deal on a 2023 model
 What I Love:
Luxurious
Decent towing specs
What I don't love:
Expensive
Fuel economy leaves much to be desired
Higher annual repair cost
Cargo Area: 63.3 ft³ with seat area
Starting Price: $56,000
MPG: 22/26
---
2024 Kia Telluride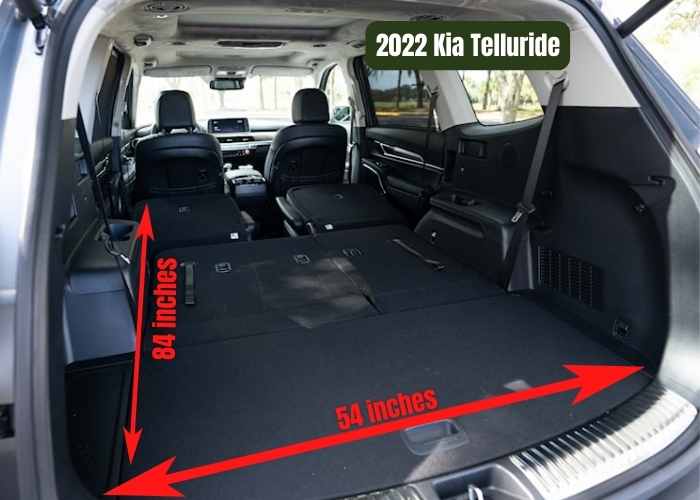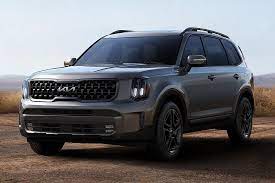 The Kia Telluride is a large, three-row crossover SUV known for its spacious interior, smooth ride, and strong performance. It is a good vehicle for camping because it has several features that make it well-suited to outdoor activities.
One of the key features of the Telluride is its spacious interior, which can accommodate up to eight passengers with three rows of seats. This makes it an excellent choice for families or groups who are planning to go camping together. However, the spacious interior provides exceptional space for two people if you want to sleep in your vehicle.
In addition to its practicality, the Telluride is a capable off-road vehicle. It has a robust AWD system and a high ground clearance, allowing it to tackle rough terrain easily. This makes it well-suited to camping trips that take you off the beaten path. It also has a decent towing capacity of 5,500 lbs.
There was a time when Kia meant small, inexpensive cars. However, they have come a long way and provide some amazing vehicles with a luxurious feel and very capable specs. With a Standard V6 engine and 291 Horsepower, the Telluride is one of the most capable SUVs on this list. As with every Kia, a new owner gets an industry-leading 10-year/100,000-mile powertrain warranty. So if you plan to put a lot of miles on a vehicle, this is one to look at.
Overall, the Kia Telluride is a reliable, comfortable, and capable vehicle that is well-suited to the demands of camping. Its spacious interior, strong performance, and off-road capabilities make it an excellent choice for outdoor adventures. It's also a very spacious vehicle, making sleeping in it very comfortable.
The 2024 Telluride bumped up its tow capabilities to 5,500 lbs. However, most other upgrades are minimal over 2023.
 What I Love:
Powerful and affordable
Amazing Warranty
Very spacious
What I don't love:
It can be a little noisy
Below-average fuel economy
Cargo Area: 87 ft³ with seat area
Starting Price: $37,355
MPG: 20/26
---
Honda Odyssey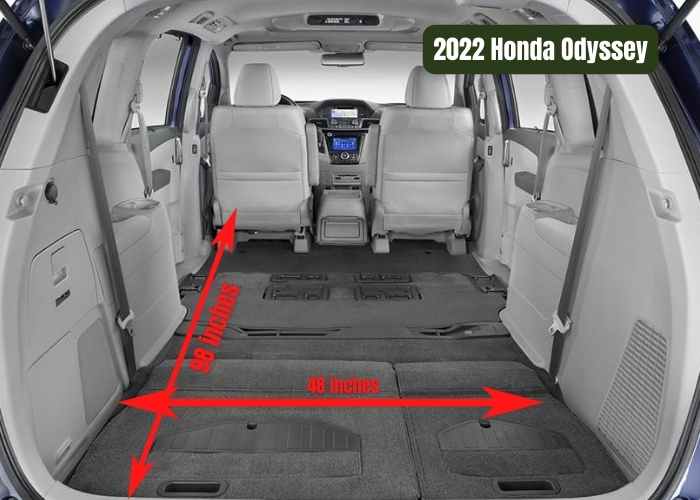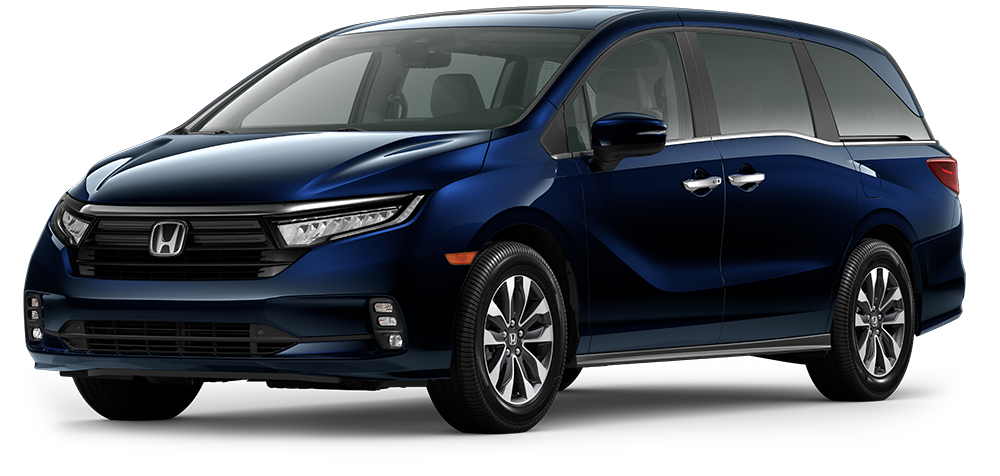 While most minivans make great vehicles to sleep in, at the top of the list is the Honda Odyssey. The Odyssey has been in production since 1994 and is known for its roomy interior, smooth ride, and strong performance. One of the key features of the Odyssey is its spacious and versatile interior, which can accommodate up to eight passengers. The Odyssey also has a large cargo area, which provides plenty of space for luggage and other belongings.
The interior of the Odyssey is designed to be comfortable and functional, with a range of convenience and entertainment features such as power-sliding doors, a rear entertainment system, and even an available built-in vacuum cleaner.
The third-row seats fold using the trademark "magic seat" storage system, allowing them to tuck into the minivan floor and providing a completely flat area. The second-row seats also fold forward, providing plenty of room for sleeping. In addition, the second-row seats can be removed to maximize the sleeping space, providing an open floor plan in the rear.
While a minivan may not be for everyone, you can't go wrong with a Honda Odyssey if space is your top priority. They have been around forever, and finding a low-mileage used one isn't too difficult. However, they hold their value so that you may pay more for one than some of the other used minivans.
While the 2024 has a slight facelift, the guts of the minivan are pretty consistent with the 2023 model. The new price is only slightly more than the previous year, which is a plus. Regardless of what year you choose, you won't find an SUV or car with sleeping space as luxurious as the minivan.
 What I Love:
Reliable and dependable
Lots of space for sleeping
Easy to find preowned
What I don't love:
No AWD available
You're driving a minivan
Not too great fuel economy
Cargo Area 140.7 ft³ with seat area
Starting Price: $37,840
MPG: 22/28
---
2024 Chevrolet Equinox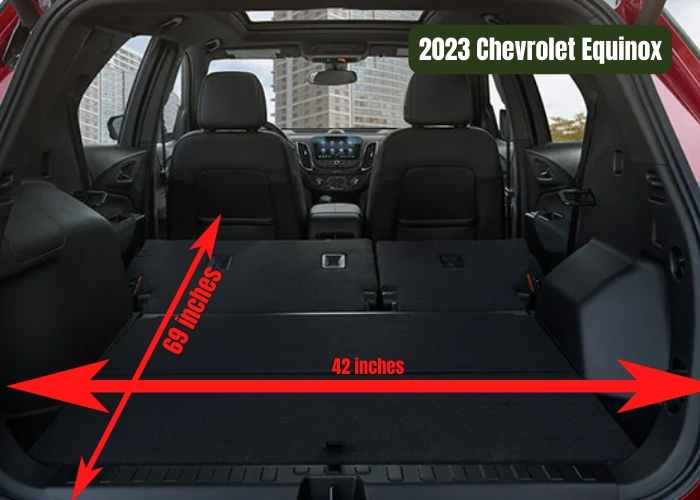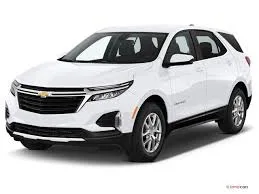 The Chevrolet Equinox is a compact crossover SUV that Chevrolet has manufactured since 2004. It is a popular choice for individuals who need a practical, fuel-efficient vehicle with a spacious interior and a number of advanced features.
The Equinox is powered by a range of four-cylinder engines, and it is available in front-wheel drive or all-wheel drive configurations. Following the trend of other manufacturers, Chevrolet no longer offers a 6-cylinder engine. However, the 4-cylinder engines are available in a 1.5 or 2.0-liter option. This is because 4 cylinders have come a long way and, in many instances, perform just as well as the previous six cylinders.
Sleeping in an Equinox is easy with the fold-down seats. Some of the added storage compartments in the rear make it convenient to stay organized for the night and maximize your sleep area. A model with a sunroof makes it even better for sleeping, assisting with ventilation, and allowing you to look up at the stars. You will easily have enough room for two people.
While the Equinox doesn't excel in any specific area, it doesn't fall short. It is just an all-around good SUV with decent specs and a middle-of-the-road price point. It, with the option for FWD or AWD, has decent upgrade and safety options, gets decent gas mileage, and is pretty reliable.
The biggest change, which is a big one, for the 2024 lineup is the introduction of an all-electric option. While it didn't make our EV camping car list below this year, I wouldn't be surprised to see if there in the future.
What I Love:
Good fuel economy
Reliable
What I don't love:
No hybrid options
Less luxurious feel
Nothing extra-special
Cargo Area: 63.9 ft³ with seat area
Starting Price: $26,600
MPG: 26/31
---
2023 Toyota Prius V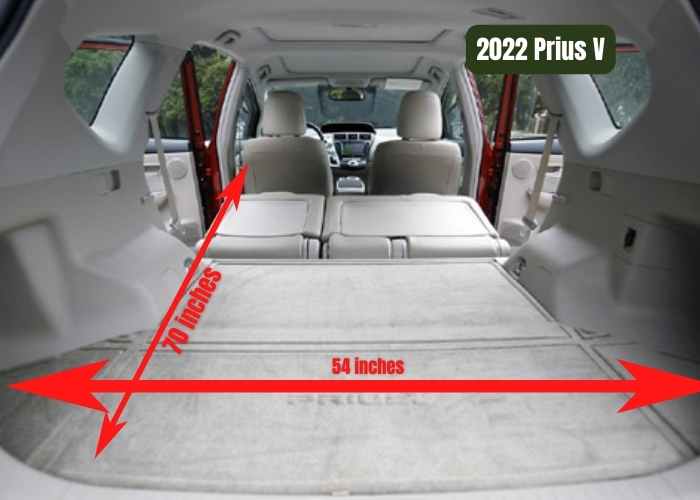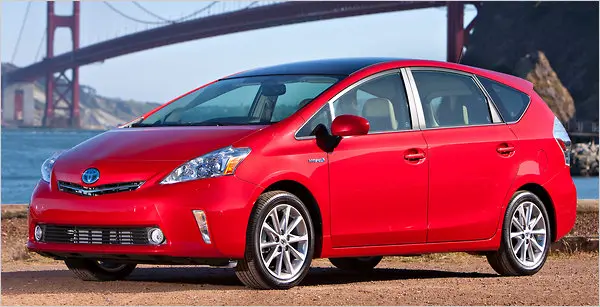 When looking for a good vehicle to sleep in, most people will probably look past the Toyota Prius. However, it is a great vehicle for sleeping if you're not too tall. At 5'6″, I had many comfortable nights sleeping in the back of my Prius with the seats folded down. The longer Prius V model adds even more space and rivals many cross-over SUVs.
While not as roomy as a larger SUV, what you sacrifice in space you make up for in exceptional fuel efficiency, with ratings ranging from around 50 to 56 miles per gallon (MPG) in the city and around 54 to 58 MPG on the highway.
The Toyota Prius is a hybrid gasoline-electric car and has been in production since 1997. It is known for its fuel efficiency and low emissions and is widely considered the modern hybrid car market pioneer.
With such a rich history, they have received the distinction of being very reliable. This smaller car is available in several trim levels, with some models available as fully electric vehicles. However, the hybrid powertrain combines a four-cylinder gasoline engine with an electric motor and sips gas compared to other competitors.
The Prius hybrid models can run on electricity alone for short distances and switch between gasoline and electric power as needed. So if you're planning to do long-distance camping, a Prius will allow you to do it for a fraction of the fuel costs of other cars.
The Prius V is a very spacious vehicle for camping. If you plan to sleep in it, you'll be happy to know that when the rear seats are folded, you have a very generous 67.3 cubic feet of space. In addition, the design provides a higher roof, which adds to the spacious feeling inside.
The one downside of the Prius is its limited abilities and low ground clearance when driving off-road. However, when I owned my Prius, I regularly drove it on gravel forest roads in Pennsylvania, and it handled just fine. I just wouldn't plan to take this offroad on extremely uneven surfaces.
Overall, the Prius is a great car and, surprisingly, a very capable car for sleeping and camping. It's also affordable compared to other options, and when factoring in the reduced gas bill, it will have a noticeable positive impact on your wallet.
Stayed tune for details on the new 2024 model. We're expecting a big change this year, and it may be worth considering if your currently in the market for a new car.
What I Love:
Amazing fuel economy
Surprisingly spacious
Easy to convert for sleeping
What I don't love:
Not the most aesthetically appealing vehicle
Lack of off-road capabilities
Roof rack and hitch possible, but not standard
Cargo Area: 67.3 ft³ with seat area
Starting Price: $29,400
MPG: 50/56
---
Ford Transit and Econoline (discontinued) Vans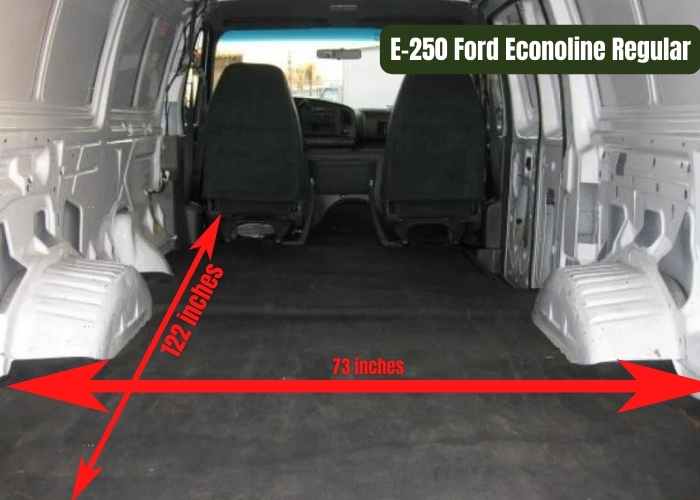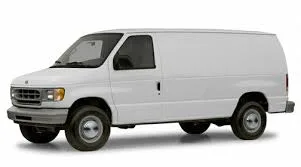 The Ford Transit Van is a full-size van that has grown in popularity for campers looking to create their custom camping vehicle. This van has become the new go-to Ford vehicle for custom van setups ever since the Ford Econoline Van was discontinued. However, since the Econoline Vans have been in production since 1961, it's possible to find a good quality used one on the market.
The Ford Transit line of vans comes in all different configurations, including both passenger wagons and cargo vans. The Transit Connect is the smallest of the bunch, but it's also the most economical for a new model, starting at just over $30,000.
Ford also has an E-series line of vans, taking advantage of electric drivetrains for gas-free travel. Larger cargo vans are also available with many customization options, including engine size, roof height, wheelbase length, and seating options.
While the Econoline Van was pretty basic in features, it's loved by the camping community because of its ability to be converted into the ultimate camping vehicle. This is an excellent vehicle if you're looking for a DIY option for creating your own camping vehicle and want to save money by purchasing a used one.
You can easily maximize your floor space in all Ford Van configurations by removing all seats. While you can easily add a bed to the van's rear, many owners will also add lighting, storage, and a kitchen area and insulate it for all-season camping. If you're looking for inspiration, google Ford Van Life Conversions.
In terms of performance, the Econoline Van is available with a range of gasoline and diesel engines, which offer strong acceleration and towing power. In addition, an Econoline Van is similar to Ford's pickup truck lineup, making it super easy to maintain and find parts. The newer Transit Van options will also offer excellent reliability with newer safety and performance features.
The price range for a base model Transit Connect starts at just over $30,000. However, a fully equipped 2023 Transit Van can easily approach $60,000 (or more).
What I Love:
Extremely customizable
Tons of space
What I don't love:
Not ready to go without some work
The fuel economy of vans is pretty lackluster.
It can be expensive (including upgrades)
Cargo Area: Varies (but lots of it)
Starting Price: $30,000
MPG: Varies by style
---
Honorable Mentions
While the above vehicles are my top choices for a good vehicle to sleep in, there are many other great options to mention. Below is a short list of other vehicles worth checking out. Who knows, they may bump up onto my top list next year.
Honda Ridgeline
Honda Element (only available used- but #1 choice for preowned)
Toyota Sequoia
Chevrolet Suburban
Ford Expedition
Ford F-150 (with Cab)
Chrysler Pacifica
Nissan Pathfinder
Toyota Tacoma
Toyota Sienna
Best Electric Cars To Sleep In
If you're looking for a new vehicle for camping, you now have many options for electric vehicles. The list of options will be rapidly growing year over year, but in 2023, below are the best electric vehicles to sleep or camp in.
Electric vehicles offer many options for camping or sleeping beyond fuel savings. One of my favorites is the ability to have access to power when the car is off without worrying about depleting your starting battery. Some vehicles do this better than others, but when implemented correctly, it's easy to charge a phone or laptop or run a plug-in cooler overnight.
Some vehicles will even be able to let you run air conditioning or heat while the vehicle is off. While this will use much more energy than simple tasks like charging a phone, it's a great option to have when needed.
Other Benefits of Electric Vehicles for Camping
Disadvantages of Electric Vehicles for Camping
Charging can be more difficult in remote locations.
Options are currently fewer than ICE vehicles.
More expensive due to newer technology
Top Electric Vehicles for camping and sleeping
2024 Tesla Model Y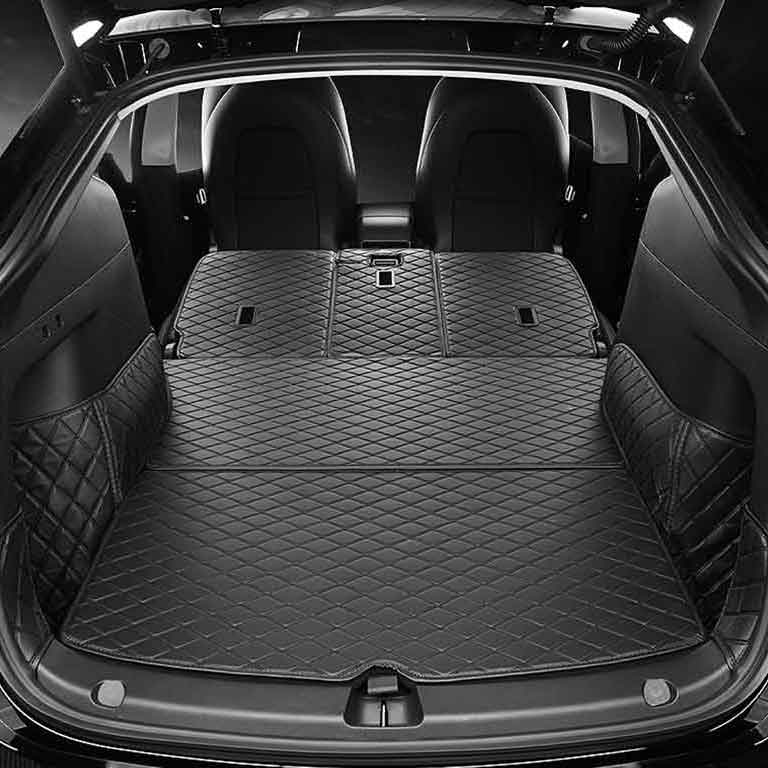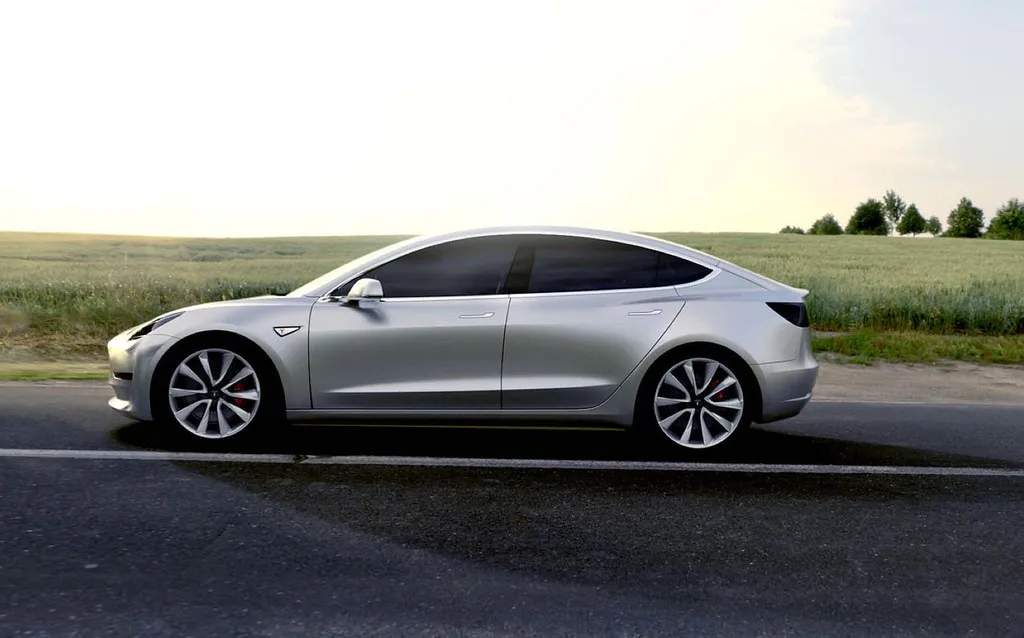 You can't talk about Electric Vehicles without discussing Tesla, the leader in the EV industry. Why historical Tesla models were focused on sedans, the Model Y entered the mix with a bang. For many reasons, this could be the best car for sleeping in when you want to most access to comfort features.
The Tesla Model Y, first released in 2020, is a crossover SUV that has the benefits of a sedan with the space of an SUV. It can comfortably seat five passengers and, with an optional third row, increases seating capacity to seven. Like other Tesla models, it comes in several trim levels, an unnamed standard-range version, Long Range and Performance.
The thing that makes the Model Y a great, if not the best, EV camping car is the cargo capacity. The 2023 model offers 76 cu. Ft. of cargo room and has seats that fold nearly flat. The vehicle has several USB ports accessible in the rear of the vehicle and a low voltage port in the back trunk, where you can connect DC devices for charging or operation.
All power ports are active when the vehicle is considered "awake," meaning that it's ready to deliver power. This is turned on in what I consider to be a game-changing feature when the car is in camp mode.
When your Tesla is in Camp Mode, it will maintain the optimum temperature and airflow inside the cabin and provide you with lighting. You can also listen to music if you want and have most of the features you use outside of driving it. This mode was created just for this purpose and elevates the Model Y to the top of the list for a car you can sleep in comfortably.
2024 Subaru Solterra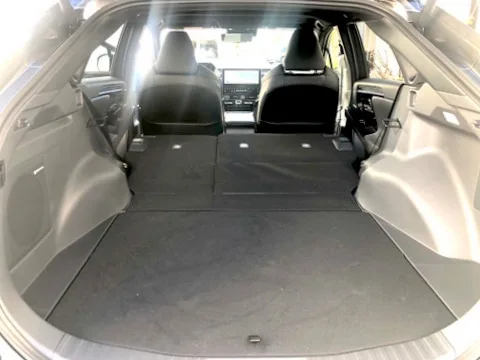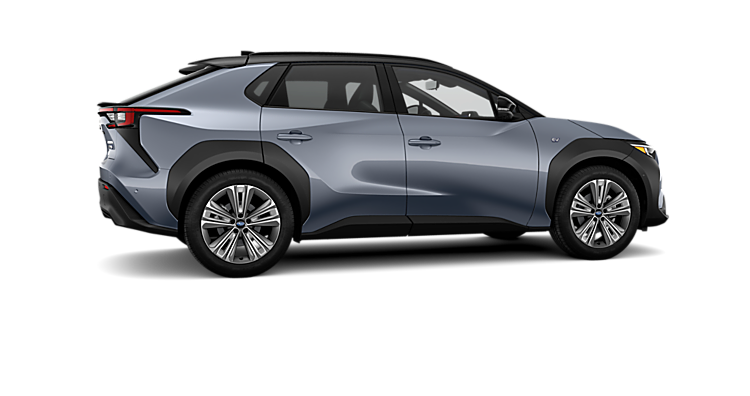 When it comes to sleeping and camping in a car, no manufacturer has marketed this better than Subaru. The Subaru Outback and Forester have been hauling campers around for decades. The Soltera, just like all other Subarus, features the standard all-wheel drive (AWD) benefit of its all-new, all-electric drivetrain.  One of the things that makes this a great camping car is the go-anywhere mantra that Subaru owners love. With 8.3 inches of ground clearance, you can safely head down a long bumpy forest road for a peaceful place to camp.
The cargo area of the Solterra is good, with a 73" distance from the hatch to the seats when folded. This is a great size for sleeping. However, the Soltera doesn't have a frunk, which can be found in other EVs, making it less convenient for storage. It does have a great rack system for carrying bikes, kayaks, or luggage, keeping the adventure benefits that Subaru is known for.
A few downsides of the Soltera when compared to other EVs. One is the lack of camping mode, which is found in the Tesla Model Y and Hyundai Ioniq 5. This feature, which lets you turn on specific features of the vehicle when camping, such as AC or heat, is not offered, per se, in the Subaru. Through the Connect app, you can adjust your climate settings before you drive or turn on the car when parked, but it's a little cumbersome compared to the other options.
Additionally, the range and charging time leaves some to be desired. The okay range of 220 miles is hamstrung by the longer charging times. At a level one charger, it will still take almost an hour to reach an 80 percent charge. Not great when comparing similar models.
However, if you plan to camp close to home, this may not be a big deal. On a road trip, though, you may need to plan some long stops for charging.
Rivian R1S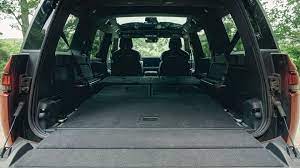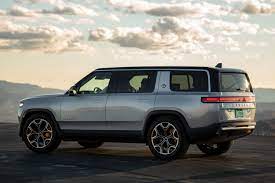 The Rivian R1S is essentially the same as the R1T, but with an enclosed rear instead of a truck bed. Aside from Tesla, it's probably the most versatile vehicle on the list.
Last year, Rivian revealed a new feature for the R1T and new R1S known as Camp Mode, designed to enhance the camping experience. The new feature allows the ability to control various vehicle settings, including noise levels, display settings, and energy management. Additionally, the vehicle features floodlights in the mirrors to illuminate the campsite.
One standout feature of Camp Mode is its capability to modify the truck's independent air suspension, ensuring the cabin remains level. This function aids in transforming the vehicle into a comfortable overnight stay.
Tesla, a competitor in the electric vehicle market, also offers a Camp Mode. While Tesla's mode focuses on maintaining cabin conditions and touchscreen functionality for entertainment, it doesn't provide the unique suspension adjustment feature found in Rivian's version.
For this reason alone, the R1S is one of the top vehicles for sleeping and camping. While I would love to put it at the top of the list, the price tag of $78,000 makes it out of reach for many. If money wasn't an issue, I would hands down recommend the Rivian over every other EV on the market.
Hyundai Ioniq 5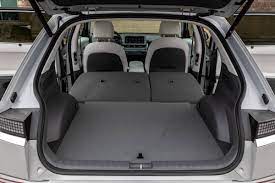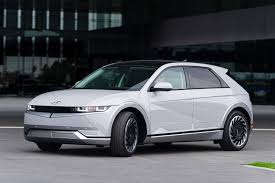 I'll be the first to admit that I didn't expect Hyundai to release one of the best electric vehicles for camping, but when compared to a Tesla, it holds its ground and outperforms in some areas. The Ioniq 5 is one of the best camping cars on the market because they pay attention to the details that people want.
Two of the most impressive features are Utility Mode, similar to Tesla's Camp Mode, and the addition of 120V outlets to directly plug in electronics or even appliances. In Utility mode, Hyundai hit the mark by prepping a non-running car to take advantage of the onboard batteries. In a recent test, the Iioniq 5 lost about 10 miles of range for a 9-hour night of sleeping in utility mode. That's pretty darn impressive.
Now, when it comes to powering devices, you have access to USB A power in utility mode, and if you opt for the top-of-the-line model, you'll also get a 120V household plug. Hyundai also has a converter available that plugs into the bidirectional charging port (where you charge your car) that provides power for almost anything you need. So, if you want to run a coffee pot in the morning, no problem. This is available even when the vehicle is turned off.
The one downside of the Ioniq 5 is the slightly smaller sleeping space as compared to other EVs on the list. At roughly ## in length, it may not be the best option for really tall people. You can extend this a bit by sliding the rear seat up a bit, but you'll be left with a gap that you'll need to fill to avoid back pain.
Overall, the Hyindai Ioniq 5 is one of the best and most feature-rich electric cars for sleeping or camping. It has a good range, fast charging, and exceptional connectivity for all your electric needs. When factoring in price, compared to other EVs, this could be on of the best car camping cars available.
Conclusion
Camping can take many different shapes and forms, and that includes sleeping in your car. While any vehicle is okay to sleep in, some are simply more comfortable. When looking for a good car to sleep in, the best choice is typically the one with the most room. However, this is only half the battle. You also want to ensure you have a reliable vehicle capable of getting you from point A to point B.
You may also have other needs like traveling long distances, towing a trailer, or hauling heavy loads. All of these factors must be part of your decision when selecting a vehicle. Also, while a new model year car sounds exciting, the car payment may not. You may opt to look at some used models and want to ensure that the vehicle is reliable for your travel plans.
Regardless of the vehicle, the best choice will be the one that meets your needs and budget. I highly recommend you open up the hatch, fold down the seats, and lie down in it. You may get some awkward looks, but that's really the best way to see if the vehicle is right for you. Best of luck and happy trails.