Are you looking for an RV for your family of four? Trust me; I know how challenging it can be to find the perfect RV. There are countless models, floorplans, and RV types to choose from. So naturally, shopping for an RV, size becomes one of the most important features. So, if you had to choose the absolute best type, size, and floorplan of an RV, what would it be? In my opinion, the ideal RV size for a family of four is a Fifth Wheel with a Mid Bunk Room. This provides the best option for living space, separate rooms for the kids, and floorplans that can suit almost any family. In addition, this type of RV provides an adequately private sleeping area for two children and boasts a cozy atmosphere coupled with a spacious kitchen and living spaces, making it perfect for a family on the go.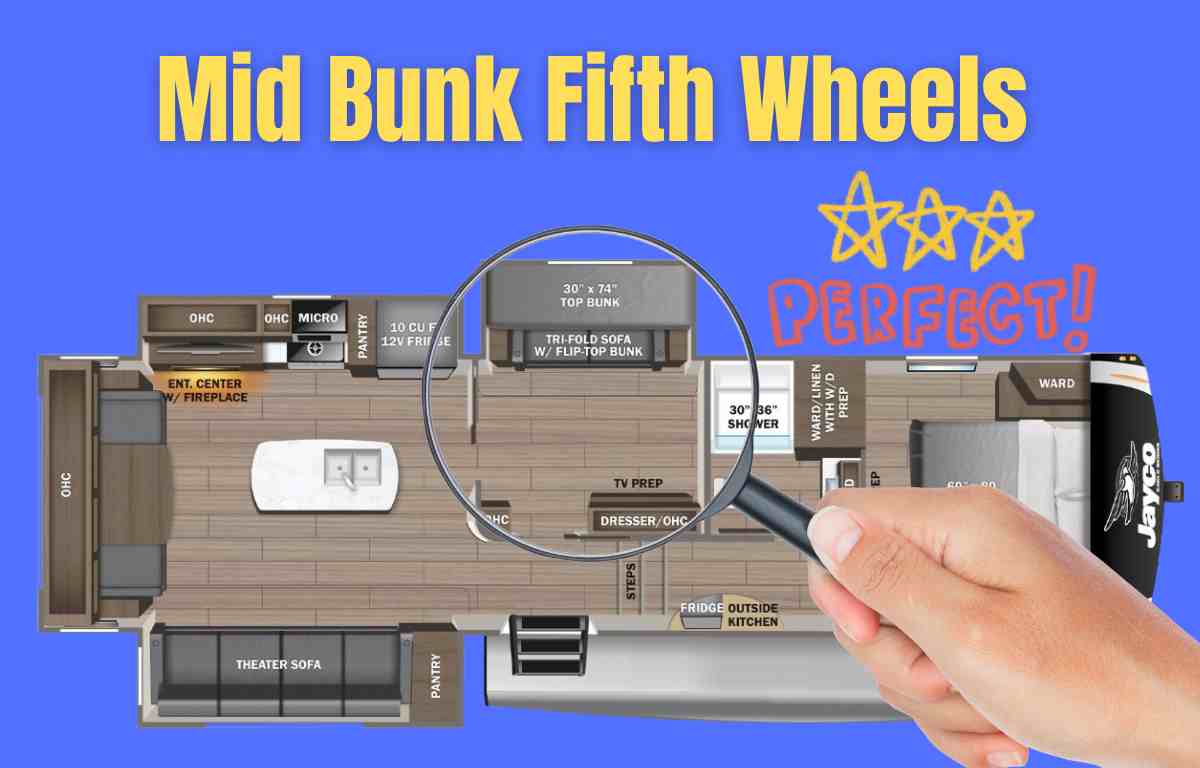 Let's jump into what makes this such a great family RV option:
Key features of a Fifth Wheel with a Mid Bunk Room include:
Mid Bunk Room:
The dedicated mid-bunk room allows for a separate and private space for the kids to sleep, play, or do schoolwork. It's especially helpful during long trips or extended stays, ensuring the parents maintain their privacy as well.
Spacious Kitchen and Living Spaces:
Fifth Wheel RVs are known for their open floor plans, allowing easy movement throughout the RV. This is important for families since a comfortable living space makes it more enjoyable to spend time together.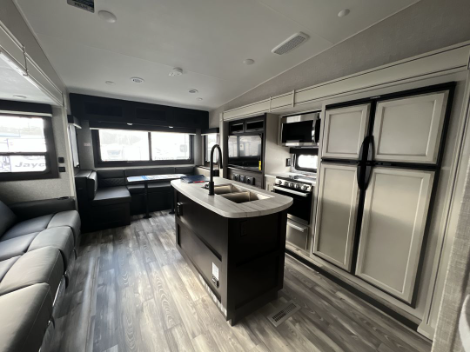 Ample Storage:
Storage can be a significant factor when choosing an RV for a family of four. Compared to towable counterparts like travel trailers, fifth wheels typically have more storage compartments, both inside and outside. As your family size increases, so do your storage needs.
Towing Capability:
Fifth Wheel RVs also tow a little easier when compared to bumper pull RVs. This makes for a smoother, safer drive for families traveling long distances or navigating various terrains. For example, if you plan to work full-time around the country, you would likely appreciate the ease of towing a fifth wheel.
Expandable with Slideouts:
Most Fifth Wheel RVs come with slideouts that increase the living space when stationary. While not uncommon to travel trailers, since a Fifth Wheel is sturdier, it usually incorporates more slideout rooms. This feature is helpful when families need additional room to relax, watch tv, cook, and sleep. Combined with a mid-bunk room, you can get a lot of space.
Versatility in Price and Size:
Fifth Wheel RVs come in various sizes and price ranges, making it easy for families to find the perfect fit in terms of budget and space requirements. Mid-bunk fifth wheels are becoming more popular.
So, to sum things up, a Fifth Wheel RV with a Mid Bunk Room is an excellent choice for a family of four, providing lots of space, higher-end amenities, and better comfort when living in or towing your RV. Combined, this helps you create more enjoyable and memorable trips together.
Understanding Family Needs and Priorities
When selecting the perfect RV for a family of four, it's crucial to understand the unique needs and priorities of everyone in the family. For example, a happy kid usually means a happy parent (trust me, I know). This means that everyone should have comfortable sleeping quarters and beds. As a family, a spacious and well-equipped living area, kitchen, and bathroom are also important. Your goal should be to find an RV that makes everyone happy. A mid-bunk is an excellent place to start.
Firstly, consider the personal space each individual requires, especially when traveling for extended periods. A family comprised of younger children has different needs than one with teenagers, so determining appropriate sleeping and living arrangements is vital.
Secondly, think about the amenities and storage solutions desired in the RV. Families that enjoy cooking, for instance, should focus on RVs with spacious, equipped kitchens. Additionally, ample storage throughout the unit is necessary to maintain a clutter-free environment, preventing unnecessary stress during your travels. Bigger kitchens usually have more cabinets. I personally love having a pantry as it keeps most of the food in one central place.
Advantages of Choosing a Fifth-Wheel RV
While usually more expensive than a travel trailer, a fifth wheel is my favorite choice for a family of four, given its numerous advantages with space, layouts, and amenities. Some of these benefits include:
Increased living space: Fifth wheels generally provide a more expansive floor plan and larger living areas, making them suitable for families requiring additional room to relax or watch a movie.
Greater towing stability: Due to their unique hitch design (The hitch is in the truck's bed), fifth wheels offer increased stability when you're on the road. This hitching system allows for smoother towing and easy maneuvering on highways.
Better sleeping options: Fifth-wheel RVs often come with numerous sleeping options, such as separate rooms, bigger beds, and more storage, making them ideal for meeting the needs of various family compositions.
Higher ceilings: The design of the fifth wheels allows for higher ceilings, creating a more open and airy atmosphere inside the RV. The front of the RV is also elevated because of the hitch style, meaning that it almost feels like there are two separate floors.
Key Features of a Mid-Bunk Room
When paired with a Fifth Wheel, a mid-bunk room layout is one of the best options for parents with two kids. This innovative design offers several benefits over other layouts that cater to the unique needs of a family-oriented RV:
Privacy: A mid-bunk room provides a separate sleeping area for children, giving parents and children their private spaces when sleeping.
Efficient use of space: A mid-bunk room maximizes the RV's floor plan, utilizing it for additional sleeping accommodations instead of merely offering storage or hallway areas.
Versatile design: Many mid-bunk rooms can be customized or converted, such as converting the bunk area into a home office or additional storage area.
Maximizing Comfort and Privacy in Your RV
Since you'll be living in small quarters, ensuring everyone has their own private area is a great option when traveling as a family. This is maximized in an RV with a separate room for the kids (with a door that closes). While a mid-bunk isn't you're only option, it's my favorite. Here are a few key features that cater to this:
Private bedrooms: Selecting an RV with both a master bedroom and a mid-bunk room is guaranteed to ensure everyone has their privacy (kids and parents).
Individual bathrooms: In larger RVs, you may find options with two bathrooms. If you can swing it, consider an RV layout with multiple bathrooms, providing a more comfortable and convenient experience for everyone when nature calls. I like the 1.5 bath options the most.
Central living area: A shared living space allows families to hang out together while enabling individuals to retreat to their quarters when needed, offering a balanced combination of togetherness and privacy.
Creating a Cozy Atmosphere and Spacious Living Spaces
While all the bells and whistles are nice, the best RV for a family is one that feels warm and inviting. A larger living area, offered by fifth wheels, helps accomplish this. Here are simple tips for creating a comfortable environment within a fifth-wheel RV:
Layout: Opt for an open-concept floor plan, as it allows for increased space and makes moving around in the RV easier.
Ambiance: Select an RV with large windows, letting in natural light to create an airy and bright feeling within the living area.
Storage: Ample storage solutions throughout the RV, such as built-in cabinetry and under-bed storage compartments, help maintain a clutter-free environment, enhancing the coziness of your living space.
Comparing Different Fifth-Wheel Models and Brands
Once you identify the features you want to accommodate your family of four, the next step is to do some research and compare various fifth-wheel models and brands to find the perfect match. Be sure to:
Take a look at online reviews and testimonials from current owners, gathering firsthand insight into the pros and cons of each RV.
Attend RV shows, expos, and dealerships to see the available RVs in person and compare different fifth-wheel models based on their features, quality, and pricing. Even if you don't plan to buy at the show, there's no better way to see a variety of options at one time.
Talk with other RV owners and enthusiasts, asking for their recommendations and opinions on specific models and brands. If you currently camp, don't hesitate to walk around the campground and start some conversations.
Ultimately, choosing the right RV will come down to your family's needs. Hopefully, this article provided some advice to help you on your journey. However, if you're open to a fifth-wheel option, definitely check out the mid-bunk layouts. These can also be found in some of the larger travel trailers, but you will have more to choose from in a fifth wheel.
Additionally, you may want to explore other bunkroom options. Many of these position the bunkroom in the rear of the RV. This is also a great option, but I find that they tend to limit the living space more than a mid-bunk. However, regardless of what you choose, I hope you find one that fulfills your family's desires and enhances your travel experiences, allowing you to create lifelong memories to cherish. Happy travels!