If you have a mild addiction to spicy foods, please read carefully. Every September, on the Friday and Saturday following Labor Day weekend, one of the greatest small town food festivals, created for lovers of hot peppers, hot sauces, and all things spicy, takes place in Berks County, Pennsylvania. The Bowers Chile Pepper Festival is an "All things spicy" festival inspired by a local hot pepper farm, attracting vendors from all over the region to come out and showcase their hot sauces, seasonings, and pepper-inspired fiery food. If you haven't made plans for that weekend, trust me in saying that you want to attend this festival. However, if you already have plans, consider changing them.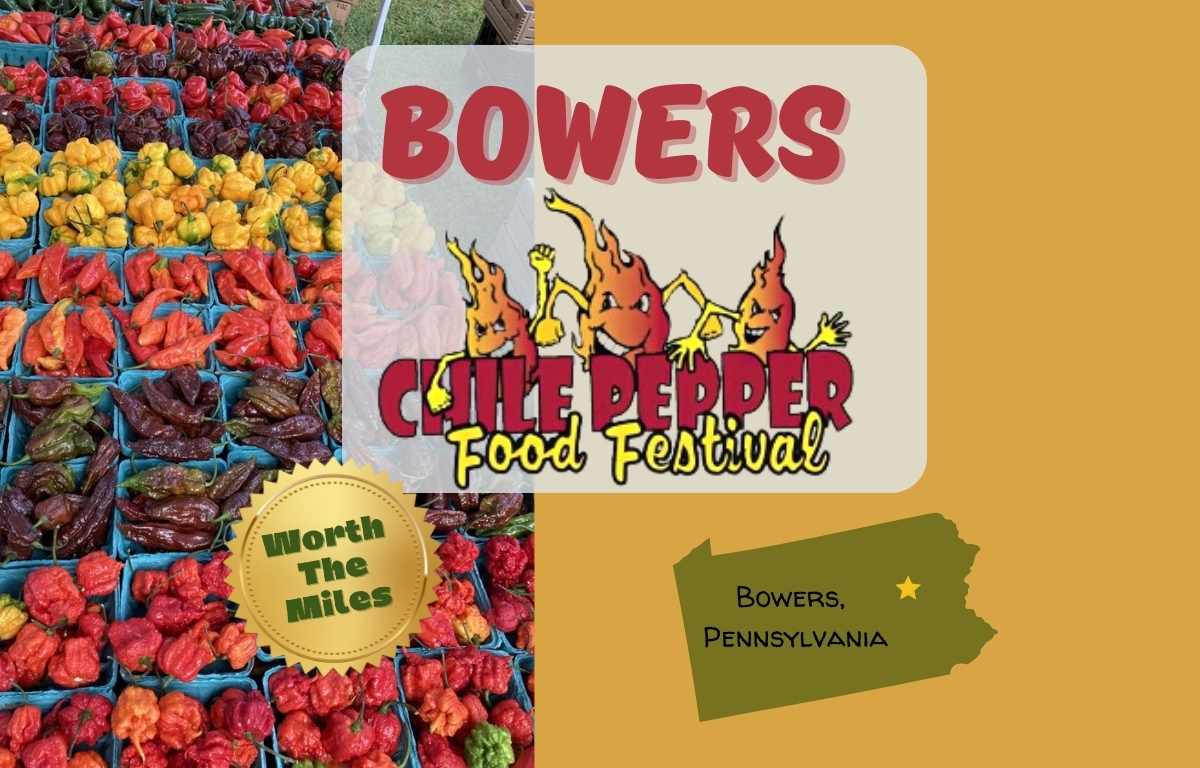 Located in Bowers, PA, the annual Bowers Chile Pepper Festival turns a small town with a population of less than 250 into one of the largest gatherings in the hot pepper fanatics (AKA pepper heads). Visitors come from near and far to experience this annual event and leave with shopping bags full of their favorite hot sauces and seasonings.
At the event, hundreds of vendors will showcase their hot sauce and delicacies with free samples, catering to the crowds as they walk throughout the festival. It truly is an amazing event for anyone who enjoys having their tongue tingle for hours. The country's best chile pepper food festival is one of the best places to be in early September.
Let's go over some of the details about the festival:
Festival location
The festival is held in the small town of Bowers, PA (population 247) at William Delong Park, located right in the center of town.
Bowers, PA is located in Berks County, Pennsylvania, between the towns of Fleetwood and Topton, just off of Fleetwood Road. If traveling from outside the area, the easiest way to get there is to take I78 to Kutztown. Then, follow Route 737 for about 9 miles from the exit to Fleetwood Rd. Turn left, and in a half mile, you'll reach Bowers Road, which will take you to the park.
Since the small town transforms into the chile pepper capital of the world during the event, you can't miss it. The Bill Delong Memorial Park is right in the center of town. It's the biggest attraction for this small quaint town.
Festival Dates and Times
Dates: The 27th Annual Chile Pepper Festival will be held from Friday, September 8th through Saturday, September 9th, 2023.
Festival Hours: The annual event kicks off at 9:00 AM daily and runs through 6:00 PM. It's a rain or shine event.
Best time to visit
After attending the event for years, I have found that the best time to visit is on Friday, right when it opens. While most of the scheduled events and entertainment will take place later in the day, getting there early at the start of the festival ensures you'll easily be able to walk from vendor to vendor, sampling all of the offerings without dealing with the crowds.
My game plan for visiting the festival involves an early walk-through of sampling hot sauces, early lunch around 11:00 AM, and then a visit to the farm for some chile pepper picking. After I pick my peppers, I usually head back to the festival and purchase all of my sauces, returning to my favorites first. I usually pick up enough sauces to last most of the year until the next festival. I have been doing this for years, and this strategy has become an annual tradition.
Vendors
One of the best things about the Chile Pepper Festival is the seemingly endless list of vendors who set up shop at the festival, marketing their hot sauces, seasonings, food, and related products. So if you enjoy hot sauces and spicy foods, you'll be able to find every style available, from no full heat flavor to the hottest hot sauces in the world. If you're brave, you may even consider trying the hottest pepper on the planet (Yikes)!
You'll be able to sample nearly all of the sauces available. My advice is to work up the Scoville scale, starting with the milder sauces and working up to the hottest. Everyone has their personal tolerances for heat, so your starting point may be at medium heat while someone else may start at a very mild level. I usually save the hottest of the hottest samplings for the end of the day, ensuring that I can taste and enjoy everything else. By starting slowly, you'll be sure to find your favorite sauce that has the right balance of flavor and heat.
While the event focuses on hot sauces, vendors sell everything, including pepper plants, chile pepper-themed clothing, habanero ice cream, chocolate habanero candy, etc. While most vendors take credit cards, it's a good idea to bring some cash to make sure you can purchase something from those who don't.
Food and Drinks
In addition to sampling different sauces, the festival features dozens of food options ranging from pepper-themed dishes to traditional Pennsylvania Dutch foods (a good relief when you need to cool down your tastebuds).
You won't leave hungry. Some of my favorite foods include Crabby Pepper Poppers (cream cheese and crab stuffed smokes jalapeno peppers), chile shooters, and habanero-flavored sausage sandwiches; there are so many different styles of food anyone in your family can find something that appeals to their taste buds. Of course, there are many cold snacks too- I always enjoy an Italian Ice to cool off the fire burning in my mouth.
The neighboring Bowers Hotel also sets up a beer garden across the street from the festival, offering local craft beverages from regional brewers. Also, don't forget to pick up a draft of Kutztown Soda, which is the perfect complement to the spicy foods as you complete your sampling tour.
Meadow View Farm– Pick your own Peppers
One of my favorite parts of the festival is visiting Meadow View Farm, which is a pepper lover's dream. They have an incredible variety of peppers to choose from as you walk the fields. You can take a short walk down the road to the farm or load up for a horse-drawn wagon ride for your chile pepper field excursion. At the farm, you'll be able to fill a bag with your favorite peppers that you picked right off the plants. It can be a little overwhelming since there are seemingly limitless selections of almost any type of pepper you can find. For about $10, you'll be leaving with a huge grocery bag full of peppers and confusion about what you're going to do with all of them. Make sure you bring a few extra dollars to tip the wagon driver- they'll appreciate it (and so will the draft horses)
The Meadowview Farm is probably one of the region's biggest and most diverse pepper farms where you can pick your own peppers. They're a go-to farm for restaurants throughout the northeast that rely on hard-to-find pepper varieties for their dishes.
Once you get to the farm, you'll receive a map and a list of peppers and vegetables available for picking. The plants are organized by pepper type and heat level (Scoville units), so you can easily find peppers that match your taste buds. It's an unreal experience but something that I look forward to every year. They also have more than just hot peppers to pick. They have an amazing selection of heirloom tomatoes, sweet bell peppers, squash, eggplants, pumpkins, and everything in between.
Entertainment and Contests
A festival is truly a family event, offering good times for all, even for those who wince at the idea of adding crushed red pepper to their pizza. Live music from local musicians, kid shows, and contests will entertain you throughout the event. The annual Jalapeno eating contest is one of the festival's long-standing traditions. If you feel brave enough, you might even want to sign up to participate. The contest takes place at 1:00 PM on Saturday. There is also a salsa contest which is a little messier than the peppers.
Cost and Parking
The cost to enter the festival is a very modest suggested donation of $4. Honestly, where else can you go for a full day of entertainment for this price? The proceeds from the event benefit the local community.
Parking is available in the field next to the park. Once you get into Bowers, volunteers will direct you to the field, where you park and make your donation. Free Parking is included with the suggested donation entry price.
Camping
Since you may want to make a weekend out of the trip, you may consider camping nearby. Some of the quaintest PA Dutch County campgrounds are just a short drive from the festival. Below is a list of great campgrounds to use as a home base for the festival.
Blue Rocks Family Campground
341 Sousley Rd.
Lenhartsville, PA 19534
610-756-6366
Nearby attractions
This region is one of my favorite places to visit in Pennsylvania. I may be a little biased since I went to college nearby at Kutztown University. Located in the heart of Amish Country, PA, it is almost like life has been frozen in time, providing a stark difference from the hustle and bustle of the northeast metropolitan areas. When visiting, check out some of these other great local attractions.
Renninger's Antique and Farmer's Market
Conclusion
The Annual Bowers Chile Pepper Festival, located in the small town of Bowers, PA, is the must-do event for the hot pepper fanatic in your life. It's a wonderful, low-cost family event that will provide you with some great memories in addition to a firey mouth. It could be one of the spiciest ways to say goodbye to summer. If you haven't been before, check it out. It's located in a wonderful area in PA and is a perfect place to schedule a weekend camping trip. In my book, it's absolutely Worth The Miles!