If there is one place in the United States where I feel most connected to nature, it would be Colorado. In my younger years, I spent my summers working and traveling throughout the state, enjoying everything it offers, which is a lot. However, if I had to select my favorite place to visit in Colorado, Crested Butte would be at the top of the list. It's a fantastic all-around destination for outdoor recreation and camping.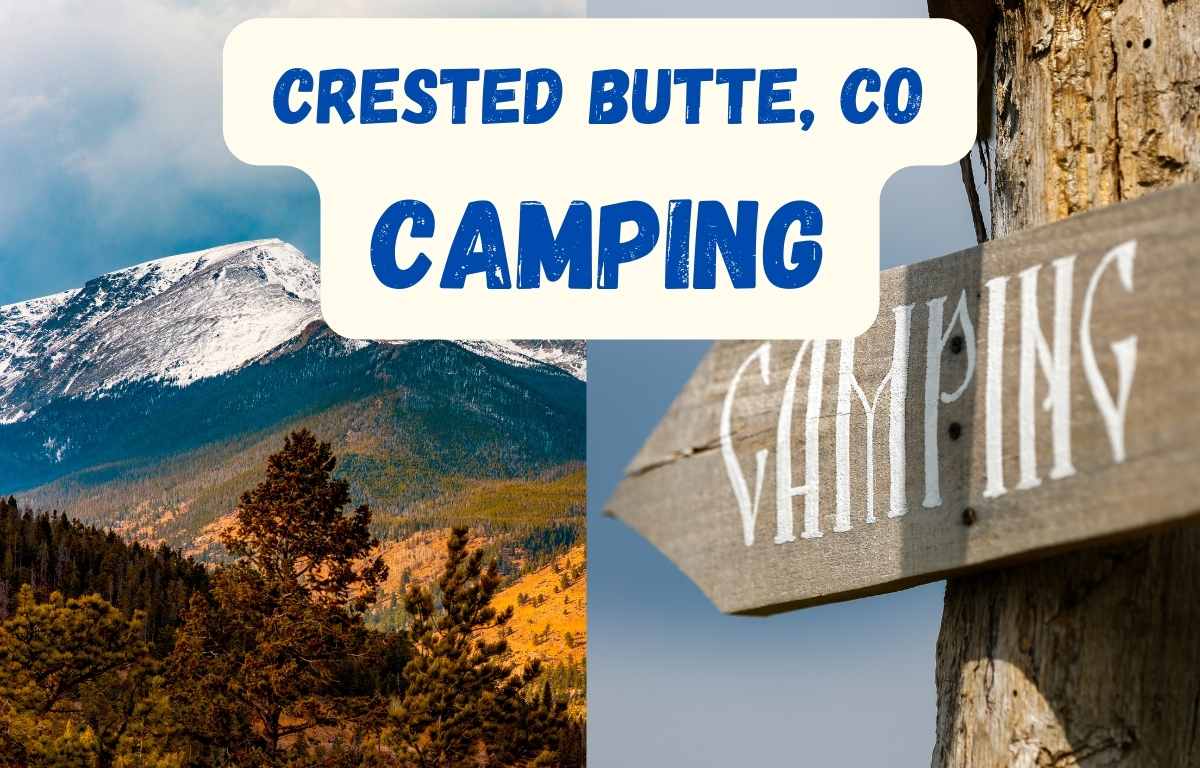 Camping in Crested Butte Colorado, is a magical experience, with a wide array of options to establish a home base for exploring the area. There are so many amazing ways to spend your days with outdoor enthusiasts. When you're finished adventuring, you can relax back at the campsite, taking advantage of several full-service private campgrounds, federal campgrounds, or free dispersed camping on public lands.
Crested Butte may best be known as a popular skiing destination, offering some of the best skiing in the state. However, the town stays alive once the snow melts and wildflowers bloom. It's a year-round destination and offers summer visitors some of the best camping in the country. When you get to the region, be sure to stop at the visitor center to get your bearings, pick up some travel guides, and plan your activities. While nature is abundant, don't forget to explore the historic downtown.
Where is Crested Butte, CO?
Crested Butte, Colorado, is located in the Rocky Mountains in central Colorado. The easiest way to get to Crested Butte is by car. Crested Butte is located about 250 miles southwest of Denver and can be reached by car via US Highway 50 and State Highway 135. The town is primarily filled with visitors and has a population of less than 2,000 full-time residents. However, the former gold mining town is now one of the premier outdoor recreation destinations in the country.
Below is a list of the best campgrounds in Crested Butte, Colorado:
Private
Public
Dispersed
Outdoor Activities in Crested Butte, CO:
Crested Butte may be a small town, but it's an outdoor lover's dream. You'll be right at home if you hear the call of the wild. Whether you want to go hiking, mountain biking, fishing, rock climbing, skiing, or just take in the scenic beauty, Crested Butte has it all. Also, if you didn't know this yet, Crested Butte is the wildflower capital of Colorado.
Some of the most popular activities include:
Hiking Trails near Crested Butte:
The Crested Butte is home to some amazing hiking trails ranging from easy to hard. My favorites include:
Easy Hike:
Lost Lake Slough: This short hike is the easiest of the must-do Crest Butte hiking trails. Don't let the short distance discourage you because you get the experience of 3 lakes, a waterfall, mountains, and views of the breathtaking aspen groves. Best of all, if you're camping at the Lost Lake Campground, you don't even need to drive to access the trailhead. The three lakes loop is about 2.8 miles long, just under 600 ft of elevation gain. You can easily finish the loop in about 1.5 hours, but I suggest adding another hour to your itinerary for some exploring.
Moderate Hike:
Rustlers Gulch: This moderately challenging is best to take in the middle of summer when the wildflowers are peeking. It's a 7-mile roundtrip hike that takes about 4 hours to complete at a moderate pace. Throughout the trail, you'll gain about 1,860 feet in elevation, hitting a high point of 11,400 feet. You'll be rewarded with amazing views of Gothic Mountain as you stroll through the wildflower fields. The trail is an out-and-back trip offering some mining history encounters along the way. Overall, it's a beautiful way to spend a day in the mountain.
Mountain biking: Don't forget your mountain bike when packing for your camping trip to Crested Butte. The Crested Butte area has over 299 mountain biking trails extending more than 750 miles of single-track biking. If you want to bike, you have a lifetime of opportunities here. Trails range from easy to very technical. If downhill biking is your style, you can take advantage of a ski lift ride to the top of Crested Butt Mountain and challenge yourself with some fast downhill riding.
Whitewater rafting: Crested Butte is home to the Gunnison River, offering some fantastic rafting opportunities. The river and its tributaries offer exciting rafting opportunities for every skill level. A great place to start if you're interested in getting on the river is to check out Three River Resort and Outfitting.
Fishing: The Gunnison River and its tributaries are home to various fish species, including rainbow trout, brook trout, and brown trout. Dust off you're fly rod and enjoy some beautiful and remote fishing adventures. Depending on where you camp, you may even find private fly fishing opportunities.
Golfing: The Club at Crested Butte has one of the country's most picturesque 18-hole championship courses, surrounded by mountains and forests. The bunkers even resemble the patterns of snow melting in the mountains.
Horseback riding: Several local stables offer guided horseback riding tours through the surrounding wilderness. Check out Fantasy Ranch Outfitters for information on booking a backcountry riding trip.
Festivals and Events in Crested Butte, CO:
No matter what season you visit the town of Crested Butte, you'll have an opportunity to enjoy a local festival. Below are some of the most popular festivals in the region:
Crested Butte Wildflower Festival: This festival is held every July to commemorate the start of the region's wildflower season. The festival includes guided hikes, workshops, educational talks, and other family-friendly activities.
Crested Butte Music Festival: During the summer months, the Crested Butte mountains reverberate with the sound of music. The festival features a range of music from classical and bluegrass to indie rock and Gypsy Jazz. The festival runs all summer long at the Crested Butte Center for the Arts, located at 606 6th St., Crested Butte, CO 81224
Crested Butte Film Festival: Each July, filmmakers and film lovers gather in the mountain town to watch and celebrate storytelling through film and movies. The 4-day event features various genres, including documentaries, outdoor adventure, shorts, and feature films. It's a fantastic opportunity to experience the passion and people behind these amazing art pieces.
Crested Butte Wine and Food Festival: This festival is held in September and features wine tastings, culinary demonstrations, and other food and drink-related events. Tickets are available for special meal events, seminars, and food and drink gatherings. The event raises money for the Crested Butte Center for Creative Arts.
Crested Butte Oktoberfest: This festival is held over a weekend in October and celebrates German culture and beer. Held at the Red Mountain Park, CB South, in addition to tasting good beer, visitors will be treated to live entertainment, authentic Oktoberfest food, and family-friendly activities.
Camping in Crested Butte
No matter what camping style you prefer, Crested Butte has you covered. You can stay at a full-hookup RV resort, enjoy the splendor of a public campground, or choose to get off the grid and take advantage of the amazing, dispersed camping in the area. Let's look at some of the best camping options available:
PRIVATE CAMPGROUND AND RV RESORTS
Crested Butte is home to some full-service, full-hookup campgrounds traditionally open from late spring through early October. Below are a few of the options to choose from. Since camping is extremely popular, it's best to make reservations early.
711 Riverland Dr.
Crested Butte, CO 81224
The Crested Butte RV Resort is a family-friendly campground located in the heart of Crested Butte, Colorado. The small park offers a variety of amenities for RVers, with 30/50 amp electric hook-ups and water. There are no sewer hookups, but a dump station is located 2 miles away. Full bathrooms are available during the regular season with hot water on demand showers. Wi-Fi is also available at the part.
The resort is open all year round, making it a great place to camp and ski, providing easy access to the mountain. However, there is no water availability or restrooms in the winter. The campground has BBQ grills, picnic areas, and, best of all, access to the river. Private fishing areas are available for guests as well.
Since open fires are not allowed at individual RV campsites, there is a communal firepit that you can use. However, propane campfires at your site are allowed, so be sure to plan accordingly if this is important to you.
Water: Yes (not in winter)
Electric: Yes
Sewer: No (dump station)
Wi-Fi: Yes
Rates: $75-$95 base rate per night
---
105 County Road 50
Gunnison, CO 81230
Info: 970-641-1358
Located south of Crested Butte in the town of Gunnison, the Gunnison-Crested Butte KOA is a privately-owned campground open from May to October, depending on the weather. The family-friendly campground has 82 sites, including tent campsites, RV camping sites, and cabin rentals. Most RV sites have full hook-ups with 30/50 amp electric, water, and sewer.
Gunnison-Crested Butte KOA has a variety of amenities for campers, including propane filling, a dog park, free Wi-Fi, access to fishing, laundry facilities, and a pavilion. Bathhouses are also available for all campers. Also, all campsites are grass-covered sites.
The campground is located in a wooded area at an elevation of 7,800 ft and is surrounded by various hiking and biking trails. It is a short drive from the Crested Butte Mountain Resort, which offers a variety of summer activities, including lift-served mountain biking, zip lining, and scenic chairlift rides.
Water: Yes
Electric: Yes
Sewer: Yes
Wi-Fi: Yes
Rates: $60-$90 base rate per night for RVs
---
Mountainside RV Park is a small, locally owned and operated campground nestled in the heart of the Gunnison National Forest. It's located on the south side of McClure Pass and has endless outdoor recreation opportunities.
The park offers RV sites with electrical hookups only. While there is no water, both RVs and tent sites have access to restrooms with hot showers and flush toilets.
There are also several camping cabins, a cottage, and the main house downstairs available for rent.
If you like fishing, the "Muddy Creek" runs next to the sites and feeds into Paonia Reservoir, 3 miles from the park. You'll find the Penny Hot Springs, a free public hot spring not far from the campground. The park is only an hour away from the famous Glenwood Hot Springs. Who needs a hot tub when you have a natural one?
There is no cell phone reception at the park, but Wi-Fi is available. The camp general store also sells ice, firewood, and propane.
Water: No
Electric: Yes
Sewer: No
Wi-Fi: Yes
Rates: $45-$50 for RVs, $30 for tents
---
PUBLIC CAMPGROUNDS
Crested Butte is home to various public campgrounds, including federal, state, and local areas. Most sites will have limited amenities and no full hookups, so you'll need to bring water. You'll also need to store waste, which can be disposed of at the city dump station. Here are some of the best ones available:
The Mt Crested Butte Campground is a seasonal campground located in the Gunnison National Forest, about 6 miles northwest of Crested Butte, Colorado. The campground is open from mid-June to mid-September, depending on the weather. The campground has a total of 26 walk-in tent sites. Camping is free, but availability is first come, first serve. You can stay for a maximum of 14 days. If camping here, you must stay in a designated space, dogs are not allowed, and campfires must be in a fire ring. A Port-a-john is available. Sleeping in your vehicle is not allowed.
---
The Oh-Be-Joyful Recreation and camping area is a popular destination for camping, located in the Gunnison National Forest near Crested Butte, Colorado. The Bureau of Land Management manages the campground. The recreation area offers a variety of camping options, Including tents, RV, and group sites. Each campsite has a parking space, metal fire ring, picnic table, tent pad, and bear-proof food storage locker. Unfortunately, drinking water, electric hookups, and trash service are unavailable.
The access road (BLM Road 3220) into Oh Be Joyful Campground is steep and challenging for a big rig. While the campground can accommodate RVs, the road down to the campground may not be suitable for larger low-clearance rigs. Campsites are $10 each or $30 for a group site.
---
Cement Creek Campground, operated by the US Forest Service, is in the Gunnison National Forest. The campground provides access to hiking, mountain biking, ATV and motorcycle riding, spelunking, and fishing. It is located about 15 miles from Crested Butte, CO. The landscape is mostly aspen in a narrow valley. The small campground offers 13 campsites. The campground does not take reservations, so the sites are first-come, first-serve. The campground is open from early June through September. No water or electricity is available, but visitors can access pit toilets. Campsites are $16/night.
---
Gothic Campground on Gunnison Rd is operated by the US Forest Service in the Gunnison National Forest and situated between Maroon Bells-Snowmass and the Raggeds Wilderness Areas. The area seldom gets crowded, so it's a great location to camp somewhere quiet and remote. The hidden gem is open from mid-June through September. No water or electricity is available, but visitors have access to a pit toilet. Campsites are $12/night.
---
Lake Irwin Campground is situated on the western banks of its picturesque namesake lake, approximately 9 miles from Crested Butte, Colorado. The campground is known for its abundant trail systems, fishing, and natural beauty. The campground is set high in the Colorado Rockies at an elevation of 10,200 feet.
---
Lost Lake Campground is the perfect spot for a family-friendly adventure. The campground offers access to fishing and hiking around the Lakes. The scenery is breathtaking, with views of the Ruby Mountain Range. The wildflowers in this region are some of the best in Colorado during mid-July and early August. Camping is first come, first serve between mid-June and early October. This is a very popular campsite, so plan to get there early and have a backup plan. Campsites are $20/night.
The campground is bordered by Lake Irwin east and the Ruby Mountain Range to the west. Summer days are cool, and nights can be chilly. The campground is open from mid-June through early October. Campsites are $18/night.
DISPERSED CAMPING
Dispersed camping, also known as primitive camping or boondocking, is where you can camp without fees, amenities, or services on public lands. However, you must do so in accordance with the local management unit's guidelines.
Dispersed camping is first-come-first-serve and abundant throughout the Crested Butte area. There are several undeveloped areas in the Gunnison National Forest where dispersed camping is permitted, allowing you to set up a campsite almost anywhere in the national forest. These areas do not have developed facilities, so you must be self-sufficient and follow Leave No Trace principles.
When camping, you should camp where others have camped before or on durable surfaces and should be set back at least 100 feet from all water sources, including streams, lakes, or wetlands. In most areas, you can camp for up to 14 days and not more than 28 days over a 2-month (60-day) period.
Here's a great guide to dispersed camping on national forest service land: Click here for more information.
An excellent tool for finding dispersed camping sites is to visit: BLM Recreation Web Map.