If you love camping and hear the name Elkhart, Indiana, the chances are that you are thinking about the RV manufacturing capital of the world. While this may be one of Elkhart's claims to fame, the annual Elkhart Jazz Festival is a close second. Elkhart is also known as the Band Instrument Capital of the World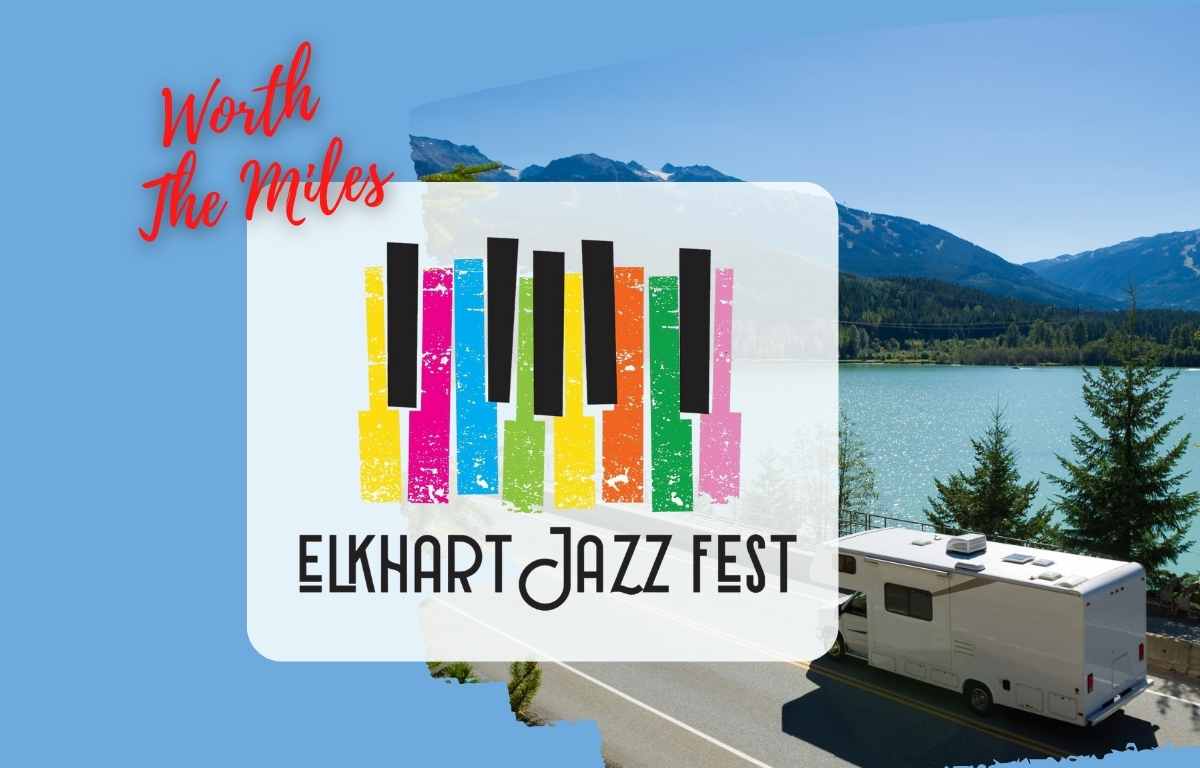 The Elkhart Jazz Festival is an annual event held each June in downtown Elkhart. The 2022 festival will be held from June 16th through June 19th. If you enjoy small-town events and festivals with a lot of great Jazz music, this is one event worth putting on your calendar.
The festival first launched in 1988, and during its inaugural year, it featured 67 musicians. Since that time, it has grown to feature over 100 performances and more than 15,000 attendees.
One of the things that makes this event so special is the small-town feel and the big-name headliners. The festival is made possible by a pure volunteer staff of organizers and people passionate about music. The Elkhart Jazz Festival may be one of the only volunteer-driven jazz festivals in the nation. It's definitely the largest.
The festival is so special because it's only made possible because of the love of music. While you will surely be able to find other jazz events throughout the country, you won't find anything quite like the one in Elkhart.
Building on its long history of musical instrument manufacturing, Elkhart brings to life the sound of hand-crafted manufacturers, including Ludwig Drums, Conn-Seismer, and Shirk's Piano. During the festival, there are lots of activities for the whole family, food vendors, impromptu jam sessions, free stages, and an excellent opportunity to see some of the biggest names in Jazz music.
Event Location
The festival is held in downtown Elkhart on S. Main St. Headliner performances occur at the Lerner Theatre, located at 410 S Main St. To see other upcoming events at the Lerner Theatre and for ticket sales, click here.
Directions (to the Lerner Theatre):
Driving from the South
Head North on State Rd 19, turn right onto Franklin Street to The Lerner (South East corner of Franklin and Main).
Driving from the North
Head South on State Rd 19 (Cassopolis Street) to Bristol Street. Continue West on Bristol, then turn left onto Main Street to The Lerner (South East corner of Franklin and Main).
Event Schedule
Each year, the festival offers a great lineup, and 2022 is no different. General admission will provide plenty of access to your favorite live jazz, but Friday night, Saturday night, and Sunday headliners will offer you something special.
Headlining this year (2022)
Full Event Listings and the complete lineup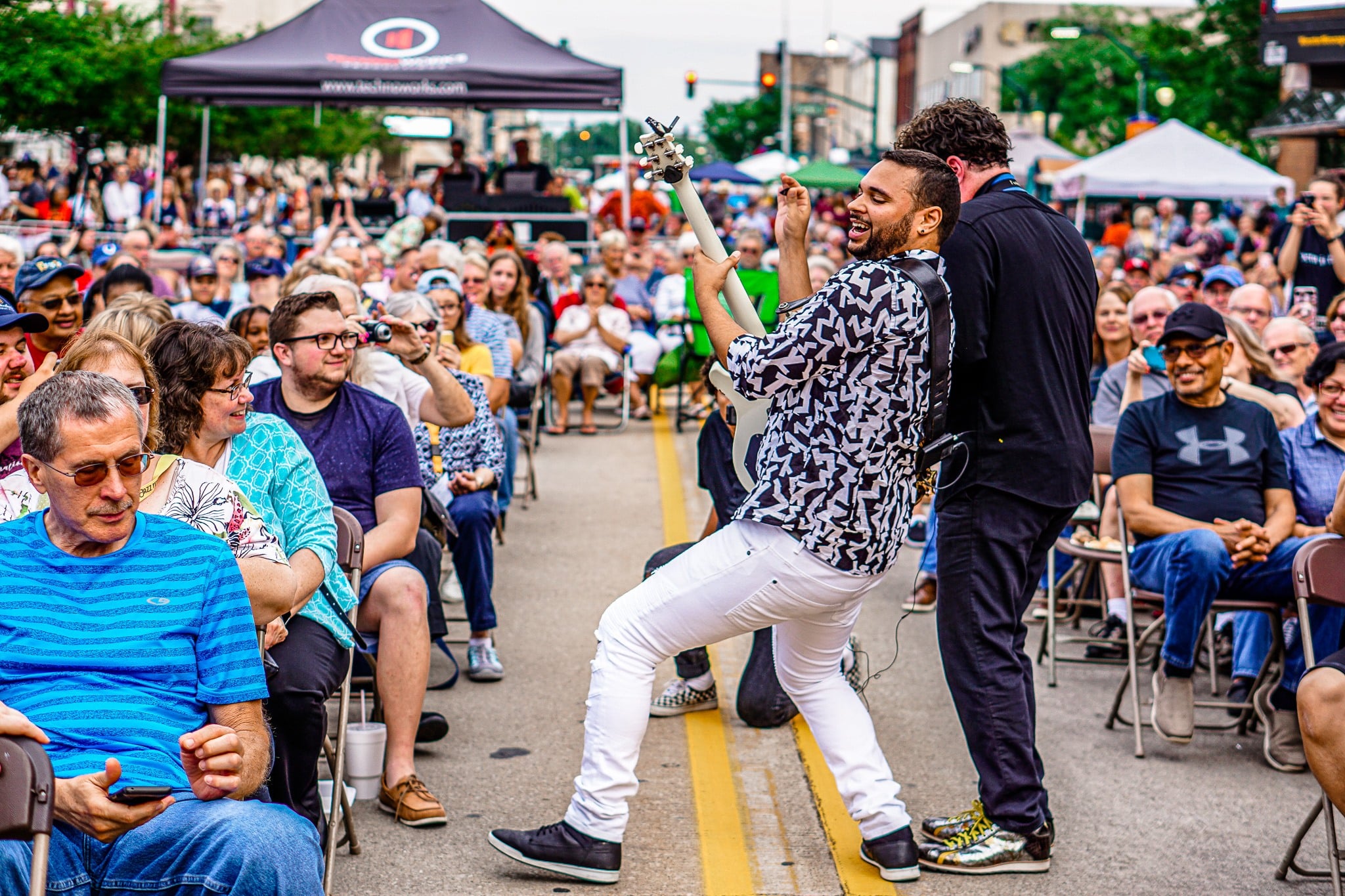 Tickets and Pricing
General Admission Day Passes
Festival Passes are sold by the day. Headliner Tickets Sold Separately
| | | |
| --- | --- | --- |
| Date | Tickets | Overview |
| Friday Day Pass: June 17th | $25 | The evening pass for Friday gains you access to a showcase of diversity in music anchored in jazz. You'll hear it all from bebop to contemporary, swing to soul, traditional to experimental. Check out the Andy Brown Trio, Couch, Jazmin Ghent, Jonathan Scales Fourchestra, and Nia Quintet. |
| Saturday Day Pass: June 18th | $35 | The day pass is stacked with favorites and first appearances. Our local high schools warm up the morning air while festival regulars like Dave Bennett, Kris Brownlee, and Paul Decker keep the tempos moving throughout the day. The return of Emily Cavanagh, Craig Gildner, and Lena Seikaly round out the day with many others! |
| Sunday Day Pass: June 19th | $15 | The show continues Sunday with a FREE concert by the United States Air Force Shades of Blue Jazz Ensemble in the Lerner Theatre at 3:00 PM. It's the most affordable day to tip your toe into hours of jazz. See The Yellow Creek Jazz Project, Christopher Lucas Wilson Trio, and the Notre Dame Faculty Jazz Trio, to name a few. |
Additional Information
Covid-19
Learn more about Covid-19 Precautions: Covid-19 FAQ:
Bags and prohibited items:
Patron bags exceeding 14 inches by 14 inches by 6 inches (14″ x 14″ x 6″) are not permitted inside The Lerner. The term "bags" includes, without limitation, backpacks, briefcases, luggage, duffel bags, musical instrument cases, purses, boxes, packages, and carry-alls.
All bags are subject to search at the discretion of management and/or security personnel. Exceptions are made for bags used to carry medical equipment and diaper bags for customers with small children.
Guests with prohibited items will be turned away from the entrances to return items to their vehicles or to dispose of them.
No storage or "check-in area" will be provided for prohibited items. Lerner management reserves the right to deny any item it deems a safety hazard.
Make a week out of it
While the Jazz Festival is certainly worthy of a trip by itself, don't cut your trip short there. Elkhart, as mentioned above, is the RV manufacturing capital of the world. So if you're into RVing or want to learn more about the industry, plan to do some RV sightseeing while you're there.
Most RV manufacturers offer factory tours on their websites. Tours are primarily held on weekdays, making it the perfect add-on for your Jass Festival trip.
For a list of available factory tours: look here
RV Hall of Fame and Museum
Another thing worth visiting in Elkhart is the RV Hall of Fame and Museum.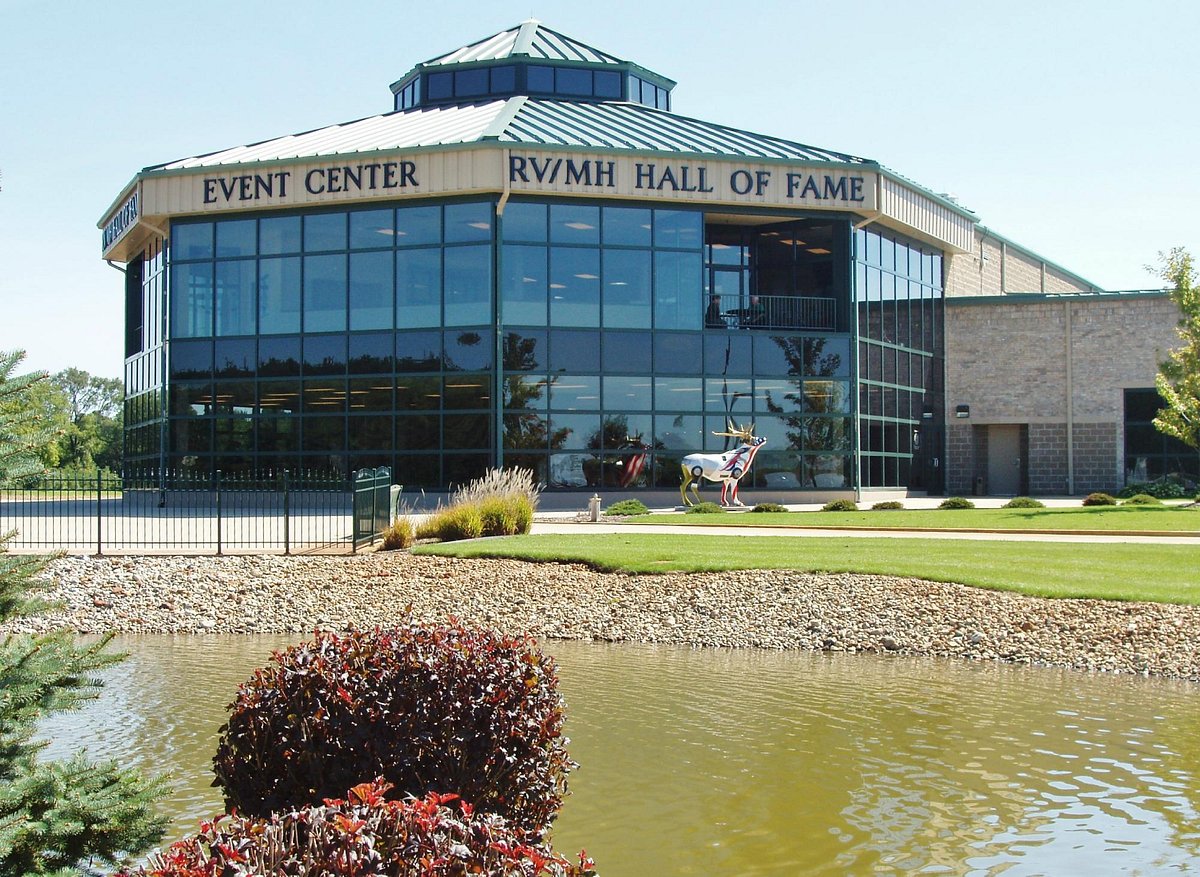 The RV/MH Hall of Fame and Museum is a 100,000 sq. ft. museum that features a variety of historical recreational vehicles from Airstream, Winnebago, and other American makers. The foundation's primary goals are to "To create a display of historic RV/MH products in a museum for the education and enjoyment of the public."
The museum is located just off Interstate 80 near Elkhart. If you're coming with an RV, no problem- the museum offers pull-through parking for RVers. The main building, Founders Hall, offers a really cool simulated RV campground.
The museum features a variety of RVs that dates back over 100 years through the 1980s. While visiting, be sure to check out the 1913 Earl Travel Trailer, one of the oldest surviving RVs anywhere. While exploring the museum, don't miss some very cool RV milestones, like the first microwave oven, the first indoor toilet, and other RV advancements over the years.
Also, if you need to stock up on RV supplies and parts, you have an opportunity to find just about whatever you're looking for and hopefully save some money.
Johnson's Discount Center
Check out Johnson's Discount Center, which offers an incredibly wide selection of RV parts and supplies, including RV surplus items, which may help your pocketbook.
Other things to do:
Lake Michigan: Elkhart is located less than an hour from Lake Michigan, which is a great add-on to your trip. Lake Michigan offers great summertime activities like fishing, boating, and swimming.
South Bend, Notre Dame: Just 15 miles away, be sure to visit one of the most famous universities in the nation. Visit the historic campus, Notre Dame University, and get take a selfie at some of Rudy's favorite hangouts.
Nearby campgrounds
Eby's Pines RV Park & Campground