RVs are equipped with many marvels of modern engineering, allowing you to travel with all the conveniences of home. You can cook gourmet meals, take a hot shower, or work remotely from virtually any place on the planet. However, there is one challenge of RV living that has evaded even the most seasoned campers; where do you put your shoes?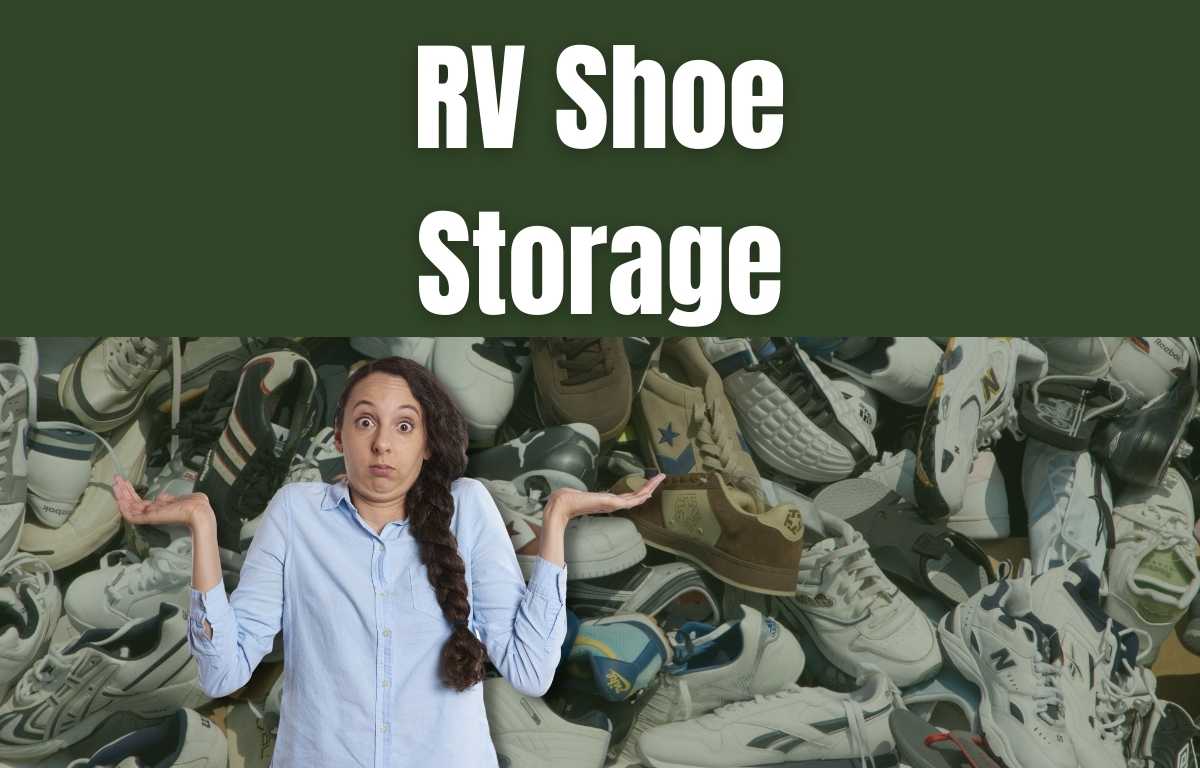 If you're RVing without a "shoe plan," you know this problem very well. I'm pretty sure my daughter has some wizardry power that allows her to melt right out of her shoes as she walks in the front door, leaving them positioned in the perfect spot for me to trip over. Before coming up with a solution, shoes would simply pile up by the front door in an unorganized mound.
Thankfully, the ingenuity of RVers has led to creative ways to solve this problem. Below are a few ideas that you can quickly implement in your RV.
Solution #1: One pair of shoes per person
When you're not camping, it's typical to have a pair of shoes for all of your various needs: sneakers, boots, work shoes, dress shoes, etc. While you can bring along several pairs for your camping trip, keep them stowed away until you need them. I like to have a utility pair of shoes that I can easily slip on when I head outside. My favorite pair for warmer weather is a good pair of Sanuks.
Solution #2: Boot tray
Keeping your RV clean is a constant chore. One of the easiest ways to assist with this is to have a no-shoe policy when inside. I have a rubber shoe tray next to the door that neatly stores the shoes and keeps that mud and dirt contained. They are available on Amazon, but my favorite tray is the one pictured below from Sam's Club for $12.
Solution #3: Cargo net
A creative solution that you can install right along the wall or cabinet by your entrance door is a simple cargo net. The cargo net allows you to keep your shoes out of the way while providing easy access when you need to head outside. It's easy to install and is a great space saver when you have a lot of shoes to organize.
Solution #4: Bungee shoe board
One RVer came up with this simple solution using nothing more than a piece of backing-board and a couple of bungee cords. Each pair of shoes stores neatly strapped to the board and out of the way. You can make this as large or small as you need, depending on the number of shoes you need to keep organized.
Solution #5: Bedside storage
While it may not be the best solution for your entrance door, installing a canvas show organizer along your bed gives you a place to neatly organize all your shoes in a typically unused section of your RV. If your bed lifts to a storage compartment, you can also install a few of these in there. You can purchase these online
Solution #7: 5th wheel steps
If you're in a 5th wheel or have stairs in your RV, here's a creative solution. This person cut out the area under their stairs and turned this previously unused space into a perfect shoe storage area.
Solution #7: Shower Rod Shoe holder:
This solution is an excellent idea if you have a suitable layout. This person simply installed an adjustable shower rod between two vertical surfaces. A great place to try this is inside the bedroom. Many RVs will have a similar space between the wall and raised area next to the bed.
Other Ideas: Build a shoe holder
If you simply type in RV show storage on Pinterest, you'll see an endless amount of creative DIY shoe storage solutions built/created by campers. Below are some of my favorites.