RV propane regulators are usually pretty reliable and can last over a decade without problems. However, if they do break, they can prevent propane (LP gas) from reaching your RV appliance that requires a propane gas supply. RV propane regulators are a necessary device designed to take a high-pressure propane supply from the propane tank and lower it to a level needed by RV appliances.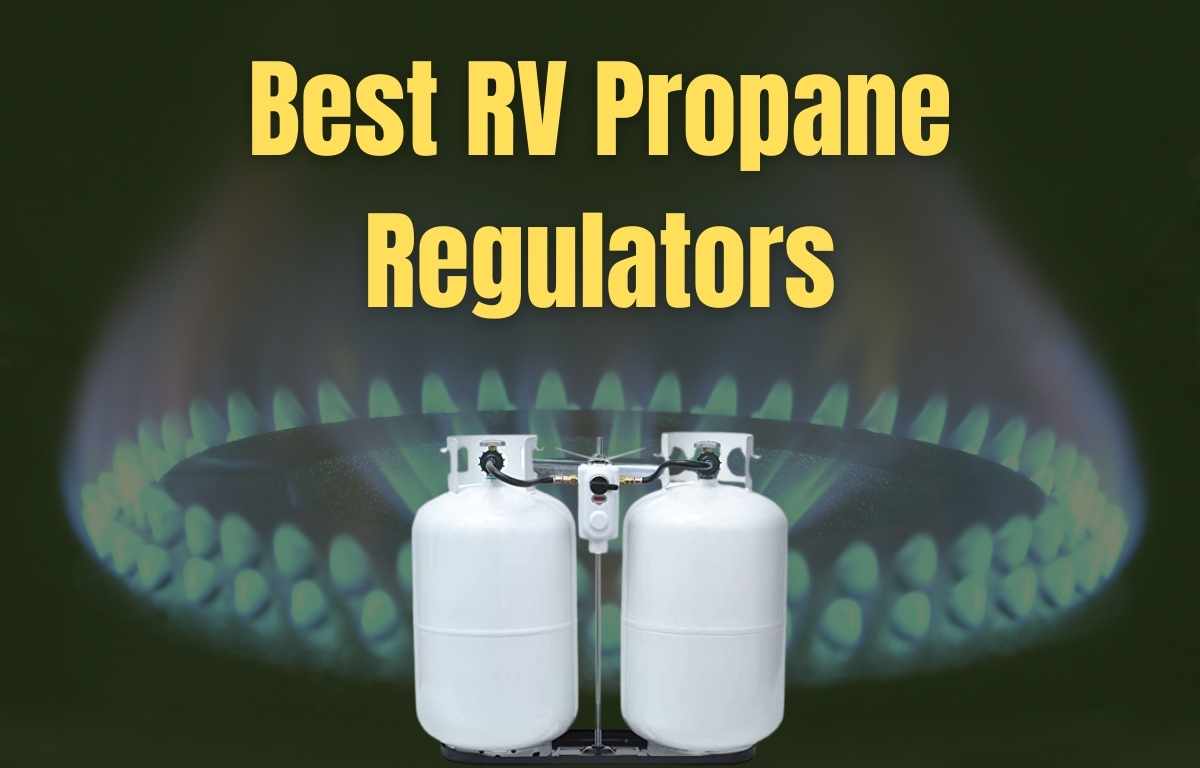 Single-stage vs. two-stage RV propane regulators
The critical thing to look at in a propane regulator is its water column pressure rating (WC). Propane appliances have a specific WC rating to ensure that they receive the correct, constant gas pressure needed to run. Propane appliances in RVs typically run off of low pressure, and most RV-specific regulators will reduce the pressure to an 11 inch WC rating. The good news is that virtually any regulator designed for use in an RV will deliver this rating.
There are two main types of propane regulators that you may find in an RV- single-stage and two-stage The main difference between a single-stage and two-stage regulator is how it's getting to this 11 WC pressure. A single-stage regulator will accomplish this in one step. However, a dual-stage regulator reduces the pressure twice but still lowers it to 11-inch WC.
It can be a little confusing, but since RV propane use is pretty standard, most universally available RV propane regulators will provide the level of pressure that you need for your appliances. Remember, the regulator's role is to deliver gas at a safe level. So, unlike a unique setup at a house where you may have very long propane line runs, and appliances require higher pressures, your typical RV needs are generally straightforward. You rarely have to worry about finding a high-pressure regulator or first stage regulator for an RV. These are specific needs for non RV applications.,
An RV propane system will typically utilize a two-stage propane regulator. This type of regulator will lower the pressure in two steps (or stages). The first stage will take a high gas pressure, up to 250psi, and drop it down to 10-15psi. The second stage of the two-stage regulator will lower it even further for consumption by propane appliances such as water heaters, furnaces, refrigerators, gas grills, and stoves. The goal of the RV's propane regulator is to provide a constant propane pressure for RV use.
A single-stage regulator simply lowers the pressure to the intended rating in one step, hence the name "single-stage." While you can purchase single-stage regulators, it is a good idea to opt for a two-stage propane regulator for most RV setups. The main reason for choosing a propane tank regulator with an additional stage is improved reliability. They require fewer adjustments and provide consistent gas pressure to different types of RV propane appliances. They are also well suited for higher-capacity tanks that can deliver higher gas flow. They're the best option for your RV's propane system, especially if you opt for a higher capacity tank (like a 100lb cylinder). 
Propane Tanks Auto-changeover
If you have a travel trailer, you will likely have dual propane tanks (or space for 2) located at the front of the trailer. Small trailers or less-expensive units may only have one. However, a 5th wheel and motorhome will likely have a propane storage area with either removable or permanently installed tanks. If you have more than one tank, you may have an automatic dual tank regulator, which will pull propane from the first tank, the primary tank, and automatically switch over to the second tank, or reserve tank, when depleted. The empty cylinder can then be removed and filled without cutting off the propane supply to the RV. The good news is that you can usually purchase a high-quality automatic changeover regulator at a reasonable price.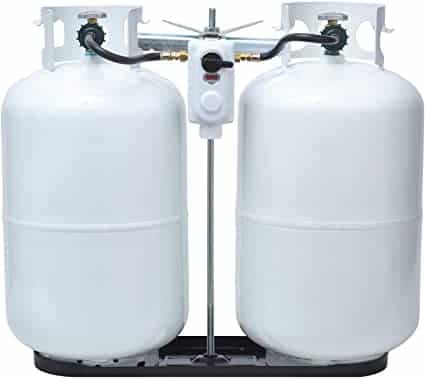 Propane Level Indicators
Many RV propane regulators will feature an indicator to let you know how much propane you have remaining in your tank. Some indicators are more accurate and easier to read than others. I like the dial type of indicator, which looks like a gas gauge and is easy to read. Another common type of indicator is a popup gauge. This indicator has a small clear housing with a green and red indicator enclosed. When you have a full tank, the indicator will display green. However, when empty, it will turn red. These work fine, but it's difficult to estimate how much propane is remaining in the tanks.
BTU Rating
A British Thermal Unit (BTU) is a rating that identifies how much heat is produced when the fuel is burned. Each propane appliance will have a BTU rating (stoves, furnaces, grills, refrigerators). The BTU rating of a regulator indicates how much propane it can deliver to meet the demands of the appliance. Most regulators will far exceed your needs, but it's an important thing to keep in mind if you opt for a smaller regulator with high propane needs. While it's nice to know this number, you will rarely run into a situation where you need an extremely high BTU rating.
How to know if your regulator is failing?
When an old regulator starts to fail, you'll likely have some warning signs. A good indicator is a flame on your stove. You may notice more of a yellow or orange flame instead of blue. You may also hear a popping sound when the stove lights or notice soot buildup on your stove. The regulator itself may also be making a hissing sound. If you find yourself in the news of an RV propane regulator replacement, good options are available, and they're not terribly expensive.
Mounting orientation
A propane gas regulator will usually have a specific mounting orientation on your RV. While it's not difficult to modify the setup, a good option is to match up the old orientation with the same model. Most regulators will indicate if it needs to be mounted vertically or horizontally. A good indicator of the mounting direction is looking at the regulator's vent. It should be facing down.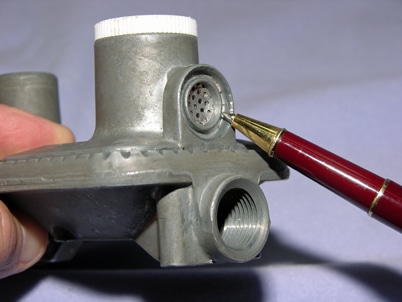 Propane Regulator Features
When searching for the best propane regulator that's a good fit for RV owners, it's a good idea to compare the different features of the new regulator. Below are a few things to check for:
two-stage over single-stage
plastic rain cover
good fit for your setup (vertical or horizontal)
good customer reviews
affordable price
designed for recreational vehicles
propane level indicator (color indicator on regulator)
Does it include hoses, or do you need to purchase them separately? You can buy stainless steel replacement hoses, but the rubber ones are just fine.
Below are our TOP 4 PICKS of the best RV regulators on the market
In the list below, please note that all units selected are two-stage propane regulators, offer auto-changeover, have built-in check valves allowing you to remove a tank without disrupting propane delivery, and offer a tank full/empty indicator.
1. Best overall value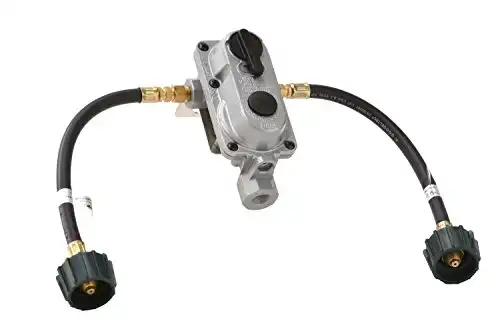 Flame King (KT12ACR6a) 2-Stage Auto Changeover LP Propane Gas Regulator
The Flame King KT12ACR6 is a top choice for any RVer and one of the best propane regulators on the market. This compact regulator offers a lightweight design and allows for the connection of two tanks, and gives you the ability to remove an empty take for filling while still delivering propane for the secondary tank. The regulator has an auto-changeover feature, which will keep the propane flowing even if a tank runs empty. This feature is nice to have on those chilly camping nights when you're running your furnace. It has a high BTU rating of 190,000, which is more than enough for your RV propane demands. The regulator also comes with new hoses, which prevents you from purchasing these separately- a good thing to factor into the overall price of the regulator.
Buy Now
Outdoor Miles is reader-supported. When you buy through links on our site, we may earn an affiliate commission at no additional cost to you.
09/27/2023 12:00 pm GMT
---
2. Well-built and high capacity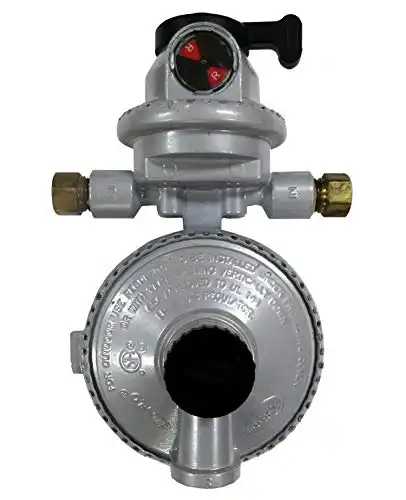 Fairview GR-9984 Propane Automatic Changeover Regulator
The Fairview RV propane regulator (GR-9984) is a perfect replacement propane regulator for almost any setup. It has a staggering BTU rating of 345,000, which is higher than you will ever need in an RV. In addition, it has a very smooth auto-changeover function. At just under 2 lbs, it's not the lightest regulator, but it is still compact and offers a solid build. While adjusting the pressure is unnecessary for most RV setups, this unit offers an adjustment tap that allows you to change your gas pressure. It also features an indicator feature that will turn red when you have an empty propane tank.
Buy Now
Outdoor Miles is reader-supported. When you buy through links on our site, we may earn an affiliate commission at no additional cost to you.
09/27/2023 12:25 pm GMT
---
3. Best propane level indicator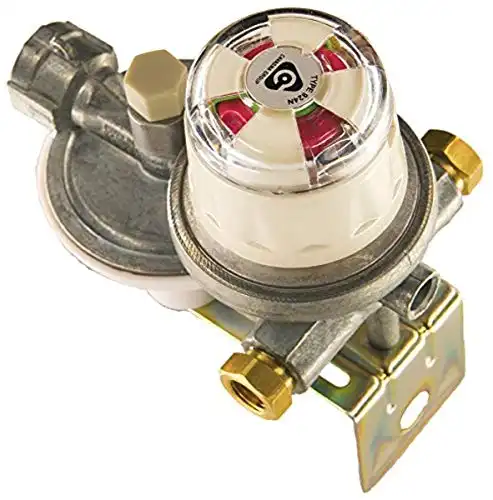 Cavagna Auto Changeover Regulator
Delivering 160,000 BTU, this Cavagna regulator offers a super easy-to-read propane tank full/empty indicator. In addition, it has an extremely smooth auto changeover function and built-in check valve, allowing the ability to remove an empty tank without disrupting propane delivery to your RV. The installation kit includes a new mounting bracket and plastic cap cover. It also offers an adjustable pressure setting, but it's unlikely you will need to use this for a typical RV setup. The first thing you will notice about this regulator is the size. This high quality double stage design is a little larger than others, but it will last for a long time.
Buy Now
Outdoor Miles is reader-supported. When you buy through links on our site, we may earn an affiliate commission at no additional cost to you.
09/27/2023 12:30 pm GMT
---
4. Reliable and simple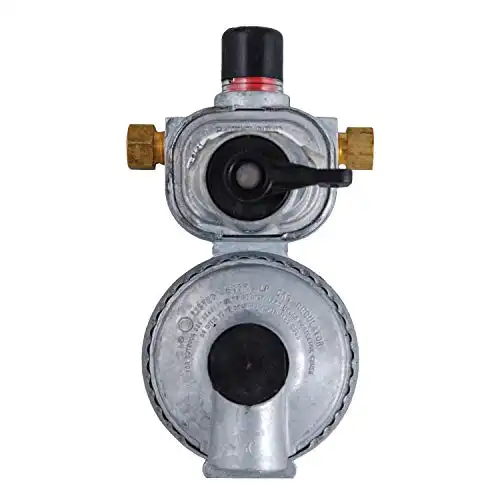 Marshall Excelsior 2-Stage Auto
This Marshall 2-stage regulator features an easy-to-read green/red indicator, letting you know when it's time to refill your tank. Like other regulators in this list, it offers an auto changeover feature and allows you the ability to remove one tank without disrupting propane delivery to the RV. The regulator doesn't advertise a BTU rating or adjustment tap, but it's designed for an RV, so it's a solid unit, which has excellent reviews and will meet all of your traditional RV propane needs.
Buy Now
Outdoor Miles is reader-supported. When you buy through links on our site, we may earn an affiliate commission at no additional cost to you.
09/27/2023 12:35 pm GMT
---
Conclusion
Choosing an RV regulator may seem complicated at first, but it is really simple. My recommendation is to choose one that is tried and tested with good reviews. RV propane regulators aren't extremely expensive, so avoid getting a no-name brand from Amazon and buy one from a reputable manufacturer. All of the options listed above will serve you well. While you can save a few dollars on features, I highly recommend getting one with an auto-changeover function and with a check valve, so you can remove one tank and still use the other one. All of the options above include these features. Finally, factor the cost of replacement lines into your purchase. Unless you have a newer regulator that failed, it's a good idea to swap out your lines with new ones if replacing an older regulator. My top pick is the Flame King KT12ACR6