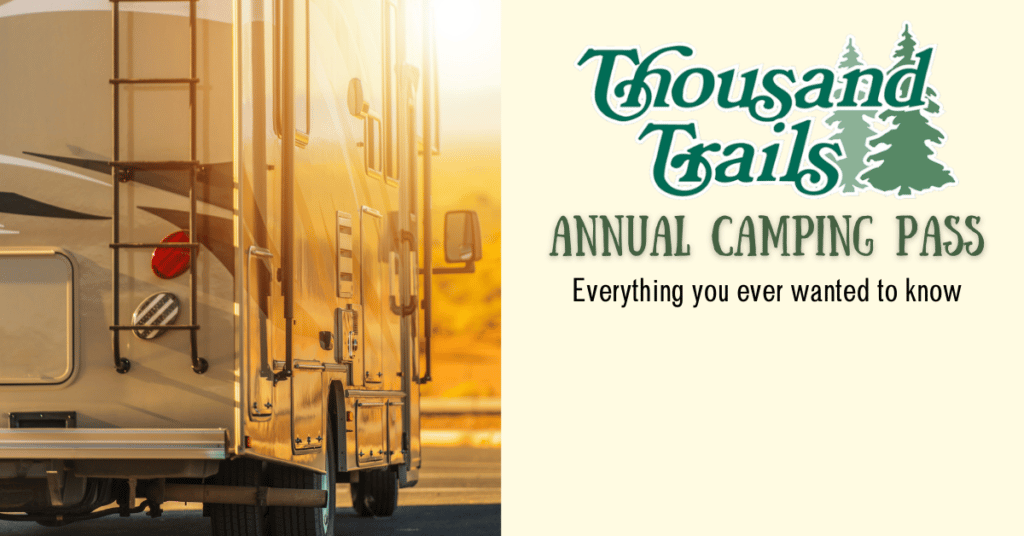 The Thousand Trails Annual Camping Pass could be one of the best campground memberships for campers if you can use it. The following information will provide you with a comprehensive overview of the Thousand Trails membership program, answer any questions you may have, and help you decide if the Annual Camping Pass is right for you. The Annual Camping pass is the most basic membership level to the Thousands Trails Program. However, I believe that it is the most valuable program they offer. Learn more about this below. The program is pretty simple, but there is a lot of relevant and irrelevant information shared, making the whole thing seem a little confusing. I will walk you through everything; hopefully, by the end, you will know all that you need to about the Annual Camping Pass and make an informed decision about becoming a member.
About Thousand Trails
Thousand Trails is a camping membership program that allows members to stay at the 80+ campgrounds in their network. They have campgrounds located in 22 different states and British Columbia. Thousand Trails has been around since 1969 and is a well-known membership program amongst the camping community. Members have access to full hook-ups and tent sites.
To become a member, all you need to do is sign up for the Annual Camping Pass. As of November 2021, the cost is $615, with a current promo taking it down to $499. This annual fee is essentially the cost of the camping pass, the most basic membership level. Once you pay and are a member, you are in the program and can start using the Annual Camping Pass to stay at your included campgrounds.
Thousand Trails also offers higher-tier memberships (upgraded membership options). These enhanced membership levels are a completely different animal than the Annual Camping Pass. They have been around for decades and have many variations. It is easy to see why many people are confused about the program when researching it. In general, they offer longer stays, more campgrounds, and added benefits. 
For this overview, I will stop here about these other membership options. They can be valuable to a specific type of camper, but they are also expensive (thousands of dollars). Trust me that you do not want to learn about Thousand Trails by starting here. It will make more sense once you understand the basics of the Annual Camping Pass works.
Best Way to Purchase a Thousand Trails Membership and Camping Pass
After you read through the guide, and if you're ready to purchase a camping passing, inquire about other membership options, or simply have some additional questions, then I highly recommend you reach out to my friends Warren and Sharon Lewis. Warren and Sharron are Thousand Trails membership specialists and know more about the Thousand Trails programs than anyone I know. Even better- they are some of the nicest people you'll meet!. If you're looking for the best prices and available discounts, they'll have all the latest information and can get you the BEST price.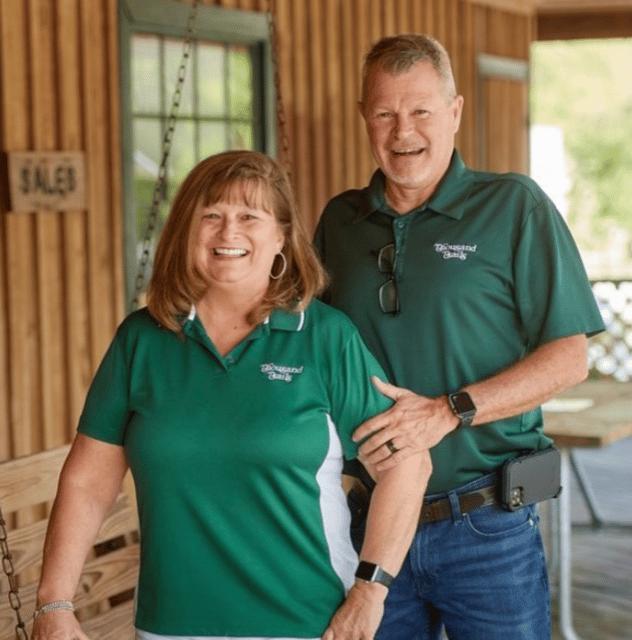 While you can always purchase a camping pass online, I think you'll appreciate going through Warren and Sharon instead. You'll not only get access to any sales or deals, but you'll have someone to reach out to if you have any questions, need help, or want to learn more about upgrades. If you find the following information helpful, then trust me in saying that this first piece of advice may be the best takeaway from the entire article. They're only a phone call or email away, and they'll make sure you're able to make your reservations and hit the road right away. When you talk to them, tell them that Tom from Outdoor Miles says hello!
CONTACT INFO:
Warren and Sharron Lewis
(772) 217-1851 (call and text) or
(804) 366-0798
Membership Specialist at Thousand Trails
email: warren_lewis@equitylifestyle.com
Annual Camping Pass
The Annual Camping Pass is the most basic membership level in the Thousand Trails program. I have been a member for several years and have found it extremely valuable and a positive experience at most locations. The Annual Camping Pass grants access to unlimited camping within the Thousand Trails network- All you pay is the annual fee. There is no lifetime membership option. There are rules to the program that you will need to learn about; however, once you finish reading this overview, you should know all you need to determine if the membership is a good fit. I will start with some of the basics and then move into the meat and potatoes of the program.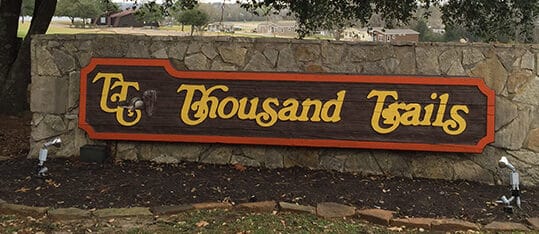 Annual Camping Pass Cost
What is the annual cost for membership?
The Annual Camping Pass is $630/year (as of September 2022). However, there are typically discounts available for new members. Before you purchase it online at full price, take a few minutes and call Sharon and Warren @ (772) 217-1851). They will make sure you get the best price and have access to any available discounts. Historically, the discounts have been anywhere from $50 off to $100 off. The offers are usually higher in the off-seasons or around major holidays.
The fee gives you access to unlimited camping (with a catch) for your registered zone. I will explain this below. Also, please note that the Annual Camping Pass covers only your primary zone (more on this later). There are add ons that I will go over after I get through the basics. Your membership will also auto-renew, so if you do not plan to keep it, be sure to cancel before the end of your membership year.
Do I have to pay the entire fee upfront?
No, you can make monthly payments if you want. However, you will need to sign up for a two-year commitment to get on the monthly plan. Or, after your first year, you can switch over to monthly payments. When making monthly payments, Thousand Trails will automatically bill your credit card or debit it from your checking account on the day of the month that you signed up.
Membership Basics
How long is the Annual Camping Pass good for?
The Annual Camping Pass is good for one year from the date you purchase it. The Annual Camping Pass begins when you sign up and ends exactly one year later. For instance, if you become a member on February 3, 2022, it will end on February 3, 2023. While I describe this later in more detail, an Annual Camping Pass provides members the option to make reservations 60 days out. I am mentioning this because it is advantageous to purchase your membership a couple of months before taking your first trip, giving you the best chance to book the dates you want.
Can I cancel my membership? 
Yes, but only after your year is up. You must pay for the entire year, even if you make monthly payments. You sign a contract agreeing to the membership for the year. If they allowed mid-season cancellations with a refund, people would probably only pay for the months they use and cancel for the remainder of the year. The only other option that you have to cancel your membership is during the first 7 days that it's active (if you change your mind).
How Does camping work? Is it really unlimited camping?
The following is something that you should pay close attention to when reading. It lays the foundation for making the Annual Camping Pass valuable if used correctly. With an Annual Camping Pass, you can stay at any resort, in your zone (described below), for up to two weeks at a time (14 nights). Here is the catch. Once you finish your stay (trip), you need to wait another seven days until you can camp again. There is one exception to the rule, and to understand it, remember the #4. If your stay is four nights or less, you don't need to take a week off. You can travel from park to park to park at four-night (or less) intervals. You can also reserve a site at your original campground less than seven days later, as long as your previous reservation was four nights or less. This workaround allows members to camp every weekend, which I depict in the examples below. Once you cross that threshold, you need to stay out of the Thousand Trails system for seven days. I know it sounds a little confusing, but it will make sense.
The easiest way to think about it is to keep in mind one key thing: After each trip, you must wait seven days until you can stay again. You can have several reservations combined in one trip, but only the last reservation can be more than four nights. The one other confusing caveat, which isn't too much of a burden, is that even if you camp for four nights or less, you need to be out of the system for the same number of nights you camped. For example, if you camped Friday night and Saturday night, you would need to wait two days to book another reservation. You wouldn't be able to camp again until Tuesday. The same rule applies for one, two, three, and four nights. Anything over four nights requires a seven-day break. Below are some graphics to better illustrate how this works.
Another way to think about this is by looking at some examples of different types of vacations that you could take with the Annual Camping Pass. Here are a few of them:
Weekend Camper: The Adams family loves to camp. They like to go every weekend. They have a Thousand Trails campground 20 miles from home. From May through October, they make a reservation for the campground every Thursday through Sunday. Aside from the annual fee, they do not need to pay anything else. They will be camping for 72 nights for the season.
Two Week Vacation: The Douglas Family plans to travel to Maine in July. They plan to camp there for two weeks at Moody Beach Campground. Since they are camping for 14 nights at the same campground, no problem, this scenario is allowed under the camping pass. However, after the trip, they will not be able to camp somewhere else for at least seven days.
Long Road Trip: The Birch Family will be taking a month-long trip this summer. They plan to visit many different campgrounds. They will start their vacation with a 4-night stay at Moody Beach in Maine, followed by four nights at the Gateway to Cape Cod Campground in Massachusetts. From there, they will head directly to Rondout Valley in New York for four nights and then to Sea Pines in New Jersey for an additional four nights. Finally, they will end the trip with a two-week stay in Hershey, Pennsylvania. They will be camping for a total of 30 nights, all allowed under the Annual Camping Pass. This scenario is permitted because you can go from park to park as much as you want, but once you finish, you need to stay out of the system for seven days.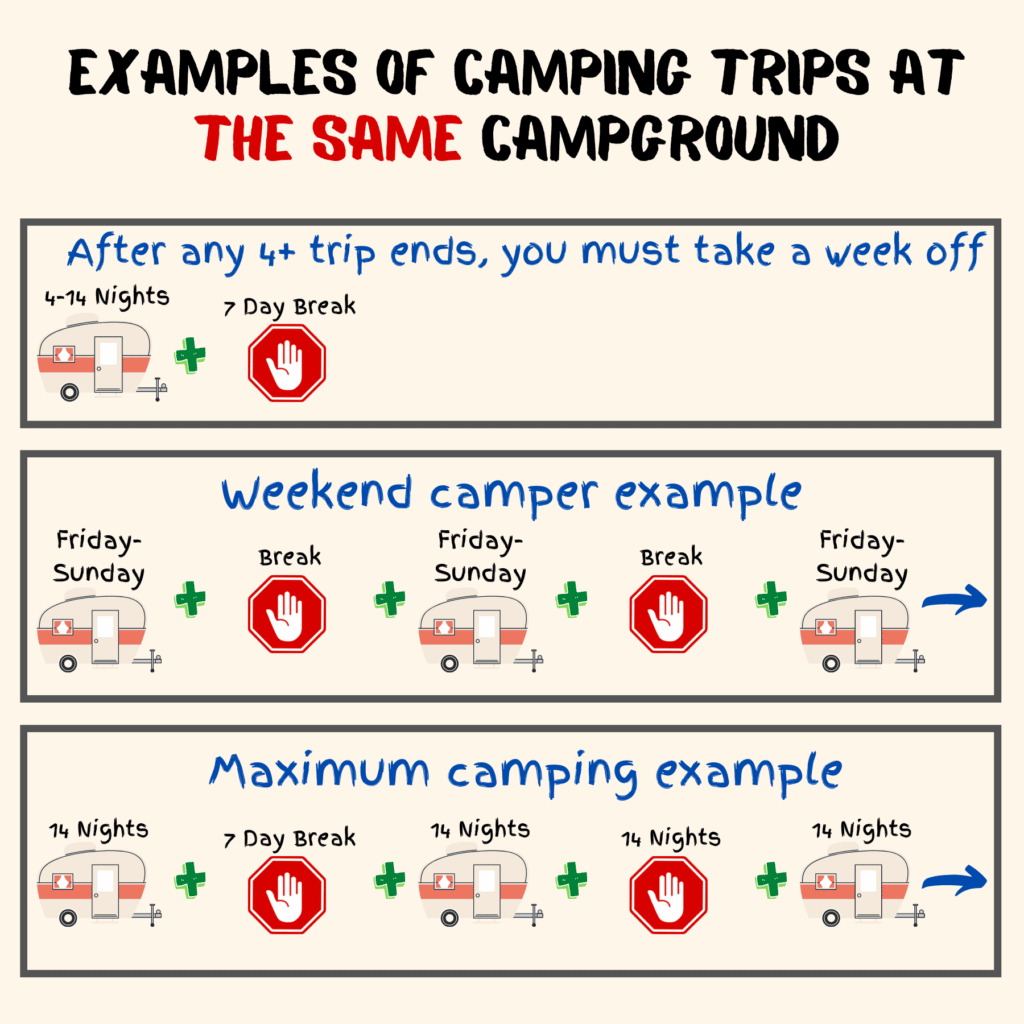 Making Reservations with the Annual Camping Pass
There are two ways to make a reservation. First, you can call the 800 number, and a representative will make it for you. During busy periods, you can be on hold for a long time. However, they do have a feature to hold your place in line and call you back- it works well. The other, more simple option is to use the online reservation system to book your trip. The online reservation system is easy to use. It will show you what campgrounds are available under your membership level. To make a reservation, select the campground you want, click book, and complete the remainder of the form. The Reservation form will ask a series of questions about your preferred site type, dates, and the number of people/pets in your party. 
Next, it will ask you to enter information about your RV (length, slides, etc.) Once you do this, you can create an instant reservation. If your selected dates are not available, it will not allow you to complete the reservation. You will need to edit the dates and try again. If you are trying to book something that you are not permitted to do (like book a trip without waiting seven days), it will not allow you to do it. 
The online reservation portal allows you to see all of your past and future reservations, called trips. In addition, you can edit existing reservations if needed: change dates, change equipment, etc. Once you signup for a membership, you will receive a welcome email with all the information you need to create an account and log in. You will soon be able to start making reservations.
The most important thing about reservations is the booking window. ALL Annual Camping Pass members have a 60-day booking window. Premium members have longer windows of 120 days up to 180 days. It is essential to keep this in mind when making reservations. Popular campgrounds will fill up early, so you do not want to procrastinate when booking your trip. 
Reservations for Holidays: Be sure to book early for any holiday. Holidays are not just the day itself, but rather the holiday weekend. For example, Memorial Day is a Holiday on Friday-Monday. They are the first to go. One other thing to keep in mind is that you can only have one holiday reserved at a time. If you want to camp on both Memorial Day weekend and the 4th of July, you will need to wait until you check-in for your Memorial Day trip to book the trip for the 4th. Once you check-in for your holiday trip, you can then book another holiday trip.
The other tip that I learned over the years is to keep trying every few days. People frequently cancel their reservations, creating a chance that your preferred dates may open back up. I usually make a reservation for the best option available and log into the system to see if I can change my reservation to my preferred dates. Keep in mind, cancellations routinely happen the closer you are to the reservation date. I frequently have luck the day before, or even the day of, the one I want to book. With this short window, it usually only helps if you are very flexible with your itinerary. 
Reservations for Holidays: Be sure to book early for any holiday. Holidays are not just the day itself, but rather the holiday weekend. For example, Memorial Day is a Holiday on Friday-Monday. They are the first to go. One other thing to keep in mind is that you can only have one holiday reserved at a time. If you want to camp on both Memorial Day weekend and the 4th of July, you will need to wait until your Memorial Day trip is over to book the trip for the 4th. 
Thousand Trails Camping (Zones)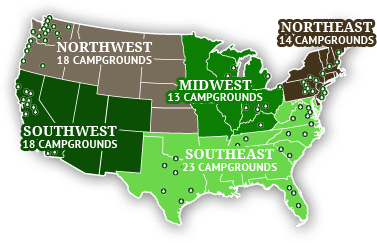 Thousand Trails organizes its campground network by zones, groups of campgrounds situated in nearby clusters of states. There are five zones: Northeast, Southeast, Northwest, Southwest, and Midwest. There are not too many options in the middle of the country; as a result, most will benefit from the program if they live on the east or west coast. When you sign up for an Annual Camping Pass, you must select your primary camping zone. These are the campsites that you will have access to under your membership. You will most likely want to choose the camping zone for your home state unless you plan to travel extensively in another area. Ensure that you research the campgrounds for your camping zone before purchasing an Annual Camping Pass. The membership is the most valuable when you use it. If there are no campgrounds nearby, you likely will not get as much out of it. 
Add Ons : Zones and Trails Collection
As an Annual Camping Pass holder, you have access to two add ons to your membership. They include 1) Adding a zone(s) and 2) Trails Collection. Both of these are described below in detail.
Add on Option #1: Add a Zone
While your membership restricts you to your primary camping zone, you can choose to add another (or all) camping zone. However, you will need to pay for it. As of September 2022, the cost of a zone pass is pretty inexpensive at $70. If you plan to camp for even just one day at a non-Thousand Trails campground in this area, you will likely cover your costs. You can add an extra zone at any time, so it is okay to wait to add it until you know that you will use it.
Once you pay for your camping zone, it becomes part of your membership for the remainder of the year. Please be aware, though, that added zone access is only for your current membership year. So if you add a zone a month before your membership ends, you will need to purchase it again at your renewal.
Add on Option #2: Trails Collection
The Trails Collection upgrade is an extremely valuable addition to your membership, especially if you plan to travel. However, it is also a little confusing at first, so please bear with me. The Trails Collection opens up over 100 additional campgrounds for you to use as part of your membership. These campgrounds are part of a reciprocal program with Thousand Trails that allows members to stay for free or at a significantly reduced rate of $20 per night. There are enough free options that you can easily avoid any of the ones that charge the $20 nightly fee. In my experience, most do not.
When you sign up for the Trails Collection package, you will have access to the entire network throughout the country, not just your zone. However, if you want to stay in a regular Thousand Trails campground out of your camping zone, you will need that upgrade. For many, the Trails Collection provides enough camping options that they do not need the additional zones. However, it is a valuable upgrade if you plan to take some long trips or want to explore new campgrounds in your region. Therefore, I have included the link below to the Thousand Trails interactive map rather than listing all of the campgrounds in the Trails Collection network.
There are three key things to keep in mind when considering the Trails Collection upgrade:
1) Not just Thousand Trail members: 
Since these campgrounds are not owned and operated by Thousand Trails, non-members stay here too. Many campgrounds have a certain number of sites available for Thousand Trails members. If you try to make a reservation and it is unavailable, it does not mean that the campground is at capacity- it could just be that no Thousand Trails member sites are available. It is always helpful to call or retry the booking if you cannot get it the first time.
2) 60-Day Booking Window: 
The 60-day booking window is a huge plus of the program. Regardless of your membership level, EVERYONE only has a 60-day booking window. It means that you have the same chance of reserving your site as the members who have a 180-day window for the regular Thousand Trails program. This feature is essential if you want to camp in popular areas. It is one of the reasons that I love the Trails Collection program so much.
3) Traveling between campgrounds
Out days: If the original Thousand Trails in and out day policy isn't confusing enough, the Trails Collection program will fix that. You cannot travel from one Trails Collection site to another without having seven days out of the system. Also, you cannot travel from a Trails Collection campground directly into a Thousand Trails campground without seven days out of the system. However, you can travel from a Thousand Trails Campground (4 or fewer nights) directly to a Trails Collection campground.
My mind is spinning just trying to type that. Here is the key takeaway. Think of any amount of stay at a Trails Collection as a single trip. Regardless of how long you stay at a campground, you will need to take seven days off once you leave. Book your Trails Collection campground at the end if you want to stay at multiple campgrounds back-to-back. If not, you will need to take the week off between reservations.
I like to take two-week-long trips to Trails Collection campgrounds to get the most value out of it. However, I typically start that trip with a four-night stay at a regular Thousand Trail campground. That allows me to have 18 days of camping at a time. Like the scenarios described above about the basics of the Annual Camping Pass, you can take as many four nights (or less) trips back to back and finish it at a Trails Collection campground. 
Whew! I knew that would be confusing, but hopefully, it makes sense. Below is one more graphic to help you visualize what I just described.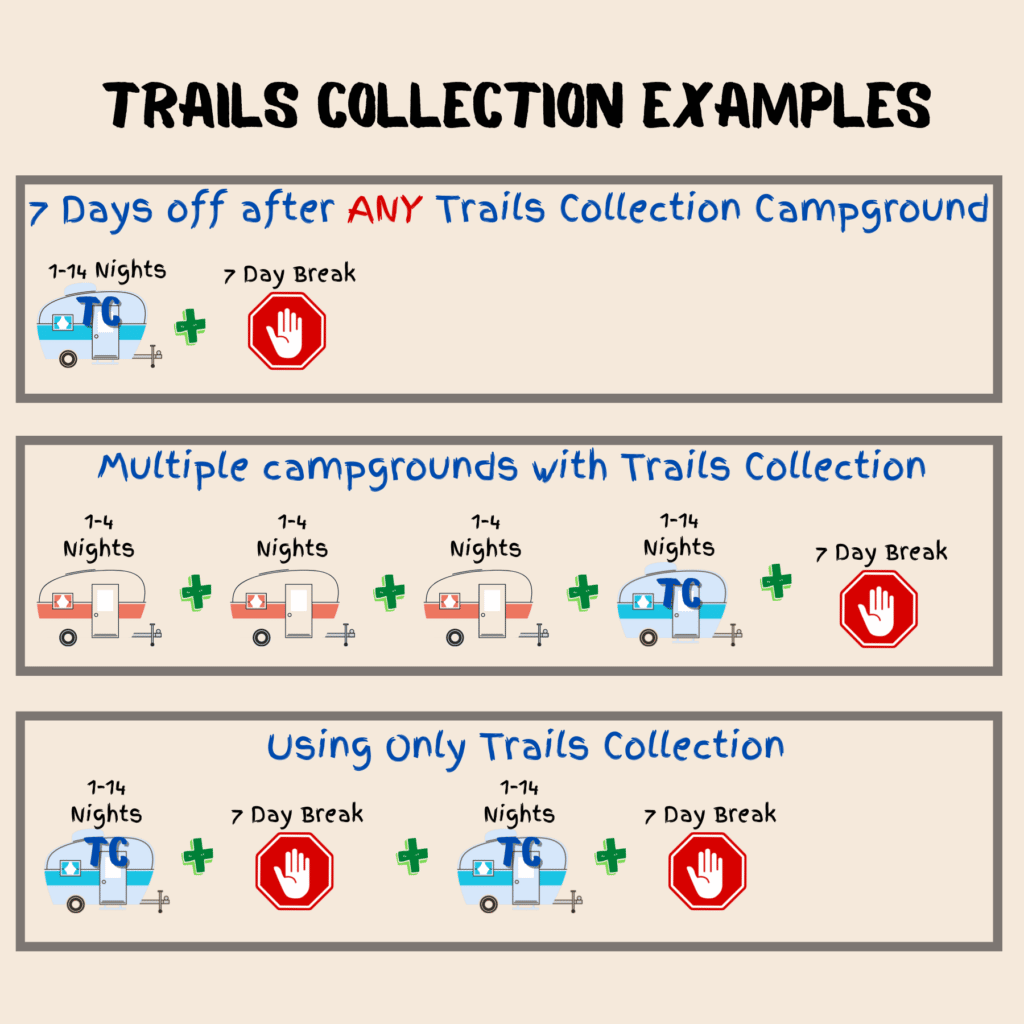 Quality of the Campgrounds
This topic is very subjective and one that campers frequently discuss in RV forums and social media groups. Every Thousand Trails campground is operated differently and provides a unique experience. Some are better than others, and there may be some that are just unappealing. I will say that I have never stayed at a horrendous Thousand Trails or Trails Collection campground. On the contrary, my overall impression has been very positive. Could I have just been lucky? Maybe, but I don't think so. The vast majority of the available campgrounds are average to above average. Some I like more than others, but I have enjoyed my time camping at all of them.
The best thing to do, which is how I approached it, is to read reviews. You will know before you even decide to book it if the RV campground meets your expectations. Also, if you live close to a campground and plan to camp there frequently, visit it. They will gladly let you take a drive-through or talk with you about their amenities. I have done this on more than one occasion, and it has always been worthwhile. You'll find many standard amenities at RV campgrounds and RV resorts in the program. Most sites have picnic tables, laundry facilities, activity centers, stores, and other amenities you'll find at private campgrounds. Some RV parks are located near a national park or local attractions. You will have many different options to choose from whether you want to explore the historic town of Lynchburg, get fresh produce near beautiful farm lands in the heart of Virginia, or escape the cold in the Florida keys (be aware that many campgrounds in Florida will have a high use restriction in winter months).
Finally, do not simply read the negative reviews. It is good advice for just about anything you research online. Instead, check out the 3-4 star reviews in the middle of the road. Those reviews will provide a much better idea of what the campground is really like. Also, if you are used to paying $100/night at a site with a pull-through concrete pad, spas, food courts, etc., this may not be for you. However, if you enjoy traveling and like a classic campground experience, you will not be disappointed with the Thousand Trails campsite offerings. I know that I wasn't.
Getting the most out of your Annual Camping Pass
To get the most out of your Annual Camping Pass, you need to use it. Sounds simple, right? Well, depending on how you like to camp, this may not be as simple as it sounds. While there are a lot of campgrounds available, especially if you opt for the Trails Collection upgrade, it is only a fraction of the campgrounds throughout the country. In addition, if you only plan to use the Thousand Trails periodically, you may not get the total value out of a membership. However, it's an excellent tool for avoiding nightly rates.
One way to help you decide is to think long and hard about how much you will realistically camp throughout the year. Then, add up these days and multiply it by $55 (an average night of camping in a mid-range park). For example, if you plan to camp for 15 nights during the year, you are looking at $825 to camp at non-Thousand Trails campgrounds. Now, ask yourself if you will be happy to stay at only the Thousand Trail campground in your zone. If yes, then it may be a good value for you. Also, if you plan to travel and opt for the Trails Collection add-on, you will need to camp for more than 15 nights for it to make financial sense. With the typical Northeast camping season running from April-October, it is not hard to rack up 15 days of camping.
I think the campers who get the most value from the membership are folks who live close to a Thousand Trails campground. You can camp most weekends, take longer trips, and have access to all the amenities of your home campground (pool, playground, etc.) for a relatively low cost. We camped for over 60 days at our local and close-by campgrounds this past year. If we were to pay for individual nights out of network, we would have spent more than $3,000 this year alone. Instead, we paid around $600. That is a tremendous value for us. We pay the equivalent of one night of camping each month for a season full of it. 
The above scenario, however, does not work for everyone. It is especially true if you camp only a few weekends out of the year. However, if you are a member, you will probably consider camping more if you paid for it. More camping means more memories, which is why most of us do it. You may take some trips to new places, which you never planned to visit, just because you can. It opens up a whole new list of options for you at a very affordable entry point.
Conclusion
Now that you know everything about the Annual Camping Pass, the next thing to do is decide if it works for you. If you purchase it, try hard to get the value out of it. If you do, it means that you're camping more, which is always a good thing for the whole family. You may also find value in a membership upgrade to a higher tier or expanded zone. The Annual Camping Pass is not outrageously expensive to try, especially with the new member promotions they offer. It's an excellent resource for people who enjoy the RV lifestyle.
If you have any other questions or need more advice, please leave a comment below, and I will do my best to get you an answer. Safe travels and happy camping!
To sign up for a camping pass or to learn more about upgrades to other levels including Elite Basic, Elite Connections, or The Adventure package, give Warren and Sharron a call at Thousand Trails. They'll make sure you get the very best price and extra discounts and answer any questions you still have. Please remember to tell them that Tom from Outdoor Miles sent you!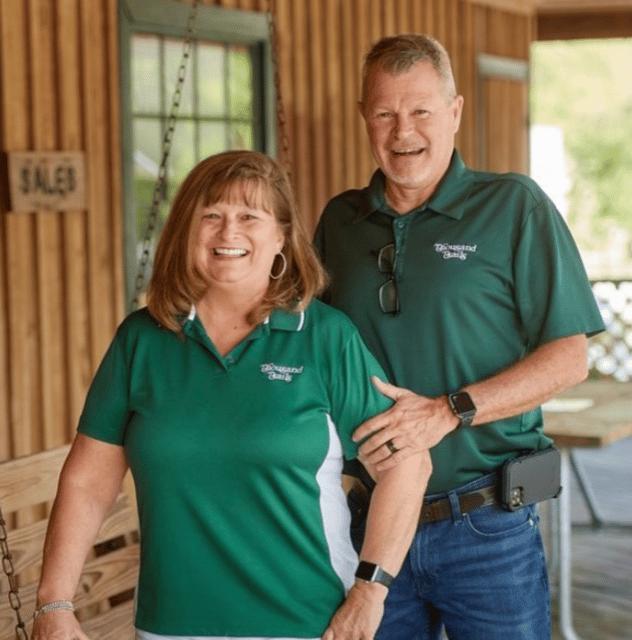 CONTACT INFO:
Warren and Sharron Lewis
Membership Specialist at Thousand Trails
1 (772) 217-1851 (call and text)
email: warren_lewis@equitylifestyle.com