When you hear the word GPS, it's almost impossible not to think about Garmin, the long-standing leader in manufacturing consumer and professional-grade GPS devices. Over the past decade, standalone GPS units have become less of a necessity with the smartphone, but they're still one of the best options for some applications. This reality is true for the RV community, who spend long hours on the road and benefit from special navigation services to guide you along the best RV routes. Garmin delivers this with two of their top-of-the-line GPS navigator units for the RV community: The Garmin GPS 1090 and Garmin Overlander.
Quick overview of RV 1090 and Overlander
Garmin RV 1090
Garmin RV 1090, 10" RV Navigator, Edge-to-Edge Display, Custom Routing for Size and Weight of Your RV/Trailer
The Garmin RV 1090 is a GPS navigation device designed exclusively for RVers. While regular GPS units will focus only on the mapping, the RV 1090 factors in the size and weight of your RV, then finds a recommended route that is free of hazards or clearance problems. Another area that the RV 1090 excels at is informing you of issues that may be important to RVers. For example, the GPS will inform you of upcoming steep grades, sharp curves, weight limits, and more before you get to them. In addition to driving data, you also get RV-specific information for trip planning and service needs. The RV 1090 has a preloaded directory of RV parks and services, including campgrounds, fuel stations, dumpsites, etc.
Buy Now
Outdoor Miles is reader-supported. When you buy through links on our site, we may earn an affiliate commission at no additional cost to you.
12/06/2023 09:01 pm GMT
Garmin Overlander
Garmin Overlander, Rugged Multipurpose Navigator for Off-Grid Guidance
The Overlander navigator, Garmin's most expensive RV unit, is essentially an RV 1090 on steroids. While it offers most of the same features as the RV 1090, it kicks it up a notch by focusing on off-road navigation and features. In addition to the traditional on-road functionality also found in the RV 1090, the Overlander comes standard with features designed to help you navigate over non-mapped terrain or forest roads.
The Overlander comes standard with topographic maps and also allows you to preload satellite imagery for a birdseye view of your surroundings. It is also built like a tank, mostly benefiting those driving open-frame vehicles like ATVs, UTVs, or top-free Jeeps. The Overlander is built to the U.S. military standard 810 for thermal and shock resistance.
Buy Now
Outdoor Miles is reader-supported. When you buy through links on our site, we may earn an affiliate commission at no additional cost to you.
12/06/2023 08:51 pm GMT
Let's take a closer look at the different features of the two Garmin devices and explore how they relate to your needs:
Size, Dimensions, and build quality
Dimensions and weight
The RV 1090 is a slightly larger unit at nearly 2 inches wider by 1.25 inches taller than the Overlander. It's also slightly thicker, but both models are under 1 inch thick. The RV 1090 is also a little heavier at 18.8 oz than the 15.4 oz. Overlander. While both units serve as a dash-mount capable solution, the Overlander, being a smaller device, is clearly designed with portability in mind. Off-road users, who may be hauling their off-road vehicles with them, may appreciate the smaller size and slightly more flexibility in moving it from vehicle to vehicle.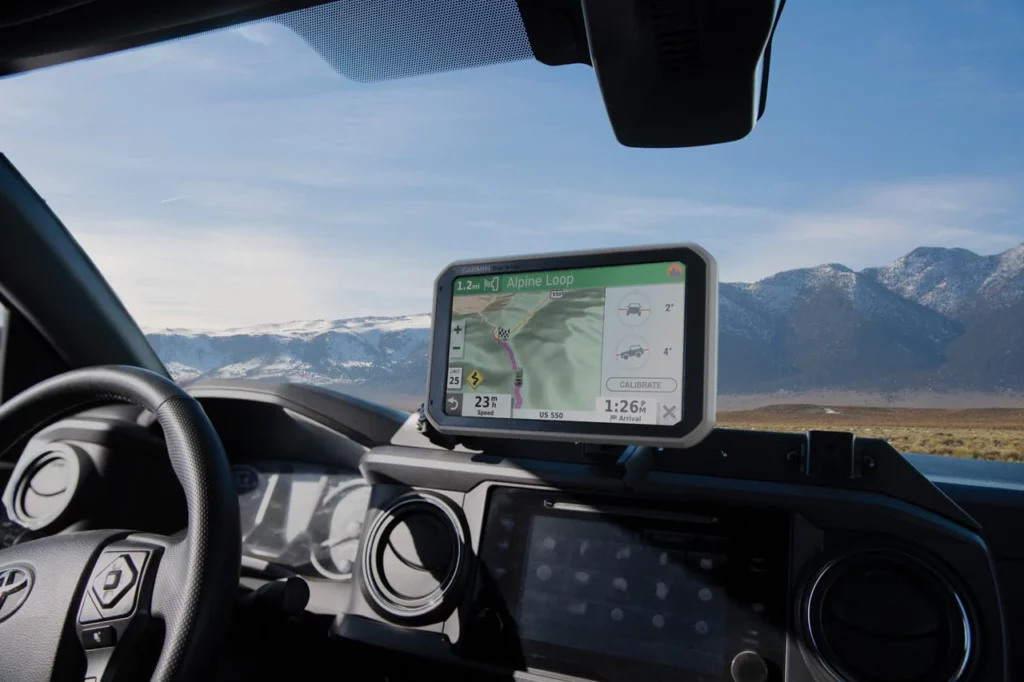 Display
With its larger size, the RV 1090 has a slightly bigger display of 8.5 inches x 5.3 inches, a similar dimension to a small tablet device with a 10-inch screen. The Overlander's display, measuring 6 inches by 3.5 inches, will be more comparable to an extra-large smartphone display (Slightly bigger than an iPhone Max). Although the Overlander has a smaller screen size, you get a better one. It features a multi-touch glass display with a Wide Super VGA (WSVGA) color TFT panel with a white backlight. The RV 1090 offers touch-screen capabilities and features with an ISP color TFT display. Nevertheless, both displays are very good and have fast touch response rates. With the RV 1090, you can also rotate the screen if you prefer navigating in portrait mode.
Both units can also be integrated with a wireless back camera. The Garmin BC 35 Wireless backup camera is a great accessory for your RV and is compatible with both units. If you have a travel trailer, this could be especially useful to avoid running wires from the tow vehicle to the RV. Please note, you will not be able to use third-party backup cameras with your Garmin.
Battery
While both units are best used when connected to a 12V power supply, they provide the ability to operate when disconnected and on battery power. The RV 1090 gives you two hours of rechargeable battery life, while the Overlander provides three hours. That extra hour may be useful if you're planning to use it in an off-road vehicle, motorcycle, or handheld without the ability to plug it into a charging port. Both units can be charged via a USB cable, allowing for the use of battery banks if needed.
Mounting
Both units include a strong magnetic mount and a 1" ball adapter, which can be used with various accessories to mount the units wherever and however you want. The magnetic mount, which is beefed up in the Overlander, is extremely strong. While off-roaders may worry about the magnetic mount not being strong enough, they can set those concerns aside if they look at all of the positive reviews from actual users. In addition, with the integrated mounting base, you can purchase various mounting hardware from stick-on bases, a suction cup mount, or various clamp-on options.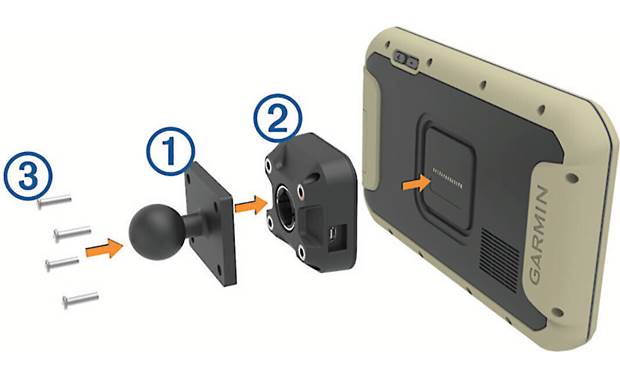 Construction and Durability
Both units are well built, but the Overlander is the clear winner in this department. While the RV 1090 feels extremely solid in hand, it's primarily designed for use on the vehicle. It doesn't mean that it's too fragile to take out and carry around, but you will need to use it as you would any tablet-type electronic device.
The Overlander, on the other hand, is built much more solidly. The reason is that it's intended to take a lot more bouncing and shaking from offroad use. It comes in an IP5X dust-proof ruggedized case and is mil-spec tested to MIL-STD-810, which means it's rated for drops from about 4′ onto a concrete floor with 1/2″ of plywood surface. However, neither unit is waterproof, so they shouldn't be exposed to the elements.
| | | |
| --- | --- | --- |
| | RV 1090 | Overlander |
| Dimension | 9.65″ W x 6.06″ H x 0.83″ D (24.5 x 15.4 x 2.1 cm) | 7.84″ W x 4.79″ H x 0.93″ D (19.9 x 12.2 x 2.4 cm) |
| Display Size | 8.5″ W x 5.3″ H (21.6 x 13.5 cm); 10.1″ (25.7 cm) | 6.0″ W x 3.5″ H (15.2 x 8.9 cm); 6.95″ (17.7 cm) |
| Display Resolution | 1280 x 800 pixels | 1024 x 600 pixels |
| Display Type | 10.1" "ide view IPS, color TFT, with on-cell capacitive touch panel | multi-touch, glass, WSVGA color TFT with white backlight |
| Dual-orientation display | x | |
| Weight | 18.8 oz (534 g) | 15.4 oz (437 g) |
| Battery type | rechargeable lithium-ion | rechargeable lithium-ion |
| Battery life | up to 2 hours | up to 3 hours |
| Drop rating | | MIL-STD-810 |
| Dust rating | | IP5X |
| Magnetic Mount | x | x |
| 1" "all adapter with AMPS plate | x | x |
Maps, Memory, and Sensors
When it comes to mapping, there are some key differences. First, however, let's look at some of the similarities. Both units come preloaded with street maps, the central on-road navigation feature. They both have built-in internal storage for adding mapping data. However, the Overland has 64 GB compared to the RV 1090s 16GB. They both have support for microSD cards, so you shouldn't get too hung up on storage capacity. Both units also include free, easy map updates, which is important when future-proofing your purchase. Finally, both have 3D terrain built-in, but the RV 1090 also includes 3D buildings.
When we look at other features, this is where the Overlander breaks away from the RV 1090. In addition to the street maps, the Overlander includes preloaded topographical maps. It also has a great feature allowing you to download satellite imagery and USGS Quad Sheets (topography maps) to the unit and display them when navigating. This addition is a great feature for off-the-beaten-path traveling.
The Overlander also gives you some additional navigational sensors, which will improve GPS accuracy and orienteering from place to place. This upgrade includes the ability to use the advanced navigation sensors of GLONASS and Galileo. Read more about these features here. You'll also get an integrated Barometric altimeter and compass.
| | | |
| --- | --- | --- |
| | RV 1090 | Overlander |
| Preloaded street maps | x | x |
| Data cards | microSD™ card (not included) | microSD™ card (not included) |
| 3-D buildings and terrain | x | |
| 3D Terrain | x | x |
| Internal storage | 16 GB | 64 GB |
| Includes map updates | x | x |
| GPS | | x |
| GLONASS | | x |
| Galileo | | x |
| Barometric altimeter | | x |
| Compass | | x |
| Preloaded topographical maps | | x |
When it comes to the basic task at hand (Navigation), both the RV 1090 and Overlander provide similar capabilities. They will give you the same point-of-interest data, including Garmin's Real Directions landmark guidance, millions of Foursquare points of interest, and TripAdvisor Traveler Ratings. The data will cover the entire United States, allowing you to navigate easily to National Parks or a nearby gas station. In addition, you'll have access to things like historic sites, accommodations, shopping, cities/towns, picnic areas, etc.
Both units will also offer route-shaping through preferred cities/streets, providing accurate and meaningful navigation suggestions and showing you the best route with turn-by-turn directions for your trip. Both units also offer voice-activated navigation, allowing you to operate the unit by speaking out a command. You'll also benefit from a virtual voice assistant, dictating screen cues so you can keep your eyes on the road.
While the RV 1090 includes traffic data when connected via the Garmin Drive App, you will need to purchase a traffic cable accessory if you want this feature with the Overlander. The RV 1090 also uses the Garmin App, providing other live data like road conditions, road warnings, detailed weather forecasts, and smart notifications. I'm not sure why they don't include this for the Overlander since it's a very useful feature when traveling on the road.
In addition, both the RV 1090 and Overlander offer lane assist with a junction view, speed limits, and driver alerts for things like sharp curves, school zones, red lights, and speed camera warnings. The RV 1090 also integrates the Garmin Easy Route Planner with GPX files- allowing you to share routes.
Both units have built-in Wi-Fi and Bluetooth. Via Bluetooth connectivity, you can pair a compatible smartphone with the GPS unit for hands-free calling. In addition, using the built-in Wi-Fi connectivity gives you access to easy North America map updates. By pairing your unit with a compatible mobile device, you can take advantage of limitless updates for your maps and software updates for the unit.
| | | |
| --- | --- | --- |
| | RV 1090 | Overlander |
| Garmin Real Directions™ landmark guidance | x | x |
| Millions of Foursquare® points of interest | x | x |
| TripAdvisor® Traveler Ratings | x | x |
| Route shaping through preferred cities/streets | x | x |
| Voice-activated navigation (operate device with spoken commands) | x | x |
| Includes traffic | yes (with Garmin Drive™ app) | No (optional traffic cable accessory) |
| Lane assist with junction view (displays junction signs) | x | x |
| Speed limit indicator (displays speed limit for most major roads in the U.S. and Europe) | x | x |
| Driver alerts for sharp curves, school zones, red light and speed camera warnings and more | x | x |
| Smart notifications via app | yes (with Garmin Drive™ app) | |
| Wi-Fi® map and software updates | x | x |
| Access to live services via app (traffic, weather, etc.) | yes (with Garmin Drive™ app) | |
RV and Camping Features
Both units will provide traditional RV-related information when it comes to RV and camping-related navigation. You'll have access to a specialized custom RV routing system, which considers your vehicle's size and weight, delivering the best possible RV route. This custom routing feature is probably one of the biggest reasons you want a specialized RV GPS unit.
The RV 1090 and Overlander will also provide an RV parks and services directory of the U.S., helping you find specific resources like dump stations, RV-friendly gas stations, weigh stations, etc. You'll also be able to see road elevations, speed limit changes, low bridge warnings, and state border notices related to camping and travel.
The Overlander offers several additional features in this department, highlighting its "Adventure" capabilities. The Overlander is compatible with inReach devices (satellite communicators), allowing satellite-based two-way text messaging. You can also record your tracks (breadcrumbs) when venturing off the mapped roads. You'll also get access to special points of interest information, such as the Garmin Ultimate Public Campgrounds list and the iOverlander points of interest (also available in the RV 1090).
Another unique feature of the Overlander is the integrated pitch and roll gauges. These features are really only necessary if you're doing some extreme off-roading that has the potential of causing you to have wheels off the ground. The Overlander is also compatible with the Garmin Explore™ app, primarily designed for use in a Garmin adventure handheld device. Having all of this data built into the GPS systems is useful if you don't have a cell signal.
RV 1090
Overlander
Specialized routing for the size and weight of your vehicle
x
x
RV Parks & Services directory
x
x
Road elevations
x
x
Speed limit changes
x
x
State border notices – RV
x
x
Sunrise/sunset times – RV
x
x
Mile marker info – RV
x
Easy Route Planner with GPX file sharing
yes (with Garmin Drive™ app)
Pair with compatible inReach® devices
x
Track recorder (breadcrumbs)
x
iOverlander™ points of interest
x
x
Ultimate Public Campgrounds
x
Pitch and Roll gauges
x
Compatible with Garmin Explore™ app
x
Voice Control
x
Backup camera compatible
yes (BC™ 35)
yes (BC™ 35)
What unit should you buy?
The RV 1090 will be more than adequate for your RV and camping navigational needs for most RV owners. You will want the Overlander if you camp and travel in remote areas outside of established campgrounds. For example, if you like boondocking on remote National Forest lands with 4X4 roads, you may find the Overlander features helpful.
Another reason to purchase the Overlander over the RV 1090 is you want a dual-purpose GPS. Perhaps your RV travel is traditional, but you like to take an ATV or UTV off-roading. The Overlander may be a good choice, allowing you to benefit from the standard RV features but having the extras for your adventure activities. However, if you primarily drive on a flat surface, stick with the RV 1090.
Conclusion
Both the RV 1090 and Overlander are exceptional RV and camping GPS units. Garmin has been in the business for longer than anyone else. So not only do you get a navigational tool, but you will also have the most advanced software and hardware available. Unless you're taking some adventurous camping trips or plan to use it for off-roading, you're probably safe to save some money and stick with the RV 1090. With it, You'll also benefit from a larger screen, integration with the Garmin App (live traffic, weather), and extra money to put towards other camping gear. While Garmin navigation systems can be costly, they're the best RV GPS units on the market. Garmin is an excellent company and is known for providing exceptional customer support. Both units will do a great job of getting you from your home to the campsite.