Emptying a black water tank is one of the least fun parts of RV camping. When camping at full-hookup campgrounds, you have multiple options for emptying it at your campsite, at a dump station, or even with a honeywagon service. However, what do you do when you have a full tank and need to dump it elsewhere. Can you empty a black tank at home? The short answer is yes. So how do you do it? Let's find out.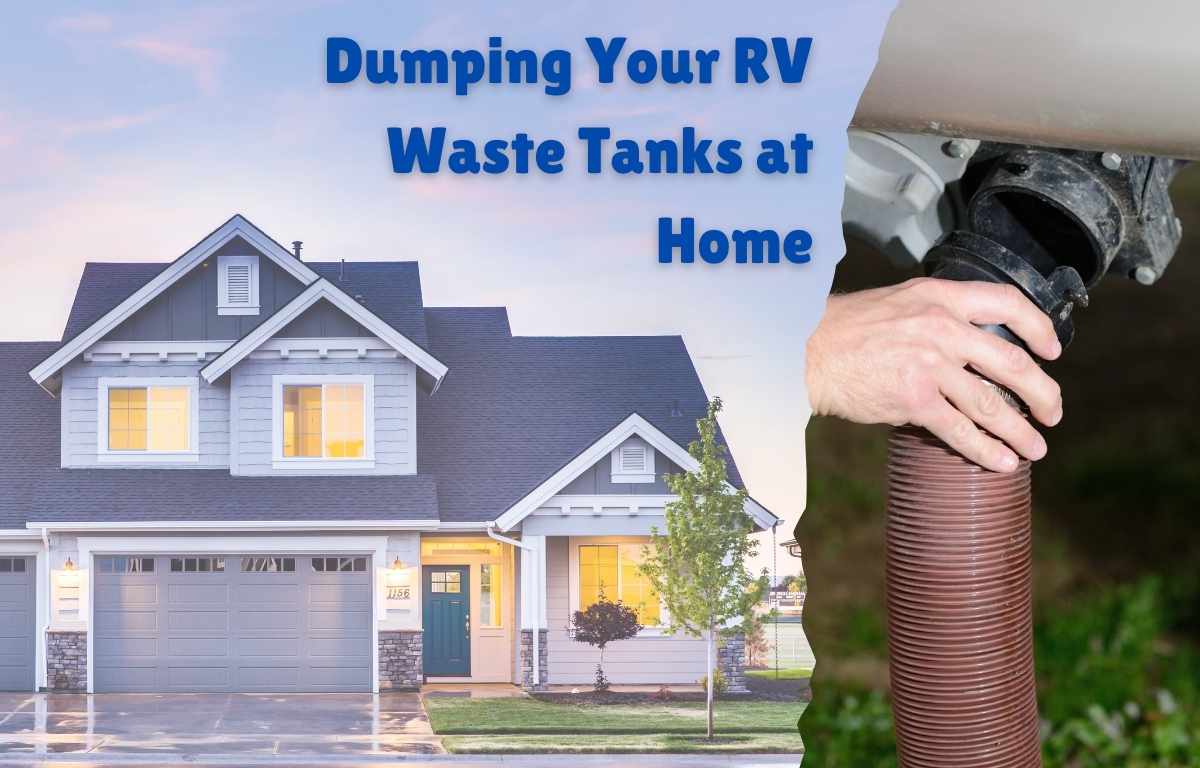 Commercial Dump Stations
Before we discuss a permanent solution for installing a dumping station at your home, an easier solution is to find a commercial dump station near you. This option may be more accessible than you think. Many businesses that cater to the RV owners offer dump stations, and all you need to do is locate one. Some are free, but others may charge a small fee.
There are several websites to help you locate one. If you're in the middle of your RV trip, check out different areas to see all of the options along your route. Here are a few dump station finding services:
RV Dump Station Websites
www.RVdumps.com: This free resource uses crowdsourced data to locate dump stations near you. They have a simple and convenient map to zoom into your area and find a dumpsite. They also code the dump stations by category and cost, which is useful. There are even some gas stations listed offering dump stations. If you know of a site that isn't listed on the website, consider submitting it. Since it's crowdsourced, it will only get better over time.
www.sanidumps.com: This is another free website. It's very similar to RVdumps.com but has a little different look and feel. This site listed locations that weren't available on the RVdumps website for my area. If you don't find what you need, it's worth looking at multiple websites.
RV Campgrounds and RV Dealerships:
Even if you're not staying at a campground, they may allow you to pay to use their dump station. Many state parks, national parks, and RV parks will have free or paid RV dump stations that you can use even if you're not camping there. Additionally, many RV dealerships may have a dump site. RV dealerships that provide service often need to clean out RV waste tanks, and some may offer a public dump station. However, before you travel to any of these sites, it's best to call and confirm. Some sites may be seasonal, and you don't want to pull a camper for a long distance only to realize that they don't have services available or open.
Camping Phone Apps
A few camping and RV apps have a feature for locating dump stations. Here's a couple of popular ones:
AllStays Pro: In addition to listing dump stations, this is a great app for locating all types of RV amenities. It's also great for trip planning, letting you know of hazards like low bridges, steep road grades, and weight restrictions. It's also one of the leading apps for locating RV camping locations.
Campendium: THis app is similar to AllStays and offers many of the same features. It has a really clean interface and has some great free features on the app and website.
Black Tank Dumping at Home
Dumping a black water tank at home isn't too difficult. The good news is that it can be as easy as doing it at the campground, assuming you have the right setup. However, before you start, there are a few things to consider. You can dump your tank at home if you have a septic system or if you're connected to a city sewer line. Some RVers also set up full hookups with water, electricity, and sewer connections at home.
If you plan to do it via city sewer, it's a good idea to double check with the city first to ensure that you're conforming to all local laws. Wastewater treatment plants may have specific rules or requirements for this. You don't need special permission if you have a septic system at home.
Choosing to empty your RV waste water into a municipal sewer line isn't putting anything new into the system, assuming you're not using any harmful chemicals in your tanks. Municipal systems are designed for raw sewage and human waste, which is what's coming out of your RV. At home, you typically have a lot more solid waste entering the sewer system (washing machines, the kitchen sink, and multiple toilets are all common wastewater sources at home). However, make sure you dump properly and do not empty your RV black or great water tanks into a storm drain.
Public Sewer Options
Sewer Connection Method
There are two primary options for dumping into the public sewer at home. The easiest way and best way is to access it via a cleanout pipe. Most home connections will have an access pipe that rises about the ground along the sewage line that exits your home. This access point is usually a PVC pipe typically used to clean out the line if there is a clog. The cap on the pipe should be easily removable, and you can dump the black and grey water tanks directly into here. Hopefully, the sewer cleanout port is conveniently located near where you park the RV. It will also need to be at a lower elevation to the RV if you plan to dump it by gravity.
Bucket Method
The second location you can dump your tank is in your toilet. This solution is the least preferred option as it can require more setup, time, and potential for something to go wrong. However, in a pinch, it can work. If using your toilet, you have two ways to do this. First is the bucket method. This is exactly how it sounds- you will empty the tank into a buck little by little, carry the bucket to your toilet, and flush it down. You'll need to carefully open and close the black tank valve to prevent the bucket from filling up too quickly. As you can imagine, this has a lot of potential for a big mess, so I advise you only do this if you absolutely have no other option. If it's your first time emptying a black tank (new RVers, be warned), this may not be the best option to try.
Macerator Method
You can also use something called a macerator pump. It will sound a little disgusting, but it's pretty much a garbage disposal for your black tank. You connect it to the outlet of your tank (just after the black water holding tank gate valve), turn it on, and it will grind up the solids, toilet paper, and food particles and pump it through a garden hose to the disposal location. In this instance, it can be your toilet or cleanout valve if it's not located in a good location for gravity flushing. You may need a stronger pump and a larger water hose if you're pumping long distances. The last thing you'll want to do after using a macerator pump is to flush clean water (potable water) or water from your grey tanks through the entire system-it helps to clean everything out. Also, it's helpful to install a clear elbow on the RV sewer hose to see when the water is running all the way clear. Additionally, make don't use your RV fresh water hose for this. The best solution is to have a dedicated hose just for the macerator pump.
Here's a few good macerator pumps to choose from
This newly designed RV macerator pump unit is the ideal waste emptying solution for your RV. With the Quick-Connect RV fitting, this pump easily attaches and removes in seconds. It cleanly handles both the black and the greywater from your holding tanks with this self-priming, powerful macerator pump. The pump housing is designed to connect onto the standard three-inch waste outlet. It also features a garden hose inlet to allow for easy cleaning and debris removal.
Designed to greatly improve one of the least desirable functions of the RV experience. Cleanly handle both the black and gray water from your holding tanks with this new self-priming, powerful macerator pump. The pump housing is designed to connect on to the standard 3″ sewer adapter. Power leads with plug may be permanently attached to the vehicle, or battery clips may be attached for complete portability. Note: Some vehicles require an angle adapter for proper fit. Use this product in accordance with EPA Sanitary Regulations.
---
If dumping at home will be a frequent need and your current setup isn't ideal, the best option is to check with a plumber to see if they can install a permanent access point for your approved residential sewer system. However, this may not always be possible depending on where you park the RV and could be costly. A permanent sewer hookup is also a great thing if you plan to use the RV at home.
Septic Tank Method
If you have a septic sewage system, you're in luck. Most residential septic tank systems will have a cleanout or access pipe that rises above the ground. If you do, this access point makes an excellent dump location. However, you can often install one if you don't have one. Likewise, if you don't have a cleanout but have an access cover for the tank, you can often remove the cover and expose the tank. Since the black tank waste is the same as you create at home, you can safely discard it in the tank. Just make sure you only empty sewage into it or risk disturbing the beneficial bacteria in your septic system. Also, whenever you access the inside of a sewage tank, beware of the fumes. In addition to being smelly, they can be dangerous or even deadly if you don't have access to fresh air.
Most septic systems need to be periodically pumped out. If you don't have an easily accessible way to dump your RV tanks into the septic system, consider contacting a septic cleaning service and inquire about installing an access port on your system. Most companies will be able to add this for you, and it's not overly expensive. In 2021, I had one installed for $200 when I hired them to clean my system.
The main challenge with using a septic system is that it may not be conveniently located near where you park the RV. If this is the case, you have several options. First, you can use a macerator pump option described above when dumping it into the toilet. Although more physically demanding, a less expensive option is to use a portable waste tank or tote. Simply empty the black or grey water tank into the portable tank or tote and wheel it over to the septic access point, where you can dump it just as you would at the campground. Depending on how much waste you have, this can take several trips to empty all of the RV's holding tanks. While less convenient than dumping directly from the RV to the septic system, this may be a good solution if you can't move the RV closer