Grand Lake Oklahoma is located in the foothills of the Ozark Mountain Range, a popular tourist and recreation destination in Northeast Oklahoma. In 1940, the Pensacola Dam was built, creating over 41,000 acres of surface water used to generate hydropower electricity. The area's natural beauty eventually led to the development of tourist-based industries, bringing flocks of people to make this one of the best outdoor recreation areas in Oklahoma.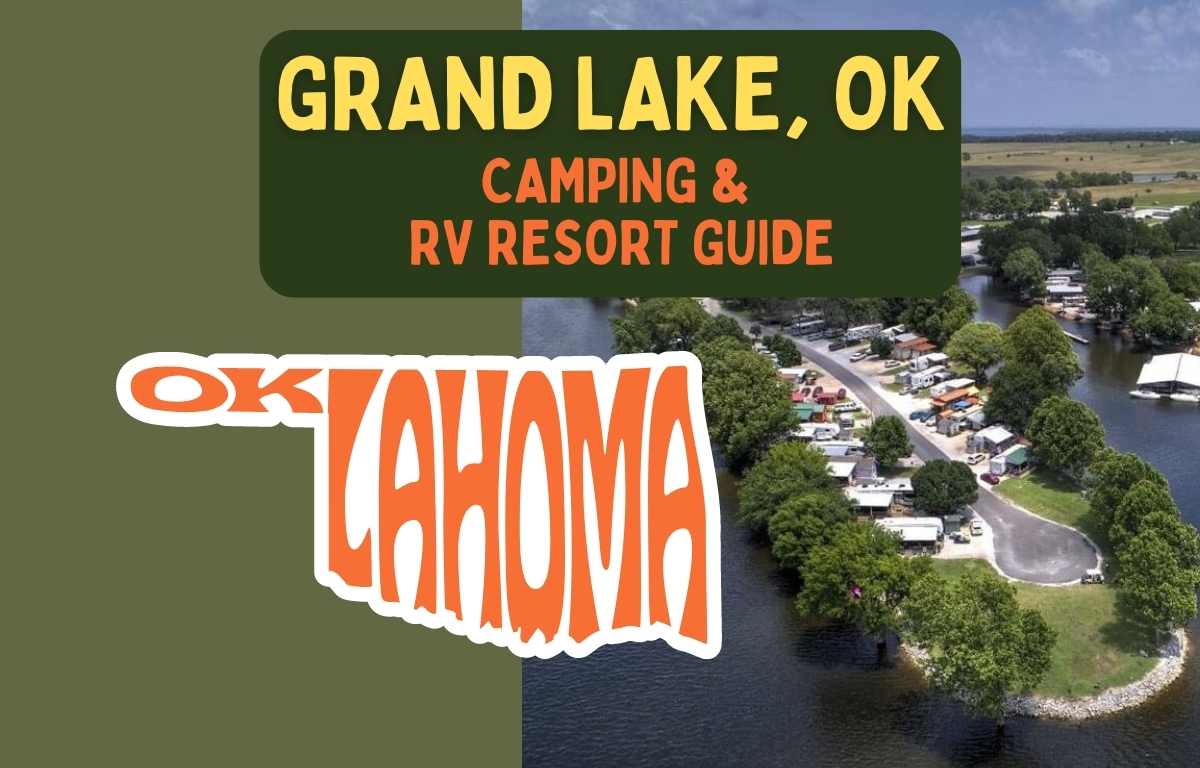 Grand Lake and the surrounding communities have also become a destination for RVers and campers. No matter your camping style, you'll have plenty of camping options to choose from. You'll be able to find luxury RV resorts, camping sites with boat launches, state parks, and easy access to area attractions. Below, we'll review some of the best campgrounds in the Grand Lakes area and help you find the perfect place for your next camping adventure.
Grand Lake Attractions
While most attractions are located around the northeastern half of the lake, there are tons of activities for the whole family regardless of where you camp. Below are some of the most notable attractions in the area, but there are countless other ones not listed below, including hiking trails, museums, dining, and live entertainment.
Grand Lake O' The Cherokees (The Lake)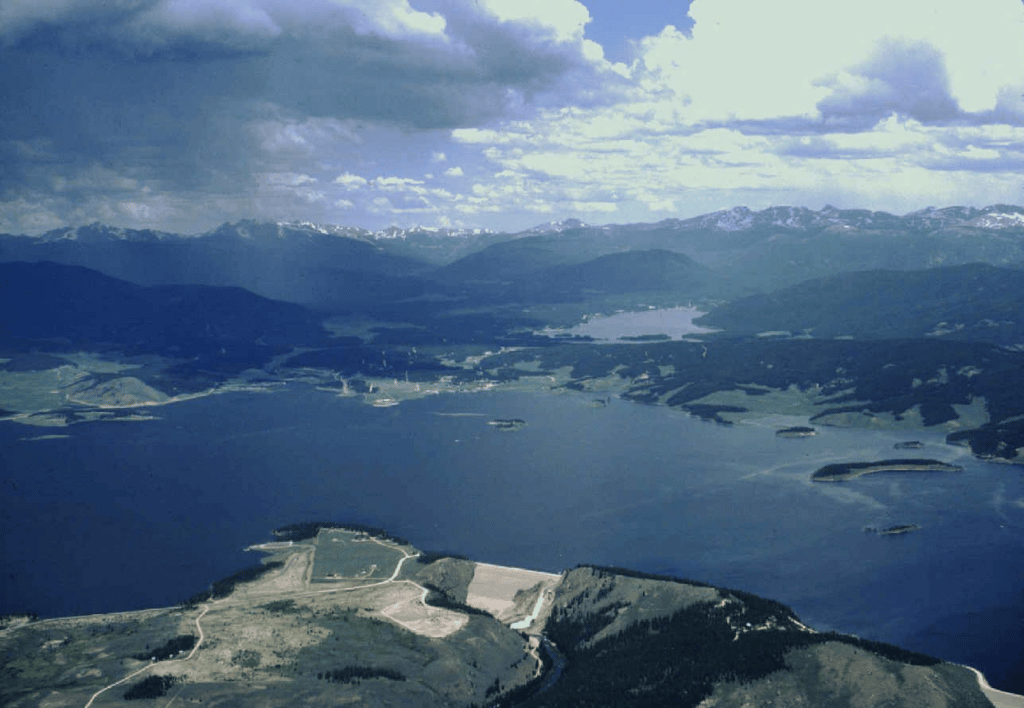 One of the best attractions in the region is Grand Lake. This large lake offers opportunities for water activities, including fishing, boating, waterskiing, jet skiing, swimming, etc. It's one of the country's premier largemouth bass waterbodies. The lake spans over 46,000 acres and has over 1,300 miles of shoreline. It's huge and will take over 2 hours to drive around the lake. If you want to experience the lake in all its glory, consider renting a boat from one of the many outfitters on the lake.
Located in Garden Grove, OK, the Lendonwood Botanical Gardens offers shaded walking trails through more than 8 acres of gardens. The botanical garden destination features more than 1,000 types of plants and trees, with some rare ones that may be on the plant lover's bucket list to see. The gardens are family-friendly, with lots of activities and fun learning opportunities for the kids. Admission to the gardens is only $5 for adults, $3 for students, and free for kids 12 and under.
If you're a fan of Little House on the Prairie and love to learn about the pioneer days, then the Har-ber Museum is a must-visit destination if you're camping in the Grand Lake region. Located in Grove, OK, the museum is open from mid-March through early November. Visitors can take a self-guided tour through 6 acres and nearly 100 exhibits depicting life in the mid-1800s to early 1900s. The museum is open Thursday through Monday from 9:00 AM to 3:30 PM. Adult tickets are $10, Seniors 7:50, Kids under 18 $5, and free for children five and under. If you have a large family, you can purchase a family pass for $30, which includes admission for two adults and up to 10 kids. The museum also features a country store and Café for a souvenir or quick bite to eat.
If you're living one of your bucket list milestones and traveling along historic Route 66, you'll pass through the Grand Lake Region. The historic highway runs through Miami, Commerce, Vinta, and Afton, Oklahoma. There are two sections of the original Route 66 in the Grand Lakes region that you can still drive on. From downtown Miami, continue south on HWY 125 past the fairgrounds and when the road turns left, continue straight. This section of the road is pretty rough, so be prepared for a bumpy ride. The second section of the original road is just north of Narcissa. You turn at the NE Technology Center, where the road will narrow to one lane. While the original highway is narrow, the nostalgia of traveling along this famous route makes it magical.
The Route 66 Vintage Iron opened in May 2006 in Miami, Ok. Located on Main Street, the longest main street on Route 66. The museum offers visitors a look at over 40 historic and vintage motorcycles, including a 1917 Harley Davidson and a 1972 Yamaha World Reck jump bike. There is also a gift shop if you want to take home a souvenir. The museum is open daily from May through October (10-6 Monday-Saturday and 12-5 on Sunday).
Fun for the whole family, the Oasis Animal Adventure allows visitors to get up and personal with various exotic and friendly animals. In addition to visiting with zebras, kangaroos, lemurs, camels, and even a Scottish Highlander Yak, you leave, gaining a greater appreciation for animals and knowledge to share with your friends. The zoo is open every Friday and Saturday, with sessions scheduled at 11 AM, 1 PM, or 3 PM. Sessions are 1 hour long and cost $15/person. Children under two are free.
Casinos:
The Grand Lake area offers some fun casinos if you want to test your luck. In addition to gambling, you'll find live music and entertainment, popular restaurants, and various event.
The Cherokee Queen Riverboat Ride is a fun experience, taking you and your family on a sightseeing tour on a sixty-seven-foot twin deck paddlewheel riverboat. Many tours are available, including day tours, dinner tours, and dance cruises.
The Dobson Museum is run by the Ottawa County Historical Society and features exhibits highlighting life in Ottawa County from when the Dobson Family made it their home in 1892. The museum is open on Sunday, Wednesday, and Friday from 1 to 4 p.m. The exhibits will provide a look at past Ottawa County life, mining, military, Native Americans, famous residents, and industry, including a permanent B.F. Goodrich exhibit.
Oklahoma's largest municipal swimming pool, covering 20,000 square feet, is the perfect place to cool off on a hot Oklahoma day. In addition to swimming, the pool has two speed slides: a 45-foot speed slide and a 35-foot circular slide. Younger kids will love the wading pool and water games.
---
RV and Campgrounds
The Grand Lake region is one of the premier camping destinations in the stake, with multiple private and public campgrounds to choose from. Coupled with the various activities described above, it's the perfect family destination for a summer vacation. There are dozens of extremely nice and affordable campgrounds to choose from, which can accommodate any RV, including even the largest travel trailers, fifth wheels, and motorhomes. Most campgrounds are open year-round and offer flexible pricing for short stays or monthly rentals. It's also a good idea to explore signing up for different camping discount programs like Good Sam, Family Motor Coach Association, and others since many campgrounds offer special rates for members. Below are some of the most popular campgrounds you can pick for your next camping adventure. The Grand Lake region is a great place for camping.
32501 S 571 RD
Jay, OK 74346
918-786-9071
The Pine Island RV resort features 144 acres of outdoor bliss and camping, with RV and tent sites, cabin rentals, and lakeside activities. The campground is open year-round at member rates starting as low as $10/night. Nonmember RV sites are $50/night. The campground has full hookup sites with both 30 and 50 AMP services. Located in a secluded area, the campground provides the perfect combination of relaxation and nature.
---
56140 East 280 Road
Afton, OK, 74331
(918) 257-6400
The Monkey Island RV Resort has over 70 RV sites and 16 fully furnished cabins. It is Grand Lake's newest luxury RV park. The RV sites are situated on concrete pads, separated by concrete roads, creating level sites with full hookup for both 30 and 50 amp electric service. RV sites start at $42/day, and cabin rentals are $90/day. Tiny homes are also available for rent, providing modern conveniences for a relaxing vacation. As an added bonus, the resort offers complimentary wifi, free bicycle use, continental breakfast, and even a free shuttle to the nearby golf course. The kids will love the swimming pool, playground, and basketball court. It's also a pet-friendly report, with a shaded dog park for your fur baby.
---
31527 S 4510 Rd
Afton, OK 74331
918-782-2920
The Grad Lake O', The Cherokees RV Resort, is located on a 43-acre property in the backwater of Duck Creek. The resort offers 178 Spacious sites (including 63 Waterfront Sites w/Overhanging Decks) and 30-50 and 100 Amp full hookups. RV sites start at $30/night, and cabin rentals start at $75/night. The resort offers access to the lake with boat ramps, boat slips, and courtesy docks. There are both an adult and kids swimming pool and a 10-person jacuzzi for relaxing your muscles after a day on the lake. Kids will love the modern playground, basketball and volleyball courts, and field for soccer, frisbee, etc. The RV sites are spacious and level, with pull-through options for easy access. Other amenities include a laundromat, exercise room, picnic facilities, and pavilion for event rentals. The site layout takes full advantage of the shoreline, providing wonderful water views.
---
24800 S 630 RD
Grove Oklahoma 74344
918 786-4289
Lee's Grand Lake Resort is a family-owned RV campground and campground located on the Northeastern side of Grand Lake O' The Cherokees. The campground offers full-service cabin rentals (hot tubs and fireplaces) and 50 amp pull-through sites with paved RV pads. Guests will appreciate free wifi, cable TV, boat slips, launches, and rentals. This premier RV park is a great family resort offering visitors access to a large pool, outdoor games like volleyball and shuffleboard, and a playground for the little ones. There are also covered picnic areas to enjoy fresh air without the hot summer sun cutting your day short. Lake access is plenty, creating many opportunities to find some great fishing locations.
---
54101 E Hwy 85 A
Bernice, OK 74331
918-257-8330
If resort camping is not your style and you want to experience a more natural setting, check out Bernice State Park. Tent camping starts at $17/night, and RV sites at $31/night. RV sites are paved, level, and available in both 30/50 amp electric hookups. The park features two playgrounds, the Bernice Nature Center, and paved walking and nature trails with access to the shoreline. There is also a public boat launch available. All sites will have a picnic table, grill, and fire ring. The park also has a dump station and several comfort stations. The state park offers a perfect combination of nature and modern facilities.
---
32100 Highway 85
Afton, OK 74331
918-782-3295
Pelican Landing offers 50 peaceful and relaxing RV sites available in both 30 and 50-amp electrical service (as well as partial hookups with water and electricity). Some of the sites are well-shaded with pull-through access. The resort provides access to 2,500 feet of the Grand Lake shoreline. The resort is situated on 20 acres of beautiful waterfront on the Duck Creek arm of the lake. Kids will love the playground and pool. The resort is much smaller than others, but it will also be quieter and more affordable.
---
555 S Main St
Spavinaw, OK 74366
918-435-8066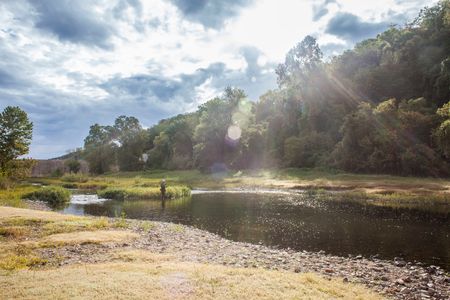 Nestled on the western end of Spavinaw Lake, the Spavinaw Area at Grand Lake State Park is a quiet and natural setting for your next camping excursion. The beautiful clean water that flows through a stream located below the lake's spillway is perfect for fishing and nature watching. The camping facilities in the park include both RV and tent sites. In addition, there is a nearby comfort station with plenty of shaded picnic areas and a large pavilion perfect for a family reunion. Swimming is available in the shallow water swimming area and is perfect for young kids. There are also numerous hunting, fishing, and hiking areas nearby.
---
415 Park Dr.
Bernice, OK 74331
918-256-6954
If boating and fishing is your goal, you may want to check out a stay at the Indian Hills Resort and Marin. The full-service marina will provide access to all of your boating needs, including using the boat ramp during your stay. RV reservations are available at $45/night. The RV sites offer full hookups. Free wifi is available in the office. For shoreline fishing, anglers will appreciate free access to the heated dock. Boat and kayak rentals are also available a the marina.
---
25301 Highway 59 North
Grove, OK 74344
918 786-6196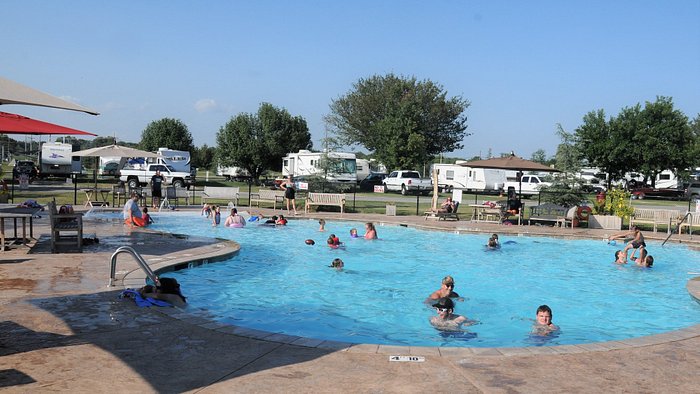 The Eagle's Landing resort offers fantastic accommodations and many opportunities for recreation for the whole family. You can stay in recently remodeled cabins or full-hook-up RV sites. There are 22 pull-through sites, 35 full hookups, and 98 lakefront sites. Tent camping is also available for $25/night. Families will love the large pool, miniature golf, game room, boat rentals, and much more. Anglers will appreciate the enclosed indoor fishing dock.
---
Langley
918-786-9071
Waters Edge is your luxury RV and camping resort, and the perfect location for a family vacation Both RV sites and cabin rentals are available with private waterfront access. Boaters will appreciate easy access to the lake, boat storage, and some of the best fishing on the lake. Accommodations include free wifi, a laundry room, clubhouse access, and swim dock use. RV sites offer full hookups, level sites, and shade. This unique campground will provide some of the best lakeside camping in the Grand Lake region. The campground is situated on a peninsula in the middle of Grand Lake O' the Cherokee.
---
36402 S Highway 82
Vinita, OK 74301
405-802-1675
Grand Lake's newest luxury RV park has 100% paved roads and pads and is situated in a beautiful wooded community. The campground is within walking distance to location restaurants, grocery stores, and pubs. Each RV site has full hookups with 20-30-50 amp electrical service. In addition, the resort offers on-site wifi, a laundromat, and access to water features throughout the park. This newly built campground also offers metered propane service at each site, which is convenient for longer stays (monthly or annually).
Conclusion
If you're lucky enough to travel through northeast Oklahoma or live nearby, you can't find a better gaming destination than the Grand Lake region. There are numerous campgrounds and resorts available for any type of camping. The area is full of local attractions, activities, and natural beauty. The other great thing about camping in this area is the affordability. For under $50/night, you can stay at one of the nicest campgrounds in the country. If you don't have an RV, most resorts have cabin rentals available. This year-round camping destination is one of the best in the nation. Happy trails!