If you've been camping or backpacking, lugging around a large tent, you may have looked for alternatives that aren't quite so heavy. Chances are you thought about using a hammock to sleep in, but you can purchase a portable and lightweight hammock rainfly that can turn your oasis into a fordable shelter during a heavy rainstorm.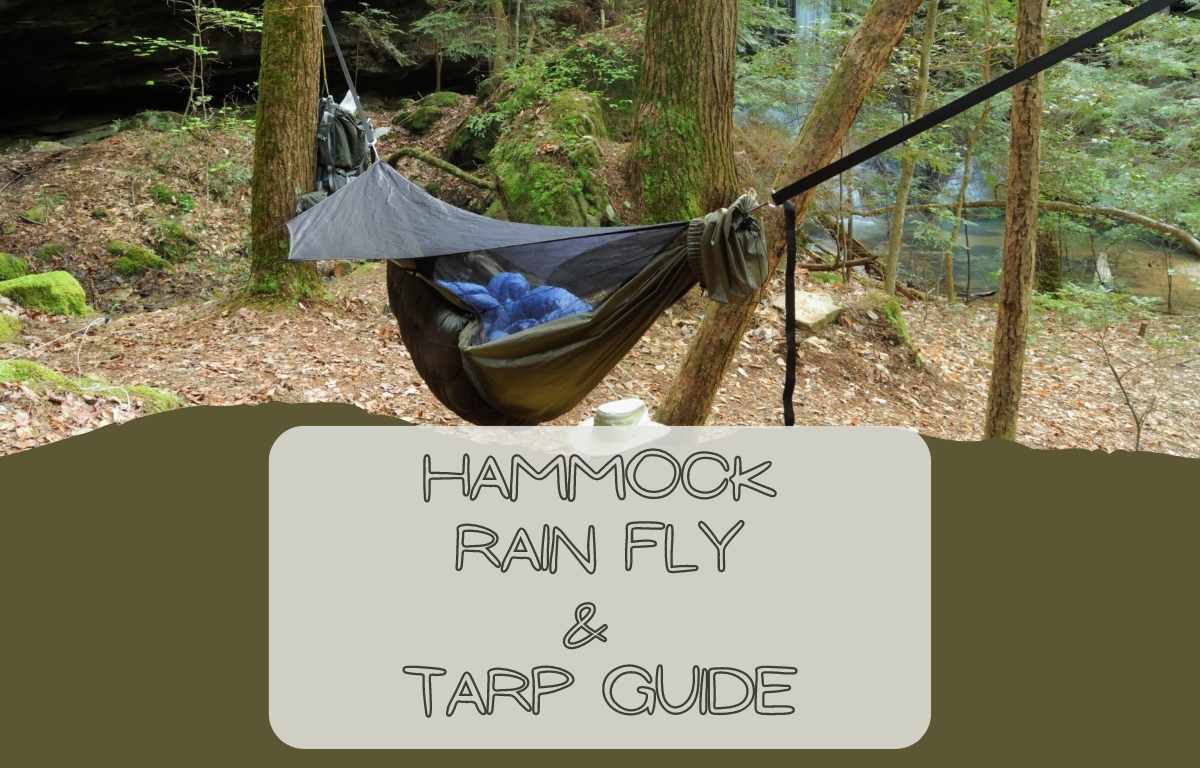 Hammocks are simple, and a hammock rain fly, often referred to as a hammock tarp, is even simpler. However, a hammock rain fly is more than just a piece of fabric. It's designed to be light and easily packable, resistant to wind and rain, and adjustable.
A Hammock tarp or rain fly will have several anchor points that allow you to customize the installation to fully cover your sleeping area and shed the rain away from you in inclement weather. A hammock rain fly will come in different shapes and sizes, making the shopping experience a little confusing. However, if you keep reading, we'll help you identify the best features and suggest great quality tarp options for your camping and backpacking adventures.
What to look for in a hammock rainfly?
When searching for a hammock rain fly, you'll need to consider a few key features and design choices. Below, we'll go over them in detail. The most important aspect of selecting the shape includes the level of protection it will provide when camping. You want to ensure that the rain fly fully covers the hammock and prevents rain and wind from creeping in. Additionally, you may want to have some extra fabric to extend out enough to allow you to protect your backpack and camping gear, keeping it dry in the event of a rainstorm.
If you're didn't purchase a hammock yet, one option you may want to consider is a hammock tent. This complete setup is an integrated hammock, tarp, and often a bug net. It's a good option that allows you to have a system already designed to work together. It's a little less versatile, meaning the individual pieces don't always work well independently, but it's a great option to look at for an easy setup.
The best hammock tarp will be one that balances weight and protection with quality construction. Some of the most important considerations include:
Shape
When shopping for a rain fly, you notice that you have several different shapes to choose from. However, there are for main shapes that account for the majority of options: Rectangle, diamond, hexagonal, and catenary. All types work well, and the decision primarily comes down to personal preference and the size of the hammock setup.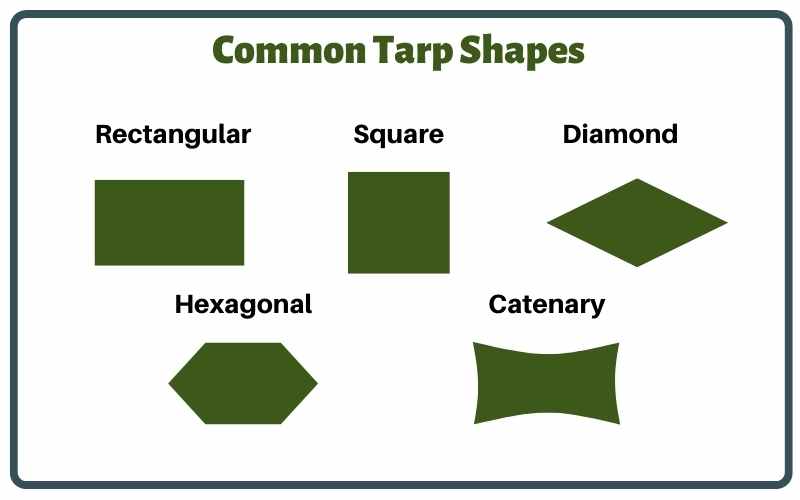 Rectangular tarps (and square tarps_:
A Rectangular shape rain fly offers the largest amount of protection. However, the extra fabric needed to achieve this makes them the bulkiest. On the other hand, if you see a square rain fly, this will usually be the largest and heaviest as the sides that extend out are just as long as the length.
Diamond Tarps
A Diamond shape rain fly is typically lighter because it cuts off the material offered in the rectangular rain fly. Because of this, they tend to provide the least amount of coverage and protection from the elements. The diamond shape may be the best option if you want a smaller tarp.
Hexagonal Tarps
A Hexagonal shape rain fly is similar to rectangular tarps in coverage, but since the corners are curved inwards, they will use a little less material and are typically way less.
Catenary Tarps
A Catenary shape rain fly uses a unique design with a curve that is a little more aerodynamic and helps shed wind. This unique shape has some added benefits but may make setup a little more complicated.
Material
Hammock tarps come in a variety of materials, which all offer some benefits and disadvantages. Some more common ones include ripstop nylon, coated polyester, and silnylon, a unique mix of silicone and nylon. Also, different manufacturers may have various weatherproof coatings applied to the tarp. In addition, different materials will have a specific waterproof rating, so keep that in mind when shopping. Most reputable brands will offer quality fabric with good weatherproofing attributes. Also, most materials will be available in different colors if that's important to you.
Weight
Weight and size usually go hand in hand with a hammock rain fly. I guess that one of the reasons you are considering hammock camping is because you want to carry less with you on the trail (or road if you're motorcycle camping). Since hammocks and tarps usually weigh less than a tent and pack much smaller, you may want to keep this in mind when choosing your tarp.
While weight is one of the more important considerations in selecting a tarp, don't let it trump the protection you need from the elements. I think you should find the properly sized tarp and then find a lightweight option that meets those specifications.
A light weight from one manufacturer may only be a few ounces more than another, so don't get caught up with this too much. However, avoid any super heavy materials that will significantly increase your overall pack weight and not provide a huge benefit over simply using a tent.
If you're looking at heavier winter tarps, you may want to opt for one with a little thicker material. While this may add to the rain fly's overall weight, it may provide better protection in extreme weather conditions.
Anchor points
One of the most important components of a rain fly is the attachment points, or guy points, where the cord ties to the fabric. Tarps will use thin guy lines, which are strong pieces of cord you use to pull to tarp tight to give it its shape and provide durability. They're critical for allowing the tarp to deflect rain and wind. A poorly made tarp may have weak anchor points, which could be the weak point in your setup, even causing it to tear in heavy winds.
The other important anchor point is the stakes you use to connect the guy lines to the ground. Most lightweight setups will use aluminum tent stakes that are strong and light. Using heavier tent stakes will offset the weight savings you get by choosing a lightweight camping hammock setup.
Protection from the elements
Protection from the elements is the main reason why you should be camping with a rain fly. In addition to heavy rain, your tarp should also block out the wind. A properly fitted rain fly will fully cover the hammock and any gear you plan to store underneath it. It should also extend beyond the opening to the hammock, providing good coverage and allowing it to shed the rain away from you, keeping you dry and warm.
The most important consideration for having protective rain fly is shape and size. Next is the material that it's made from and its weatherproof rating. Most good-quality tarps will be constructed from weatherproof material. All my suggestions below will fit this bill. It's a good idea to focus your decision on the size and shape of the rain fly if you stick with a reputable brand. During harsh weather, you'll appreciate spending a little extra money to buy a quality product.
Additional features
Even the best tarp is fairly simple. While you won't necessarily find many added features, most will come with a small stuff sack and included guy lines. If you opt for a hammock tent, it may also include a mosquito net.
Hammock Tarps vs. Ground Shelter
The simple answer is that many tarps can be used as a hammock tarp or rain fly as well as used on the ground. The main difference is size and features. Some ground shelter tarps have special mounting points, allowing you to use a tracking pole or stick as a support structure. However, almost every tarp can be hung between two trees and serve as a hammock tarp.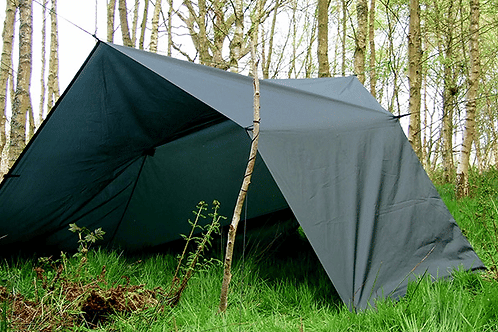 The key thing to consider is size. Most tarps branded as hammock tarps will be better suited to providing the necessary coverage for the hammocks and ease of use when setting it up. However, the best part of any tarp is versatility. Tarps are designed to be set up in various ways and situations, meaning that if you need shelter while in a hammock or on the ground, you should be able to find a solution that works for you. When selecting a tarp, read the descriptions from the manufacturer to see what options they recommend for setting up the shelter.
Setting up a Hammock Rain Fly
Every tarp design will be slightly different for setup, but they'll all use some basic techniques. First, locate the tarp above the hammock between two trees. This will be your center line (or ridge line). Next, depending on the shape of the tarp, you'll connect the guy lines to the ground or other trees to pull it taut.
Depending on don't the situation, weather, and location, you may need to adjust the tarp to provide the best protection. This may include angling the tarp so you can better block strong winds from a certain direction, increasing pitch to help rain run off better, or decreasing pitch to provide a tighter shelter during chilly nights. Most tarps will offer flexibility for setting it up.
Best Hammock Rain Fly and Tarps
Description:
If you're looking for an affordable option, the Wise Owl Hammock Tarp offers good quality for a low price. It may not be the lightest, but it is well built and comes with everything you need to get you set up for hammock camping with a tarp. The tarp has a 2500 waterproof rating, which will provide great protection from heavy rain. The six anchor points will help with high winds to keep the shelter in place and you covered.
Specs:
Weight: 26 oz.
Size: 11 ft x 9 ft
Material: 210 Ripstop Nylon
What's Included:
Waterproof Rain Tarp
4 High-Quality Aluminum Tent Stakes + Stake Bag
Six 10′ Guy Lines (Large) or Four 10′ Guy Lines (Lite)
Waterproof Carry Bag
---
Description:
The Eno Profly waterproof tarp is designed with Hammocks in mind. It's constructed from polyurethane-treated 210D ripstop nylon and offers long-lasting wear and features to help shed water. The tarp secures with six guy points so you can feel secure lounging underneath. This is billed as an ultralight tarp, weighing only 22 oz. I personally think of this as a lightweight hammock tarp since others, including its lighter weight Sil Nylong version, weigh less. However, it has a great weight-to-size ratio, ideal for weathering sudden downpours or building a waterfront basecamp. The 210D ripstop fabric is a little beefier than other options but packs a lightweight design for backpacking.
Specs:
Weight: 22 oz
Size: 10′ 6″ x 6′ 4″ inches
Material: polyurethane-treated 210D ripstop nylon
What's Included:
Carry pouch
Guy lines
DOES NOT include stakes
---
Description:
If you're looking for a complete setup with a tarp, hammock, anchoring kit, bug net, etc., then the Sunyear Camping Hammock is a great affordable option. It's not the lightest solution available and may not be a name brand you would find at a premium camping outfitter. Still, the hammock camping system has excellent reviews and a very affordable price. The setup is described as a two-person hammock, but I never found it very comfortable hammock camping in a shared hammock. Others may feel differently, but keep that in mind in you are planning to purchase this tarp instead of two individual ones.
Specs:
Weight: 5.57 lbs
Size: 106 x 55 x 27 inches
Material: waterproof nylon
What's Included:
Portable hammock
two 2×10ft adjustable tree straps
two2 portable bag
Hammock rain fly
eight8 guy ropes
six6 tent stakes
two2 carabiners
---
Description:
If you want a hammock tarp that resembles a tent with the sides extending to the ground, then the HouseFly rain fly is the model for you. The tradeoff for the protection is the weight, which is 1.7 lbs. It's still very light when comparing it to a tent. It makes a great option for cold weather or when taking a camping trip in bad weather. It's also great if you want extra space to keep your pack and materials nice and dry. The tarp features overlapping doors, which will seal you in and keep you warmer than a minimalist tarp. It's also a great choice for privacy if you use it at the campground. This tarp provides a good balance of protection from the elements and weight. A lightweight tarp will always beat a tent in the weight ratio department.
Specs:
Weight: 1.7 lbs
Size: 10′ 8″ x 8′ 10″
Material: ripstop nylon
What's Included:
Carry pouch
Guy lines
DOES NOT include stakes
---
Description:
Weight lust one point and offering a 10.5 x 6.5 (ish) size, this is one of the best lightweight, moderately affordable options. It uses a simple hexagonal design and six anchor points, just like its ultralight counterpart. The nice thing about a standard design is the ease of setup. This tarp sets up easily over your hammock or provides a great shelter if camping on the ground. This tarp is best used for backpacking. If you're car camping or traveling short distances, there isn't much of a reason to spend the extra money for a lighter weight design.
Specs:
Weight: 16 Oz.
Size: 10′ 6″ x 6′ 4″
Material: 15D Sil Nylon
What's Included:
Carry pouch
Guy lines
DOES NOT include stake
---
Description:
This incredibly lightweight, square design tarp packs down to pocket-sized and weighs just one lb. (excluding pegs and guy-lines). It features a strong and stormproof design with weather-resistant ripstop nylon. It is very versatile, too, offering 19 attachment points around the edges, vs. just six included on similar models. This allows the tarp to be used in a variety of situations for hammock camping and other shelter needs.
Specs:
Weight: 16 oz.
Size: 10′ x 10′
Material: 3,000mm rated PU coated ripstop nylon
What's Included:
Tarp
stakes
guy ropes
stuff sack
---
Description:
While heavier than other tarps, this larger 12 ft. rectangular hammock rain fly provides extra coverage and the ability to close the flaps for an enclosed space with added protection from the wind and the rain. It's constricted with 20D ripstop silnylon. The rain fly by itself weighs just 1.8 lbs. The included stakes, guy lines, and clips increased the total weight to just over 2 lbs. The larger tarp packs down to a compact size and offers a tent-like feel for much less weight. The full coverage design is the best choice for hammock campers who need 4-season protection or added privacy.
Specs:
Weight: 2.2 lbs.
Size: 12 ft x 10 ft.
Material: 20D Silnylon
What's Included:
Tarp
stakes
guy ropes
stuff sack
---
Description:
Description: Similar to the DD Superlight tarp, this square tarp design is nearly identical but uses a bit stronger but heavier polyester material. It weighs 1.74 lbs as compared to the superlight 1lb. The weight difference won't make much difference unless you're looking to go as light as possible. It also includes the 19 anchor points, making it one of the most versatile hammock tarp options on the list. Both of the DD square tarps are 10′ x 10′
Specs:
Weight: 1.74 lbs
Size: 10′ x 10′
Material: PU coated Polyester
What's Included:
Tarp
stakes
guy ropes
stuff sack
---
Description:
One of my favorite tent manufacturers, Nemo Equipment, Inc, has a super creative tarp solution for keeping bugs (including no-see-ums) out of your sleeping area. The large 12'x12′ square shape tarp offers dropdown screening to protect you from weather and bugs. The doors have slits to allow the end of your hammock ties to pass through, creating a great hammock or ground camping shelter. The tarp is also super versatile, allowing for it to be used with trekking poles and installed in various configurations. It's not too light for a tarp, though, weighing over 4lbs. However, it's really large and can sleep six people if used as a traditional tarp- the extra weight may be worth the benefits. The Bugout is also the most expensive option on the list at just under $300 retail. It's an excellent choice if you need a big shelter that you can use in different ways- such as a screen room for camp, ground camping, or possibly sleeping multiple hammocks under one roof in a buggy environment. Nemo is also a premium brand that makes super high quality camping equipment.
Specs:
Weight: 4lb 12 oz (packed size)
Size: 12′ x 12′
Material: 75 D polyester coating (no-see-um mesh)
What's Included:
Tarp
stakes
guy ropes
stuff sack
---
Conclusion
Hammock camping is a great way to save weight and keep you off the ground. This is especially true when comparing it to a tent with a rain cover. Tarps come in different sizes, providing as much coverage as you need for your camping trips. If you're doing long-distance camping, such as stretches of the Appalachian Trail, you will benefit from the lightweight features of a hammock and tarp. Selecting the best camping hammock tarp isn't too complicated. My suggestion is to look for a reputable brand and make sure you select a size that covers your hammock and gear. Weights are all fairly similar, so unless you're hiking long distances, you don't need to spend the extra money on a super-lightweight tarp. The last thing that I'll mention is to consider versatility. Not every camping situation will be identical, so the more options you have for securing your tarp, the better the protection you'll get.