One common question among RV owners is about the compatibility of their RV's electrical system with standard household outlets. Specifically, many RVers want to know if they can plug their 30-amp or 50-amp RV into a regular household outlet. The good news is that you can safely plug your RV into a 110-volt outlet. However, you will need special adapters, and you should also be aware of the power limitations of this type of connection.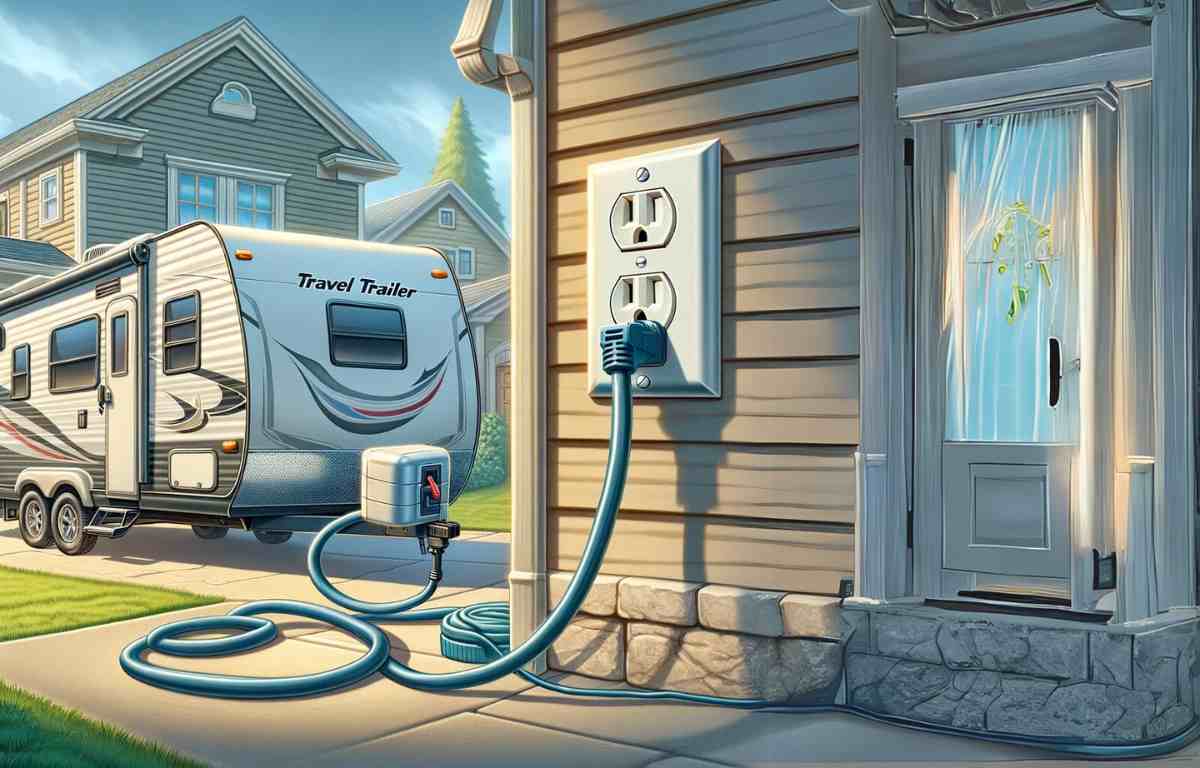 Understanding Your RV's Electrical System
Modern RVs typically have a sophisticated electrical system designed to handle a range of appliances, from air conditioners to coffee makers. The system is usually built to work with either a 30-amp or a 50-amp service. These are quite different from the standard 110-volt home outlets. The key lies in understanding the amount of power your RV needs and what a standard household outlet can provide. If you think about the Amperage options as a bucket of power, the 50Amp will be the biggest, and the small 110-house outlets will be the smallest. When operating your RV, if you request more electricity than is available in that bucket, you'll overload the system and trip a circuit breaker.
Tools you need to connect your RV to a household outlet:
To safely connect a 30 or 50-amp plug RV to a regular household outlet, which typically provides 110-120 volts at 15 or 20 amps, certain tools and adapters are essential. This process involves adapting the higher amp RV system to the lower amp household outlet without overloading the electrical system. Here are the key tools and equipment needed:
RV Power Adapter (Dogbone Adapter): This is the most critical tool. For a 30 amp RV, you'll need a 30A male to 15/20A female adapter. For a 50 amp RV, a 50A male to 15/20A female adapter is required. These adapters, often referred to as "dogbone" adapters due to their shape, enable the connection between the RV plug and the household outlet.
Heavy-Duty Extension Cord: If the RV is parked at a distance from the household outlet, a heavy-duty outdoor-rated extension cord that can handle the amp requirements of the RV is necessary. Ensure that the cord's rating matches or exceeds the amperage of your RV and the adapter being used.
Surge Protector: A surge protector designed for RV use is highly recommended to protect your RV's electrical system from potential voltage spikes and irregularities that can occur with household outlets.
Weatherproof Outlet Cover (If Applicable): If the household outlet is outdoors and not already weatherproofed, consider using a weatherproof outlet cover to protect against moisture and debris
Buy Now

Outdoor Miles is reader-supported. When you buy through links on our site, we may earn an affiliate commission at no additional cost to you.

12/06/2023 11:36 am GMT

Buy Now

Outdoor Miles is reader-supported. When you buy through links on our site, we may earn an affiliate commission at no additional cost to you.

12/06/2023 11:41 am GMT

Buy Now

Outdoor Miles is reader-supported. When you buy through links on our site, we may earn an affiliate commission at no additional cost to you.

12/06/2023 11:51 am GMT
The Amps Matter: 30-Amp vs. 50-Amp Service
Most large RVs are equipped with a 50-amp service, allowing the use of multiple large appliances simultaneously. Smaller RVs might have a 30-amp service, which can still handle a fair amount of power but less than the 50-amp. The standard household outlet, on the other hand, is typically a 20-amp or sometimes a 15-amp circuit. This difference in amperage is crucial when considering plugging your RV into a home outlet. Below is a basic breakdown of plug-in options for your RV:


| Features | 30-Amp RV Service | 50-Amp RV Service | Household Outlet |
| --- | --- | --- | --- |
| Voltage | 120 volts | 120/240 volts (split-phase) | 120 volts |
| Amperage | 30 amps | 50 amps | 15-20 amps |
| Wattage | Up to 3,600 watts | Up to 12,000 watts | 1,800 – 2,400 watts |
| Appliance Capacity | Moderate (One large appliance at a time) | High (Multiple large appliances simultaneously) | Low (Limited to small appliances) |
| Usage | Suitable for casual or short-term use | Ideal for full-time living and high-demand | Only for minimal power needs or emergency charging |
| Circuit Breaker Requirement | Single Phase | Split Phase | Single Phase |
Can You Plug Into a Standard Household Outlet?
The ability to plug an RV into a standard 110-volt household outlet is a convenient option for many RV owners, especially when access to dedicated RV hookups is not available. However, this practice requires understanding and adapting to the limitations and differences between RV electrical systems and standard home outlets.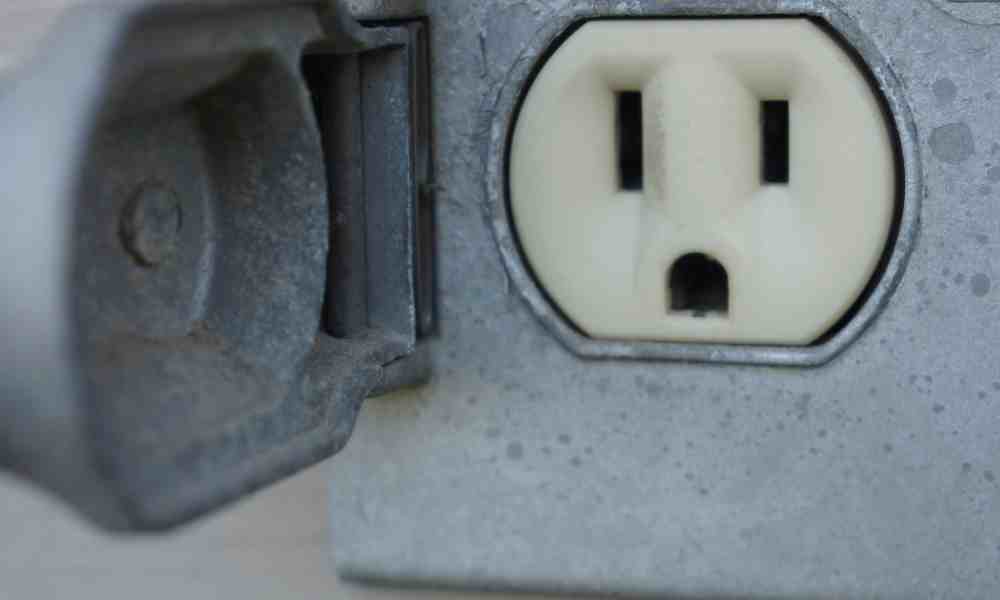 Understanding the Power Difference
Ampere Capacity: Standard household outlets typically provide either 15 or 20 amps, which is significantly less than the 30 or 50 amps that many RVs are designed to use.
Voltage Considerations: While RVs are equipped to handle 110-volt systems, the lower amperage at home outlets means less overall power is available.
Using an Amp Adapter
Role of Adapter: An amp adapter, also known as a dogbone adapter, is essential for connecting the RV's power cord to a standard outlet. This adapter ensures the compatibility of plug types and safely steps down the amperage.
Choosing the Right Adapter: It's important to select an adapter that matches your RV's plug type and the outlet's amperage capacity. For instance, if your RV is equipped with a 30-amp plug, you'll need a 30-amp to 15/20-amp adapter.
Managing Power Usage
Limitations on Appliance Use: When connected to a standard outlet, the RV's power usage must be carefully managed. High-power appliances like air conditioners, microwaves, or electric heaters might not run effectively or could trip the home's circuit breaker.
Prioritizing Appliances: It's advisable to use only one major appliance at a time and avoid simultaneous use of multiple power-intensive devices.
Safety Precautions
Avoid Overloading Circuits: Ensure that the household circuit you are connected to can handle the added load without overloading. This might involve turning off certain home appliances while the RV is plugged in.
Surge Protection: Using a surge protector is highly recommended to protect the RV's electrical system from potential power surges or fluctuations in the home's electricity supply.
Regularly Check Connections: Regularly inspect the adapter and power cord for any signs of damage, overheating, or wear.
Longer Term Solutions
For Extended Stays: If you plan to connect to a home outlet frequently or for extended periods. or need access to a lot of power, consider installing a dedicated RV outlet, such as a 30-amp or 50-amp outlet, at home. This involves professional installation but provides a more reliable and safer power source for your RV.
In conclusion, while plugging an RV into a standard household outlet is possible, it comes with important limitations and safety considerations. Careful management of power usage and adherence to safety protocols are key to ensuring a safe and enjoyable RV experience.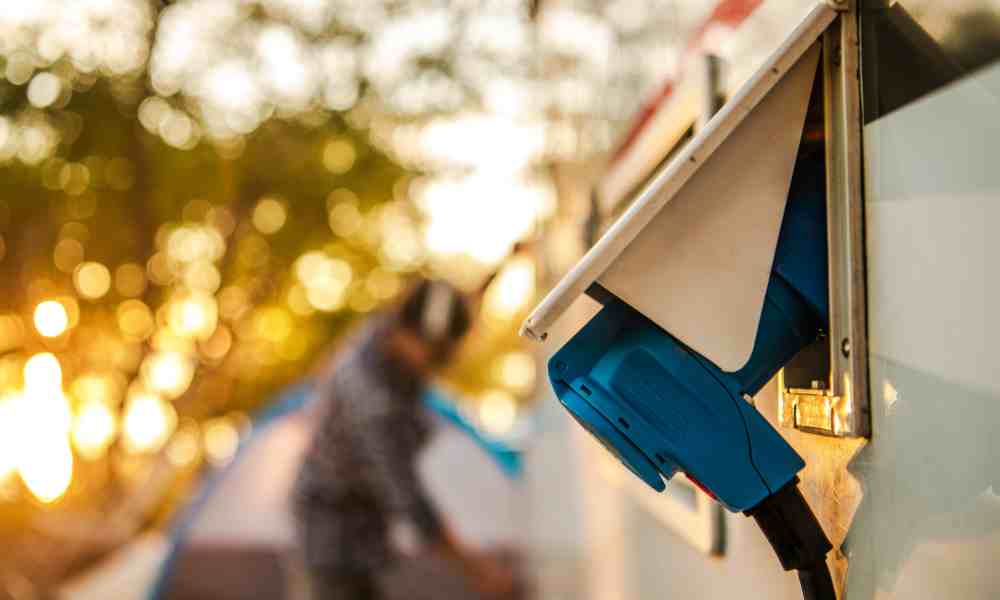 The Role of Amp Adapters and Surge Protectors
Amp adapters, such as a 30-amp or 50-amp to a 20-amp adapter, allow your RV to be plugged into regular outlets. However, this comes with a limitation on the amount of power you can use. Additionally, it's wise to use a surge protector to safeguard your RV's electrical system from any potential power surge or low voltage issues.
Limitations and Precautions
When plugging your RV into a 110-volt outlet, several limitations and precautions must be considered to ensure safe and efficient use of your RV's systems. Unlike a dedicated RV park hookup, which usually offers higher amp receptacles, a 110-volt outlet typically provides less power, affecting the performance of various appliances and systems in your RV.
Amp Limit and Breaker Concerns: Standard 110-volt outlets in homes and some campgrounds are generally equipped with a 15 or 20-amp breaker. This amp limit is significantly lower than the 30 to 50-amp hookups found at RV parks. Therefore, operating high-consumption appliances like an RV air conditioner or electric water heater could easily exceed this limit, risking a trip of the circuit breaker.
Shore Power Considerations: When connected to a lower amp source, like a 110-volt outlet, the concept of shore power becomes crucial. Shore power allows your RV to draw electricity from an external source. However, with a lower amp supply, the number of appliances that can be safely used simultaneously is limited.
Managing RV Appliances: It's advisable for RV owners to prioritize which appliances are necessary. Essential systems like the water pump can be used, but it's best to avoid running multiple high-consumption appliances at once. For instance, using the RV air conditioner alongside other heavy appliances might not be feasible.
RV Batteries and Power Management: If your RV is equipped with batteries, they can be used to supplement the power supply, especially for smaller appliances and charging electronic devices. This approach can help in managing the overall power consumption and avoid overloading the 110-volt outlet.
Safe Usage of RV Outlets: Inside the RV, the outlets will also be limited by the lower amp supply. This means being cautious about what you plug into the RV outlets. Small appliances like a coffee maker or a laptop charger are usually safe, but larger appliances should be used judiciously. This is especially true for high power appliances like coffee makers or space heaters.
RV Power Cord and Adapter Use: When connecting to a 110-volt outlet, ensure that you have the appropriate adapter for your RV power cord. This will help in safely converting the plug to fit the 110-volt outlet without compromising the electrical system of the RV.
Monitoring Power Consumption: RV owners should be vigilant about their power usage. Devices like an amp meter can be useful in monitoring consumption, helping to ensure that the amp limit of the 110-volt outlet is not exceeded.
The Risk of Voltage Drop and Power Issues
Plugging into a home outlet also risks a voltage drop, especially if the outlet is not on a dedicated circuit or is far from the breaker panel. This can lead to damage to your RV's electrical system and appliances. Always ensure the power source is stable and sufficient.
Safest Way to Connect- Choosing the Correct Extension Cord
The safest way to connect your RV to a home electrical system is through a heavy-duty, gauge extension cord, and ensuring the outlet is on a dedicated circuit. This minimizes the risk of overheating and power issues. These thin orange ones found at stores like Home Depot or Lowes are typically undersized for this application. Here are some important considerations when selecting an extension cord:

Great Option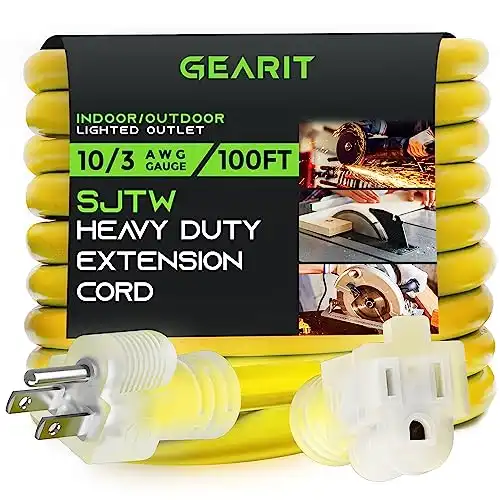 Length: Keep the extension cord as short as possible to minimize voltage drop and resistance. However, ensure it's long enough to reach from the household outlet to your RV without being overstretched. A longer cord increases resistance and reduces the efficiency of power transfer, potentially leading to voltage drops.
Wire Gauge: The wire gauge, or thickness, of the cord is critical. For a 30 amp RV, a 10-gauge wire is typically suitable. For a 50 amp RV, look for a 6-gauge wire. The thicker the wire (indicated by a lower gauge number), the more current it can safely carry.
Quality and Durability: Opt for a heavy duty extension cord designed for outdoor use. It should be made of high-quality materials to withstand environmental factors like UV exposure, rain, and extreme temperatures. Look for cords with a sturdy, weather-resistant jacket.
Certifications and Ratings: Look for cords that are UL (Underwriters Laboratories) listed or have similar certifications. This ensures that the cord meets specific safety and performance standards.
Weatherproofing: If you will be using the cord outdoors, consider a cord that is specifically designed to be weatherproof. This adds an extra layer of safety against moisture and debris.
Color and Visibility: A brightly colored cord can be beneficial for visibility, reducing the risk of tripping or accidental damage.
What About Larger Appliances?
For larger appliances, it's better to use a dedicated 30-amp or 50-amp RV hookup. If you must use a home outlet, avoid running multiple high-power appliances at once. For instance, don't use the AC unit and the hair dryer simultaneously.
Final Thoughts
While it is possible and sometimes necessary to plug an RV into a standard 110-volt outlet, it's essential to understand the limitations and take the necessary precautions. Always use the right adapters, consider the power limitations, and prioritize the safety of your RV's electrical system. For specific concerns or custom solutions, consulting with a professional RV dealer or electrician is the best course of action. Learn More about RV Electricity here: