In today's world, it's easier than ever to get instant news and information, including weather. On your smartphone, you can access real-time weather data through countless weather apps, view radar, and access many tools meteorologists use for forecasting. However, many RVers want and may need access to localized weather data.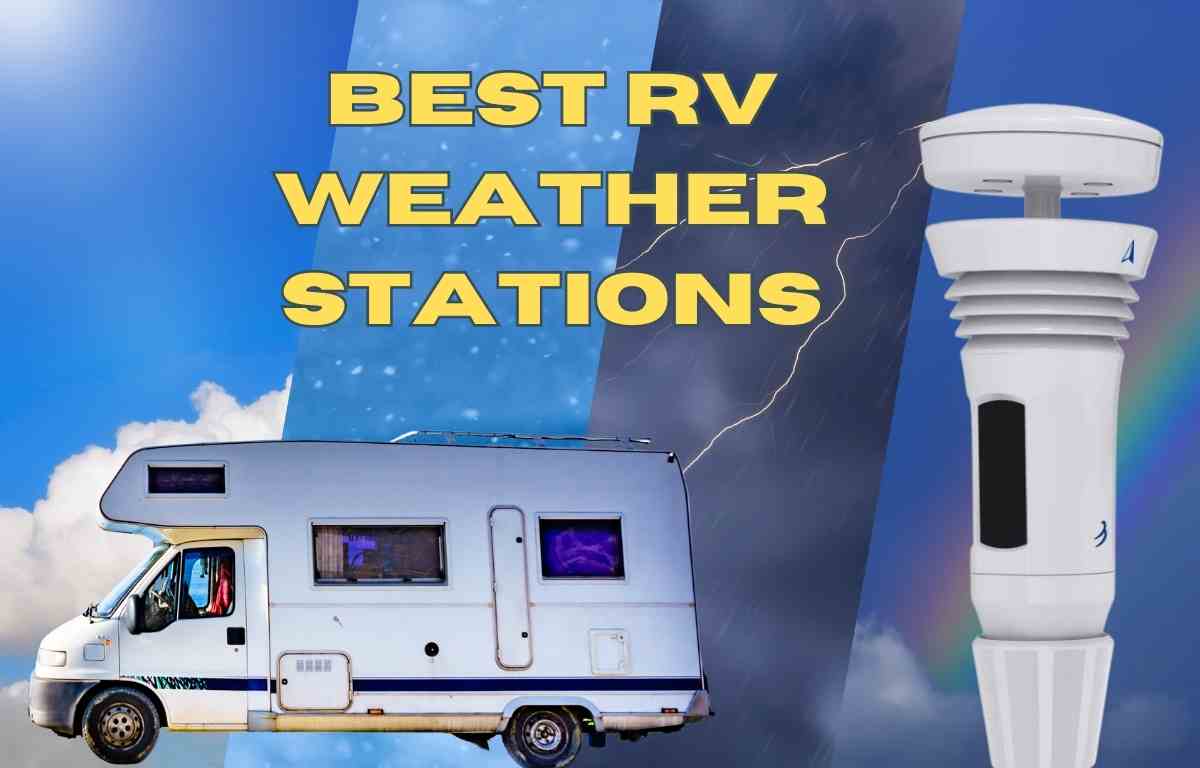 Accurate weather information when traveling in an RV isn't just a luxury; it could be a necessity. RVs are more susceptible to weather conditions like wind, storms, moisture, and extreme temperatures. Staying prepared with accurate localized weather helps keep you and your RV safe.
Here at Outdoor Miles, we looked at dozens of weather stations and picked 8 of the best options for RVers. We tried to break down the recommendations into several categories, covering advanced weather stations to simple ones that are easy to set up and travel with. The good news is that options are available for everyone, whether you want to know the ambient temperature and humidity or need more advanced data like barometric pressure, wind speed, lightning strikes, and weather forecasting.
Here's our Top Picks for RV Weather Stations:
Best full-featured RV Weather Stations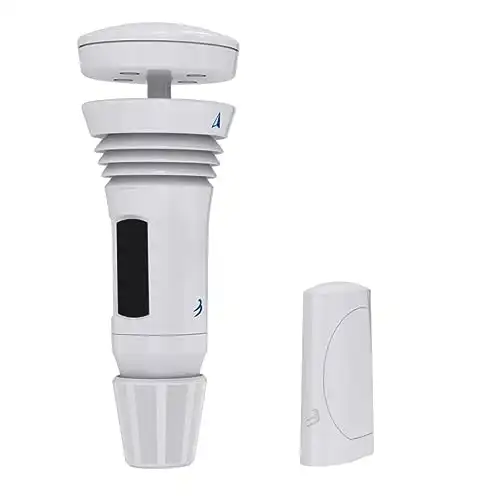 Tempest Weather System
The Tempest Weather System may be the most expensive on the list, but there's good reason for it. It's an advanced weather monitoring solution combining machine learning and state-of-the-art modeling capabilities. This innovation ensures an accurate local forecast, which continually improves as it learns weather patterns. With a groundbreaking design that has no moving parts, it makes it very convenient for RV use and the best weather station on the list.
This is the only unit on the list with a lightning sensor, which can be particularly important if you plan outdoor activities. The sensor pack is also more expansive than other units, including detailed wind, rain, light, air conditions, etc. Some RVers especially appreciate the wind direction, which can influence how they park (or if they need to move).
The personal weather station calibrates with a host of other online data and local sources, making it highly accurate. Be aware, though, when moving from place to place, you must go into the app and update your location. While not difficult, getting the most accurate weather data requires an extra step. You'll also be paying for some features you won't use in an RV, such as connecting with irrigation systems at home.
The one thing that makes this station stand out for RVers is the design. With no moving parts, some RVers will permanently attach it to their motorhomes. However, a better option may be to use a large extendable flag pole and install it when you get to the campsite- raise it as high as possible, update your location in the free app, and let the unit handle the rest. 
Key Features:
Advanced Monitoring: Measures outdoor temperature, dew points, "feels like temp," wind speed, wind direction, gusts, rain (onset, intensity, duration, and accumulation), and much more.
Design: Revolutionary, with no moving parts, and requires minimal maintenance.
Forecasting: Uses patented Nearcast Technology and machine learning for precise local forecasts.
Smart-home (or RV) Integration: Works seamlessly with Alexa, Google Home, IFTTT, Rachio, and more.
Connectivity: Features a wireless range of up to 1000ft.
Installation: Solar-powered setup in less than five minutes.
Mobile Access: Free iOS and Android apps and a personal weather webpage.
Pros:
Innovative machine learning forecasting (ability to easily update location).

Most comprehensive data measurements of all recommendations.

Easy to install and maintain.

Great for full-time Rvers

No moving parts.
Cons:
Requires wi-fi for most advanced features and AI learning.

The rain capture feature is less accurate for drizzles (it works off vibration)

Some advanced features might have a learning curve for non-tech users.

Expensive
Buy Now
Outdoor Miles is reader-supported. When you buy through links on our site, we may earn an affiliate commission at no additional cost to you.
09/28/2023 08:25 am GMT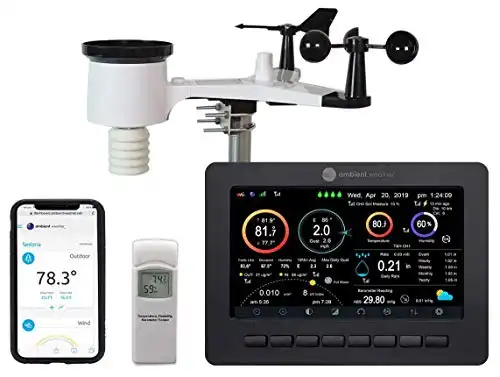 Ambient Weather WS-2000 Weather Station
The Ambient Weather WS2000 is a very capable local and remote weather monitoring system. Visually, it looks like everything you think an advanced weather system would look like. It also has a vibrant, high-definition TFT LCD screen if you don't want to use your smartphone. You can easily read current conditions in a detailed but nicely organized set of parameters.
Enhancements like internet time server synchronization, multiple units of measure, and real-time internet weather publishing give users a very comprehensive local meteorological experience. Out of the box, you can measure indoor/outdoor temperatures, humidity, rainfall, pressure, dew point, wind speed and direction, and much more. A great feature is the ability to expand the unit with additional sensors such as a lightning detector, remote temperature sensors, air quality sensors, and even a water temperature probe. This is considered by many to be one of the best home weather stations.
The system can also be connected to online weather services like Weather Underground and the Ambient Weather Network, allowing integration into an expansive and growing community.
Key Features: 
Display: High-definition TFT color weather station display offers light and dark background options.
Comprehensive Monitoring: Wireless readings of wind speed/direction, rainfall, temperature, humidity, UV, solar radiation, and more.
Connectivity: Connection to Ambient Weather Network and Weather Underground via Wi-Fi
Expandability: Supports additional sensors like air quality sensors, lightning detectors, leak detectors, and soil meters.
Power Supply: Console powered by 5V DC adapter (included); sensor array needs 3 x AAA batteries (not included).
Pros:
The detailed and vibrant display is easy to read.

Comprehensive data collection for a complete weather overview.

Flexible and expandable with optional sensors.

Data storage and analysis capabilities with SD Card option.
Cons:
Some sensors and functionalities are sold separately.

Requires wi-fi for more advanced features.

More expensive than other options
Buy Now
Outdoor Miles is reader-supported. When you buy through links on our site, we may earn an affiliate commission at no additional cost to you.
09/28/2023 08:30 am GMT
Best Mid-Range Weather Stations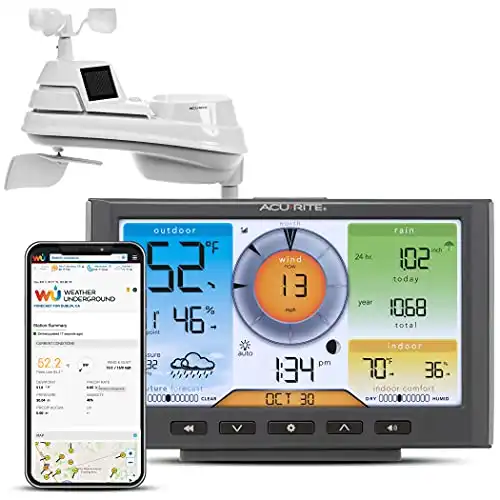 AcuRite Iris Weather Station
The AcuRite Iris Weather Station is one of our favorites in the lineup. It's one of the most advanced consumer systems, providing indoor and outdoor monitoring sensing. With real-time readings of various atmospheric conditions and an impressive LCD, it provides comprehensive weather information when needed. One of the things that I really like about this unit is its ability to connect to Weather Underground, opening up a world of shared weather data and remote monitoring.
It's relatively easy to use and has above-average customer reviews. The Iris is a good choice if you're looking for a high-quality and accurate weather station without spending hundreds of dollars. One downside to be aware of is that if you move frequently, you won't be able to take advantage of the advanced forecasting feature. The unit is in learning mode for 14 days, so weather predictions will be less accurate until that is completed. If you stay in one area for a long time, this will be less of an issue.
Key Features:
Real-time Conditions: Get accurate temperature, humidity, wind, and rainfall readings.
Display: The included color LCD is large enough for easy reading, but the data layout is easy to read and digest. There's also an adjustable dimmer, a must-have feature for me.
Connectivity: A standout feature of this unit is its ability to link up with Weather Underground, allowing you to participate in global data sharing and remote monitoring when you're away from the RV.
Comprehensive Data: Offers over 25 data points, enabling weather alarms, historical tracking, and more.
Instruments: Built-in anemometer, wind vane, barometer, hygrometer, rain gauge, and thermometer.
Forecasting: Uses elevation and barometric data for a tailored 12-hour weather prediction.
Easy Setup: Simple installation with just batteries and an included mounting bracket.
Pros:
Comprehensive data capture ensures all-around weather understanding.

Personalized weather forecast tailored to your location.

Easy setup and installation.

Connectivity with Weather Underground
Cons:
Requires regular battery replacement.

Reliance on wi-fi, so weather underground features might not suit those without stable internet.

Forecasting is less accurate before learning calibration of 14 days. Not helpful for frequent travelers.

It is less compact than other options, making transporting and storage a little cumbersome.
Buy Now
Outdoor Miles is reader-supported. When you buy through links on our site, we may earn an affiliate commission at no additional cost to you.
09/28/2023 08:20 am GMT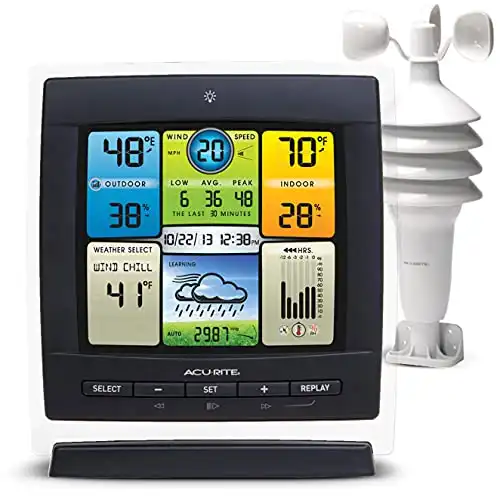 AcuRite Notos Weather Station
The AcuRite Notos (3-in-1) Weather Station is an excellent, affordable option for RVers in a compact design. While less comprehensive than some other stations, it is considerably less expensive. However, it will provide many key features RVers need, like temperature, humidity, and wind speed. Utilizing a patented Self-Calibrating Technology, it offers forecasts for 12 to 24 hours based on data from a sensor. Still, it suffers the same learning time (14 days) as its big brother, the AcuRite Iris.
The design is what really makes this stand out for RVers. Other than the wind sensor on top of the unit, there are no other moving parts. This partially limits the sensor options, but if you don't need or want the additional data, this may be a better choice.
Also, similar to other units, the system uses advanced clock technology, which ensures you're always on time, auto-adjusting for Daylight Saving Time regardless of where you're parked.
Key Features: 
Display: Full-color illuminated screen featuring indoor/outdoor temperature, humidity, wind speed, moon phase, weather forecast, and IntelliTime clock/calendar.
Forecasting: Uses patented Self Calibrating Technology for 12 to 24-hour forecasts based on your exact location data.
3-in-1 Sensor: Combines thermometer, hygrometer, and wind speed anemometer; transmits data every 18 seconds and boasts a solid wireless range of up to 330 feet.
Setup: The display stands upright for tabletop use, and the sensor is maintenance-free and can be installed on a pole.
Additional Features: Displays heat index, dew point, wind chill, barometric pressure (a good indicator of storms), moon phase, and more. It also indicates wireless sensor signal strength and indoor humidity conditions (low, high, ideal).
Pros:
Accurate readings with its Self-Calibrating Technology.

Durable 3-in-1 sensor with minimal moving parts

Long battery life.
Cons:
Some might find the information overwhelming on the display.

It relies on one sensor; any malfunction could affect a range of readings.

Limited data for RVers who want more detailed information
Buy Now
Outdoor Miles is reader-supported. When you buy through links on our site, we may earn an affiliate commission at no additional cost to you.
09/28/2023 08:40 am GMT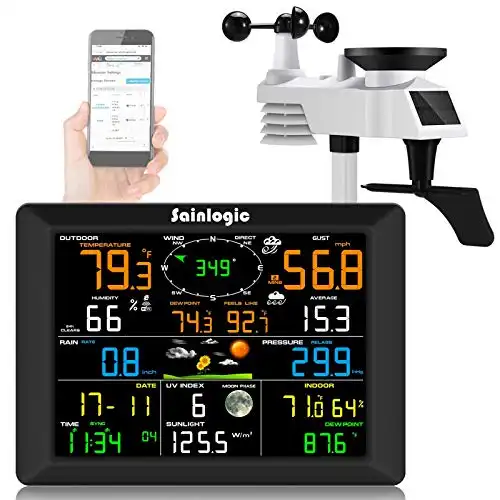 Sainlogic Professional Weather Station
The Sainlogic station is a really great and comprehensive setup, comparable to some of the other units in this list, but at a more affordable price point. The station features a bright, easy-to-read LCD color display console that consolidates a variety of vital weather details into a clean presentation. The 5-in-1 outdoor unit, powered primarily by solar energy, transmits data about temperatures, humidity, wind speed, direction, rainfall, and more to the indoor console. Moreover, users can benefit from added features like weather forecasts based on barometric pressure, calendar, moon phase display, and multiple alarm settings for various weather conditions.
The unit has a few quirks, which are easy to overcome. One is the lithium batteries. If the solar battery is dead, the unit won't power on. You must let it fully charge and keep it in direct sunlight to function continually. The display also has a setting to switch from LCD to graphics. If the viewing angle is not correct, you may want to switch to the graphics display, which is much brighter. Some owners didn't know this until reading the manual but were happy with the results when they made the change.
The build quality is slightly less than some other units, but it is adequate. Also, the base unit doesn't connect via Wi-Fi, so if you want remote data access, you may want to choose another option. However, for RV use without internet access, this may be a feature. This unit shines in the variety and accuracy of data it collects. It provides above-average sensors and transmits the data on an easy-to-read display.
Key Features: 
Display: LCD color display with a graphic option offers a detailed overview of indoor and outdoor weather conditions.
Sensors: Provides real-time data on outdoor and indoor temperature, humidity, wind speed, direction, and a rain gauge.
Alarm Mode: Set alarms for abnormal weather with high & low settings.
Forecasting: Uses barometric pressure trends for weather predictions for the next 24 to 48 hours.
Power & Battery Life: The base station/console has a minimum 12-month battery life, powered by 3 x AAA batteries (not included), while the outdoor transmitter is solar-powered with a battery backup lasting at least 12 months.
Connectivity: Transmits data at 16-second intervals and has a range of up to 328 feet/100 m.
 
Pros:
Solar-powered outdoor transmitter.

More affordable with all-necessary sensors

Intuitive LCD for ease of use and quick data access.
Cons:
The weather forecast is an estimation and does not use data networks.

Build quality is just okay.

No wi-fi connectivity.

Batteries for the base station and outdoor transmitter are not included.
Buy Now
Outdoor Miles is reader-supported. When you buy through links on our site, we may earn an affiliate commission at no additional cost to you.
09/28/2023 08:45 am GMT
Best RV temperature and humidity sensor stations
ThermoPro TP60 Indoor/Outdoor Thermometer and Humidity Sensor
Sometimes, you want the basics, and as an RVer, temperature, and humidity are the key information many of us need. The ThermoPro TP60 shines in this department and provides highly accurate data at a very affordable price.
The low-profile display station and small remote sensors make mounting this in your RV easy. This wireless weather station can record temperatures in ranges as wide as -4°F to 158°F and humidity levels from 10% to 99%.
My favorite feature, and why I recommend this unit, is the ability to connect and display data from up to three temperature sensors. For an RV, this is critical if you're camping in extreme weather, and perhaps you want to measure the indoor, outdoor, and underbelly temperatures to ensure your water lines don't freeze.
The TP60 also provides trends, indicating whether conditions are warming or cooling. Its design allows for both tabletop display and wall mounting- a must-have for RVs.
Key Features:
Monitoring: Records 24-hour max and min temperature and humidity readings with trend arrows.
Multi-Location Tracking: This can display readings from up to three temperature sensors. Additional remote sensors must be purchased separately.
Ranges: Monitors indoor/outdoor temperatures from -4°F to 158°F and humidity levels from 10% to 99%.
Connectivity: Allows monitoring from up to 200ft/60m away.
Power: 3 AAA batteries (included).
Expandability: Ability to add up to two additional sensors (note: There are two versions, including a 433MHz sensor and a 915MHz sensor. Ensure you purchase the correct additional sensor based on your version.)
Pros:
Simple, accurate, and easy to install.

Upgradable for two additional sensors.

Very affordable
Cons:
Basic data

No Wi-Fi connectivity for remote monitoring
Buy Now
Outdoor Miles is reader-supported. When you buy through links on our site, we may earn an affiliate commission at no additional cost to you.
09/28/2023 09:00 am GMT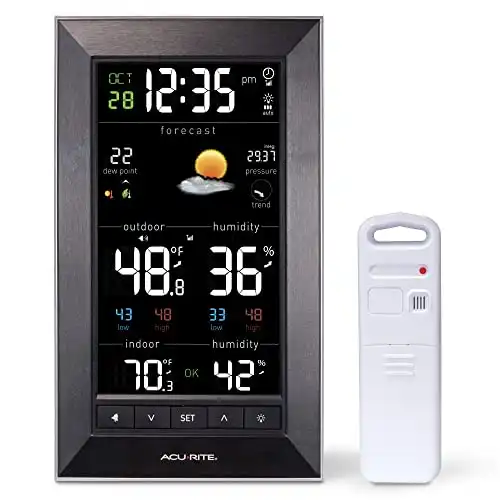 AcuRite Digital Weather Forecaster
As RVers, sometimes simple is better. If you don't require detailed weather data but are more concerned about temperature and humidity, then the basic AcuRite weather station may be the best choice. This simple yet attractive design will easily fit into your RV and use a small wireless outdoor sensor to provide the most essential weather data, including temperatures, humidity levels, and barometric pressure.
The unit does have a rudimentary forecasting feature that will use this information to predict the forecast for the next 12 hours. While simple, it's relatively accurate for planning your day. However, you'll have much better information by checking the forecast on your mobile device. Regardless, it's an excellent tool when you want to glance at the weather quickly or if you're camping in a remote location without cell service.
The best part of this unit is affordability, accuracy, and simplicity. You don't need to erect a 20 ft. pole to get the best data. You can place the sensor outside, and you're ready. Another great feature is the atomic clock, which automatically sets the time based on your location (adjusts for time zones) and keeps it accurate.
Key Features:
Monitoring: Receive readings for indoor and outdoor temperature and humidity with daily highs and lows.
Forecasting: Offers simple weather predictions for the next 12 hours.
Display: Displays the date, time, temperature, humidity, and barometric pressure readings on an easy-to-read LCD.
Alerts: Set your own customizable alerts for specific temperature or humidity thresholds.
Setup: Built-in kickstand for table display and a keyhole for wall hanging (great versatility for RVs)
Connectivity: The outdoor thermometer sends data to the indoor display, covering distances up to 330 feet (100 meters).
Pros:
Dual functions as a weather station and an atomic clock.

Easy setup

Affordable

Ultra-portable for RV use
Cons:
Limited data, as compared to more advanced systems.

The weather forecast is very basic.
Buy Now
Outdoor Miles is reader-supported. When you buy through links on our site, we may earn an affiliate commission at no additional cost to you.
09/28/2023 08:50 am GMT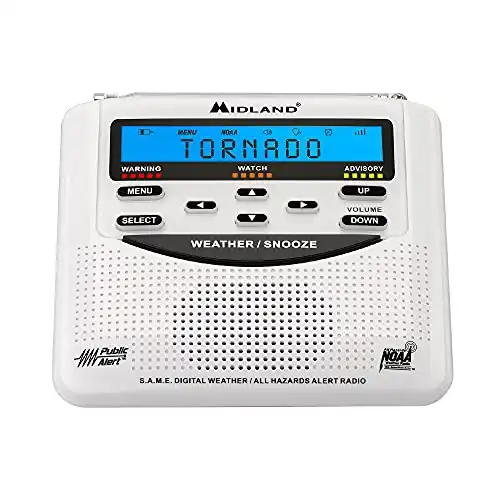 Midland WR120 NOAA Weather Radio
While not a weather station, weather radios are a must-have if you spend a lot of time in your RV or especially if you full time. The Midland WR120 NOAA Weather Alert Radio can receive 7 NOAA channels, which release public alerts on severe weather warnings such as floods, tornadoes, thunderstorms, and other potentially hazardous weather conditions in North America.
This radio uses SAME alert programming, ensuring you're only notified when your specific county is threatened. It has a 25-county memory system and a range of alert systems, including a 90 dB siren, voice alert, and flashing LED warning. The unit can be powered by plugging it into an outlet or three AA alkaline batteries in case of power outages. Additionally, it features a built-in alarm clock and snooze functions.
Key Features
 Critical Alerts: Receives 7 NOAA channels alerting you to flash floods, tornadoes, and other severe weather warnings.
Location-Specific Alerts: SAME alert programming provides warnings only for specified counties, avoiding unnecessary alerts.
Warning Systems: Equipped with a loud 90 dB siren, voice alerts, and flashing LED warning systems.
Backup Power: Uses three AA alkaline batteries as a backup during power outages. 
Pros:
Location-specific alerts reduce unnecessary panic.

Multiple warning systems ensure alerts are hard to miss.

The backup power option keeps you informed even during power outages.
Cons:
Requires programming for specific counties.

·No weather sensors- just a radio
Buy Now
Outdoor Miles is reader-supported. When you buy through links on our site, we may earn an affiliate commission at no additional cost to you.
09/28/2023 09:05 am GMT
Key Factors to Consider When Choosing an RV Weather Station
When you're on the move, every decision counts. The cornerstone of a reliable RV weather station is accuracy. If you can't trust the data from the weather station, it's not much more than an expensive paperweight. If you're making decisions based on the weather station, you want to ensure you make the correct ones.
Another critical factor for RVers is portability. Unfortunately, nobody has yet designed an RV-specific weather station, so we're left choosing from the best home-based units. However, the ones in this list work well for RVers, with some adding easy portability and quick setup.
Another important feature is connectivity. While this is more of a personal preference, some RV owners may benefit from the ability to monitor data when they're away from their rigs. Having the ability to connect via Wi-Fi or a smartphone app may be a make-or-break feature for some.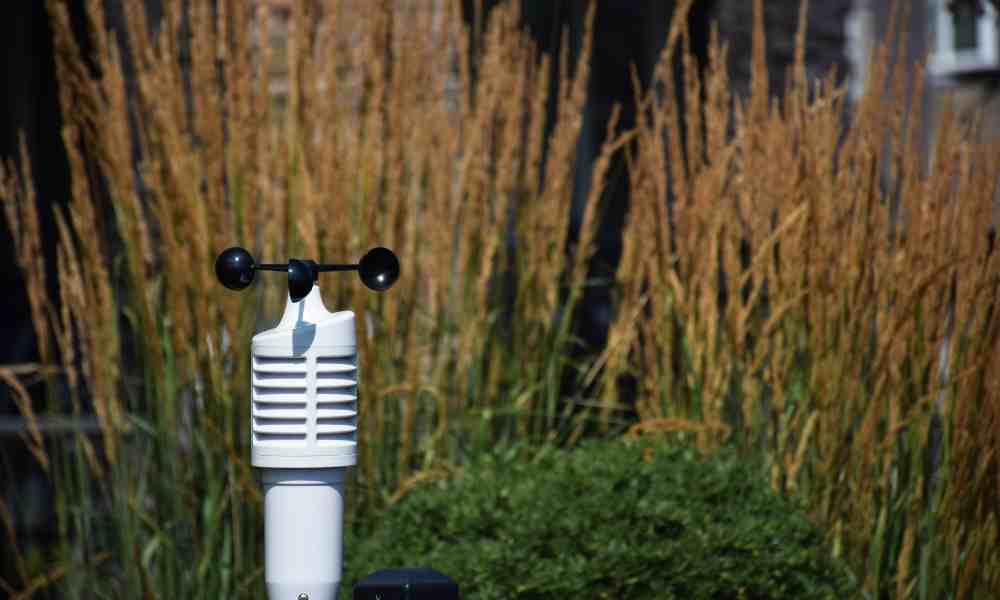 For RVers, measurements such as humidity levels are essential for predicting potential moisture-related issues inside your RV. But what good is accurate data if your weather station isn't portable? In the world of RVing, power sources and battery options are as important as the weather data itself. And in this era of connectivity, having wireless options and seamless integration with your mobile devices ensures you're informed no matter where you roam.
Accuracy: Choose a weather station that is known to be accurate.
Essential Measurements: Decide what information you need (temperature, humidity, wind, etc.)
Portability: Consider how you plan to transport the station and the time you want to commit to setting it up at the campground.
Connectivity: Do you want wireless options and integration with mobile devices?
Top Weather Features to Look for in an RV Weather Station
The list of recommended weather stations ranges from simple temperature and humidity units to more advanced ones with countless data points for things like wind, rain, lightning strikes, etc. As you increase the number of sensors, you will also notice a price increase.
Consider what features you need from your weather station before purchasing. If money isn't a concern, you can choose the Tempest, which will give you almost everything. However, if you're just interested in temperature and humidity, you can save a ton of money with the ThermoPro.
Below are some of the measurements to consider when deciding on a weather station:
Wind Measurements: Wind speed, direction, and chill for safe travels.
Temperature: Monitoring outdoor and indoor temperatures accurately.
Rain Gauges: Monitor rainfall, duration, and amounts
Barometer: Measures atmospheric air pressure changes
Humidity Readings: Understanding the impact of humidity on comfort and safety.
Lightning: Monitor lightning strikes and frequency
Air Quality: Check the air quality before heading outside
Emergency Alerts: Stay informed about potentially hazardous conditions.
Weather Forecasts: Do you need weather forecasts from your station?
Other Sensors: Dew Point, UV sensor, etc.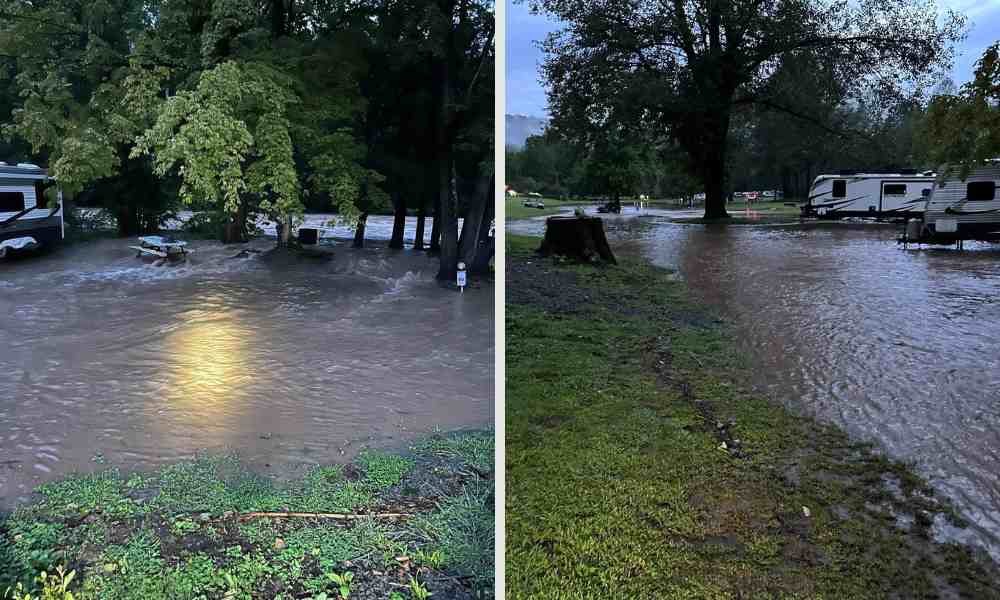 Installing a Weather Station on your RV
A common question that many RVers have is how to install a weather station on an RV. This will primarily depend on the type of station you have. Most multi-sensor units are designed to be installed on a pole with a clamp or screw-on base. Since you want to get most stations as high as possible, it's a good idea to use an extendable pole (like a flag pole).
If using an extendable pole, there are some great options to mount the pole on the RV, which can be raised when in use and lowered when traveling. The station can then be mounted when you get to the campsite.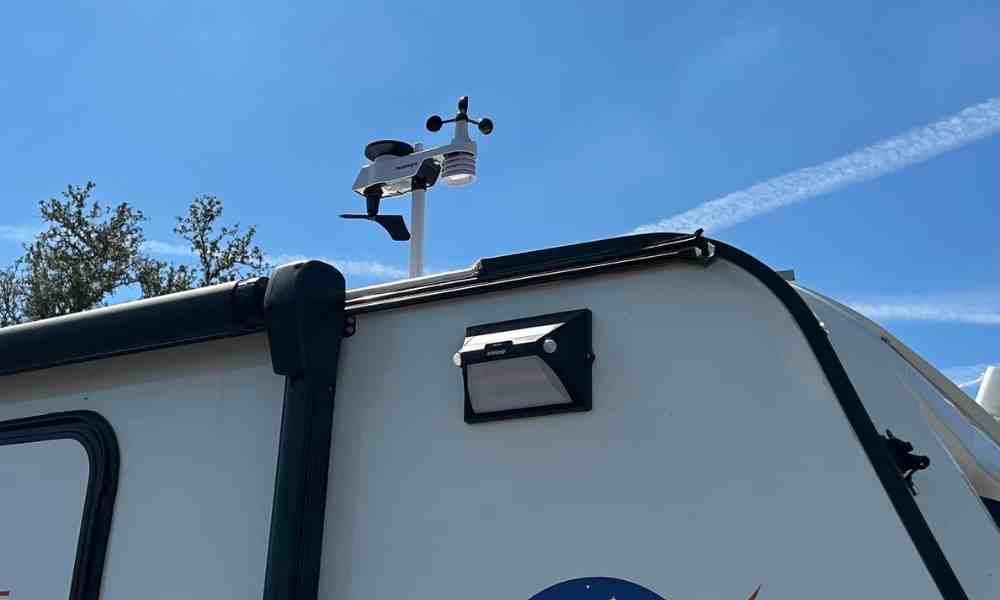 Some RVers will permanently mount the station to their RV's roof. While this can work, it can strain the units when driving, especially parts that move like wind sensors. I recommend that most RVers remove stations when traveling to protect their investments and ensure accuracy.
Less complicated units with small sensors may be able to permanently attach the sensor to an outdoor wall of an RV. However, if doing this, realize that the body of the RV can impact readings. If possible, the best option is to mount the sensors away from the RV in a more open area (for improved accuracy).
Tire Mount
The final consideration is a power source. All the units recommended above use sensors that run off battery or are charged by solar panels, so you don't need external power supplies for them to work. However, some indoor displays may require 120-V plugs, so keep this in mind if you'll be camping off the grid.
The Future of RV Weather Stations
Weather station technology is in a constant state of evolution. In a time when everything seems to be available at our fingertips via a smartphone, there is still a need for hyper-localized weather data. I would love to see one of the leading weather station manufacturers design a specific product for RVs. If any of them read this, there's a market for this product.
Additionally, as more RVs incorporate smart home features, it would be nice to have options to better integrate with weather data. For example, imagine your RV AC turning on when the outside temperature starts climbing or your awning automatically retracting as high winds develop. I'm sure we'll start to see some of this in the future.
Other factors to consider when selecting the Best RV Weather Station
As you assess the options, look for value for money. Focus your decision on the features that align with your needs while being mindful of costs.
Also, choose a station built by a reputable manufacturer. Don't underestimate the importance of customer support and warranty options. A reliable support system ensures you can troubleshoot issues and receive assistance when needed.
User reviews are a treasure trove of insights from fellow RVers and product owners. Their experiences provide real-world context and can guide your decision-making.
Budget considerations and value for money.
Customer support and warranty options.
Reviews and user experiences from fellow RVers.
In Summary
Choosing a good weather station isn't difficult with so many great options available. But choosing the right one for your needs can seem overwhelming. The suggestions above are a great place to start, but ensure you research and read customer reviews.
Base your choice on a station that meets your current needs, and factor your future needs into the decision. Also, consider durability and portability. How much time do you want to dedicate to setting up and managing your unit? Some will require more work than others.
Also, consider mounting locations. Do you want to install a pole on your RV or just place a sensor outside on a table? Remember that you're camping and don't want to spend too much time fiddling with electronics so you can enjoy your time on the road. Regardless of whatever you choose, enjoy the journey and stay safe.