Until recently, the options for choosing an electric vehicle for your camping adventures have been limited. However, more and more car manufacturers have released their EV cars to the market over the past couple of years. One notable model, which may be the best electric car for camping for the value, is the Hyundai Ioniq 5.
Combined with impressive technology, good range, and features that cater to camping or even sleeping in your vehicle, the all-electric Iconic 5 hits all the marks. When compared against the competition, the value is unmatched. The Iconic 5 takes on the much more expensive Tesla Model Y and even edges out some wins at a much more affordable price.
Why is the Hyundai Ioniq 5 great for camping
Cars are a big part of the camping experience for many, especially when car camping. For years, people have gravitated to SUVs and roomier crossover vehicles for their camping vehicles. The roomier vehicles made it easier to store camping gear, and the rugged designs allowed them to experience the enjoyment of the great outdoors without worrying if they could get there.
Now, in 2023, a new lineup of camping vehicles has entered the market: the electric vehicle. This new technology provides campers the added benefit of battery power, not only to get to their destination but to utilize at the campsite. It brings some of the conveniences of the very popular RV industry and delivers them to car campers.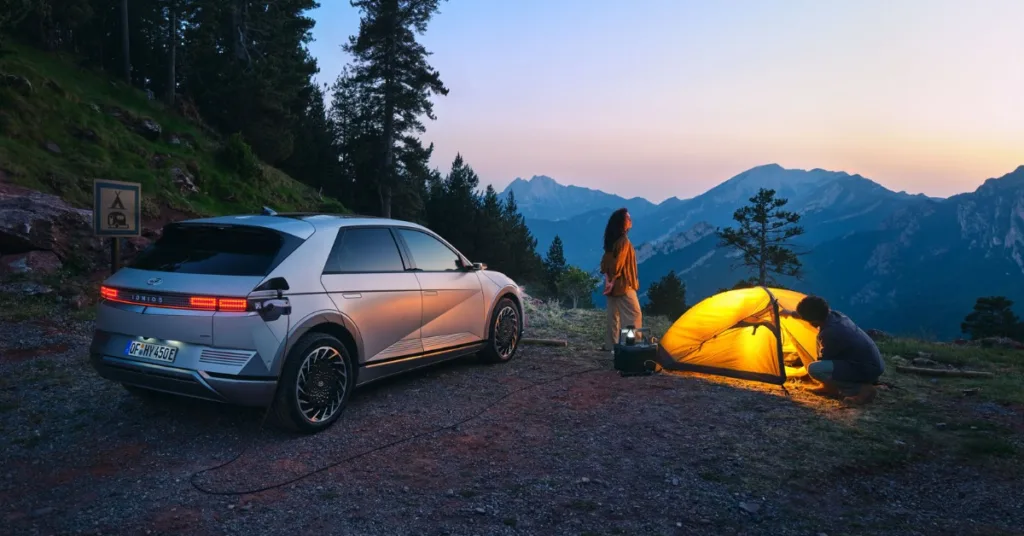 The Ioniq 5 is one of the leading EV models that has caught on to this trend and harnessed its EV technology to cater to the camping community. In doing so, they created one of the best value ultimate camping vehicles. It's not to say there aren't more capable vehicles out there, but not at this price point. If money is not an issue, you may want to check out the All-electric SUV, the Rivian R 1S, which is probably the best camping vehicle on the market.
Ioniq 5 Utility Mode
The Hyundai Ioniq 5's Utility Mode is crafted for campers who seek a blend of nature's raw beauty and practical modern conveniences. With the ability to utilize the car's High Voltage battery for extended accessory use without taxing the 12V battery, the Ioniq 5 ensures that practical camping needs are effortlessly met, even in the most remote locations. If you're familiar with Tesla or Rivian, it's similar to the Camp Mode they offer.
How It Works: Utility Mode links the High Voltage battery to the 12V circuit, ensuring a steady supply of 13.7 volts. This setup preserves the 12V battery, allowing for longer use of essential accessories. The vehicle remains undrivable in this mode for security, requiring a restart to hit the road again.
Utility Mode Camping Benefits:
Lighting: Illuminate your campsite with the car's lights, providing safety and visibility during night setups or unexpected situations.
Device Charging: Keep essential devices like GPS, phones, or emergency radios charged and ready.
Cooling: Use 12V coolers to keep perishables fresh, extending the duration and range of your camping trips.
Safety: The stationary mode in Utility Mode acts as an anti-theft measure, giving campers peace of mind when they're away from the vehicle.
Sleeping in the Ioniq 5
The Hyundai Ioniq 5, when combined with Utility Mode, becomes an ideal haven for campers during harsh weather or in particularly remote areas. With the ability to run essential features like:
Climate Control: Maintain a comfortable temperature inside the car during chilly nights or hot days, ensuring a restful sleep. Both heat and air conditioning are operational.
Interior Lighting: Read, organize, or move around with soft internal lighting without the need for a flashlight.
Entertainment: Display screen, speaker system, etc.
Charging: Charging electrical devices like alarm clocks or white-noise machines, aiding in a restful night.
With the Ioniq 5's Utility Mode, Hyundai redefines practical camping, ensuring every camper's essential needs are met efficiently and quickly, even when embracing the wild.
Extra Perks:
If the 12V battery runs low, Utility Mode can act as a lifeline, charging it without any external intervention.
In essence, think of the vehicle as a large portable generator, allowing you to harness the battery of the EV for anything you need when camping. When the car is not running, you can still use most of its systems and benefit from its conveniences at the camping site.
Vehicle to Load Adapter (v2l)
One of the best features of the Ioniq 5 is its ability to harness the battery power for traditional 120V appliances easily. The Hyundai Ioniq 5's Vehicle to Load (V-2-L) system presents a revolutionary approach to tapping into the vehicle's power, making it especially suited for diverse applications, from camping to emergency backup. It's a technology I hope all EV manufacturers adopt.
Unique Features of Hyundai's V2L System:
What sets the Ioniq 5's V2L system apart is its ability to dispense power without draining the standard 12-volt system commonly found in vehicles. While adding a power outlet to most EVs using the 12-volt battery is feasible, this approach comes with inherent limitations, such as depleting the battery or straining the inverter system. Hyundai's V2L solution circumvents these issues, delivering AC power straight from its primary battery pack, which likely utilizes a far more robust system than traditional 12-volt setups.
The groundbreaking nature of the V2L system earned it the 2021 Popular Science Best of What's New Award in the Automotive Category. Expressing gratitude for this accolade, Olabisi Boyle, the vice president of Hyundai Motor North America, emphasized the Ioniq 5's adaptability, positioning the car as a versatile "charger on wheels."
Hyundai's Official V2L Dongle:
Hyundai offers an official external-use V2L adapter priced at approximately $550. While this might seem pricier, its value becomes apparent when considering the technical challenges and associated costs of extracting power from the 58–84 kWh battery pack. With an output capacity reaching 1800 watts (15 amps), the adapter is user-friendly and designed to connect to any plugged cord securely. 
Aftermarket V2L Adapters:
Several aftermarket V-2-L adapters are available as an appealing alternative for those looking for a more budget-friendly option. One popular is Lectron's version, and it's priced at just $150. While it offers features similar to Hyundai's official model, Lectron's version lacks the patented cord-locking mechanism. In terms of durability, even though Hyundai's unit doesn't profess to be fully water-resistant, its design seems potentially more robust against wet conditions compared to the Lectron version.
Other options are now available on Amazon. While Hyundai's official V2L dongle offers a range of conveniences and is backed by the brand's reputation, Less expensive adapters provide a cost-effective solution for those eager to harness the Ioniq 5's power potential.
The Vehicle to Load (V2L) system of the Hyundai Ioniq 5 opens up a bunch of possibilities for campers. Here are some practical examples of how the V2L can be utilized during camping trips:
Electrical Cooking Appliances: The V2L system can power a slow cooker, electric grill, electric fridge, coffee or espresso machine, or even a small microwave, allowing campers to enjoy hot meals without needing traditional camping stoves or fires.
Lighting: Instead of relying solely on battery-operated lanterns or torches, campers can use the V2L to power LED string lights, campsite floodlights, or regular lamps for improved visibility at night.
Charging Stations: Campers can use the V2L system to charge appliances or devices, be it smartphones, cameras, drones, or GPS devices, ensuring they're always connected and powered up.
Electric Heaters or Fans: Depending on the weather, campers can power small electric heaters during cold nights or fans during warmer days for added comfort inside tents.
Entertainment: The V2L can power small TVs, radios, or portable speakers for evening entertainment or to catch up on news and weather updates.
Refrigeration: Small electric coolers or portable refrigerators can be powered using the V2L system, ensuring perishable foods and beverages stay fresh and cold.
Air Pumps: Campers can use the V2L to run an air compressor for inflating air mattresses, inflatable boats, tires, or other camping gear.
Power Tools: For campers who like to engage in DIY activities or need minor repairs, the V2L can power electric drills, saws, or other small power tools.
Emergency Backup: In unforeseen situations where other power sources fail, the V2L system can serve as a backup, ensuring critical devices like emergency radios or medical equipment remain operational.
Powering Other E-Devices: For those who bring along electric bikes, scooters, or even drones, the V2L can act as a charging station, ensuring these recreational devices are always ready for use.
In essence, the V2L system transforms the Hyundai Ioniq 5 into a mobile power station, greatly enhancing the comfort, convenience, and safety of the camping experience. Whether for leisure or practicality, the ability to draw power directly from the car provides campers with a range of opportunities to elevate their outdoor adventures.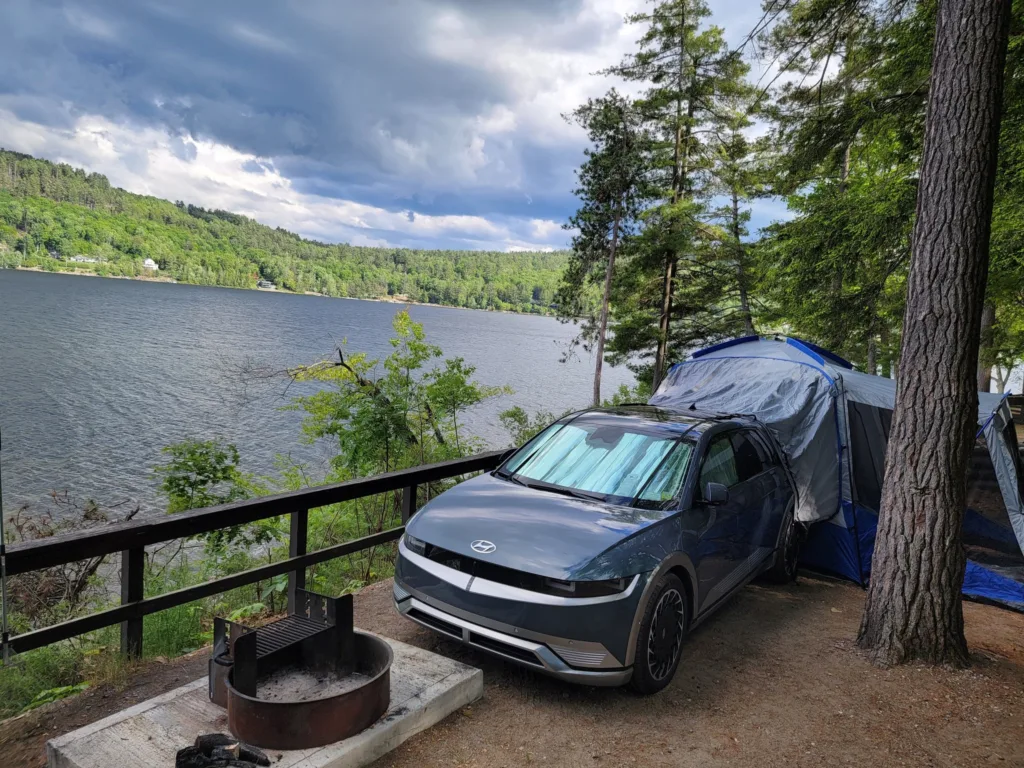 2024 Ioniq 5 Specs
In addition to discussing what makes this a great camping vehicle, it's also worth discussing what makes this an excellent daily driver. Below are some key things to consider. 
Configurations
Like most EV cars, the Ioniq 5 comes in two primary configurations: The standard and long-range models. Both will offer various trim levels, but the main difference will be range. We'll cover that below.
Standard Model
The standard range model can travel 220 miles on a single charge. While not groundbreaking, it's a solid range compared to other similar (and similarly priced) EVs. The base models will fitted with single motor rear-wheel drive configuration, delivering 168 horsepower. It's no rocket ship, but it's no slouch and will be sufficient for long journeys or a road trip. However, you'll definitely notice the difference when test-driving the 320 Horsepower model.
Long Range Model
Bumping up to its bigger battery, the long-range model adds over 80 miles more than its sibling, providing a solid 303 miles of travel before you need a charge. However, at a nearly $10,000 premium, you must ask yourself if it's worth the cost. This may be a good option if you're worried about range anxiety. There's also a 320-hp all-wheel-drive dual-motor model good for an estimated 266 miles of range.
The long range model also comes standard with some premium features, including artificial leather upholstery, a hands-free power liftgate, ambient interior lighting, a heated steering wheel, and wireless charging.
| | | | |
| --- | --- | --- | --- |
| Specs | Standard | Long Range | Long Range AWD |
| Driving Range | 220 | 303                         | 266 |
| Charge Time | 18 minutes (10% to 80%) | 18 minutes (10% to 80%) | 18 minutes (10% to 80%) |
| Towing Capacity | 1600 | 1600 | 3500 |
| Horsepower | 168 | 320 | 320 |
| | | | |
| *Starting MSRP |  $43,000 |  $49,000 |  $49,000 |
*MSRP for 2024 Estimated
Ioniq 5 Charging
The Ioniq 5 comes equipped with a versatile 120-v supplied converter. This allows owners to conveniently plug it into standard household outlets, although it's good to be mindful of the differences between North American and European electrical systems. Fresh out of the box, this charging cord is set to a 6-amp output, but it can be adjusted up to 12-amps for those wanting a faster charge. Making this switch is pretty straightforward – press and hold the device's button and then select your preferred setting.
When we talk about Level 1 Charging using this cord, patience is essential. The speed isn't its strongest suit and can take a long time, even at its maximum setting. The gain is a modest 3 to 5 miles for every hour of charging. That's why many Ioniq 5 users gravitate towards Level 2 Charging, which operates using a more robust 240-v source. This mode offers a variety of charger options in the market, and for those keen on maximizing their charging rate at home, a 48-amp charger is a worthy consideration. However, for the average user's daily requirements, a 40-amp charging station typically suffices.
One of the standout features of the Ioniq 5 is its fast charging capability. When paired with a 350-kW charger and given the battery is at the right temperature (warm), it can leap from a 10% charge to a whopping 80% in just 18 minutes.
Lastly, the Ioniq 5 introduces a nifty feature for electric vehicles: the Vehicle to Load (V2L) capability. It's a bit like turning your car into a mobile power bank. This system allows users to draw energy from the car's battery to power other electronic devices. It's pretty fast, too, offering up to 16 amps of power at 120 volts, about 1.9 kW of power. This feature makes the Ioniq 5 a vehicle and a reliable power source on the go.
Level 1 Charging (120-v)

6-12 amps setting
Time varies based on the setting
Approx. 3 to 5 miles of range gained per hour

Level 2 Charging (240-v)

Time depends on amperage
Significantly faster than Level 1

DC Fast Charging (350 kW)

Charges from 10% to 80% in about 18 minutes
Remember, these times are approximate and can vary based on several factors. Always refer to the vehicle's official manual for precise details.
Interior & Comfort
The Ioniq 5 does a great job of combining practicality with style. Its interior is refreshingly conventional, unlike the futuristic exteriors many EVs boast. The dual-screen layout is intuitive, ensuring users face no steep learning curve. Moreover, both the front and second-row seats offer generous space. One nice feature for backseat passengers is the reclining rear seats, a feature easy for manufacturers to pass on.
Conventional and user-friendly interior design.
Dual-screen layout offering ease of use.
Spacious seating arrangements, with the luxury of reclining rear seats.
---
Technology
It's impressive to see EV manufacturers innovating regarding technology in vehicles with features and an improved driving experience. The Ioniq 5 delivers on this front. The vehicle boasts Hyundai's Highway Driving Assist 2, improving driving dynamics and safety. The Bluelink app by Hyundai further enhances the driving experience, allowing for various remote functionalities. Moreover, the 12.3-inch touchscreen offers compatibility with popular platforms like Apple CarPlay and Android Auto, ensuring passengers remain connected on the go.
Advanced Highway Driving Assist 2 for safety.
Hyundai's Bluelink app integration for added convenience.
Interactive 12.3-inch touchscreen with popular platform compatibility.
---
Storage
Storage in the Ioniq 5, although not its strongest suit when compared to competitors, is carefully crafted. With 27.2 cubic feet of space available behind the second row, it accommodates most travel needs. The car's interior has smart storage solutions, from cubbies for personal belongings to a movable center console.
27.2 cubic feet of storage behind the second row.
Thoughtfully designed interior compartments.
Accessible car seat anchors with innovative rear seat functionality.
---
Value
Hyundai's commitment to delivering value shines brightly in the Ioniq 5. The car, especially the fully loaded Limited trim, offers a range of features that justify its price tag. The impeccable build quality, devoid of any common issues like creaks or rattles, combined with Hyundai's renowned warranty, makes it an investment worth considering. Also, the value becomes even more apparent when comparing the features and build of the Ioniq 5 to other electric vehicles.
Unparalleled build quality for its class.
Hyundai's robust warranty offers peace of mind.
Range of models to cater to varying budgets.
Summary
Unlike an internal combustion engine, Hyundai's Ioniq 5 offers many innovative features for campers by harnessing the power of its battery to create more of a glamping experience than traditional car camping. Utilizing Utility Mode, the car becomes a portable power station, and when combined with the v2l adapter, connecting any standard 120-volt appliance becomes possible. Whether at an RV park or camping off the grid in rural areas, the Ioniq 5 is one of the most capable camping cars at a more affordable price than the competition. Aside from eliminating the need to burn fossil fuels while camping, you'll have some of the best technology currently available in electric vehicles. 
It's also a great car to sleep in. Whether it's a hot summer night or a below-freezing ski trip, the Ioniq 5 will keep you comfortable. This is just one of the many perks of EV ownership and may be enough to make people decide to make the transition.