Are you looking to insulate your RV for the winter? Why not use air? We'll take a deep dive into a completely innovative solution for skirting your RV, using air. The Airskirt is a one-of-a-kind inflatable RV skirt that outperforms the competition. This skirting option may be the fastest, most compact, and one of the most efficient ways to keep the cold weather away from the underbelly of your RV, keeping you warm and toasty inside.
It's getting close to that dreaded time of year in the northern states when camping season slows to an end. For many campers, it involves winterizing your RV for storage and counting the days until spring. However, others are gearing up for the adventure of winter camping, which can be a bit more challenging. However, the rewards can be worth it.
The primary obstacle when using your RV in the winter is the cold weather. Winter RV living gets even more involved when the temperature drops below freezing. While it's possible to keep the interior comfortable with the help of your heater(s), other RV living elements, such as keeping your water system from freezing, can be more difficult. However, with the right tools and a little ingenuity, you can RV through even some of the coldest winters.
Last year, I made it through a NY winter without major challenges. I took the appropriate precautions and focused my efforts on insulation and keeping the temperatures comfortable. Check out this post if you want to read more about what I did.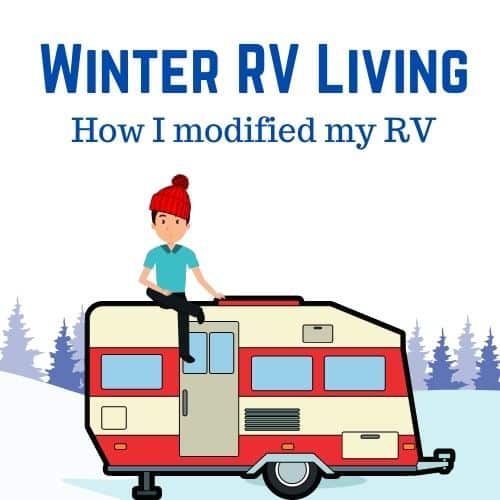 While all my efforts contributed to a successful winter season, skirting my RV was the number one modification that paid the greatest dividends. Without this, I would not have made it through a New York winter without frozen water pipes and lots of repairs in the spring.
While skirting my RV wasn't over complicated, it was time-consuming. If you're someone who moves around frequently, my foam board method won't work too well (without much work). However, there are some great alternatives on the market for RVers who want a solid skirting option, but without the hassle of all the work that goes into doing it. In my opinion, the best solution out there is an Airskirt.
Use the code OUTDOORMILES to get the best price and save $100 off your order.
Why RV Skirting is so important
Two central concepts to preparing your RV for winter camping are keeping the cold air out and the warm air inside. So when winterizing your RV for cold-temperature camping, the one thing you want to do first is skirt the RV.
RV skirting essentially acts like a blanket that you place around the open area on the bottom of your RV. This open area can quickly become the coldest part of your RV in cold temperatures. It doesn't get sun and warm up; it acts as a wind tunnel, allowing cold winter air to flow underneath your RV, creating a constant source of cold that works against your efforts to heat the interior.
By enclosing the bottom of your RV, you reduce the impact of cold air on your interior and create a much more efficient structure for winter living. In addition to improving comfort, skirting also helps to keep the underbelly of your RV, where most of your water lines live, above freezing temperatures. Skirting is critical if you plan to use water while camping in cold months.
In my experience, skirting is the number one upgrade you can make to your RV to keep it livable in the winter.
Not all skirting is the same
Any type of skirting is better than none. Even cardboard skirting will give you a benefit in the winter. Traditional skirting may use materials like vinyl, foam board, plywood, siding, or even hay bales. However, sturdy, airtight skirting is superior to other methods. Good skirting will provide two benefits. First, it will keep the wind and cold air from blowing under your RV. Second, it will insulate the underside of your RV, allowing warmer air to remain within the opening.
The concept of RV skirting is similar to insulation in your house. For example, if you only had a solid wall in your home, you could block the wind from the interior living space. Doing that would add an initial layer of comfort. However, add a bit of insulation, and you keep the cold air out and the warmer air inside. RV skirting is similar. Keeping the cold air out is its most important job but adding that extra bit of insulation makes it much more impactful. So, when choosing a material to skirt with, it's a good idea to factor insulation into your decision.
The other important factor to consider is installing your skirting. This is especially important if you plan to move your RV between locations. Last winter, I was stationary, so I opted to install a Styrofoam skirt. It took me nearly an entire day to install it. Moving my RV was not an option without the time-consuming task of dismantling the skirting and reinstalling it at a new location.
If mobility is important to you, your two RV skirting options are to use vinyl RV skirts that attach to the side of your RV (like a curtain) or inflatable RV skirting, Airskirt. Vinyl skirting will take a long time to install for the first time since you need to attach fasteners permanently to the exterior walls of your RV. In many instances, these are custom-made and professionally installed. Airskirts can be installed without any modification, and once you get the hang of it, they can be set up very quickly. This is the perfect option for full time RVers who are frequently on the move.
What is Airskirt?
An Airskirt is a series of large, durable, inflatable tubes blown up along your RV's perimeter. They conform to the opening of your RV's undercarriage, providing the perfect fit to keep the cold air out. The inflated tubes are filled with air, which is an excellent insulator.
Airskirts use a modular design, meaning that separate tubes are placed next to each other to enclose the underside of your RV. They come in various sizes to ensure a perfect fit for any size RV. They are designed to work with any type of RV: (travel trailer, fifth wheel, and all classes of motorized RVs). The Airskirt tubes utilize air pressure to provide the perfect fit, which can be conformed to fit around important RV components such as our sewer drain. It is hands down one of the easiest ways to skirt and insulate your RV.
https://www.airskirts.com/rv-skirting-kits?ref=tomdavidock&tap_a=102296-58a3b2
Airskirts: a more attractive way to insulate your RV
Even if you don't care about aesthetics, your RV park may. Unlike messy sheets of Styrofoam, unsightly hay bales, or plywood, Airskirts look clean and tidy. If you're planning to stay at an RV resort or campground that cares about the appearance of its park, you may find that other types of skirting aren't allowed. Some parks will only allow skirting options like Airskirts or vinyl skirts.
Installing an Airskirt
Installing an Airskirt couldn't be easier. It is the easiest skirting solution to install. All you need to do is place the Airskirts tubes under the perimeter of the RV into position, insert the end of the included pump into the valve, and inflate it until the tube begins to push against the solid underside or I-beam. You simply repeat this process all around the exterior of your RV. It's a good idea to lay out the tubes before you start inflating them. That way, you'll be sure you have the correct configuration for your RV.
Airskirt also sells tire wedges, small pie-slice inflatable pillows that go in between the top and bottom of your tires to fill the gap and maintain the continuous seal. You can also purchase a stair pillow, which serves the same function as the tire wedges for your RV stairs.
Airskirt customer service is top-notch, so if you have any issues or problems, they're only a phone call away. Plus, you get a detailed installation guide with your kit. Once you do it for the first time, you'll be able to set it up faster than you can say "Airskirt." Well, maybe not that fast, but it will be very quick- it has the fastest installation time of any other option on the market.
Ordering an Airskirt
Airskirts make it easy to order the right size for your RV. Regardless of the size of your RV or height, there is a solution for your specific needs. Airskirts kits are sold in different lengths and heights. They come in tiny, small, medium, large, and extra-large kits. In addition, for high ground clearance vehicles, you can order a high kit, which inflates larger to ensure you have enough coverage between the ground and the bottom of your RV. A tiny kit will fit RVs from 13-16 ft. RVs. On the opposite side, an extra-large kit will fit an RV from 36-45 ft. If you need more coverage or want to add extra tubes around slides, you can purchase additional lengths of tubes for your specific needs.
The Airskirt website has a kit selection wizard, which allows you to enter your RV make and model, and it will suggest the correct kit for your RV. You can choose from standard or high clearance kits for ground clearance. A standard kit will include tubes with a diameter of 22 inches. A high kit includes tubes with a diameter of 34 inches.
If you have a motorized RV, Airskirt will check to ensure you have the correct clearance for your vehicle. After you order your kit, you will receive a link requesting some measurements. Airskirt engineers will customize the kit to fit your specific rig. This service applies to class A/B/C RVs only and is completely free, ensuring the kit has a perfect fit. Simply choose the low clearance kit that matches the overall length of your rig, provide the measurements when requested, and Airskirt will do the rest, ensuring a perfect fit.
When ordering your kit, use the promo code: outdoormiles. This will save you an extra $100 off your order.
Airskirts Pricing:
The Airskirt kits are priced according to size. Since a small kit requires fewer Airskirt tubes than an extra-large kit, it will be less expensive. Below is the latest pricing for the various kits:
| AIRSKIRT KIT | PRICE |
| --- | --- |
| Tiny RV Skirt Kit: | $1899 |
| Small RV Skirt Kit: | $1999 |
| Small RV Skirt Kit (High): | $2199 |
| Medium RV Skirt Kit: | $2299 |
| Medium RV Skirt Kit (High): | $2499 |
| Large RV Skirt Kit: | $2699 |
| Large RV Skirt Kit (High): | $2899 |
| Extra-Large RV Skirt Kit: | $2999 |
| Extra-Large RV Skirt Kit (High): | $3199 |
| | |
Use the code OUTDOORMILES to get the best price and save $100 off your order.
Easy storage
We all know that space is at a premium for RV living. A compact option is a must if you're traveling with your skirt. Airskirts are going to be the most space-conscious skirting option available. When deflated, they pack up into a neat, compact carry bag. No other skirting takes up less space when stored than an Airskirt. The storage bag will fit neatly in your cargo area, out of sight until you need it.
Durable
Airskirts are one of the most durable RV skirting options. Other flimsy options, like Styrofoam skirts, won't fare well in high winds. Vinyl fabric options are also susceptible to wind and can be noisy during storms. If they blow off, they can also result in costly damage to the exterior of your RV. Airskirts are your best choice for extreme weather since they fit snugly between the ground and your RV frame, making them less likely to shift or dislodge in a storm.
They're even dog claw resistant? How do I know this? Well, Airskirt has used this technology to create an innovative pet patio, which is equally as convenient to install and store.
Airskirts are a year-round solution
While you don't have to worry about frozen pipes in the summer, Airskirts will act as an insulator to keep cold airconditioned air from escaping through your floor. It will help to keep your RV cooler in warm weather by providing an insulated blanket of air underneath your RV. This will help your AC run more efficiently, reduce cooling costs, and improve the comfort in your living area. The Airskirt manufacturer also sells transparent skylight pillows, which help insulate your RV without blocking natural sunlight.
Conclusion
Airskirts RV skirting is a great product you can rely on to maintain comfort in your RV. Inflatable skirts don't require permanent installation and provide a body-skimming fit that will help to reduce energy costs year-round. Founded in 2020, this new product was an invention of necessity. Unlike traditional skirts, you don't need to make RV modifications or struggle with messy DIY solutions. Airskirts are also the most mobile-friendly skirting options available today. If you want to travel and use a skirt, this is the best way to do it efficiently and without taking up a lot of valuable RV storage space. Airskirts is a quality product and ingenious solution, and the company is built on providing great customer service. While it's not the only way to skirt your RV, it could be the best.
Use the code OUTDOORMILES to get the best price and save $100 off your order.