Camping is one of the best ways to spend time as a family. It allows everyone to spend time outdoors, disconnected from devices, and enjoy the simpler parts of life. It's also extremely easy and affordable to do so. All you need is a tent, sleeping bags, and a few campground essentials. Many small families will start with a tent and soon realize that they're ready to upgrade to a more permanent setup and look to purchase an RV. Most people new to RVing at this stage find that the RV selection process can be a little overwhelming. Well, have no fear. Below, we'll cover everything you need to think about when choosing the best RV. We will focus the following criteria on finding a camper for a family of four (two kids and two parents).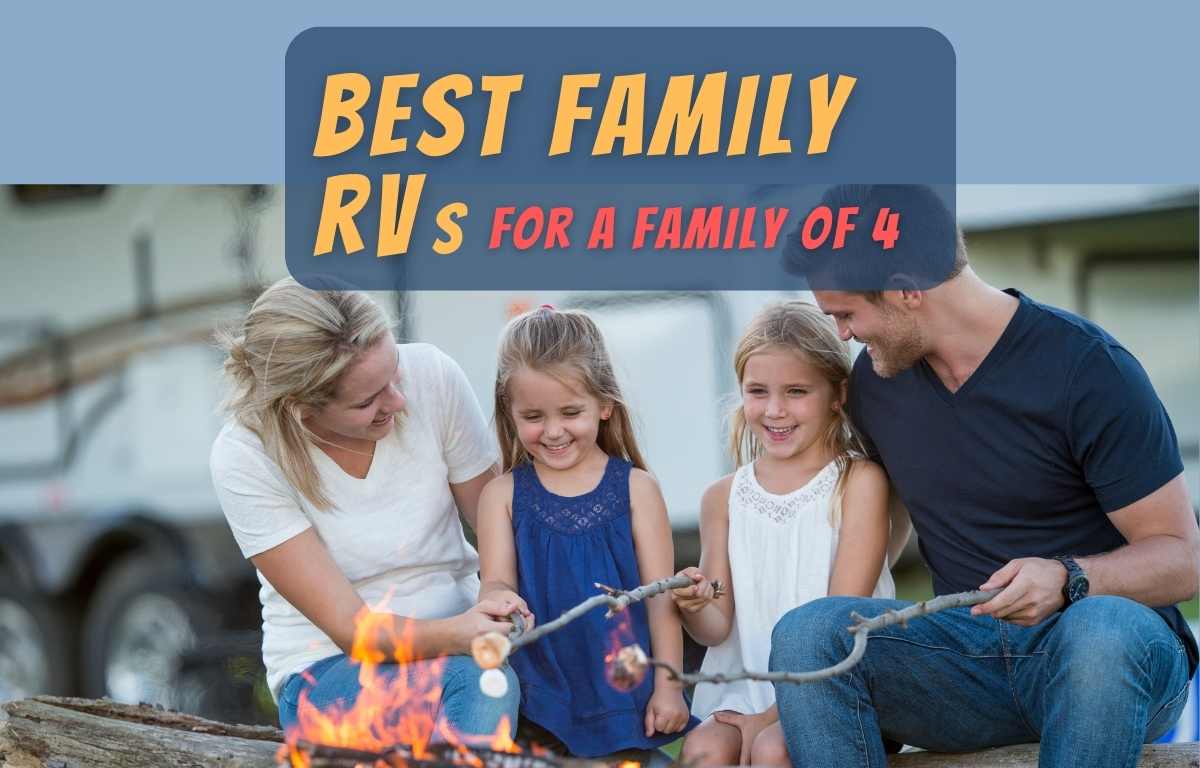 Where to start when looking for an RV for a family of 4
When searching for an RV, it's easy to get bogged down with all the available options, especially if you're new to the RV lifestyle. However, to help narrow your list of options, the easiest place to start is to consider your camping style. We all have extravagant dreams of traveling throughout the country, stopping at national parks, and reliving the intentions of Clark Griswold in National Lampoons Vacation. While this may be the goal, it should not be the limiting factor in your used RV search. It is essential to think about how you will realistically use your RV 90% of the time, rather than the 10%.
There are a few types of camping styles that may align with you. To get you started, below are a few examples of them.
Local camper at nearby campgrounds:
Camping locally may not seem glamorous, but you will likely get more nights under your belt in the RV, making more memories with your family. There are a lot of perks to local camping. First, you will spend more time out of the car and relaxing. You will also get to know your local campground and plan your trips to take full advantage of the events, activities, and amenities it offers. You will make friends and meet families who do the same thing, building a little community for your camping lifestyle. Many RV parks also offer storage options, so you may be able to store your RV at the campground and pull it into your reserved site when needed. During times of high gas prices, this is a huge benefit. You will also be closer to home, allowing you to work and camp at night. This aspect is my favorite benefit of local camping.
Below are some things to keep in mind when camping locally. First, you will likely be spending more time in your RV. Camping locally means you will have less desire to explore the areas outside the campground. Finally, while a smaller RV may make more sense for a cross-country trip, the additional room in a larger RV with a spacious floorplan may create a more enjoyable experience for your family at your local campground.
Vacation Camper:
Maybe you want an RV to hit the open road for a road trip or take an annual vacation once or twice per year. When you start researching RVs, it is easy to fall in love with the large and roomy floorplans, bunk rooms, outdoor entertainment centers, etc. However, consider your needs to tow it around if you primarily plan to use it for a few extended trips. Also, if traveling to that exciting destination is part of the lure of RV camping, consider that you will visit the sites and places around the campground and may spend less time there. A smaller, nimble RV may be the right fit for you.
Another thing to remember about size is that some state and national parks limit RV length. You may have found that perfect 32-foot travel trailer, but when you go to book your stay at Acadia National Park, they may not be able to accommodate it. Therefore, reviewing the campgrounds in the places you plan to visit is a good idea before deciding on an RV. That may help you make an informed decision.
Full-Timer:
Okay, so you decided to abandon the masses and head out on the road to travel for an extended period. Finding the right RV for this situation may require you to make several compromises. You will want the space of a large RV, but you also will want to remain agile.
Will you be taking kids? Do you want to convert a dinette into a bed day in and day out? Will you be homeschooling or working remotely, and do you need a dedicated space for that? You will need to consider storage, cooking, sleeping, and on-and-off grid camping. This book will not guide you through all your decisions, but hopefully, it will give you some things to think about as you plan for this lifestyle change. Full-time RVing can be an experience of a lifetime.
Selecting an RV style
Once you have a general idea of your camping style, you can start thinking about the needs (not only wants) you have for your RV. Also, remember that most RVs can do just about anything you want in the camping world. Therefore, by choosing the best RV for the 90% of the time you will be using it, you will more than likely be able to use it for the 10%. 
A plan of action to lead you into the next section, searching for the RV, starts by focusing on a few key things: style, size, weight, tow vehicle, and floorplan. If you work through the planning process following this order, you will better understand what to look for in an RV. 
Motorized RVs:
If having an engine in your RV is a priority, this is your category. Motorized RVs come in different shapes and sizes, best described as Class. They are also your most expensive options, and if looking in the used market, you will have the added responsibility of inspecting the engine components. I do not want to discourage anyone from going this route, but be aware that you should do a lot of shopping around to find the right RV because your upfront investment is more substantial.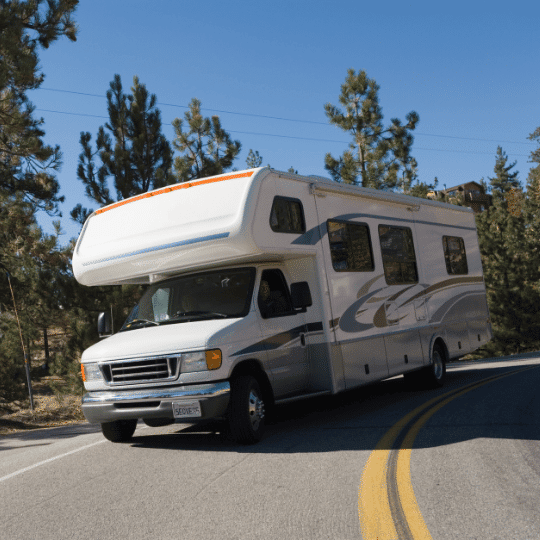 Towable RVs
The most common entry point into the RV lifestyle is through the towable RV door. It is true in the new RV market and the used market. Do not think of a towable RV as a lesser alternative to motorized RVs. They offer many benefits over motorized RVs at a much lower price point. With a towable RV, you can significantly increase your living space for only a fraction of the cost of what it would take to do so for a motorized RV. 
You also benefit from having a vehicle available to explore your surroundings near the campground. The towable market, because of its popularity, has countless options. Because of this, you will be able to find the perfect RV for your camping style. On one end of the spectrum, you have the option for a huge two-floor park model; on the other end, you can get a small teardrop camper that's towable by a small SUV. There is a good reason why so many people camp with a towable. It is simply the best fit for the vast majority of campers.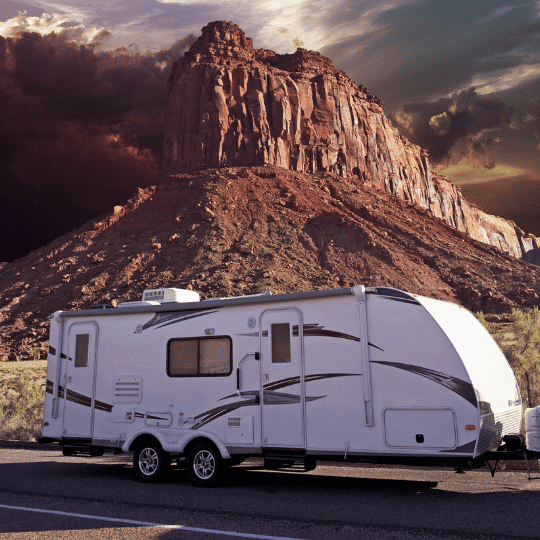 For this article, we will focus on towable RVs since they are the most common types of RVs that first-time campers choose. They're also very family-friendly and have many different floorplans to accommodate kids. The most common type of towable RV is a travel trailer. The next most common is a fifth wheel. Also, if you plan to carry large equipment, like ATVs, motorcycles, or golf carts, you may want to look at toy haulers.
Tow Vehicles
Your tow vehicle is one of the first things you should consider when purchasing an RV. Your tow vehicle will be the limiting factor for the RV you choose. It's also the most important consideration for safety. An undersized vehicle will not only make towing your RV more difficult, but it will also create a dangerous situation for your family.
Choosing a tow vehicle is not an inconsequential decision you can punt down the road (no pun intended). It's the cornerstone of determining what towable RV you can get. If you don't decide first, the RV will choose for you (your RV does not care about your budget). Next, you will need to look at the trailer's weight and size it up to the tow vehicle. Each trailer will have a dry weight (how much it weighs empty) and wet weight (maximum amount of cargo plus the dry weight).
If you already own a pickup truck or large SUV and don't plan to upgrade, first look at the towing capacity of your vehicle. To find your vehicle's ratings, you will need to do some homework.
Below are some online resources for calculating towing capacity:
What makes a good RV for a Family?
RVs come in different shapes and sizes with an endless array of floorplans to fit everyone's needs. With so many options, It's no wonder why it's challenging to find the perfect one. However, certain features lend themselves well to camping families. So let's take a look at some of them.
Sleeping options for kids
The first thing we'll discuss is sleeping capacity and options. The perfect family RV will have a dedicated space for everyone. If you focus your RV choice on ensuring that every family member has a bed, you'll be able to narrow down your RV types. The absolute best RV option for a small family of four is an RV with bunk beds. This setup provides a main bedroom for the parents and a separate bed for each kid. If you choose a different style RV, you'll likely need to convert a sofa or dinette into a bed, which can be a huge inconvenience for a large family.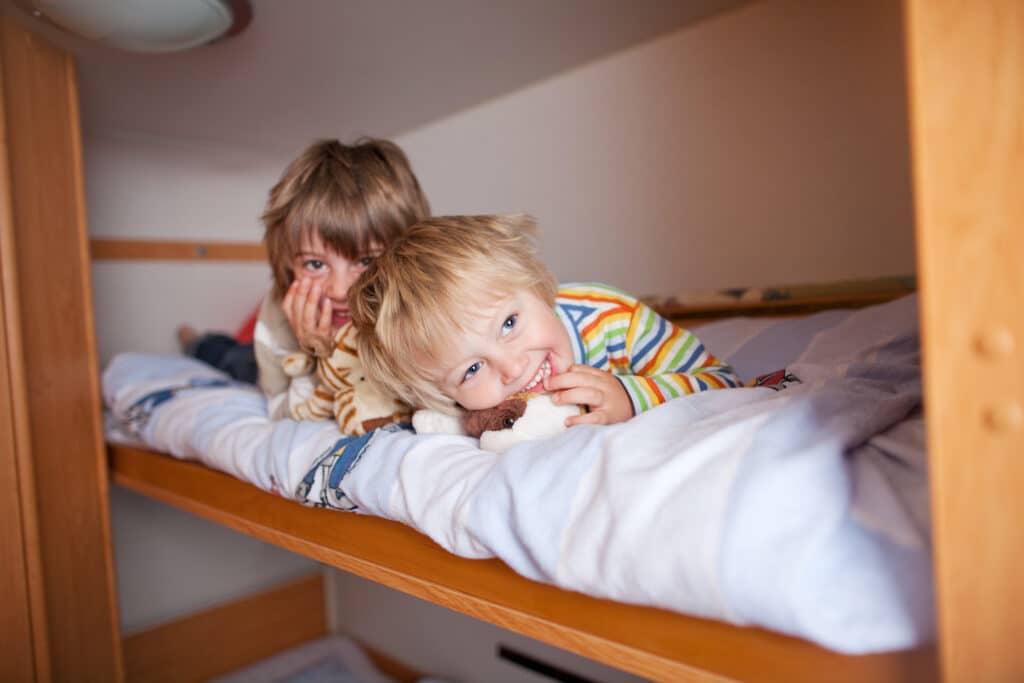 There are two main styles of bunk bed RVs. First, smaller RVs will have bunk beds integrated into the living area. This setup is a good option if you're looking for a smaller and lighter RV. In addition, some bunk bed setups provide more privacy than others. The other better option (f you want a dedicated kid space)  is a bunk room, which provides a cordoned-off space for the bunk beds and is usually in the rear of the trailer. The benefit of a bunk room is that it separates all sleeping areas from the main living area. Bunk rooms are especially nice if you want to use the remainder of the RV while the kids are sleeping.
A notable feature that you'll surely find when searching for an RV is slideouts. A slideout is a section of the room that extends out when camping but retracts when traveling. Some RVs will have upwards of five slides, but as the number increases, so does the weight of the RV. Many bunkroom models will offer a slide in the bunkroom, creating a larger space for the kids. Others will have a slide in the living room, master bedroom, or both. I recommend visiting an RV dealership to get a hands-on feel for the RV's roominess.
Playspace or teen hangout
Regardless of the kid's age, having a dedicated space for them to play or hang out is a huge benefit. Bunk rooms are an ideal option for this purpose. Bunk rooms provide plenty of room and storage space for toys and clothes. Many older children will also hook up their video game systems and use the bunk room as a gaming area. This extra space is a great way to keep the floor space in the rest of the RV uncluttered.
If an RV with a bunk room is not in your budget or size requirements, you can still achieve some of the above with a bunk bed area. Most bunk beds are tucked away in the RV and provide a little enclosed area for the kids. Younger children enjoy having this dedicated area. It's a good idea to make this area kid-friendly and fun. My daughter decorates her bunk area and stores all her stuffed animals there. She loves to hang out there and watch a movie, and play. The best part of a bunk room is that kids can have their dedicated entertainment center while the parents can relax in the main living quarters.

Moden bunkhouses are often designed with this in mind. For example, many bunk areas will have separate storage compartments or shelves built-in, allowing kids to keep their items organized. Many will also have extra features like in-wall USB ports so kids can charge their tablets or phones.
Regardless of what style of bunk bed setup you choose, it's smart to have a predetermined plan for where the kids will play and hang out. Keep this in mind when searching for RVs. When shopping for an RV, you will have many different floor plans with bunkhouses to choose from
Parent privacy
If you're a parent, you know just how precious a little bit of privacy is. For your sanity, keep this in mind when RV shopping. The main bedroom will become very important to parents who need some space to unwind and find some quiet. A key feature you'll want to look for in the main bedroom is a door that closes. Some RVs will have a main bedroom with a curtain that closes it off from the rest of the RV. While this is fine for many people, a sliding door or one on hinges is ideal. It helps seal noise from the rest of the family and provides you with your own space at night or if you want to relax and read a book.
RV main bedrooms usually offer a queen-size bed and are typically found in the front of the trailer. However, some larger RVs may provide a king-sized option. Since most RVs are standard widths, most King-sized bed options are typically only available in bedrooms with a slide. In addition, larger bedrooms typically provide additional storage, which is nice if you'll be camping for longer periods. However, a queen bed is usually more than adequate for most camping trips.
Kitchen and dining
Another consideration you'll have when RV shopping is the dining area. You typically have three main options to choose from: A traditional booth-style dinette, wraparound table, or free-standing dinette. All options are capable of accommodating a family of four. Deciding between these options is a matter of personal preference. However, depending on the RV model you're looking at, you may not be given the option to choose. If given a choice, I prefer a free-standing table because I use it for work. It allows me to reposition the chairs and is a bit more comfortable. However, many people with large families prefer the large wraparound table since it provides more room for the entire family. The most traditional option is a booth-type dinette. This dining setup is nice since the booth typically folds into an extra bed, providing more sleeping space if you have friends or extended family members camping with you.
The kitchen is the other thing to keep in mind when selecting an RV. If you plan to do a lot of cooking in the RV, which is a great option for saving money, then make sure you choose an RV layout that meets your cooking style and has enough space. Also, don't forget to look at the refrigerator. Some RVs have large residential-style refrigerators that provide plenty of space for your family's food. Others will have smaller ones, and a very small RV may even have a dorm-sized fridge without a dedicated freezer. For most families, a moderate-sized refrigerator will easily accommodate a family of four.
Bathroom
The other important feature of a family RV is the bathroom. Keep in mind the whole family will be sharing this. Most campers will have a full-sized bathroom, but they may be tiny in a small camper. Some of the largest trailers may also offer a second half-bath with just a toilet and sink. When selecting an RV, pay extra attention to the bathroom and ensure it meets your family's needs. A spacious bathroom is nice, especially when you have a lot of people sharing it. Some bathrooms will have free-standing showers, and others will have a mini tub and shower combo. The free-standing showers are usually found in larger full bathrooms. However, some parents may prefer the tub option for small children. In the smallest RVs, you may have a wet bath, which means that the shower, sink, and toilet are all in one area. However, this wouldn't be very common if you're looking for a family RV and are usually only found in a Class C motorhome or a teardrop trailer- not travel trailers and fifth wheels.
Best Travel Trailers and Fifth Wheels for Families
Nearly all trailer manufacturers will provide different models with options for camping families. Below are the best options for various RV sizes and types. Next, we'll take a closer look at a variety of RVs for families. 
Best Small Travel Trailers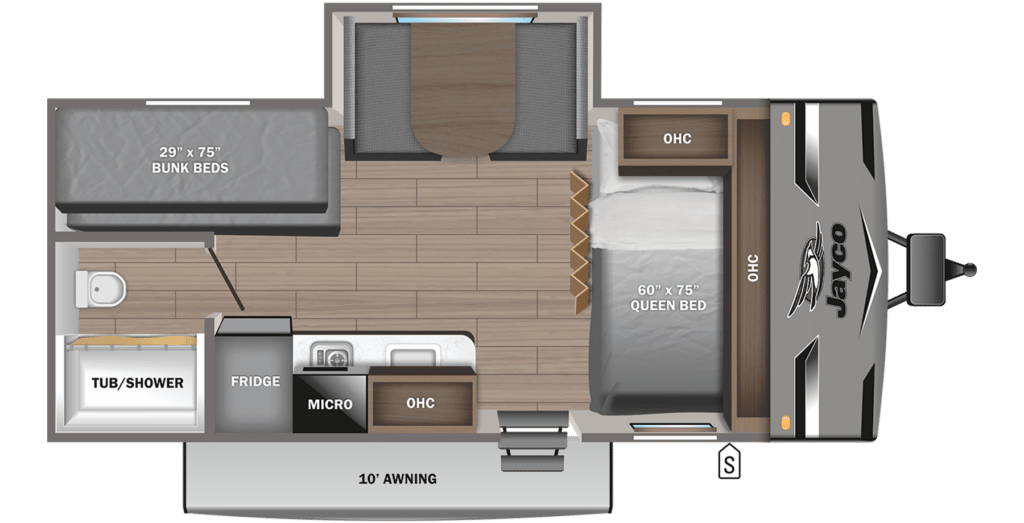 One of the most popular models of small RVs is the Jayco Jay Flight series. The 184BS offers a queen-sized bed, bunk beds, a well-equipped kitchen, and a bathroom with a tub/shower combo in a super small package that some larger SUVs can tow. It's amazing how they managed to fit everything into this small space. So if you're in the market for a small travel trailer that offers enough sleeping room for a family of four without needing to convert a sofa or dinette to a bed, then this is one of the best options on the market. The 2023 model features a super clean-looking white interior design.
While you lose some features typically found in a larger travel trailer, like an oven, and a larger bathroom, you more than make up for it with size and weight. New in 2023, Jayco added a roof-mounted A/C, which is an upgrade over the previous wall-mounted unit. Not many bunk bed RV models have as small a footprint as the Jayco 184BS. If you currently own a vehicle that can tow this, it's an excellent choice for a travel trailer if you are not looking to upgrade your tow vehicle.
It's hard to compare a small travel trailer like this to its larger-sized competition. However, there are some things you should be aware of if opting for a small camper this size. The living and sleeping areas are all within the same space, with the main bedroom only separated by a curtain. There is no privacy curtain or divider for the bunk area. Additionally, the only seating will be the dinette, so don't expect to spend a lot of time in the RV with the entire family and not feel cramped. It's a great option for families that need a small RV and plans to maximize their outdoor space while using the RV primarily for sleeping and eating.
However, one great option for a small camper trailer like this is to consider adding an RV awning room, which adds additional living space outside the entry door. Adding this accessory is one of the best things you can do to increase the space in your small RV. The Jayco features a 10-foot awning that will allow you to easily add this feature.
While the 184BS is small, that's what makes it special. It's one of the best small RV models available on the market. If you're looking for a comparable RV, you may want to check out the Geo Pro 20BHS.
Jayco Jay Flight series. The 184BS
Model Year
2023
List Price
$32,303
Gross Vehicle Weight Rating (GVW)
4,500
Length
21'7″
Sleeping Capacity
6
---
If you're looking for a small Bunk Bed RV with a little more room than the Jayco 184BS, the Winnebago Micro Minnie 2100BH is a great option. While the Winnebego is more expensive, this particular model is a good choice if you need a little more room. With the 2100BH, you get some extra room provided by the single slide for the dinette area combined with an excellent build quality. Also, while this model is a little heavier than the Jayco, you can still tow it with a capable SUV or pickup truck. In 2023, Winnebago gives you the option of swapping out the dinette for an EZ Glide Sofa Sleeper with a hidable table. I'm not the biggest fan of a dinette, so this change is a nice one to see.
Another great option about the 2100BH is the ability to customize it for your needs. For example, if you don't want the dinette, you can swap this out for an EZ Glide Sofa Sleeper, which will provide a sitting area for the family to watch a movie on the included LED TV. Of course, the RV also has some pretty cool standard features, including a wireless phone charger, Wifi Prep, and heated and enclosed holding tanks (great for cold-weather camping and preventing your water tank from freezing) with the Comfort Tech Package.
While the 13.5 BTU  air conditioner should be more than enough to cool the camper, you can upgrade to a 15K BTU unit if you plan to camp frequently in a very hot climate. You can also upgrade to the Explorer Package, including a roof-mount solar power prep, larger off-road radial tires, propane heating system, heavy-duty axles, and suspension, among other upgrades.
Winnebago Micro Minnie 2100BH
Model Year
2023
List Price
$45,680
Gross Vehicle Weight Rating (GVW)
5,500
Length
21'11"
Sleeping Capacity
5
---
Best Lightweight Travel Trailers (mid-sized)
If you're searching for a new travel trailer that is lightweight and offers a bunk room, the Coachmen Freedom Express Travel Trailer 292BHDS is an excellent option. This lightweight trailer can be towed by some half-ton pickup trucks. The trailer also features a large slideout in the main living area, giving you more room for the family. Like most RVs this size, you get a full kitchen, full bathroom, and entertainment center. You'll also enjoy the wraparound dinette, capable of comfortably seating the entire family. Parents will like the master suite sealed off by sliding doors. It features a queen size bed and plenty of storage for clothes.
The bunk room does not have a solid door but utilizes a curtain. The curtain may be one of the downsides of this model. However, the room does have three beds, which is great if your kids want to bring their best friend along for a camping trip. There is also a ton of shelving in the bunk room, which will help keep all of the kid's toys and items neatly organized.
The 2100BH has a 19′ awning, plenty of cargo storage, and a full outdoor kitchen with a refrigerator and sink. The RV also has a heated and enclosed underbelly and large windows and is prepped for solar panels.   
Coachmen Freedom Express 292BHDS
Model Year
2022
List Price
$49,438
Gross Vehicle Weight Rating (GVW)
9,500
Length
33'4″
Sleeping Capacity
7
---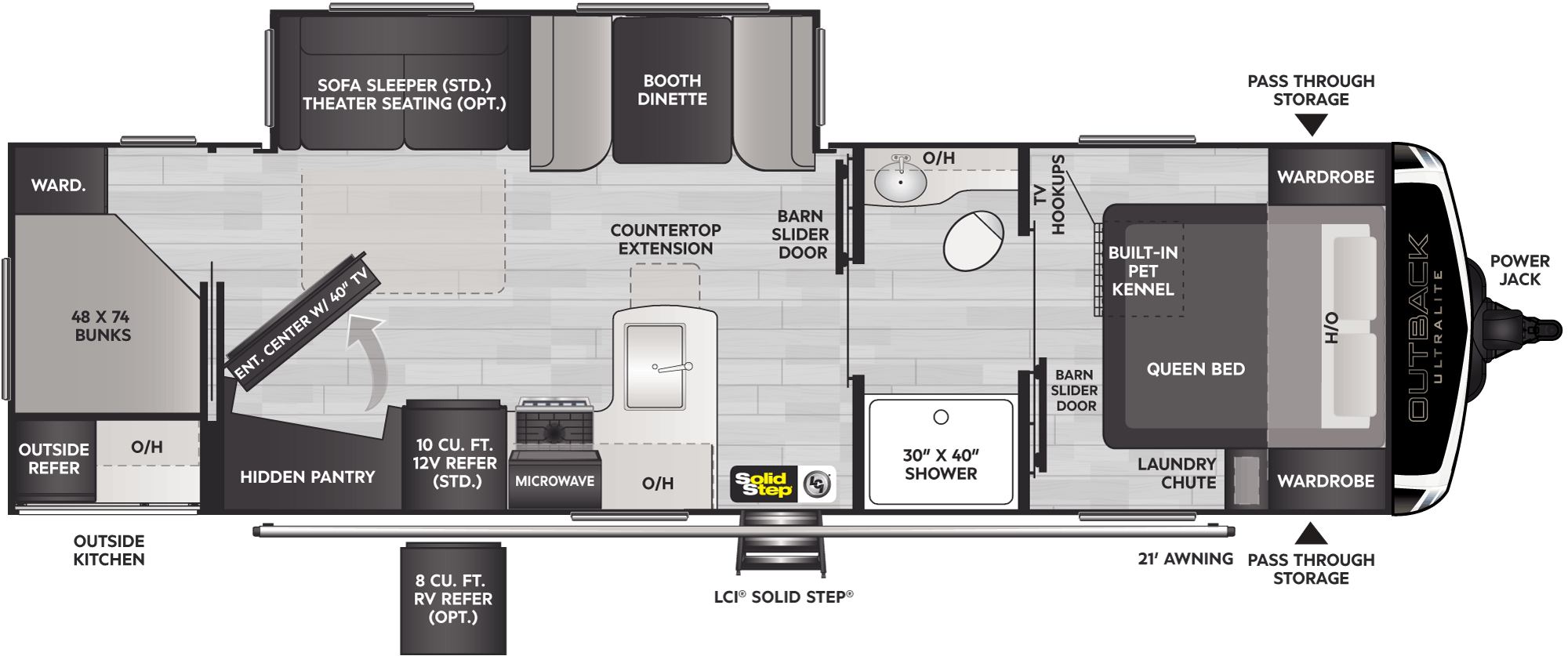 While we're still waiting on the specs for the 2023 mode, the 2022 Keystone Outback 291UBH could be one of the lightest moderately sized travel trailers, with premium features, on the market today. The 291UBH offers a unique design unlike any other travel trailer on the road. The trailer offers a rear bunk bed setup with larger bunks than the traditional twin style and a closable door. The bunkhouse area is perfect for small kids and provides plenty of room to make the space their own.
Innovative storage is a hallmark of this unit. There is a hidden pantry behind the entertainment center, which provides a large amount of storage for food and supplies. Most people won't even realize it's there until they open it and will be in awe of the amount of space. In addition, the unit has a single large slide in the living room, opening up the trailer for plenty of room for relaxing and entertaining.
The 291UBH offers a full kitchen inside and a refrigerator and stove outside. The bathroom has a roomy stand-up shower and plenty of room. The main bedroom offers a queen-sized bed with easy access to under-bed storage. This area also has a dog door and can serve as a kennel for small dogs.
The trailer also offers a lot of premium features. It's prepped for solar, has power stabilizing jacks, a water docking station, on-demand Water Heater, solid steps, and a lighted power awning. The remarkable aspect of this trailer is that they deliver all of this with a GVW of 8,200 lbs, which is towable by most half-ton trucks.
Keystone Outback 291UBH
Model Year
2022
List Price
$60,301
Unloaded Vehicle Weight (UVW)
6,929
Gross Vehicle Weight Rating (GVW)
8,200
Length
33'11"
Sleeping Capacity
6
---
Best Premium Travel Trailer
The Rockwood 291BS, built by Forest River (one of the leading RV manufacturers), is an absolutely beautiful bunkhouse travel trailer. The trailer offers two slides, one in the living room and the other in the main bedroom. There is also a separate bunkroom that sleeps 3 with a closable door. The L-shaped kitchen maximizes cooking and food storage space and is decorated in light colors that contribute to the RV's roominess feel. Large families will also love the wraparound seating area for dining, which converts into a sleeping area for the occasional extra guest.
The main bedroom is super spacious and provides an east-to-west facing bed, made possible by the bedroom slide, providing a wonderful oasis for parents seeking privacy. There are two entry doors to the main living area and the bedroom.
The bathroom is compact but doesn't feel too cramped. In addition, it offers a standard Showermiser Water Saving System and Maxxait ventilation fan, which is usually only found in more expensive units. The unit also has a very convenient bike door, allowing you to easily store your bikes or larger equipment under the bunk without having to drag it through the RV.
Outside, you also get other premium features such as power-stabilizing jacks, solid steps, and an outdoor kitchen with its own awning. Found mostly on premium RVs, the Rockwood has a Quick Recovery Water Heater w/ Interior Gas/Electric Switches. This ensures you're not wasting water waiting for it to heat up and allows for a long hot shower. Additionally, the RV controls use the OneContrrol Panel, which allows you to operate it with a smartphone.
Rockwood 2911BS
Model Year
2023
List Price
$50,616
Unloaded Vehicle Weight (UVW)
7,605
Gross Vehicle Weight Rating (GVW)
9,838
Length
35'5″
Sleeping Capacity
6
---
The Voyage is one of the roomiest bunkhouse models available, offering three slides- one in the bunk room and two in the main living area. The kitchen takes advantage of this extra space by offering an island with a large sink. However, the RV is on the heavier side with an 11,000 GVR and may require a ¾ ton truck for towing because of the extra room.
In the typical Winnebago style, you have many opportunities for upgrades and customizations. For example, you can choose a larger residential-sized refrigerator, swap out the dinette for a free-standing table, or upgrade from a queen-sized bed to a King-sized.
This trailer also has a huge bathroom with plenty of storage, ideal for larger families. In addition, you have two entry doors, solar prep, power stabilizers (with optional auto-level), and solid steps. Inside, in addition to the furnace, you will also have an electric fireplace which provides a nice ambiance when relaxing and watching a movie. Like the Micro Mini, you can also upgrade to different packages, including the comfort tech package or the explorer package, providing more options for camping in colder environments and more rugged terrain.
Rockwood 2911BS
Model Year
2023
List Price
$80,052
Unloaded Vehicle Weight (UVW)
9,626
Gross Vehicle Weight Rating (GVW)
11,000
Length
38'11"
Sleeping Capacity
6
---
Best Fifth Wheel
While we generally focused on travel trailers for this article, we decided to throw in one of the best family fifth-wheel RVs. The Jayco Eagle 355MBQS offers a unique mid-bunk option for family camping, placing the kid's sleeping area in the center of the RV rather than the back (one of its key features). This setup opens the entire rear of the camper for a living room and an extremely spacious feel. In addition, the Jayco Eagle has five slides in the RV, two in the main living area, one in the bunkroom, and another in the bedroom. This fifth wheel is the most spacious family RV reviewed here, offering lots of extra room.
The mid bunk room has a pullout sofa that converts to a bed, a top bunk, and a desk that can serve as a mobile office or entertainment center. Above the bunk room is another loft for kids, which the young ones will love. Finally, the main bedroom has an east to west facing bed, and with the slide, it offers parents an extremely spacious bedroom with tons of storage.
The dining area has a unique dinette hybrid booth with two free-standing chairs. You also have a 3-person sofa and theater seating, accommodating all family members for movie night. The kitchen is also very large and has a center island with a double sink. You will also get a full 21 CU FT residential-sized refrigerator.
If you're a family with kids looking for a fifth-wheel trailer, you'll be hard-pressed to find a better layout than the Jayco 355MBQS. It's ideal for families who spend a lot of time camping or full-timers.
Jayco Eagle 355MBQS
Model Year
2023
List Price
$105,138
Unloaded Vehicle Weight (UVW)
13,250 (*2023 Specs coming soon)
Gross Vehicle Weight Rating (GVW)
14,995 (*2023 Specs coming soon)
Length
42′
Sleeping Capacity
11